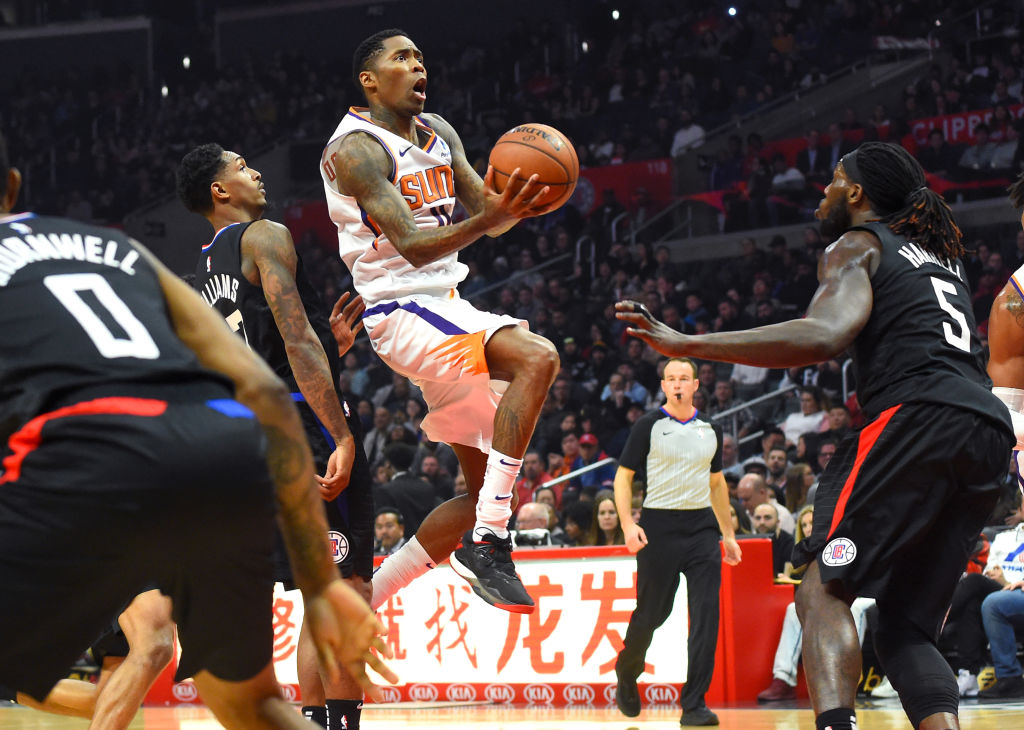 Jamal Crawford Broke Michael Jordan's Scoring Record in Final NBA Game
Jamal Crawford broke Michael Jordan's scoring record by dropping 51 points in his final NBA game at the age of 39.
Jamal Crawford spent 19 years tantalizing NBA fans with his creative scoring ability. The well-traveled journeyman played for eight NBA franchises and consistently found unique ways to pile up points. And while he certainly never grew into the next Michael Jordan, the talented guard managed to break one of MJ's most unique records in his final NBA game.
Jamal Crawford's long NBA journey
A Seattle native, Jamal Crawford spent just one year at the University of Michigan before declaring for the 2000 NBA draft. He drew plenty of praise from NBA scouts after he averaged 16.6 points in his lone season with the Wolverines. The Cleveland Cavaliers selected the 6-foot-5, 185-pounder with the eighth overall pick before trading him to the Chicago Bulls.
Unfortunately, it didn't work out well for either side. After five years in the Windy City, the Bulls traded the disappointing point guard to the New York Knicks in a deal that brought back future NBA Hall of Famer Dikembe Mutombo. The move turned out to be a career-altering one for Crawford. He averaged 17.6 points in five seasons before spending the next few years shuffling between franchises. He earned his first of three NBA Sixth Man of the Year awards in his only season with the Atlanta Hawks.
In 2012, Crawford finally settled in with the Los Angeles Clippers, where he served a key role off the bench. Despite rarely playing starting minutes, he made his presence known as a sparkplug scorer. Playing alongside Blake Griffin, Chris Paul and DeAndre Jordan, Crawford earned NBA Sixth Man of the Year honors in 2014 and 2016. The Clippers ultimately came up short in their NBA title quest and broke up the core of their team in a rebuilding effort that ultimately helped them land Kawhi Leonard and Paul George last summer.
Michael Jordan scored 51 points with Wizards at age 38
Like Jamal Crawford, Michael Jordan didn't let age define him. Even though he no longer possessed the elite athleticism of his prime, MJ continued playing at a high level well into his late 30s. The greatest player in NBA history spent the latter part of his career with the Washington Wizards. Playing alongside future NBA champion Rip Hamilton, Jordan averaged 22.9 and 20.0 points in his two seasons in the nation's capital.
While the Wizards struggled as a team, Jordan still saved a memorable performance for NBA fans. On December 12, 2001, the age-defying superstar scored 51 points on 38 shots against the Charlotte Hornets. Incredibly, Jordan accomplished the feat without hitting a single 3-point shot. The throwback performance made the 38-year-old Jordan the oldest player in NBA history to score 50 points in a game. At least until Jamal Crawford came calling almost 20 years later.
Crawford passed Jordan's scoring record in final NBA game
No stranger to new scenery, Jamal Crawford signed a one-year contract with the Phoenix Suns one day before their 2018-19 season opener. The veteran guard watched his production fall from his prime, but that didn't deter him from saving one last vintage performance in his final NBA game.
Ironically, on Dirk Nowitzki's retirement night, Crawford instead stole the show. Once again coming off the bench, the skilled shooter dropped 51 points on 18-of-30 shooting. And unlike Jordan, he showed no fear of pulling up from behind the arc. Crawford hit seven of his 13 attempts from 3-point territory and reset NBA record books in the process. His 51-point performance at age 39 helped him surpass Michael Jordan as the oldest player in NBA history to score 50 points. He also became the first player in league history to record a 50-point game for four different NBA franchises.
The Suns lost 129-109 and Jamal Crawford did not sign a new contract for the 2019-20 season. Perhaps the time off will give the record-setting sixth man time to conjure up his next NBA destination. If he never scores another basket, at least he can say he went out on top.