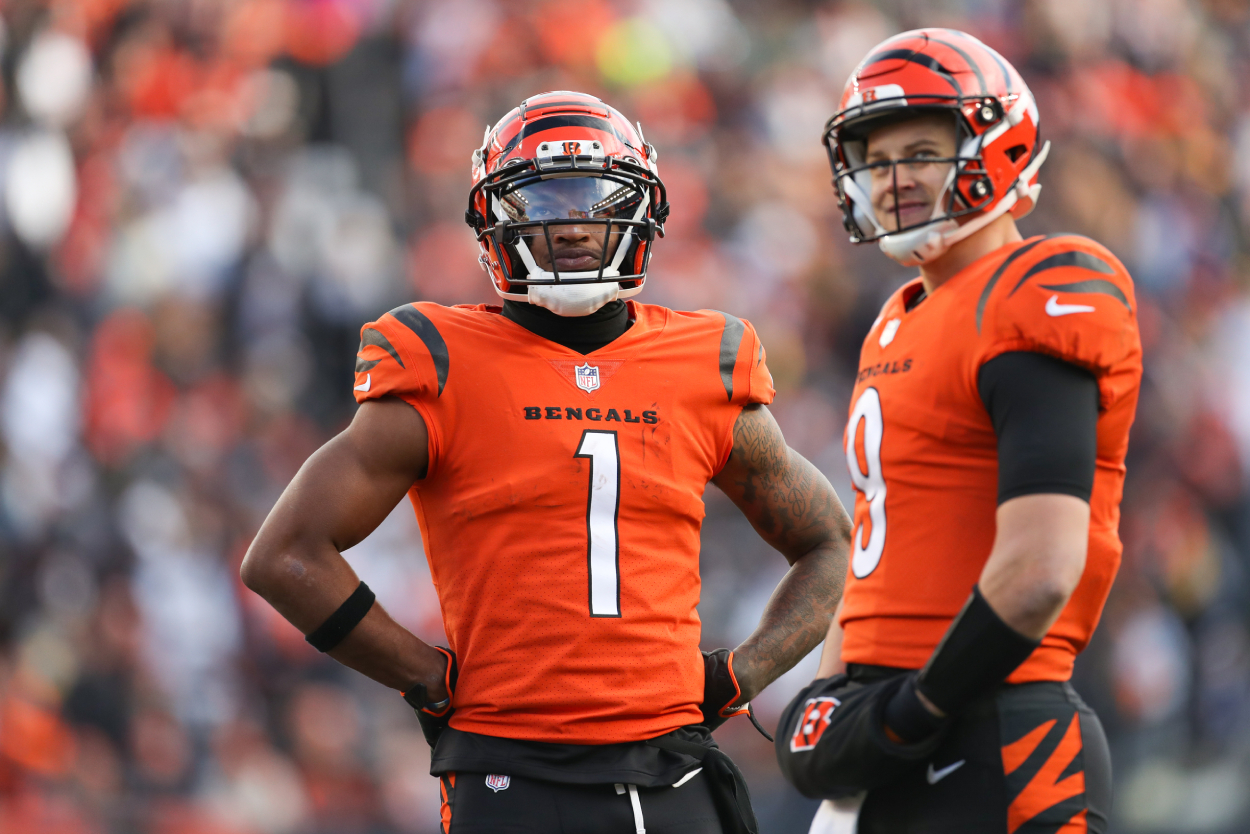 Ja'Marr Chase Showed His True Dedication to Joe Burrow Right After the 2021 NFL Draft
Joe Burrow and Ja'Marr Chase are pretty close on and off the football field.
For Ja'Marr Chase, being persistent paid off. The wide receiver was excited — maybe a bit too much — after the Cincinnati Bengals selected him with the fifth overall pick in the 2021 NFL Draft. It was a chance for him to hook up with his college quarterback and good buddy Joe Burrow once again.
Immediately after getting drafted, Chase went to great lengths to make sure they stayed close. He may have gone overboard, but things have worked out and now they're playing in their first Super Bowl together.
Ja'Marr Chase and Joe Burrow are a deadly combination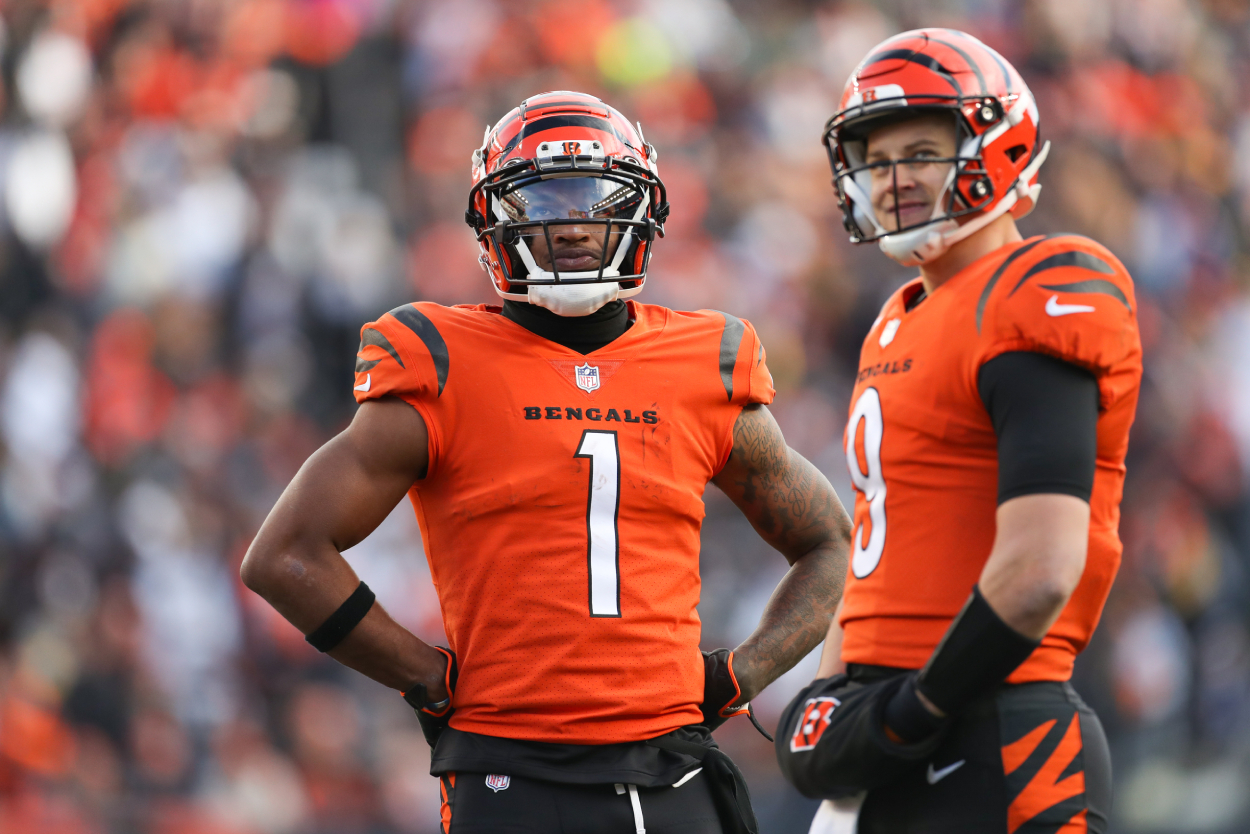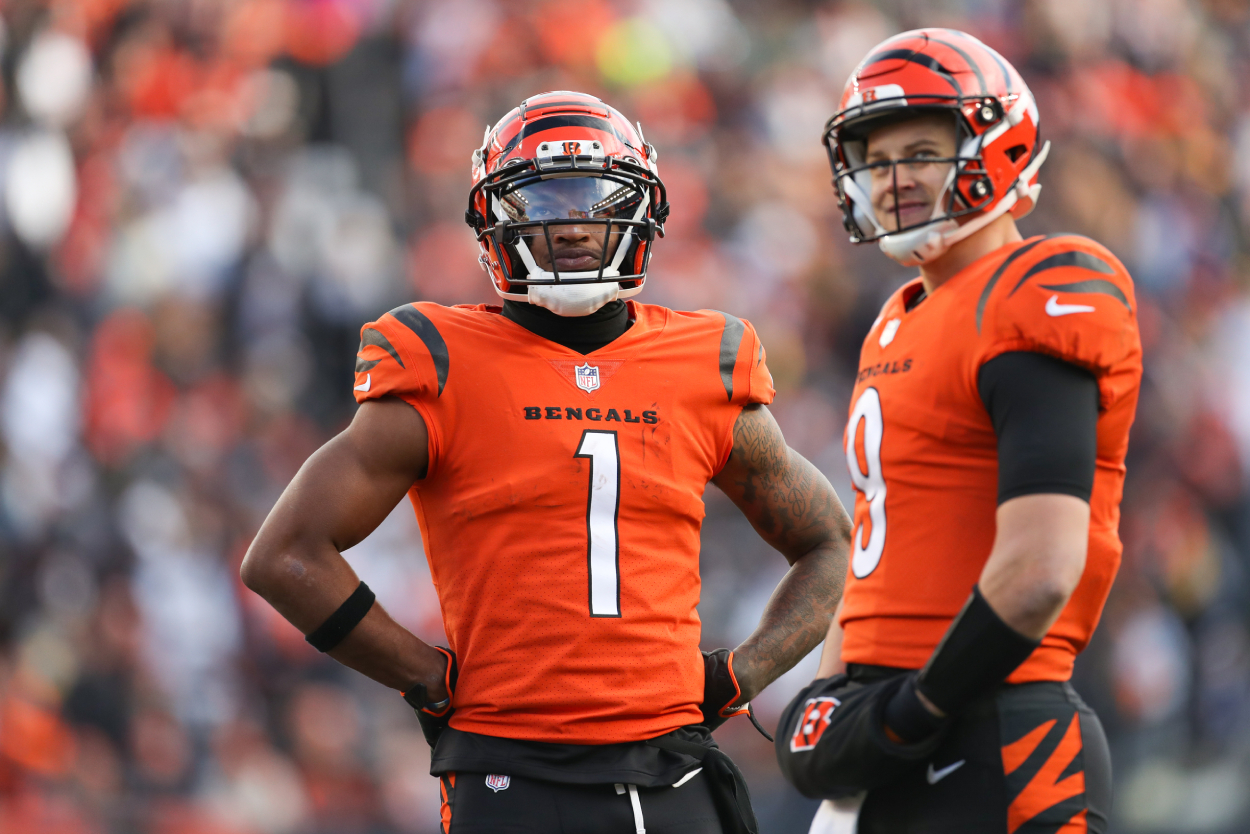 The Burrow/Chase combo has proven deadly to NFL defense in its first year. It already had some practice at the college level when the two formed quite the duo in leading LSU to a national title.
After the Bengals suffered through a four-win season in 2020 and saw Burrow, a promising rookie, go down with a torn ACL in Week 11, things looked bleak in Cincinnati. The Bengals drafted Chase with the fifth overall pick, and Burrow bounced back nicely, starting Week 1.
Now, here we are at the Super Bowl.
The Bengals racked up 10 wins this season, thanks to a potent offense led by the deadly Burrow/Chase duo. Chase put together quite the rookie season, racking up 1,455 receiving yards and hauling in 13 touchdown catches. He was named the AP's Rookie of the Year.
The Bengals then won their first playoff game in 31 years before knocking off the top two seeds in the AFC to make their improbable run to Super Bowl 56.
Ja'Marr Chase did whatever he could to become close to Joe Burrow in the NFL
Chase and Burrow were close in college. As a sophomore, Chase finished with 20 touchdown receptions as LSU went unbeaten and claimed the national title. He earned the Fred Biletnikoff Award for the nation's top receiver. Burrow was on the throwing end of those touchdowns.
After Burrow left and became the Bengals' No. 1 pick, Chase opted out of his junior year, electing to protect himself against injury, knowing he would be a top pick in the 2021 NFL Draft. The NFL doesn't allow players to enter the draft until they are at least three years removed from high school.
When the Bengals selected Chase with the fifth overall pick in 2021, he and Burrow were reunited, but Chase wanted more. That's when he may have gotten a little out of hand in trying to get closer to Burrow.
On an episode of Hear That Podcast Growlin', The Athletic's Paul Dehner Jr. told an interesting story of just how close Chase wanted to be with Burrow as soon as he knew he was going to live in Cincinnati.
"He was looking for a place to live," Dehner Jr. said. "He, of course, said, 'Well, I want to live next to Joe Burrow.' So, what did he do? He went down to the street that Joe Burrow lives on and went door to door, knocking on every door offering to buy their house. "
"What else do you do if you're rich and want to live next to your buddy? You just go to people's houses that live in the neighborhood and offer to buy them. And guess what? He bought one! Somebody sold him their house, so he lives next to Joe Burrow now on their little street and they're like one happy family.
"He basically went around and was like, 'Hi, I'm Ja'Marr Chase. I have lots of money and I want to buy the house.' Eventually, he found somebody that he bought it from, and now they're neighbors."
Chase and Burrow should have long careers in Cincinnati
Now that the two are neighbors, Chase and Burrow can settle in and focus on what they do best — play football. Led by these two, the Bengals have a bright future after having stumbled through the last three decades.
The Bengals got that 31-year playoff money off their back and look to do a whole lot more. With young offensive stars like Tee Higgins, Tyler Boyd, and Joe Mixon at the skill positions, the Bengals are primed to make some noise for quite some time.
The respect factor is there for both players. Jay Morrison of The Athletic recently quoted Chase as saying, "I do whatever Joe tells me to do. He's like a god to me."
Bengals fans better hope Burrow doesn't tell his wide receiver to sell his house.