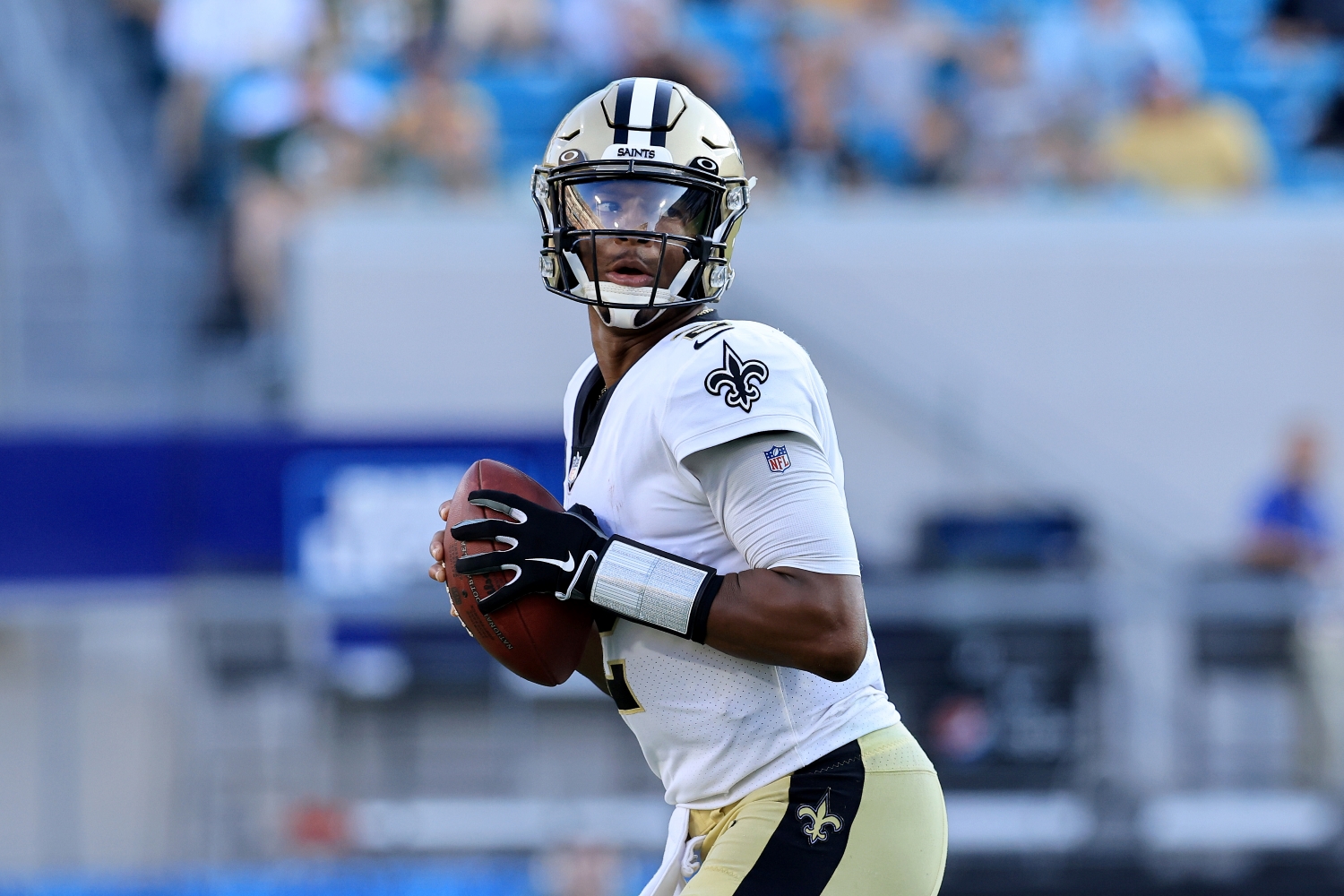 Jameis Winston Suddenly Has a Huge Obstacle to Overcome That Could Spoil His Sensational Start With the Saints
Jameis Winston surprised everyone by torching the Packers in Week 1. Unfortunately for the veteran quarterback, he suddenly has a huge obstacle to overcome that could spoil his sensational start with the Saints.
Even Jameis Winston could not have envisioned things going as well as they did during Sunday's lopsided victory over the Green Bay Packers. To the surprise of everyone around the league, the New Orleans Saints quarterback thoroughly outshined Aaron Rodgers in a highly-anticipated matchup between two of the top teams in the NFC.
Unfortunately for Winston, he suddenly has a huge obstacle to overcome that could spoil his sensational start to the 2021 season.
New Orleans didn't miss a beat in the first game of the post-Drew Brees era
Despite losing Drew Brees to retirement and not having top receiver Michael Thomas available, the Saints shockingly put up 38 points in their season-opening win over the Packers. To no surprise, superstar running back Alvin Kamara found the end zone. However, his first touchdown of the season came via the air, not the ground.
In fact, all five of the Saints' touchdowns occurred as a result of Winston's right arm. Even though he only threw 20 passes, the 2014 No. 1 overall pick put together an incredibly impressive turnover-free performance that nobody saw coming. Eight New Orleans players caught at least one pass, and Winston finished the day with an eye-popping 92.5 QBR.
Meanwhile, Rodgers posted a 13.4 QBR after completing 53.6% of his attempts for 133 yards, zero touchdowns, and two interceptions.
While Saints fans should be encouraged by their new starting quarterback's strong start, the offense may struggle to replicate its Week 1 success due to an early injury blow.
Jameis Winston faces a daunting challenge to overcome the loss of his starting center
It hasn't taken long for Winston to encounter an obstacle during his first season as a starter in New Orleans. Although the Saints left Jacksonville with a well-earned victory, they didn't escape unscathed.
Center Erik McCoy left the game early with a calf injury, and he won't return anytime soon.
"The Saints have a Week 6 bye and it sounds like Erik McCoy could be out until then. Cesar Ruiz stepped in Sunday," tweeted the NFL Network's Tom Pelissero.
With their starting center looking like a top candidate to go on injured reserve, the Saints have to reshuffle their lineup and hope the offense doesn't take a significant step back.
For Winston, losing McCoy, who Pro Football Focus credited with allowing only one sack on 1,073 snaps in 2020, represents a particularly tough blow. A quarterback and a center have to be on the same page, and building trust and confidence takes time. Instead of fostering his on-field relationship with McCoy, Winston has to work with a different pivot man who must quickly master the playbook, learn the Saints' protection calls, and develop chemistry snapping the ball to a new quarterback.
Needless to say, McCoy's absence carries significant potential consequences. If the line struggles without him manning the center spot, Winston will have a tough time making plays and avoiding mistakes. Plus, it's not like he has an elite group of weapons to bail him out.
The Saints have a tough slate of upcoming opponents who could expose the loss of Erik McCoy
Could the Saints be in trouble over the ensuing weeks? That could be the case based on the opponents they have to face without McCoy in the lineup.
New Orleans has to travel to Carolina in Week 2 to take on a young, talented defense that sacked Zach Wilson six times last Sunday. Matt Rhule's team has a chance to make a statement by toppling their division rival, so expect the Panthers to come out firing on all cylinders at home.
In Week 3, the Saints have to take on the New England Patriots at Gillette Stadium. Bill Belichick spent a ton of money to upgrade a talent-depleted front seven that now includes the veteran linebacker trio of Dont'a Hightower, Kyle Van Noy, and Matt Judon and promising young pass rusher Josh Uche. Once again, New Orleans will have to prove it can protect Winston without McCoy in the middle of the line.
It doesn't get any easier in Weeks 4 and 5, either.
The New York Giants may be a mess on offense, but defensive linemen Leonard Williams and Dexter Lawrence can cause major problems. And the Washington Football Team boasts elite defensive upside thanks to the presence of four first-round picks along their front seven.
Ultimately, Jameis Winston better hope Sean Payton can work his magic to keep the offense humming. And he desperately needs Erik McCoy's replacement to step in right away and not miss a beat.
Otherwise, it might not be long before we see him make some of the same mistakes that derailed his career with the Tampa Bay Buccaneers.
All statistics courtesy of ESPN.