By Backing Themselves Into a $28 Million Corner, the Packers Already Dropped a Major Hint That Aaron Rodgers Isn't the Only Star Who's Destined to Leave Green Bay
The Green Bay Packers kept their Super Bowl hopes alive by getting Aaron Rodgers to come back to work. However, even though the reigning MVP will don a green-and-gold uniform for another year, he undoubtedly faces an uncertain future with the franchise.
In fact, it won't be a surprise if Rodgers suits up for a different team in 2022.
Unfortunately for Packers fans, the future Hall of Famer isn't the only star who seems destined to leave Green Bay after the 2021 season.
Aaron Rodgers looks poised to become the face of a new NFL team after the 2021 season
Packers fans experienced quite a dramatic start to the offseason. By skipping voluntary organized team activities and mandatory minicamp for the first time in his career, Rodgers raised obvious concerns about his desire to play for Green Bay. That fueled retirement and trade rumors that ultimately never came to fruition.
Right before training camp began, the Packers smoothed things over with their superstar signal-caller. Besides reuniting Rodgers with Randall Cobb, the front office also altered his contract. Most importantly, their last-ditch negotiating tactics ensured the offense will continue to run through the three-time MVP for at least one more year.
But the Rodgers era could come to an end in less than six months.
The Packers reportedly verbally agreed to trade the 37-year-old after the season if he still wants out. Green Bay looks capable of making a legitimate run at the Lombardi Trophy, so it will be interesting to see if Rodgers changes his mind if he captures his second Super Bowl ring.
Then again, given everything that transpired this offseason, a fresh start might be the best solution for both sides. The Packers would get to transition to 2020 first-round pick Jordan Love, and Rodgers would get an opportunity to chase a ring with a new team.
And he might have a chance to bring a friend along with him.
The Packers dropped a major hint about Za'Darius Smith's future by backing themselves into a $28 million corner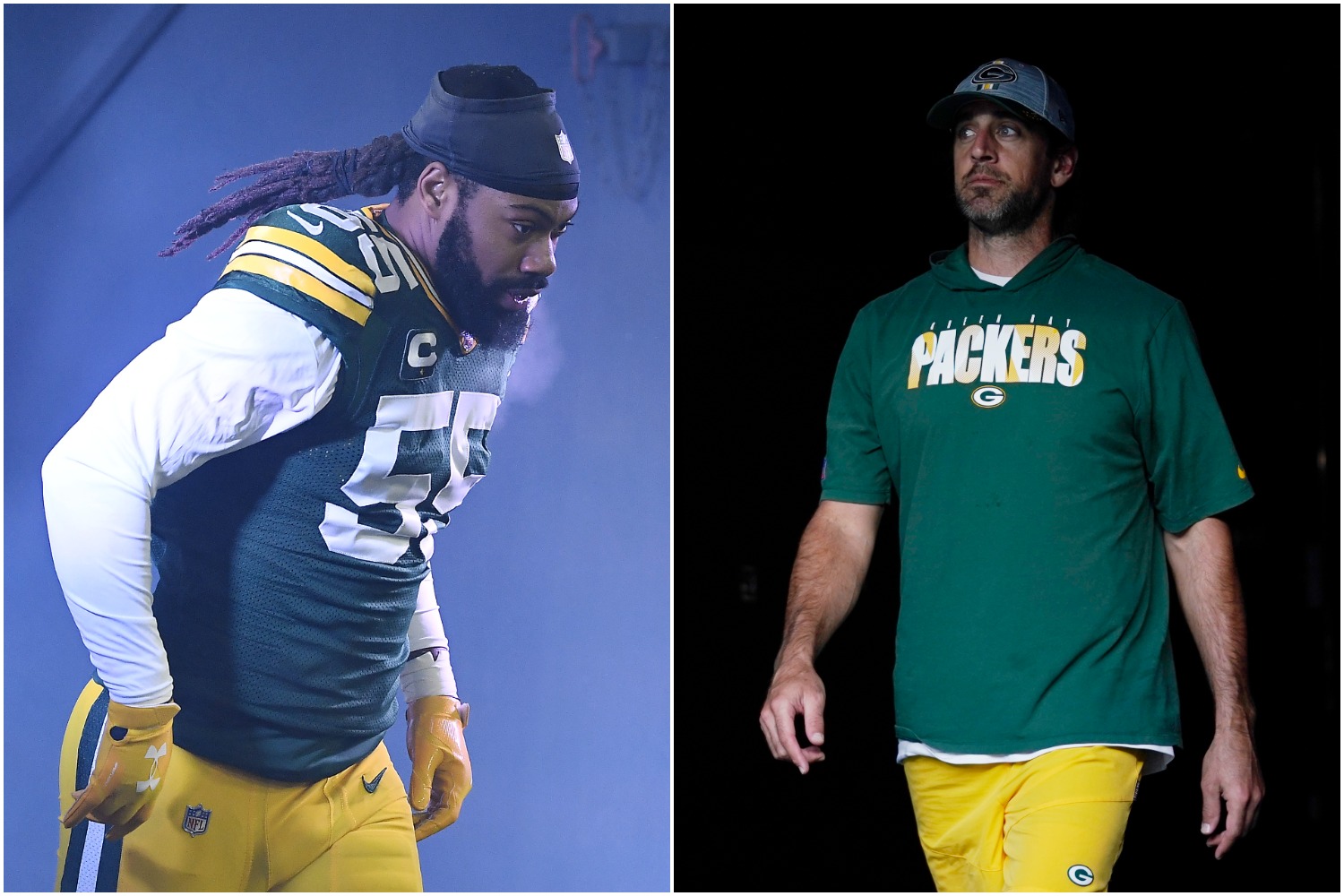 The Packers took care of an important piece of business by convincing their most important player to give it another go in Green Bay. However, getting Rodgers back on board came at a cost.
Under the terms of his updated contract, the 11-time Pro Bowler carries a 2022 cap hit of $46 million. Unless the Packers plan on devoting roughly a quarter of their salary-cap space on one player, that means they will have to extend Rodgers' deal or trade him.
And the team reportedly took a similar approach with another important piece to a championship puzzle. According to Mike Florio of Pro Football Talk, the Packers accelerated $10 million in payments to Za'Darius Smith in late July.
"Under the new deal, finalized on July 27, the Packers agreed to pay $10 million of the amount within 10 days, with the remaining $4.76 million paid out over the 18 weeks of the regular season, with his base salary," Florio wrote.
The Packers first restructured Smith's deal in March, which increased his 2022 cap hit to more than $28 million. Obviously, they had to resort to some expensive measures to make the Pro Bowl pass rusher happy.
But by backing themselves into a costly corner, the Packers dropped a major hint that Smith won't be back after the 2021 season. His $28.1 million cap hit almost guarantees that he will get released, which would allow the veteran to find a new NFL home.
And with Rodgers and Smith poised to play elsewhere in 2022, Green Bay has to make some important financial decisions about other key players on the roster.
Will Brian Gutekunst break the bank to keep key contributors in Green Bay for years to come?
General manager Brian Gutekunst made two potential problems go away by working things out with Rodgers and Smith. With their superstar quarterback and defensive leader both in the fold for 2021, the Packers should feel confident about their chances of representing the NFC in Super Bowl 56.
Whether Green Bay continues to make the playoffs on an annual basis after the upcoming season depends largely on how the Rodgers situation turns out. At the same time, Gutekunst has to consider the long-term futures of younger players who play critical roles for the Packers.
Will Davante Adams remain the team's No. 1 receiver in 2022? The impending free agent deserves a raise, but he's yet to sign an extension. If Green Bay doesn't want to make him the NFL's highest-paid wideout, Adams will likely continue his career elsewhere.
Tight end Robert Tonyan Jr. also looks poised to cash in. Set to hit free agency after the season, he seems like a logical candidate to receive an extension. But if he puts up another double-digit touchdown campaign, he could become incredibly expensive to re-sign.
Plus, the Packers might have to hand out a record-setting contract to keep one of their homegrown stars around for years to come. All-Pro cornerback Jaire Alexander will become a free agent after the 2022 season, so Gutekunst has to figure out a price that will keep the talented defensive back in Green Bay for the rest of his prime.
After all, if Aaron Rodgers isn't around, the Packers better hope they have an elite defense.
All statistics courtesy of Pro Football Reference. All contract data courtesy of Spotrac.