Aaron Rodgers Doesn't Want the Kobe Bryant Treatment in What Could Be His Final Season in a Green Bay Packers Uniform
Kobe Bryant received the most heartfelt goodbye from NBA fans around the world in his final season before he retired. Aaron Rodgers is due for a similar farewell tour in what seems to be his last season with the Green Bay Packers, but he isn't interested in any of that.
Rodgers is a live-in-the-moment kind of guy. We might think he's going to skip town next offseason, but not even Rodgers himself knows what he'll be doing next year, or next month, or even next week. So, don't treat this season as a farewell tour for the future Hall of Famer, because there might not even be a farewell at all.
Aaron Rodgers still faces a murky future with the Packers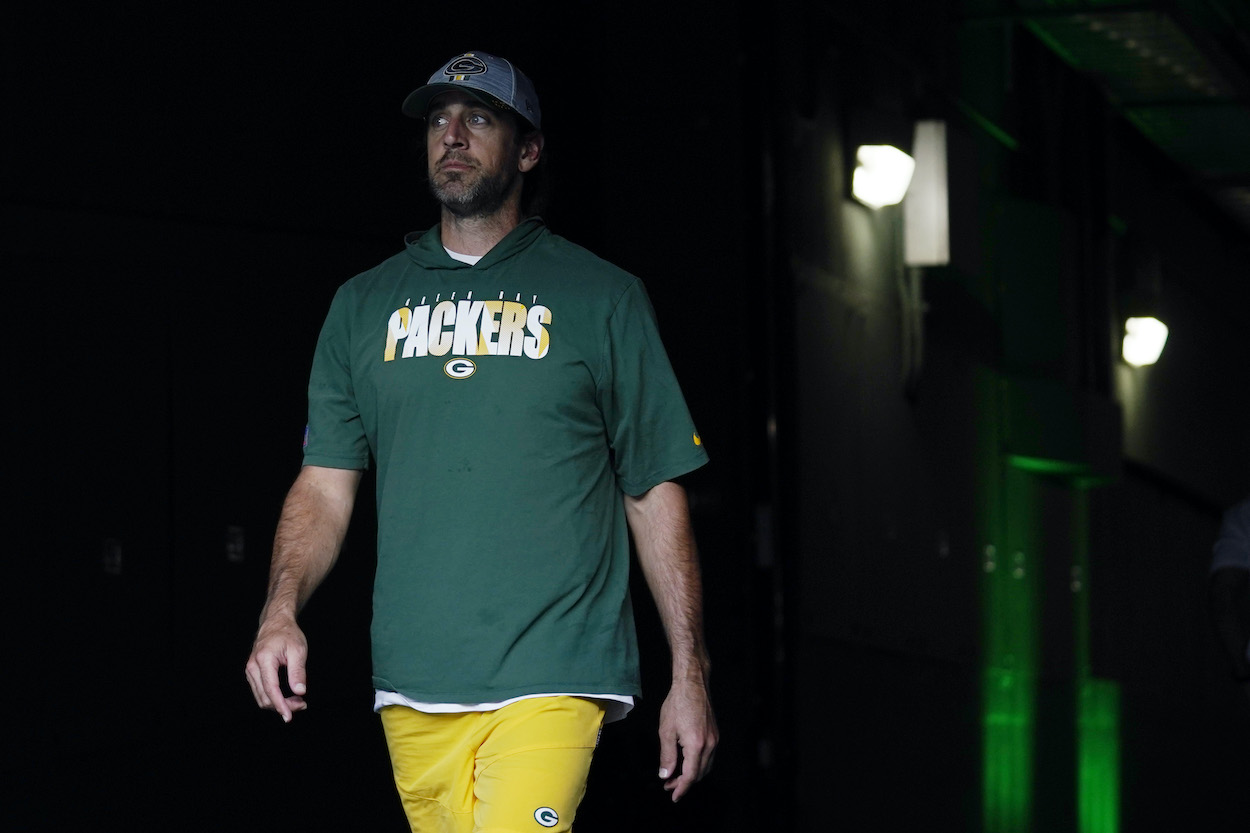 Throughout most of the offseason, it seemed as if Rodgers would never throw on a Packers uniform ever again. He wasn't showing up to the team facility. He wasn't speaking with the front office. And when he finally spoke out in public, all he did was rip the franchise and state his intention to sit out the season until he was traded.
Despite all the drama, Rodgers showed up to the first day of training camp after all. But it wasn't all good news for Packers fans.
Rodgers only returned to the team after agreeing to a restructured contract that gives him the power to force a trade next offseason. Depending on how this year goes, Rodgers can choose whether he wants to stay in Green Bay longer or start his career over with a different team.
For now, though, the veteran QB is just focused on leading the Packers to a Super Bowl in 2021.
Rodgers doesn't want the Kobe Bryant "farewell tour" treatment
Packers fans — and most NFL fans around the country — are still convinced the 2021 season will be the last we see of Rodgers in green and yellow. With his new restructured contract, he finally has the power to force his way out of Green Bay.
And that's what he wanted all along, right?
Well, maybe not. While speaking to reporters on Wednesday, Rodgers said he doesn't want the Kobe Bryant treatment because he isn't sure if he'll even be leaving in 2022.
I don't want a farewell tour. I don't know what's going to happen after the season, but I'm going to enjoy it with the right perspective, for sure, and not look at it as I'm getting through this. I'm going to enjoy the hell out of all of it.

Aaron Rodgers
Maybe Rodgers is finally warming up to the idea of finishing out his career in Green Bay. If that ends up being the case, he can have a proper farewell tour right before he calls it quits for good.
Taking lessons he learned from last season
Rodgers admitted this week that he thought the 2020 season was going to be his last in Green Bay. He saw firsthand how the franchise dumped Brett Favre after drafting him, and he figured the Packers were doing the same with Jordan Love.
"The reason I approached it like that is I just knew when the [Love] pick was made that the clock had started, for sure," Rodgers said. "And I thought unless there was something in the season that really made me feel like I'm going to be here past 2021 that maybe this would be my last year. I didn't want to be going into a year with some sort of … as a lame duck, like I said. I didn't think that was fair to what I accomplished and what I mean to this team, and nothing really changed in that regard. I went into the offseason, that [it] could have been it.
"I'm glad that I enjoyed every moment. I'm glad that I led exactly the way I wanted to lead and looked for those conversations with certain guys that needed a pick-me-up at different times. I took the headphones off and enjoyed the surroundings and the road trips and the time with the guys. Yeah, it's a good template, for sure."
All Rodgers did last year was win his third MVP award and lead the Packers to a 13-3 record. With a similar mindset and attitude this season, it should be more of the same in 2021.