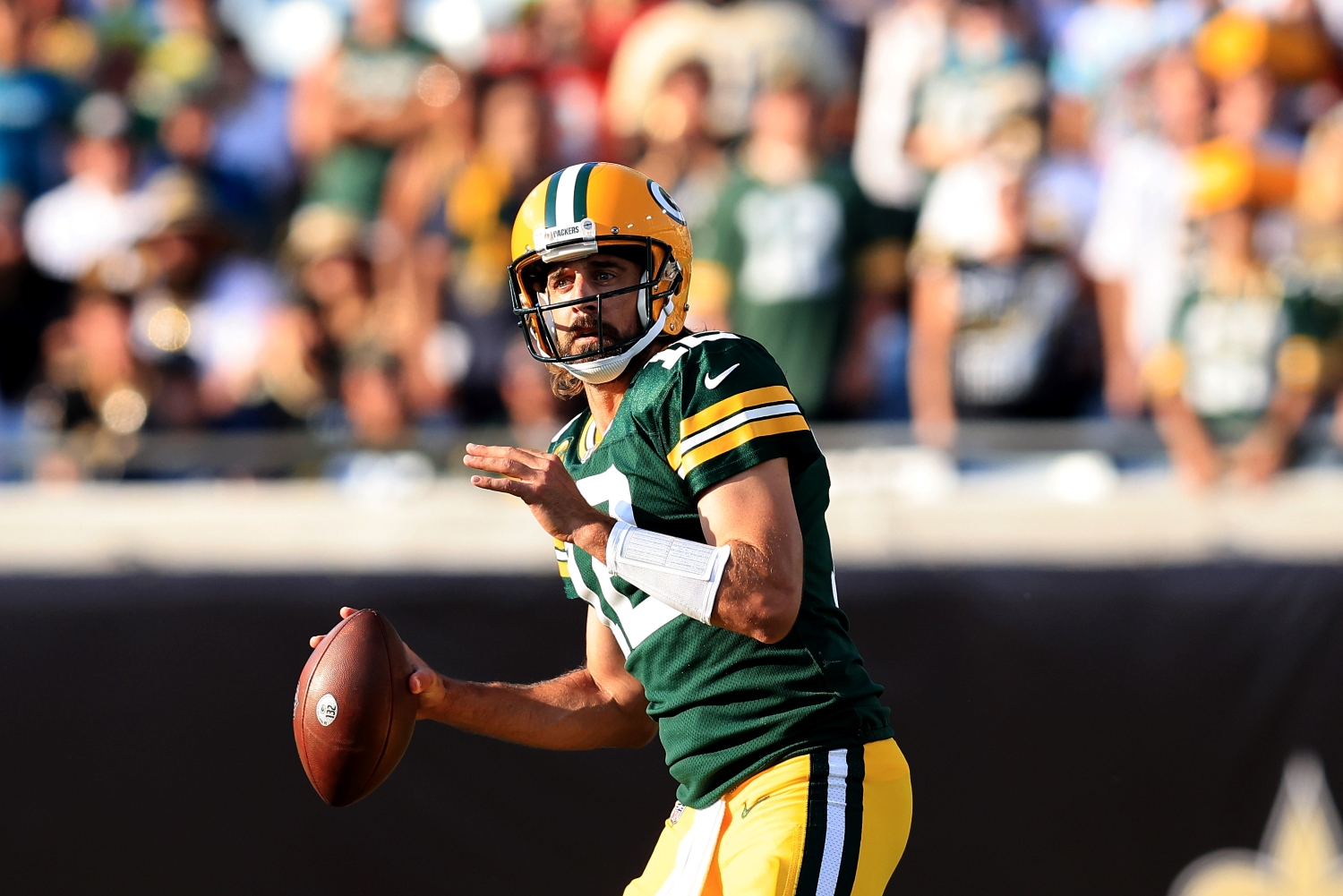 A Brutal Setback Has Officially Put Aaron Rodgers in a Dangerous Position to Take His Frustrations Out on a Familiar Foe
Coming off an embarrassing loss to the Saints, Aaron Rodgers suddenly has a chance to put up huge numbers in Week 2. Can the Packers QB take advantage of the Lions' brutal injury setback?
Things could not have gone much worse for Aaron Rodgers and the Green Bay Packers on Sunday.
Coming off a drama-filled offseason that included the unprecedented decision to skip organized team activities and mandatory minicamp, the reigning MVP had arguably the worst performance of his NFL career. Instead of opening the year with a statement victory, Matt LaFleur's team suffered an embarrassing 38-3 loss to the New Orleans Saints.
Rodgers' uncharacteristically ineffective outing certainly ranked as one of the most surprising storylines of Week 1. Yet despite how poorly things went for him in Jacksonville, the future Hall of Famer should feel highly confident about his chances of carving up a familiar foe in Week 2.
Aaron Rodgers should be highly motivated to make everyone forget about his dismal day against the Saints
Rodgers kicked off what's expected to be his final season with the Packers by getting thoroughly outplayed by Jameis Winston. Needless to say, nobody expected that to happen heading into the highly-anticipated matchup between the two NFC heavyweights.
While Winston torched Joe Barry's defense to the tune of 148 yards and five touchdowns on only 20 passing attempts, his counterpart completed 15-of-28 attempts for 133 yards, zero touchdowns, and two interceptions. Rodgers looked flustered, flummoxed, and frustrated facing an aggressive Saints defense that held the Packers to just 229 total yards.
The 37-year-old acknowledged he "played bad" during his post-game press conference, but he also pointed out that Green Bay has 16 games to go. Coming off perhaps his worst performance as a pro, Rodgers needs to bounce back in a big way in Week 2 to silence his doubters.
Given his competitive nature and the way thing unfolded against the Saints, he seems destined to send a statement next Sunday. And with the Detroit Lions coming to Green Bay short-handed, Rodgers can look forward to taking his frustrations out on a familiar foe.
A brutal setback has put Rodgers in a position to take his frustrations out on a familiar foe
Like their division rival, the Lions also suffered a season-opening loss. Unfortunately for first-year head coach Dan Campbell, his team will have to figure out a way to win without top cornerback Jeff Okudah. According to ESPN, the 2020 No. 3 overall pick ruptured his left Achilles tendon during the fourth quarter of Sunday's matchup against the San Francisco 49ers.
Okudah's season-ending injury will force the Lions to move forward with a cornerback group that includes 2019 fifth-rounder Amani Oruwariye and three rookies (third-rounder Ifeatu Melifonwu and undrafted free agents AJ Parker and Jerry Jacobs).
And that's exactly why Rodgers looks poised to pick apart a Detroit defense that has rarely slowed down one of the greatest quarterbacks of all time. He's completed nearly 65% of his passes for 5,662 yards, 46 touchdowns and only eight interceptions in 22 regular-season showdowns against the historic NFC North franchise. Given the uninspiring state of their cornerback depth chart, the Lions look vastly overmatched against a Packers receiver corps headlined by perennial Pro Bowler Davante Adams.
Rodgers doesn't have to worry about a first-round talent covering one of his weapons. Instead, his wideouts should have the upper hand and pull off explosive plays in front of a packed home crowd at Lambeau Field.
However, even if the Packers light up the scoreboard, they could still struggle to earn their first victory of the season.
Can a suspect Packers defense slow down a Lions offense that looked surprisingly effective in Week 1?
As much as Rodgers and the offense failed to do their part against the Saints, the Packers' defense didn't show up Sunday, either.
Despite having big-name stars like Za'Darius Smith, Jaire Alexander, and Kenny Clark, the unit got badly exposed by Winston and his supporting cast. New Orleans racked up 38 points on 322 total yards, including 171 on the ground. Don't forget that came without No. 1 receiver Michael Thomas, who started the season on the physically unable to perform list.
Perhaps most concerning?
The Packers didn't record a single sack, and they only hit Winston three times.
Will things improve in Week 2?
Green Bay should have a better day at the office, but Detroit could pose some problems. Jared Goff racked up 338 yards and three touchdowns (plus one interception) against the 49ers, so he certainly didn't fall flat on his face like Rodgers. Tight end T.J. Hockenson and running backs Jamaal Williams and D'Andre Swift looked excellent in Week 1, and all three could give the Packers' linebackers and safeties trouble.
Ultimately, though, the overall talent disparity in this showdown between two familiar foes makes it difficult to envision the Lions upsetting the Packers. And with Aaron Rodgers in need of redemption, expect Green Bay to send Detroit and its depleted defense home with yet another loss.
All statistics courtesy of Pro Football Reference.