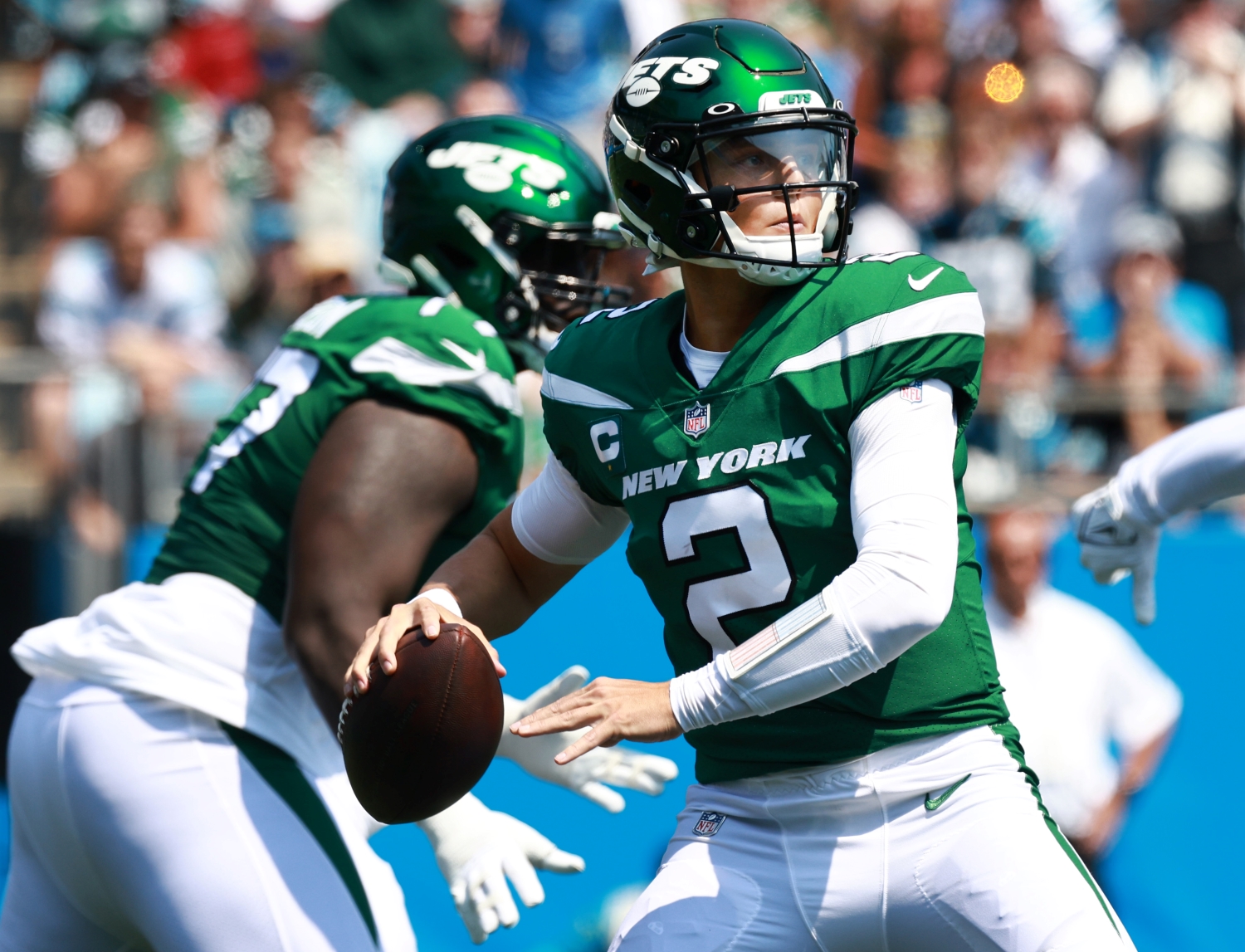 New York Jets Suffer Disastrous Injury Blow That Threatens to Ruin Zach Wilson's Rookie Season
Zach Wilson's chances of living up to expectations as a rookie took a serious hit on Sunday against the Panthers. Can the Jets keep their young quarterback protected?
The first game of the Zach Wilson era didn't go so smoothly for the New York Jets. Sure, the highly-hyped draft pick showed flashes of star potential by making some impressive throws. But he also faced persistent pressure from a Carolina Panthers defense that only totaled 29 sacks and finished 18th in points allowed a year ago. And when the final whistle blew, the Jets had to watch former starting quarterback Sam Darnold celebrate a victory with his new teammates.
Unfortunately for Wilson, he may struggle to find consistent success after his up-and-down NFL debut. In fact, with his team already dealing with several injury setbacks, the talented signal-caller seems destined to have more difficult days at the office during his rookie season.
The Jets suffered losses on multiple levels in Week 1
If Week 1 represented a sign of things to come, Jets fans shouldn't feel too confident about what lies ahead. After all, the team suffered losses on multiple levels to start the season.
Facing a young, talented Panthers squad, the Jets looked largely overmatched on both sides of the ball. Robert Saleh's defense struggled to slow down Darnold (287 passing yards and two total touchdowns) and All-Pro running back Christian McCaffrey (187 total yards on 30 touches). Meanwhile, the Wilson-led offense only averaged 2.6 yards per rush and 4.8 yards per pass on 60 plays.
Besides suffering a season-opening defeat, the Jets also sustained several key personnel losses. Safety Lamarcus Joyner tore his triceps and will miss the remainder of the year. Punter Braden Mann injured his knee and will be out four to six weeks. Plus, linebackers Jamien Sherwood (ankle) and Blake Cashman (hamstring) will also miss time after getting banged up against the Panthers.
However, the Jets absorbed a season-altering blow when 2020 first-round pick Mekhi Becton went down in the third quarter with what appeared to be a serious knee injury. The physically imposing left tackle got carted to the locker room in obvious pain and did not return to the game.
Wilson ultimately got sacked six times, and that could easily happen again given his blindside protector's painful setback.
Mekhi Becton's injury threatens to ruin Zach Wilson's rookie season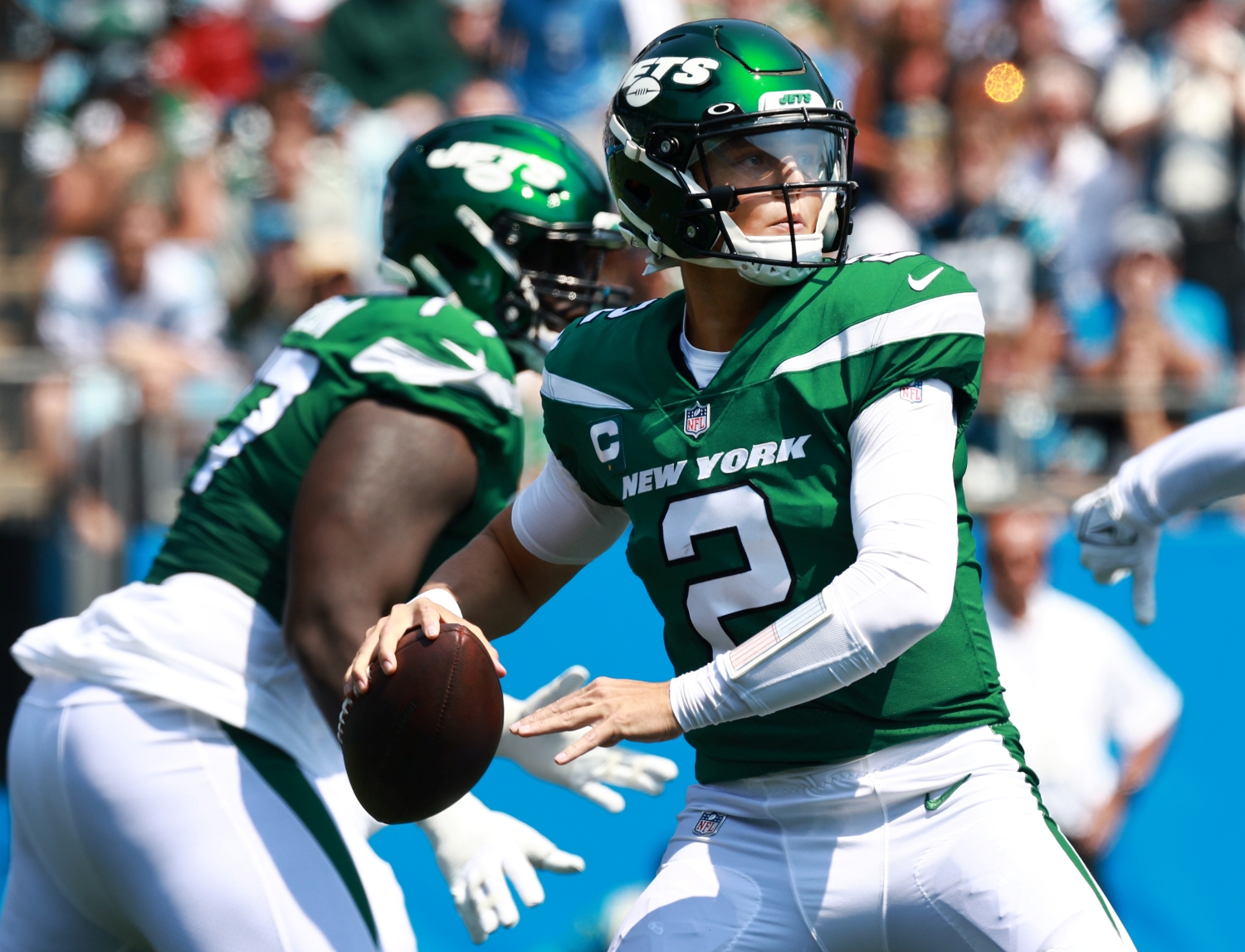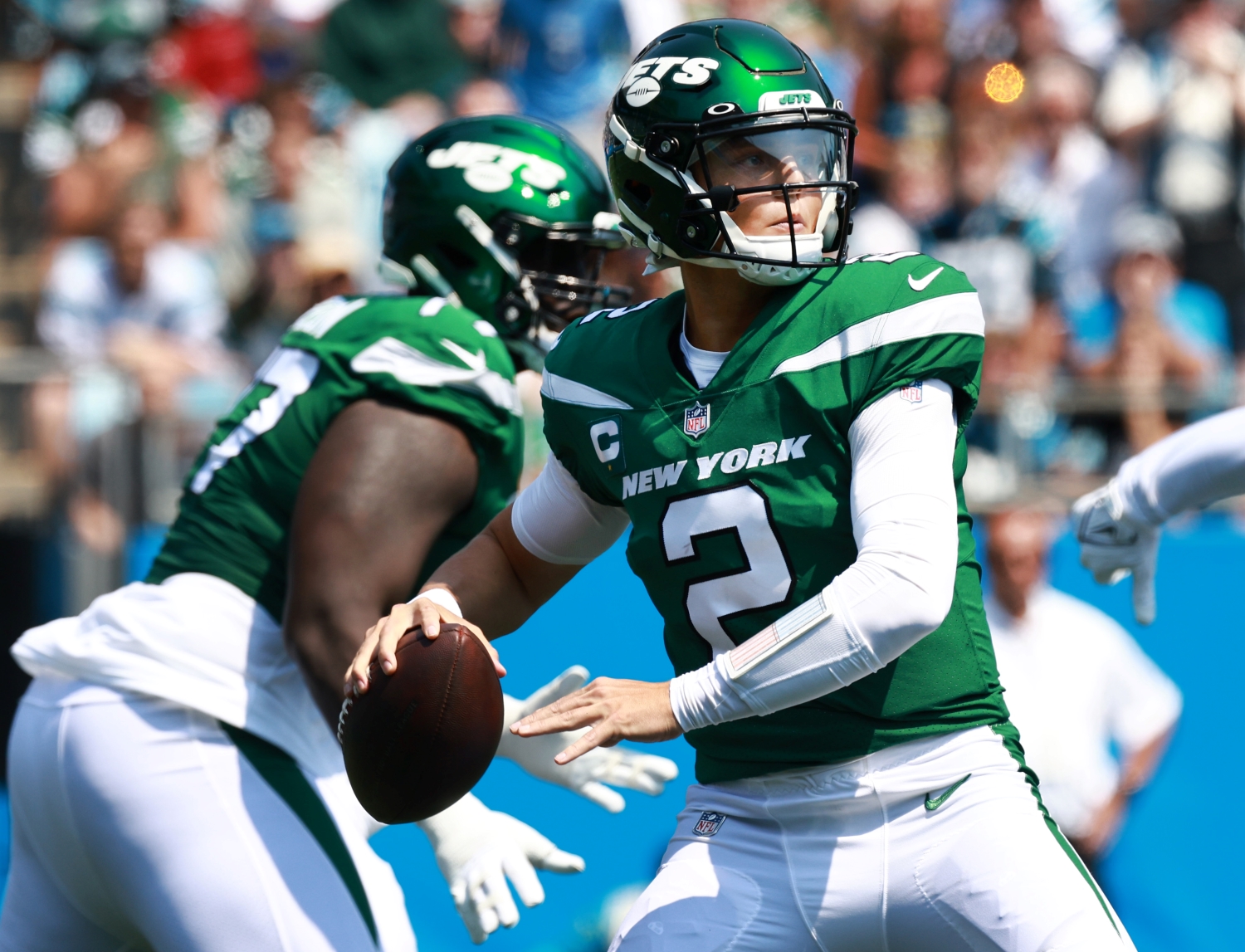 Jets fans already watched one top draft pick's career go south due to protection issues.
Could that happen again?
While Wilson undoubtedly has the talent to become a superstar, he will never reach his ceiling if he doesn't have the right supporting cast. That starts with having adequate protection, and anyone who watched Sunday's loss to the Panthers could see the Jets still have trouble keeping their quarterback out of harm's way.
And things could get worse.
According to ESPN, Becton will miss a minimum of four to six weeks with a dislocated right knee cap. Adam Schefter reported the second-year pro is expected to have arthroscopic surgery to repair damaged cartilage.
Not exactly promising news for Wilson, right?
After starting his NFL career off by getting sacked six times (the Panthers also recorded 10 quarterback hits), the promising rookie has to play behind an offensive line that won't have its best player available until late October. Wilson already faced questions about his ability to make it through a 17-game season based on his small 6-foot-2, 214-pound frame, so Becton's absence could certainly lead to a bad outcome.
If Wilson gets exposed to more hits and absorbs more punishment, will he make it through his rookie season? Or will he pay the price for the Jets having to move George Fant to left tackle?
Becton getting hurt at this stage of the season only makes Wilson's life more difficult. And if the Jets get manhandled at the line of scrimmage moving forward, it could get ugly quickly.
The first year of the Robert Saleh era could get ugly quick
Injuries can completely transform the outlook for any NFL team. The Jets definitely didn't enter the season as a viable playoff contender, but that doesn't change the fact that Becton's absence could cause major problems for Wilson and Co.
This week, New York has to take on a New England Patriots team with a front seven that includes Dont'a Hightower, Matt Judon, Kyle Van Noy, and budding star Josh Uche. Oh, the Jets also have to play Bill Belichick's squad in Week 7, which could be Becton's first game back. Expect the Patriots to dial up the heat on Wilson to try to force him to make mistakes.
The Jets also have to take on the Denver Broncos in Week 3, which doesn't bode well for Wilson, either. Between Bradley Chubb and Von Miller, the Broncos have two excellent pass rushers who can inflict serious damage.
For Zach Wilson's sake, hopefully his coaching staff figures out a way to keep him out of danger without Mekhi Becton in the lineup. But given the Jets' history of setting their quarterbacks up for failure, does anyone really trust them to get the job done?
All statistics courtesy of Pro Football Reference.