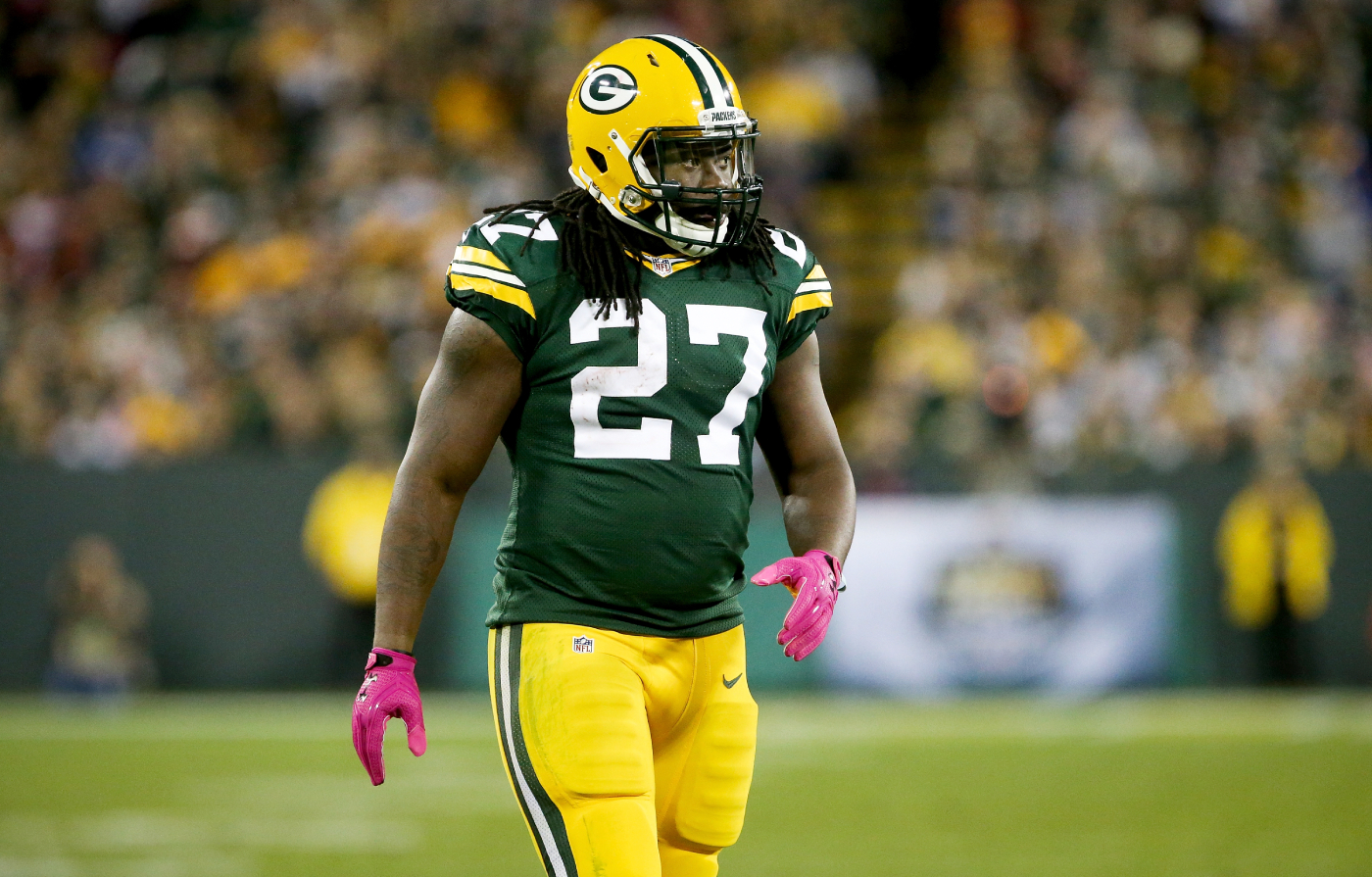 James Harden Drags Eddie Lacy Back in the News for All the Wrong Reasons
Houston Rockets guard James Harden drags former Green Bay Packers running back Eddie Lacy in the news for all the wrong reasons.
Remember Green Bay Packers running back Eddie Lacy? Lacy was a Pro-Bowl running back who rushed for better than 1,000 yards in his rookie season in 2013. He hasn't been in the NFL since the 2017 season. Lacy, however, found himself back in the news, trending on social media recently, all because of Houston Rockets guard James Harden.
Eddie Lacy was a force early in his career
Eddie Lacy played his college football at Alabama. A bruising back with deceptive speed, Lacy was a second-round pick in the 2013 NFL draft. The Green Bay Packers selected him with the 61st overall pick and he was the fourth running back selected in the draft.
Lacy got off to a great start in his professional career. At 5-foot-11, 250 pounds, Lacy was a strong downhill runner. He rushed for 1,178 yards and 11 touchdowns in his rookie season. He made his first and only Pro Bowl that season, although his second year in the league was arguably better.
In 2014, Lacy rushed for 1,139 yards and nine touchdowns. He was a little more involved in the passing game, however, as he caught four touchdown passes. In 2015, he started 12 of the 15 games he played but was hobbled by ankle and groin injuries. He played in five games in 2016 but was placed on IR with an ankle injury. In 2017, Lacy signed with the Seattle Seahawks and played nine games, starting three. He rushed for 179 yards.
James Harden finally reports to the Houston Rockets
If James Harden doesn't get traded as he's requested, it could be a long, awkward year with the Houston Rockets. The Rockets have already shipped guard Russell Westbrook to the Washington Wizards and Harden wants to go next. His preferred destination is to join Kyrie Irving and Kevin Durant with the Brooklyn Nets but has since added other teams to his destination list.
Harden, after staying away from training camp and making his trade demands known, suited up for the Rockets on Tuesday. He was hardly the Harden we all know. Harden made three of 10 shots from the floor. He didn't appear as if he wanted to be there.
John Wall, in his first game with the Rockets after being acquired in the Russell Westbrook trade, had 5 points and three steals. Wall was asked about the Harden situation. "At the end of the day, he's going to do what's best for him," Wall told reporters, according to CBS Sports. "The organization is going to what's best for them also."
Harden's physical appearance brought Eddie Lacy back in the news
Eddie Lacy was trending on Twitter on Tuesday. No, he's not mounting a comeback in the NFL. Lacy battled weight problems throughout his NFL career. It became a significant problem when he was in Green Bay. "He's got a lot of work to do," former Packers coach Mike McCarthy said in 2016, according to NFL.com. "His offseason last year was not good enough and he never recovered from it. He cannot play at the weight he played at this year."
When Mike McCarthy starts criticizing someone for their weight, there must really be a problem. When James Harden returned to the Houston Rockets to play in the team's first preseason game, he appeared to be a bit overweight. That drew similarities to Lacy and social media went wild with it.
"So during the shortest #NBA offseason James Harden turned into Eddie Lacy," one person wrote on Twitter. "When did Eddie Lacy grow a beard and start playing basketball?" another asked. So, if you saw Eddie Lacy trending Tuesday, you didn't miss anything. He's not coming back. James Harden is.