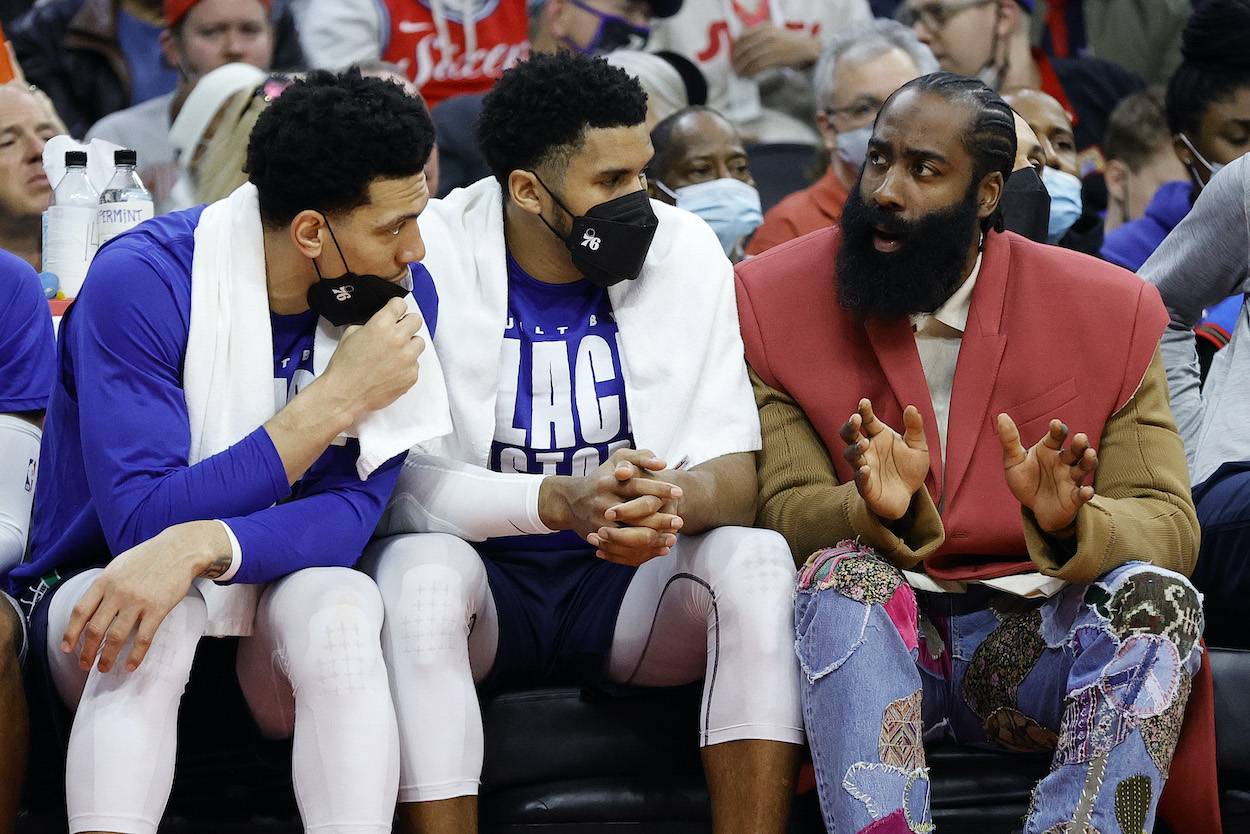 James Harden's Spectacular Start With the 76ers has Unearthed a Worrisome Problem
James Harden is already making everyone on the 76ers better. Well, everyone except Tobias Harris.
Philadelphia 76ers fans couldn't have asked for a much better start to the James Harden era. In two games with their new-look roster, the Sixers have outscored their opponents by 47 points while averaging 129 points per game, and Harden looks like his old, MVP self again.
Both Joel Embiid and Tyrese Maxey have meshed perfectly with their newest teammate. Matisse Thybulle has flourished as an off-ball cutter and defensive specialist. Even Doc Rivers seems to already have a good feel for the rotation he'll be using come playoff time.
So, what could be the issue?
Even though most of the roster has improved since Harden's arrival, Tobias Harris has struggled to find an offensive groove and has been downgraded to the team's fourth scoring option. Should Sixers fans be concerned?
James Harden's 76ers career is off to a roaring start
76ers fans knew Harden was going to be an upgrade from Ben Simmons, but not many predicted it to look this good this early.
In his debut against the Minnesota Timberwolves, Harden finished with 27 points, 12 assists, and eight rebounds, but his impact was felt far beyond the stat sheet. The attention he demands from a defense left his teammates wide open almost all night long. Even Embiid, who was consistently attracting double teams before Harden's arrival, had more clean looks at the rim than he ever did with Simmons on the court.
And Maxey, who had become the No. 1 scoring option for the Sixers on the perimeter, was freed up for open jumpers and uncontested drives to the hoop all night. The trio of Harden, Embiid, and Maxey finished with 89 of the team's 133 points, and they shot a combined 63% from the field.
Harden was even better in his second appearance with his new team. The 10-time All-Star went off for 29 points, 16 assists, 10 rebounds, and five steals in another dominant win against the New York Knicks. Embiid and Maxey were also exceptional, with 37 and 21 points, respectively.
It takes time for traded players to find the right chemistry with their new team, so if the 76ers look this dynamic just two games in, imagine what they might look like come playoff time. The NBA officially has its newest offensive juggernaut.
Tobias Harris hasn't benefited from Harden's arrival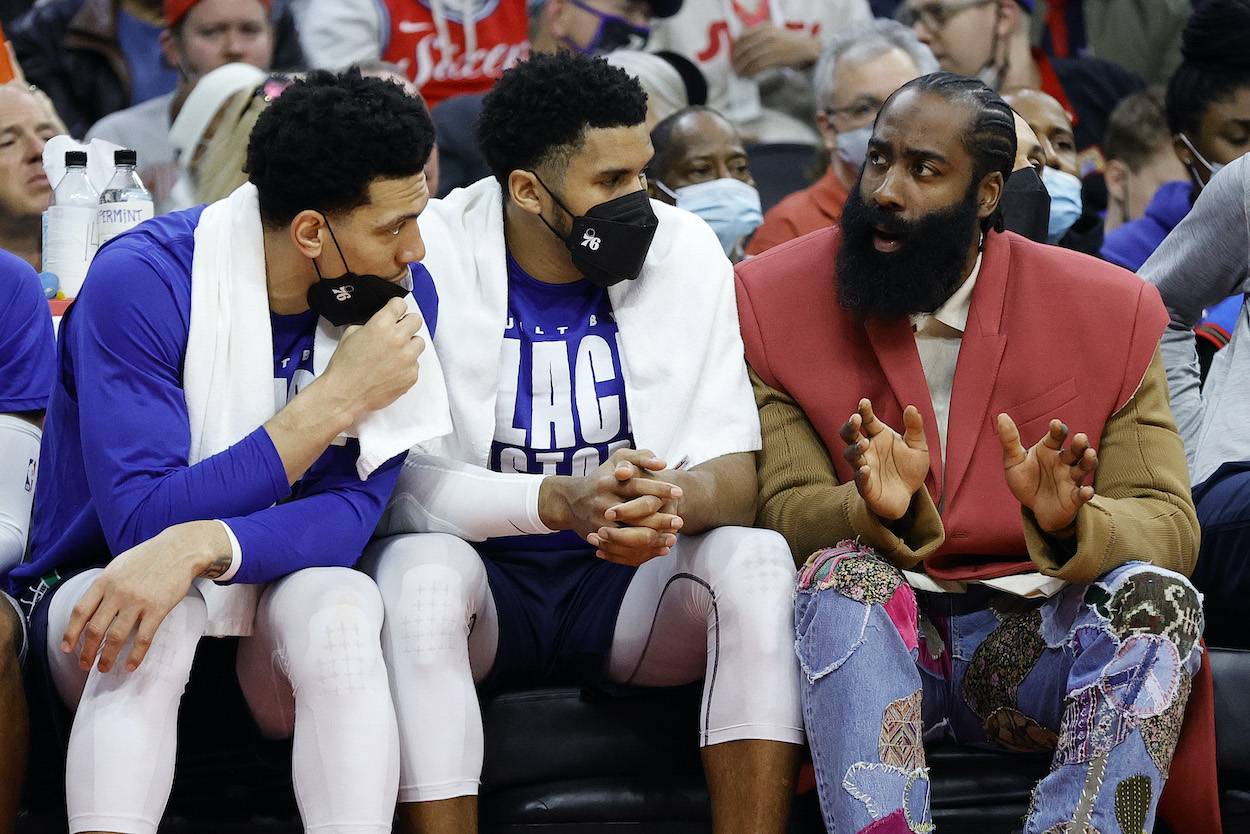 Harris was already taking some heat before Harden's arrival in Philly. The veteran forward is averaging his fewest points per game (18.3) and producing his worst three-point percentage (34.7%) since 2017, and he simply hasn't performed up to his $36 million salary.
The integration of Harden into the starting lineup hasn't helped matters. Over the last two games, Harris has shot 5-for-18 from the floor and has only pitched in 18 points. It's clear Maxey has established himself as the third scoring option for the 76ers, while Harris has been relegated to the fourth.
If the Sixers keep dominating with their new-look core, it might not matter how Harris shoots on the offensive end. But in a larger scope, Harris is due nearly $77 million over the next two seasons. You can't justify shelling out that type of cash to a fourth scoring option, so Harris is going to have to find a new way to be productive on the court.
Time for Harris to embrace his new role
For the time being, let's forget about salaries and offensive expectations. Embiid, Harden, and Maxey play so well together that Harris doesn't need to be a go-to guy anymore. What he can do, though, is embrace a new role on this team.
Harden thrives with space on the offensive end and shooters surrounding him. If Harris can camp out in the corners and give Harden and Embiid ample room to run pick-and-rolls, he'll get a handful of open threes every game on kick-outs alone. All he needs to do is knock down those open looks at closer to 40%.
But where Harris can be extremely valuable for the 76ers is on the defensive end. The energy he was using on isolation plays before Harden's arrival should all go toward his defensive effort. Philadelphia doesn't have a true defensive stopper outside of Thybulle, and it will need Harris to be that guy in crunch time throughout the postseason.
If Harris can operate as a secondary offensive option, make open threes at a decent clip, and slow down opposing wings on defense, he'll give the Sixers a good chance to make a run to the NBA Finals.
Like Sportscasting on Facebook. Follow us on Twitter @sportscasting19.