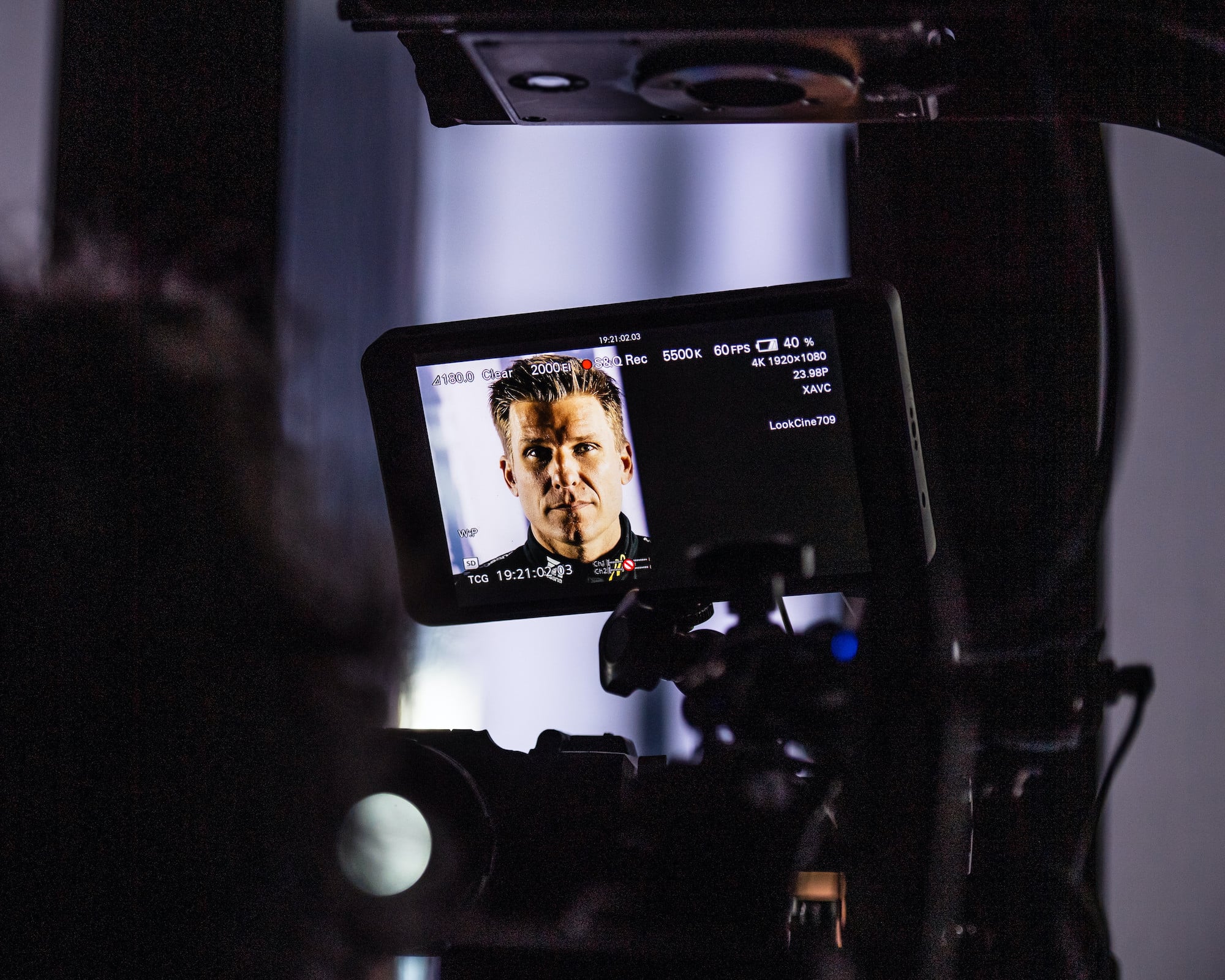 Jamie McMurray Creates Awkward Moment During NASCAR Race Hub Joking With AJ Allmendinger About Staying in Bed With His Cat: 'Nice to Make it Weird, Jamie'
Jamie McMurray made things weird on NASCAR Race Hub when he joked with AJ Allmendinger about spending all day in bed with his cat while recovering from his long race weekend.
In addition to serving as an in-studio analyst on Fox's NASCAR coverage for the last several years, Jamie McMurray regularly appears as an analyst on NASCAR Race Hub. He recently added to his resume, working for the network as a guest analyst in the broadcast booth with Mike Joy and Clint Bowyer for the race at Kansas. 
This week, McMurray joined Adam Alexander and Regan Smith for an episode of the Hub and things took an awkward turn during an interview with AJ Allmendinger when the 2010 Daytona 500 winner joked about a rumor how the driver stayed in bed all day with his cat while recovering from his long race weekend. 
Jamie McMurray makes it awkward with AJ Allmendinger
Jamie McMurray has successfully transitioned from behind the wheel to in front of the camera over the last several years. He's good at breaking down what's happening in a race or what the driver's thinking into easy-to-understand bits for the viewing audience. He's also revealed a good sense of humor. 
During an episode of NASCAR Race Hub this week, McMurray joked with AJ Allmendinger about being tired from his busy weekend, which included racing the Xfinity Series on Saturday in Portland, which he won, and then flying to race in Sunday's Cup race outside of St. Louis, where he finished 10th. 
"Alright, AJ, we just showed everybody your schedule between being at Portland throughout the weekend, traveling to Gateway," McMurray said. "I heard you say after the race at Gateway that you were really dehydrated. So we know that the recovery yesterday was probably big and the rumor here at the Hub studio is that you and your cat Mr. Tickles never got out of bed yesterday."
Allmendinger initially laughed. "Well, that's really," the driver said, before pausing. "Nice to make it weird, Jamie." The comment drew a big laugh from the three back in the Charlotte studio.
"That's interesting. Really appreciate that," the driver continued. "God, I hope everybody watching the show knows that I actually have a cat now. Otherwise, that's really weird." 
McMurray throws shade at Clint Bowyer
While McMurray's joke on the weekly news show quickly turned uncomfortable, he's done better in the past, including last month in Kansas when he delivered a quip that came at the expense of broadcast partner Clint Bowyer.
It happened late in the race when Mike Joy began promoting the broadcast schedule for the following weekend's All-Star Race in Texas, including the All-Star Open.
"How many times did you win the Open?" McMurray asked Bowyer who won it in 2014 and 2015. "I feel like every year you were the winner of that thing."
"Oh yeah, man," Bowyer laughed. "That was not a race you ever wanted to win."
"I was more curious how many times you had to win it to win the million bucks that I did in 2014?" McMurray fired his shot, followed by a big laugh. "Not funny with you, is it?"
Bowyer didn't respond and Joy refocused the attention back to the race. 
Received endorsements for performance
After Kansas, McMurray was lauded for his overall efforts in the broadcast booth from multiple people in the industry, including three-time Daytona 500 winner Denny Hamlin, who felt strongly enough to tweet about it.
"Dear @NASCARONFOX, Hire @jamiemcmurray to be in the booth for the rest of the year and 2023 also," Hamlin wrote. "The mix of his knowledge of the sport and his analysis of what's going on on the track is exactly what we need. Thank you."
No one knows at this point what Fox has planned for its NASCAR coverage in 2023. McMurray might be part of it. It would be a nice addition. However, he might want to leave the cat jokes at the door.  
Like Sportscasting on Facebook. Follow us on Twitter @sportscasting19 and subscribe to our YouTube channel.