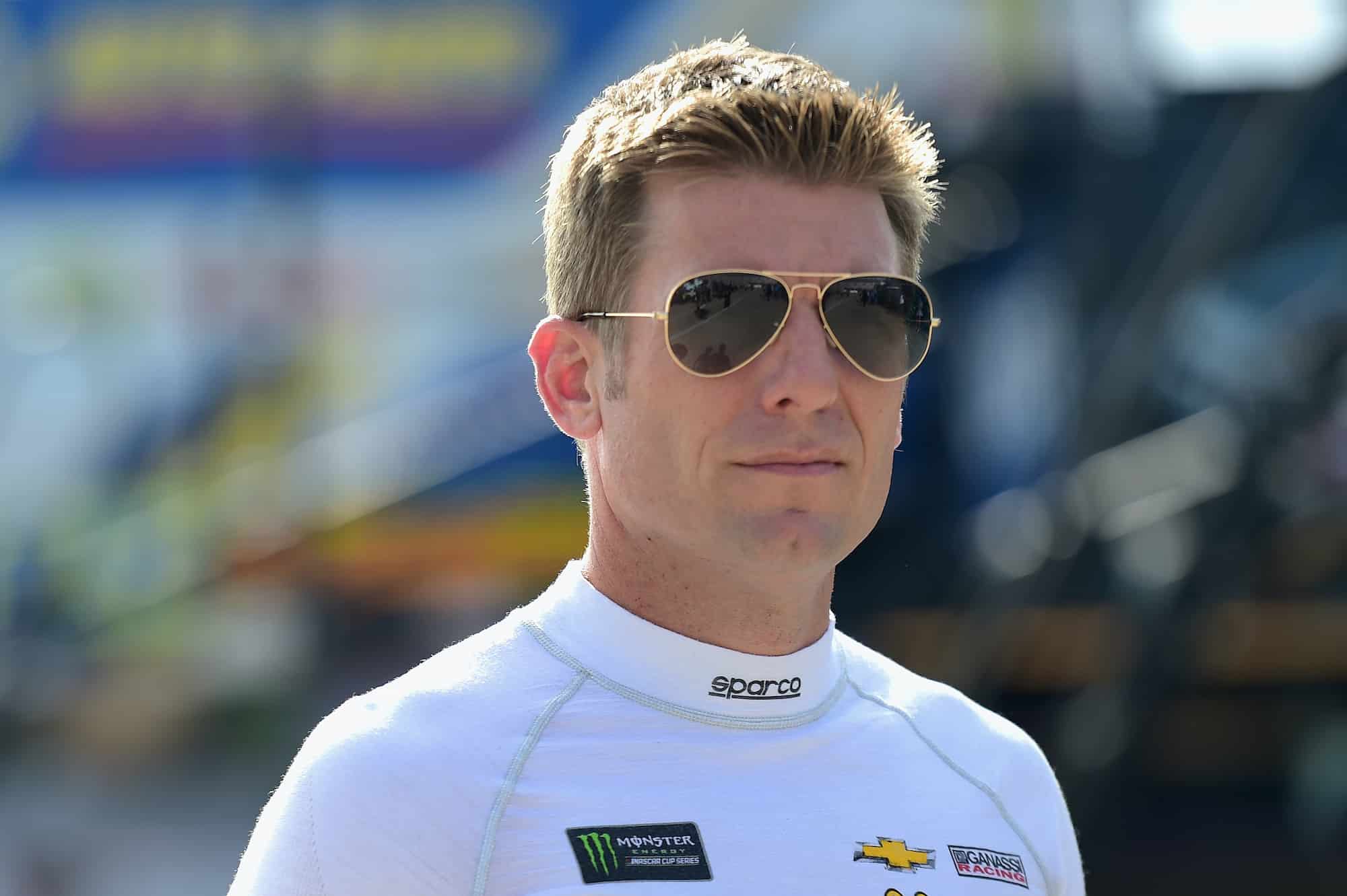 Jamie McMurray Brilliantly Shut Up Clint Bowyer and Received High Praise for Overall Performance From Notable NASCAR Names, Including 1 Top Driver
Jamie McMurray gave Clint Bowyer a dose of his own medicine with a brilliant comment that shut up the former SHR driver. He later received approval for his performance by several notable names, including high praise from one top driver recommending that he return in 2023.
Jamie McMurray has been a regular in-studio analyst for Fox's NASCAR coverage for several years now. This past weekend at Kansas Speedway, he transitioned from behind the desk to the broadcast booth as the latest in the network's rotational lineup of guest analysts. By all accounts, the 2010 Daytona 500 winner did well. 
During the telecast, the 45-year-old showed he was more than capable of adding insightful information and holding his own with fellow former driver Clint Bowyer, including one moment when he delivered a brutal comment that abruptly silenced the former Stewart-Haas driver. 
Jamie McMurray puts Clint Bowyer in his place
For anyone who has watched Jamie McMurray during Fox's prerace and postrace coverage or on NASCAR Race Hub during the week, it was expected he would fit seamlessly in the broadcast booth alongside Mike Joy and Clint Bowyer during the race at Kansas. 
He did just that, providing insightful commentary and analysis throughout the race. He also showed a keen sense of humor and gave Bowyer a dose of his own medicine late in the race after Joy talked about the broadcast schedule for the upcoming All-Star Race weekend in Texas, including the All-Star Open.
"How many times did you win the Open?" McMurray asked Bowyer who won it in both 2014 and 2015. "I feel like every year you were the winner of that thing."
"Oh yeah, man," Bowyer said laughing. "That was not a race you ever wanted to win."
"I was more curious how many times you had to win it to win the million bucks that I did in 2014?" McMurray asked. 
Bowyer, who never won the million-dollar race, didn't answer. Or maybe he did, but you couldn't hear it because McMurray's boisterous laugh drowned out any other sound in the broadcast booth. 
"Not funny with you, is it?" McMurray said laughing before Joy redirected the conversation back to the action on the track. 
McMurray receives favorable reviews
This season, Fox has used a rotation of guest analysts, including former drivers Tony Stewart, Matt Kenseth, Danica Patrick, and Jeff Gordon filling his old role. During the Darlington race, the network rotated by stages, with Richard Petty, Bobby Labonte, and Bill Elliott each working a single stage.
While all the drivers have added their own style to the broadcast, Jamie McMurray was unsurprisingly more polished, and it didn't go unnoticed.
Denny Hamlin felt compelled to tweet about it. 
"Dear @NASCARONFOX, Hire @jamiemcmurray to be in the booth for the rest of the year and 2023 also," Hamlin wrote. "The mix of his knowledge of the sport and his analysis of what's going on on the track is exactly what we need. Thank you." 
Others, including veteran reporters Jeff Gluck and Alan Cavanna, agreed. 
"I championed this back when I did Truck pits. I would get info from crew chiefs, stuff not on the radio, prepping a report….setups, handling, driver feedback…nuanced stuff…," Cavanna tweeted. "Jamie would SEE IT in the car/Truck from the booth (or CLT) and say it before I could. He's great."
What will Fox do in 2023?
Fox would at least be wise to consider bringing McMurray on full-time in 2023. He's proven in his short broadcast career that, like Hamlin and Cavanna suggested, he has a deep knowledge of what's happening on the track and, more importantly, can break it down into digestible parts for the audience.
The rotational lineup implemented this season was an interesting experiment, and maybe network execs were using it as auditions. If that's the case, then it served its purpose in identifying McMurray as the most qualified person to fill that role permanently. 
And like Gordon, he would be someone who can keep Bowyer in check. He clearly proved that in Kansas.
Like Sportscasting on Facebook. Follow us on Twitter @sportscasting19 and subscribe to our YouTube channel.