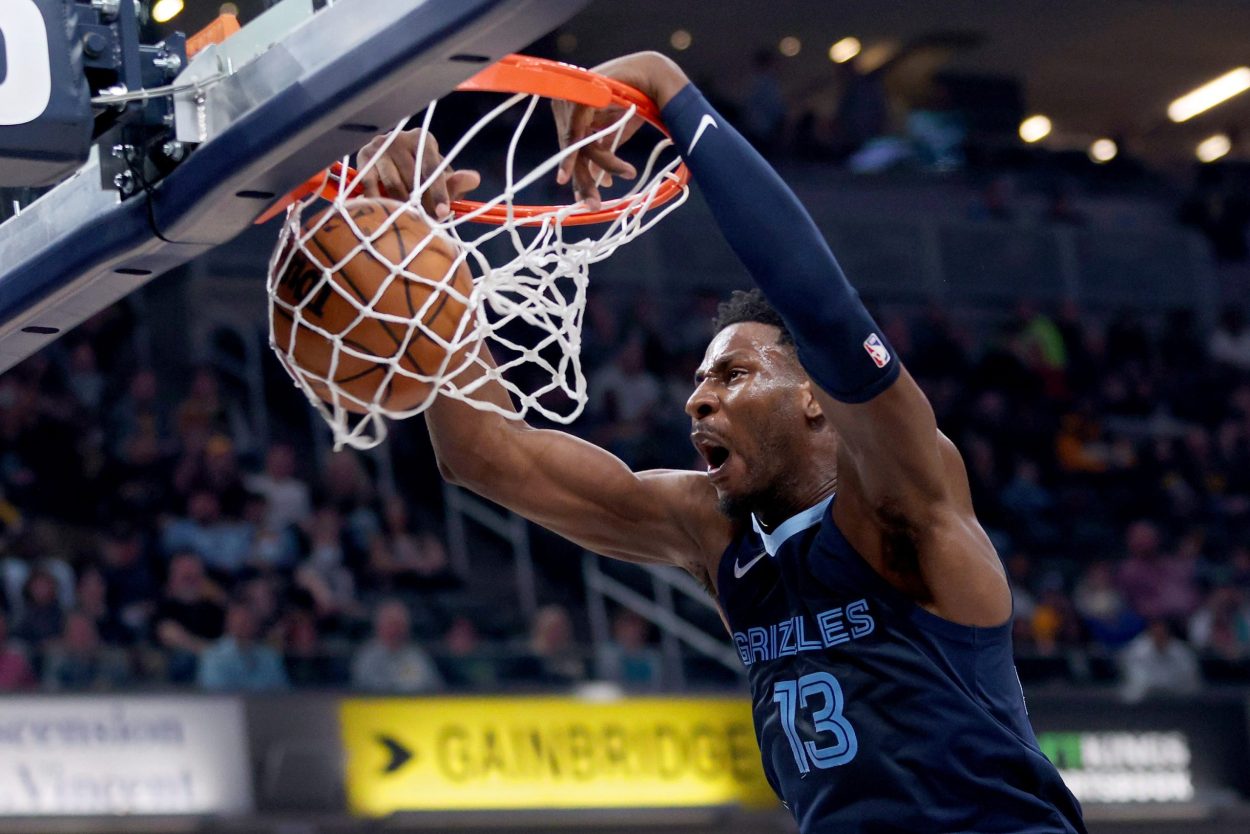 Jaren Jackson Jr.'s Stance on Trash-Talking Explains the Grizzlies' Maturation: 'You're Boring'
Jaren Jackson Jr.'s thoughts on trash-talking speak volumes about the Memphis Grizzlies' outstanding year-over-year growth.
The Memphis Grizzlies are a young team. But the rest of the NBA is now well aware of the moxie they possess and unflinching willingness to talk a whole lot of trash. However, as Jaren Jackson Jr. suggested recently, the Grizzlies do not get caught up in the chatter. The mentality explains their significant year-over-year growth.
Memphis has plenty of individual standouts. Ja Morant's third-year leap has garnered plenty of attention in NBA MVP conversations. Jackson's interior excellence and versatility might result in him winning Defensive Player of the Year. Desmond Bane could walk away with Most Improved Player honors.
Still, it's the Grizzlies' collective will that powers their success. That steadfastness has not been broken, which explains why Memphis has made such tremendous gains this season.
Jaren Jackson Jr. and the Grizzlies are legitimate NBA title contenders
While much of the attention surrounding NBA Finals favorites tends to pivot around the Phoenix Suns, Golden State Warriors, and the beasts of the Eastern Conference, the Grizzlies are right there.
Memphis currently holds the No. 2 seed in the Western Conference. The Grizzlies rank fifth in offensive rating. They pound opponents on the boards, ranking first in offensive rebounding and total rebounding. Ja Morant and Co. also play unselfishly, ranking seventh in assists and frequently beating teams with a frenetic transition game.
The Grizzlies are every bit as solid defensively, with Jackson at the center of it all. The former Michigan State star leads the NBA in blocks and blocks per game (2.2) while also averaging 1.0 steals. On the whole, Memphis ranks first in steals and blocks per game and seventh in defensive rating.
That kind of balance makes head coach Taylor Jenkins' team a legitimate threat to win an NBA title. The Grizzlies might only be more dangerous with the return of two-way wing Dillon Brooks, who rounds out the roster nicely.
Still, the playoffs require a lot of mental fortitude. Staying composed can sometimes prove difficult for young teams in high-pressured moments. But Jackson doesn't seem to think that will be an issue for Memphis.
Jackson said opposing teams have nothing to offer the Grizzlies in the trash-talking department
Jackson acknowledges that the Grizzlies love the trash-talking element of basketball. It's just too bad that other teams can't hold water. At least, that's how JJJ and his teammates feel.
The 22-year-old spoke on the Grizzlies' approach to trash-talking during a recent appearance on the Lowe Post podcast. He said that Memphis doesn't care if feelings get hurt. If the Grizzlies get under their opponents' skin, that's on them.
"[If] they wanna make it personal, they're gonna make it personal on their own. They're basically yelling at air. Like we don't even hear you anymore."

–Jaren Jackson Jr. on trash-talking, via the Lowe Post podcast
In essence, the Grizzlies never get distracted, even when they run their mouths. They know how to go to the next play.
"By the time [opponents] make it personal and you're starting to talk, we've moved on. You're boring."

–Jaren Jackson Jr.
The Grizzlies outclass teams with their trash-talking ability. Truthfully, though, they only care about proving their worth on the court. That mindset has been prevalent all season.
In January, Morant ripped ESPN after the network flexed the Grizzlies out of a nationally-televised game. But those perceived slights have only helped Memphis further embrace being underdogs.
It would be foolish for the rest of the NBA to suggest that the Grizzlies are too young and inexperienced to make a deep playoff run. Their sound psychology makes them more dangerous.
Memphis has the poise to match the athleticism
Remember when Morant went down with an ankle sprain in late November and missed the next 12 games? The Grizzlies could have folded. Instead, Jackson and his teammates gritted their teeth and went 10-2 in that stretch.
This Memphis team is loaded with athletes. It's also loaded with challenge-takers. Desmond Bane's progression in his sophomore season speaks volumes to this point. So, does Morant's almost immediate response to some curious booing fans after he returned from that ankle injury.
Remember, the Grizzlies stunned the Golden State Warriors in last season's play-in tournament and even took Game 1 in their first-round series against the Utah Jazz. They sent subtle messages about their upside and have now exploded on the scene.
However, as Jackson's comments suggest, there's a certain calm and maturity to how the Grizzlies approach every game and every play, even if they talk junk now and then. It's unlikely they get rattled or shrink from the moment come May. Perhaps they'll ride their confidence all the way to an NBA title.
Stats courtesy of Basketball Reference.