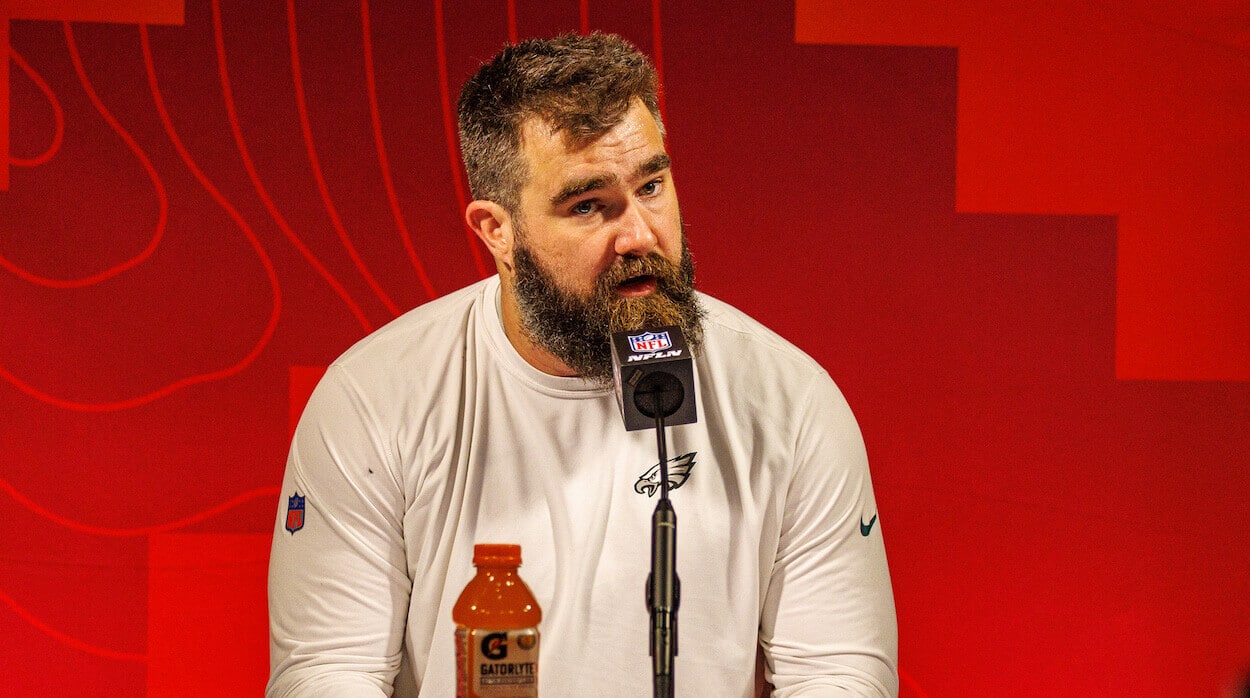 Jason Kelce Reveals Why He Decided to Come Back to the Eagles
Jason Kelce decided to return for his 13th NFL season with the Philadelphia Eagles thanks to some wise words form his wife.
Philadelphia Eagles center Jason Kelce is coming back for another season in 2023. After toasting his decision with Eagles general manager Howie Roseman and some tequila, he took to his New Heights podcast to explain the reasoning behind coming back for a 13th NFL campaign.
Jason Kelce is coming back to the Eagles for 2023
After 12 seasons, six Pro Bowls, five All-Pro nods, and two Super Bowls (with one win), the best center in the game, Jason Kelce, is returning for 2023.
On his New Heights podcast with his brother, Travis Kelce, the offensive lineman explained how he came to this decision.
Travis started the segment by joking that Jason was about to make his announcement before the older brother told the younger Kelce that he had already announced his decision on Twitter, writing, "I ain't f***ing done yet!"
Then on his podcast, Jason explained how he came to this decision.
"I didn't retire again. That's pretty much the news. I'm still playing football," Jason Kelce explained.
He told his Kansas City Chiefs tight end bro that he thought long and hard about it after the Super Bowl because coming back is a significant mental, physical, and family commitment. He wanted to make a decision quickly, though, to give the Eagles time to make the necessary moves to build another winner next season.
"I'm obviously coming back because I want to win. Obviously, I'm coming back because [quarterback] Jalen Hurts is there. We have a lot of good people around the building, and I feel really confident about our coaches and teams," Jason said. "After thinking about it a lot with [wife] Kylie, the biggest thing — and I think she said it really well. She was like, 'You know what, if you're still doubting yourself and going back and forth this long, you still want to play."
And with those words of wisdom from his wife, Jason Kelce is coming back to the best offensive line in football.
The Eagles still have the best offensive line in the NFL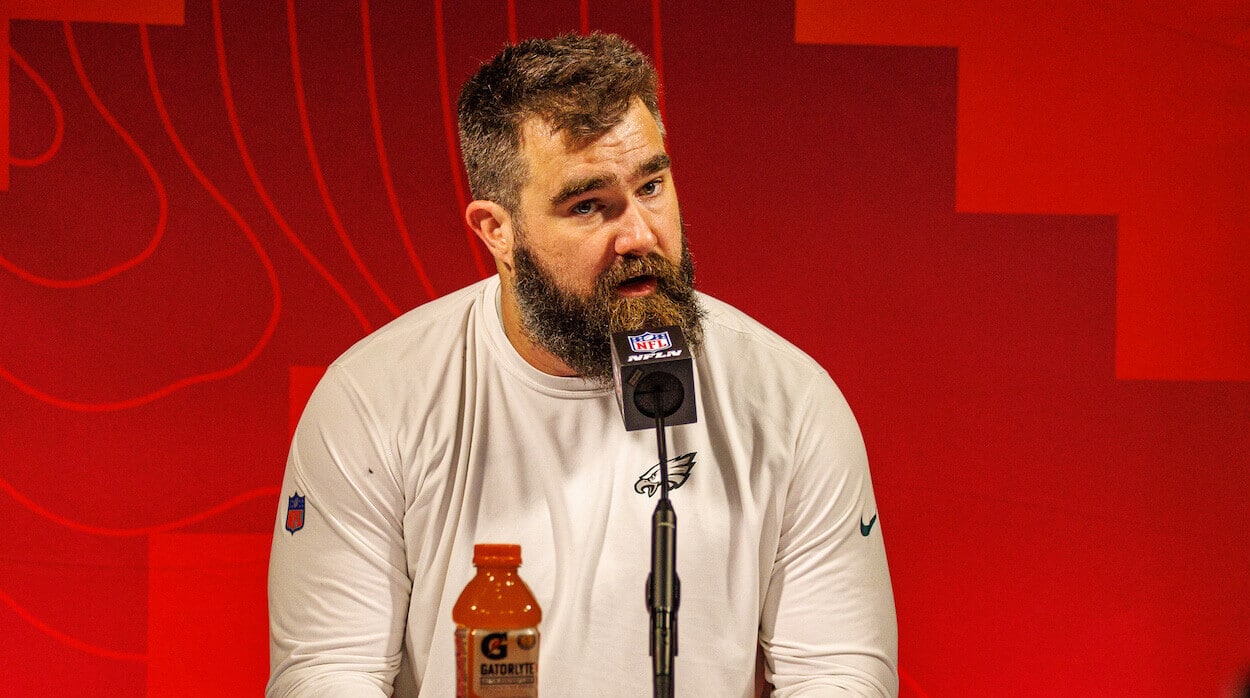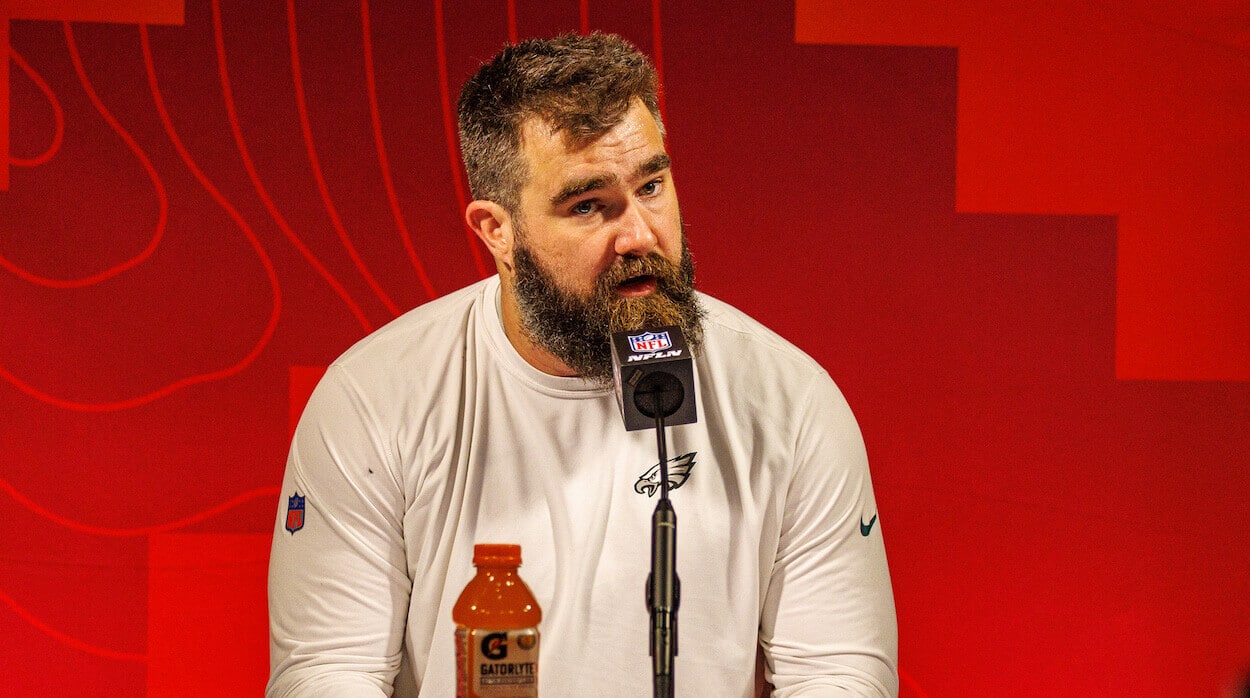 In 2022, the Eagles reached the Super Bowl on the strength of their offensive and defensive lines. On D, the team had 70 sacks, the third-most in a single season in league history.
On O, the team was second in scoring, second in yards gained, ninth in passing yards, and fifth in rushing yards. They were also over 90% in converting QB sneaks.
The Eagles will return four of five starters in 2023. Left tackle Jordan Mailata, left guard Landon Dickerson, Kelce, and right tackle Lane Johnson will start next season. The unit did lose right guard Isaac Seumalo to the Pittsburgh Steelers, though.
Philadelphia does have 2022 second-round draft pick Cam Jurgens in-house, who is a center by trade (that they drafted to someday replace Kelce) but can play guard if needed. Backups Sua Opeta and Josh Sills are also still on the roster.
Veteran NFL guards Dalton Risner, Trai Turner, Rodger Saffold, Justin Pugh, Gabe Jackson, and Matt Feiler, among others, are still available on the NFL free-agent market.
No matter who plays right guard for the Eagles next year, though, the line will still be the best unit in the league.