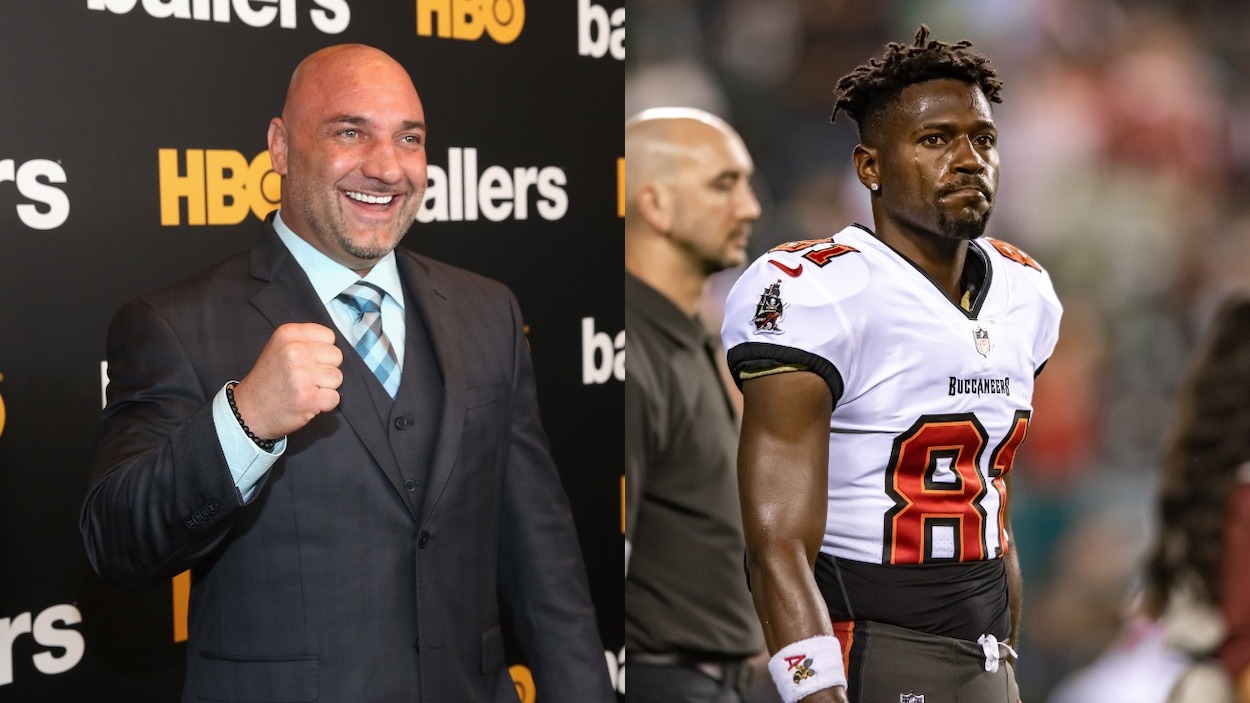 Jay Glazer Shoots Down Reports That Tampa Bay Buccaneers Will Cut Antonio Brown When His Suspension for Fake Vaccination Card Ends
FOX's Jay Glazer says that, despite contrary speculation, Buccaneers head coach Bruce Arians will not cut Antonio Browns for fake vaccination card scandal.
The talented but oft-in-trouble Tampa Bay Buccaneers wide receiver Antonio Brown only made it 13 games in Florida before finding himself in hot water once again. Brown is winding up his three-game suspension for providing his team a fake COVID-19 vaccination card. While the player has been good on the field for the defending Super Bowl champs, is this latest indiscretion enough to write him a ticket out of town in Tampa? FOX's Jay Glazer weighed in on this question Sunday.
There is a lot of speculation that the Tampa Bay Buccaneers will cut Antonio Brown
Through 13 regular-season games and three playoff games, Antonio Brown has put up solid numbers for the Tampa Bay Buccaneers.
He has 74 catches for 901 yards and eight touchdowns with Tom Brady's Bucs. During the 2020 playoffs, on the way to a Lombardi Trophy, Brown had eight catches for 81 yards and two touchdowns, including one in the Big Game.
Despite Brown's production that has unquestionably helped Tampa Bay win games, speculation is rampant that this most recent suspension will cost him his spot on the team.
Most of the assumptions have to do with head coach Bruce Arians.
The 69-year-old coach is a cancer survivor and reportedly takes COVID-19 protocols and vaccination incredibly seriously. In addition to the specific violation, Arians also famously said, "He screws up one time; he's gone," in reference to Brown when the team first signed him.
On Friday, Arians was cagey about what he would do about Brown and his teammate Mike Edwards, who is serving a suspension for the same violation.
"It's just a matter of making a statement, and whether I do it before this game or after, we'll wait and see," Arians said, per Pro Football Talk. "But I don't want anything distracting from this game."
PFT's Mike Florio writes, "The fact that Arians wants nothing to distract from the game could (key word: could) be regarded as a sign that they'll be cut."
FOX's Jay Glazer says that the Buccaneers will not release Brown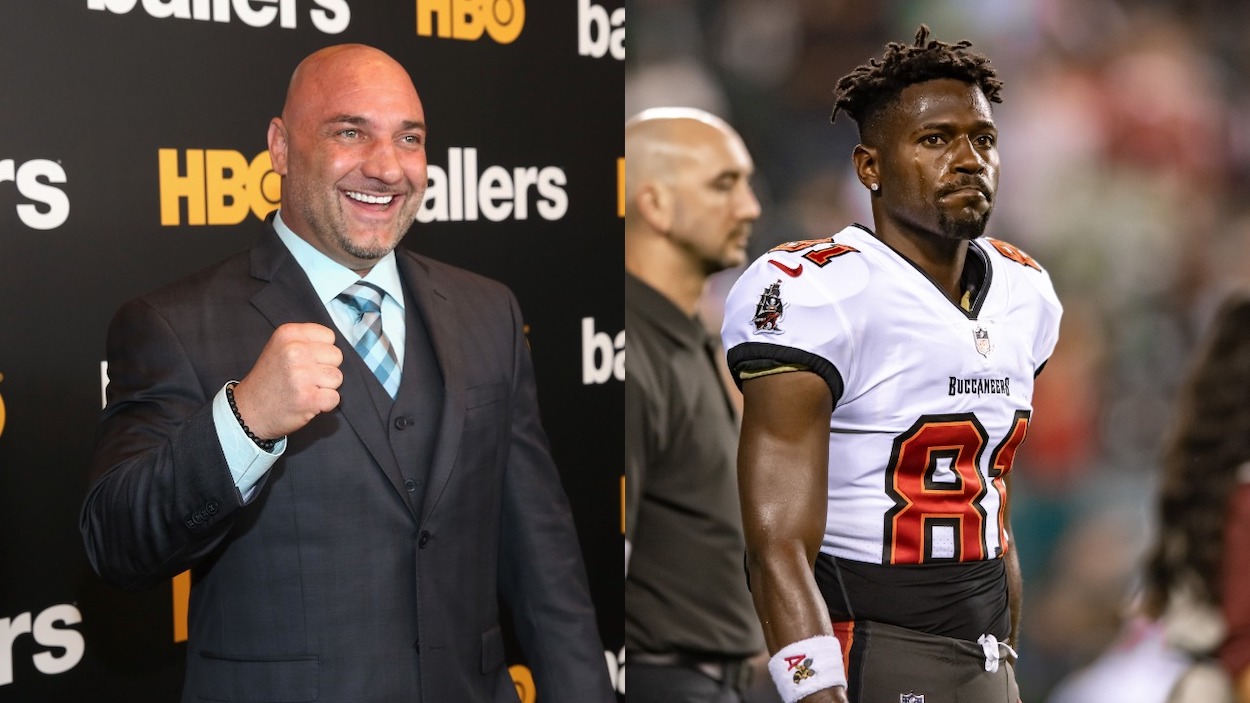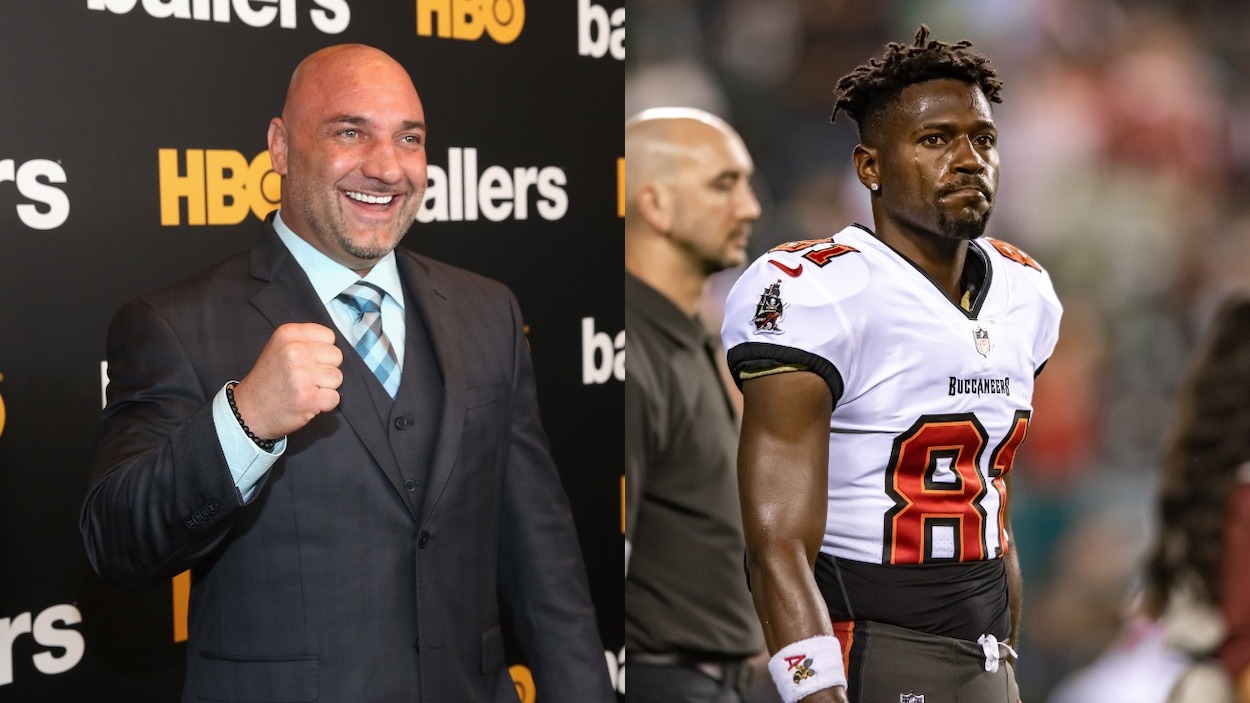 One person who disagrees with Mike Florio's assessment of the situation is NFL insider Jay Glazer. On the FOX NFL Sunday pregame show ahead of the Week 15 slate, Glazer shared what he currently knows about Antonio Brown' fate:
Bruce Arians says he didn't want to make — didn't want to announce a decision before tonight's game because he didn't want it to become a distraction to the team. I will tell you this. Antonio Brown, he has actually been at the facility. He's been allowed to be there trying to get that injured ankle back, and, right now, no, the Buccaneers have no intentions of releasing Antonio Brown when his suspension ends tomorrow.

Jay Glazer on Antonio Brown
Glazer left himself plenty of wiggle room using words like "right now" and "have no intention" while sharing this scoop. That said, Glazer is one of the most reliable information brokers in the NFL these days, so one can assume he has this on good authority.
Yes, Arians will look like a double hypocrite if he allows Brown to return. Not only does the head coach not take COVID-19 vaccination as seriously as he pretends to, but he also doesn't have Brown on the short leash he promised.
Arians certainly won't be the first (nor the last) football coach to prioritize winning over his words, and bowing down to Brown will probably even gain him admiration in his locker room. That's because the Buccaneers will need all the help they can get to reach a second consecutive Super Bowl in a tough, top-heavy NFC.
The NFC is tough at the top
When the Tampa Bay Buccaneers face their division rival New Orleans Saints, it won't be about the NFC South. It will be about their place in the National Football Conference.
Week 15 was wild at the top of the NFC. The Green Bay Packers barely scraped by a Lamar Jackson-less Baltimore Ravens when the AFC squad (again) missed a two-point conversion to win the game.
The Dallas Cowboys took care of business with a perfunctory 21-6 victory over the flailing New York Giants, but the big story was the Arizona Cardinals. In what is now the biggest upset of the 2021 season (sorry Jacksonville), the now 2-11-1 Detroit Lions shockingly beat the formerly No. 1 Cardinals 30-12.
The Packers currently control home-field advantage throughout the NFC playoffs with an 11-3 mark. With a win in Tampa tonight, the Buccaneers can get their record to 11-3 as well.
After years as a cold-weather QB in New England, even Tom Brady admits he's become soft. If he wants to go for Super Bowl No. 8, he'd much rather have the road to Las Angeles go through the Sunshine State than Frozen Tundra of Lambeau Field.
To do this, the Buccaneers may have to win out, taking down the Saints, Carolina Panthers (twice), and the New York Jets.
This shouldn't be a huge challenge for the Bucs, but with Antonio Brown, it will be a lot easier, and that's why Jay Glazer is probably right, and Bruce Arians will keep the WR around, despite his earlier threats.
All stats courtesy of Pro Football Reference