Tom Brady Called out Tony Romo and Campaigned to Have Peyton Manning Increase His Madden Speed Rating After Rushing Exploits vs. Buffalo Bills
Tom Brady is a lot of things. He's a seven-time Super Bowl winner, an ageless wonder, and arguably the greatest NFL quarterback of all time. A running quarterback, he is not.
However, after two big scrambles and a QB sneak into the end zone during the Tampa Bay Buccaneers' 33-27 win over the Buffalo Bills in Week 14, Brady was (hilariously) feeling himself and his running ability, and Tony Romo and Peyton Manning heard about it on social media.
Tom Brady has (a little) more running ability than you might think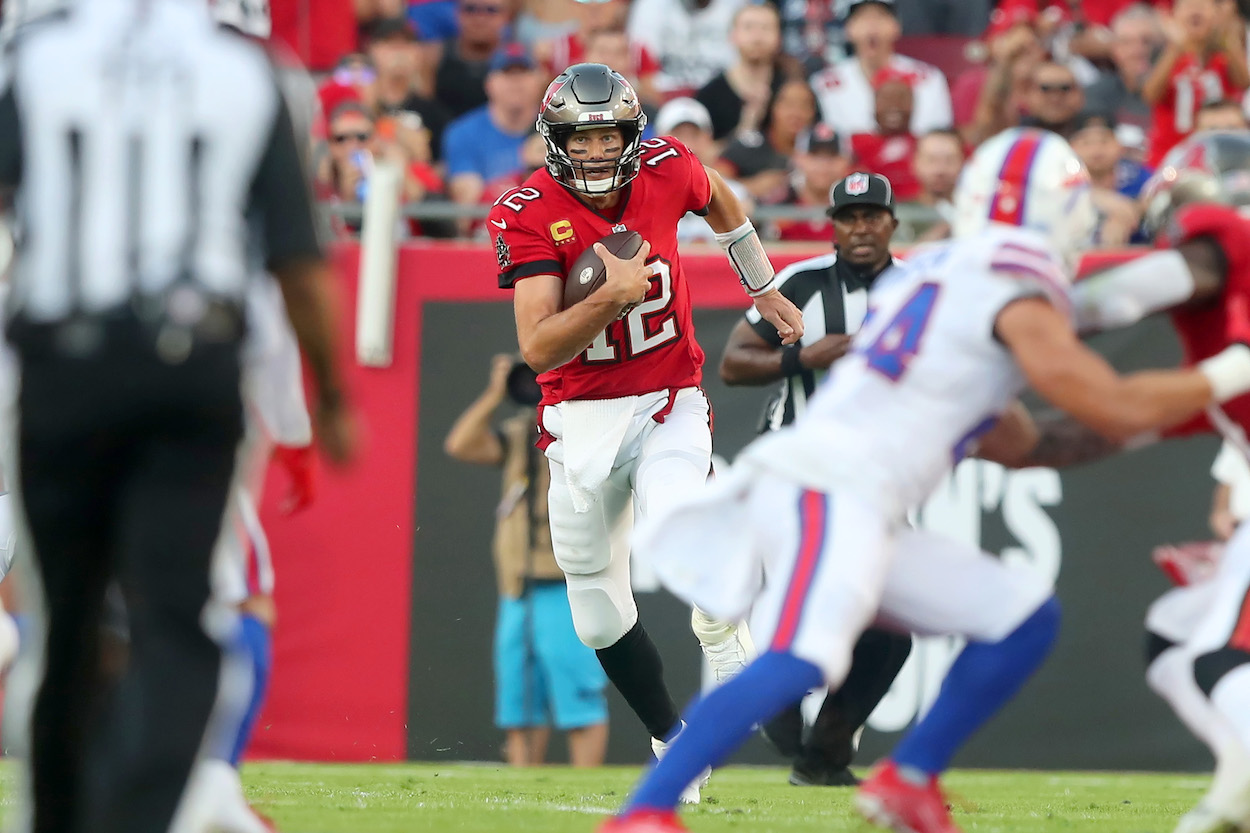 Tampa Bay Buccaneers QB Tom Brady has been in the NFL for 22 seasons. During this time, he's passed for 83,338 yards, which is the equivalent of over 47 miles. He's led the league in passing yards in a season four times, and he's thrown for over 4,000 yards 13 times, including going for over 5,000 yards in 2011.
What may surprise you, though, is that he also has 1,111 career rushing yards.
Sure, this would only represent a slightly above-average season for most of the game's top running backs. It's pretty good, though, for the guy who famously chugged his way to a lineman-like 5.28-second 40-yard dash time at the NFL combine in 2000.
Brady has run for over 100 yards in a season three times in his career, and after his dominating seven-carry, 16-yard, one-touchdown performance against Buffalo, he's at 68 yards rushing in 2021.
All jokes aside, what Brady is phenomenal at is the art of the QB sneak.
From 2001 to 2020, Brady had 157 sneak attempts, which is almost double that of the QB in second place: Drew Brees with 85, per NFL.com. The former Michigan Wolverine has 27 career rushing touchdowns, most of which are of the 1-yard sneak variety.
In Week 14, Brady showed off the full range of his rushing repertoire, much to the chagrin of his coach, Bruce Arians.
Then, after the game, he took to Twitter to call out some old friends — Tony Romo and Peyton Manning — over his running feats.
Brady showed off his running ability vs. the Buffalo Bills and called out Tony Romo
On the Monday after the Tampa Bay Buccaneers victory, Tom Brady tweeted a video directly addressing former NFL quarterbacks Tony Romo and Peyton Manning.
The first thing Brady did was call out Romo for his commentary during Sunday's game against the Bills. The former Dallas Cowboy and current CBS announcer disparaged Brady's running ability during the broadcast.
"Tom does that in the pocket all day long," Romo said while Brady was signaling pre-snap. "That's the same thing he does to move people with his eyes because he's slow, right? He can't actually make someone miss."
In the video, Brady replied, "So, is he not watching? Because…"
Brady's two big rushes against the Bills followed, set to the band Disturbed's song "Down With the Sickness."
The first highlight was a 12-yard scramble during which the Bucs QB picked up a first down before sliding to safety at Bills safety Jordan Poyer's feet. The second was another first-down scramble that was, admittedly, impressive, especially for a QB in his mid-40s.
While the second run only went for three yards, Brady deftly sidestepped Bills defensive end Efe Obada, lowered his shoulder, and ran over cornerback Taron Johnson to get a fresh set of downs.
The highlight package might not equal Michael Vick's — or even his opposite number from Sunday, Josh Allen, who carried the ball 12 times for 109 yards and a TD — but for Brady, it was pretty remarkable.
The 44-year-old QB also implored his old rival Peyton Manning to increase his Madden speed rating
Tom Brady didn't stop after calling out Tony Romo, though. He also had a message for his old pal Peyton Manning.
Manning recently partnered with EA Sport's Madden video game franchise to become a "ratings adjuster." In a series of comical social media videos, the former Saturday Night Live host explained that the people at EA Sports have tasked him with adjusting current players' ratings in the Madden 21 game.
The former Indianapolis Colts and Denver Broncos QB was the one who started the video game beef with Brady. His first move as an official ratings adjuster was to lower his old AFC nemesis' rating from 99 to 44.
After Brady's fleet feet display on Sunday, the former New England Patriots great said, "Hey, EA, tell Peyton to jack my speed rating back up." And with that, the graphic on the video showed Brady's virtual speed going from a 71 to a 93.
Video game rating aside, we'll see if Brady is as apt to leave the pocket this Sunday. The Buccaneers take on the No. 6-ranked rushing defense in the NFL this week in the New Orleans Saints.
All stats courtesy of Pro Football Reference