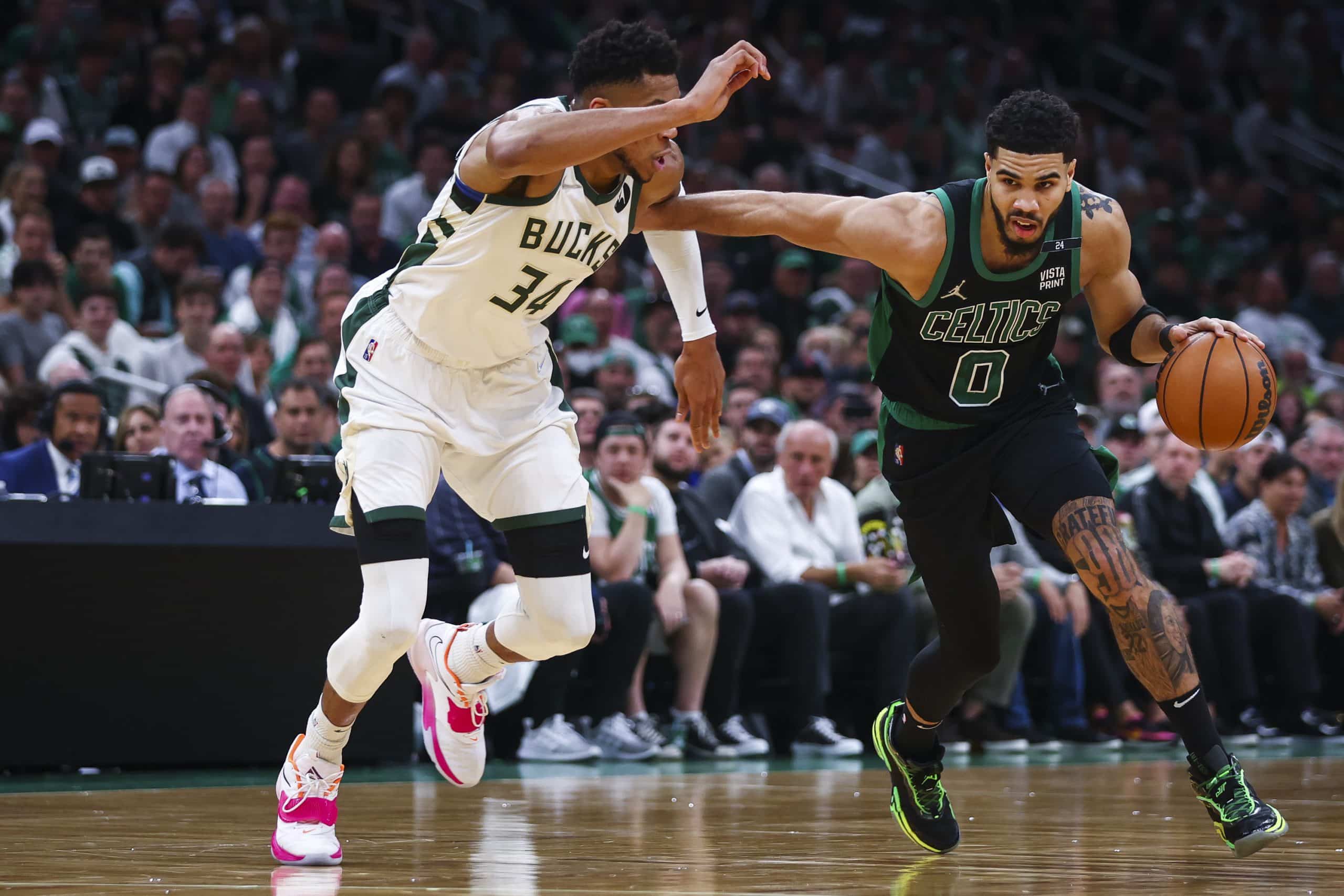 Jayson Tatum Can Learn a Lot From Giannis Antetokounmpo, Says Jackie MacMullan
Giannis Antetokounmpo is a superstar. Jayson Tatum is close but not quite there yet.
Milwaukee Bucks star Giannis Antetokounmpo is, in the eyes of many, the best NBA player today. Three-time NBA All-Star Jayson Tatum of the Boston Celtics is trying to get there.
As the two stars square off against each other in the Eastern Conference Semifinals, Tatum sees his stock rise with each Celtics victory. He's a blossoming star searching for that elusive championship.
Antetokounmpo has a pair of MVPs and a championship. He's a genuine superstar and a true pro. Longtime Boston sports reporter Jackie MacMullan says Tatum could learn a lot from the Greek Freak if he wants to take that next step in the stardom department.
Jayson Tatum is a rising star, but how high can he go?
It's always fun to debate who the top players are in any sport. When the NBA postseason rolls around, that's when that type of talk heats up. The NBA playoffs are when the game's stars shine the brightest.
For Tatum, the statistics are there. The accolades and the rings aren't. Should the Celtics eliminate Antetokounmpo and the Bucks, Tatum will continue his rise to compete with the biggest boys of the NBA.
So, where does Tatum stand now? Top 10? Top five? After the Celtics swept Kyrie Irving and Kevin Durant, some folks got carried away, saying Tatum vaulted Durant in the NBA's best rankings. Former Celtics player Kendrick Perkins went as far as to say Tatum was a top-three player in the league.
"Jayson Tatum, right now, if the best two-way player in the game," Perkins said during a recent episode of First Take. "Jayson Tatum is a top-three player in the NBA. This mean version of Jayson Tatum, nobody wants to see."
Tatum is talented. He's not top three. Could he get there at some point? Sure, but he needs to show he can carry a team to a championship like Antetokounmpo, LeBron James, and Steph Curry have done.
Jackie MacMullan said Jayson Tatum could learn from Giannis Antetokounmpo
Becoming the best basketball player in the NBA is much more than scoring points and winning championships. Antetokounmpo had come a long way since becoming the 15th overall pick in the 2013 NBA Draft. He's worked hard at his craft to get to his elite status today.
MacMullan, a longtime Celtics reporter with The Boston Globe, who also worked for Sports Illustrated and ESPN, said Tatum should look no further than the Greek Freak if he wants to take his game to the next level. During a recent appearance on The Bill Simmons Podcast, she said Tatum has some work to do to get from star to superstar.
MacMullan said Antetokounmpo's composed play sets him apart from the other stars.
"He doesn't get rattled," she said, "even when he gets frustrated with a referee — something that Jayson Tatum should learn a little bit about, frankly. He always maintains his composure. When you're the leader and everybody's watching you, it's really important."
Antetokounmpo rarely yaps at officials. Tatum constantly does.
MacMullan said Celtics fans should be worried
The second-seeded Celtics dropped their first game of the series at home after a woeful shooting performance. Milwaukee, seeded third, stole homecourt advantage but then got blown out in Game 2 as Boston evened the series at a game apiece. It's still anyone's series, although MacMullan said Celtics fans should be concerned.
"Celtics fans should be worried," she said, "because (Antetokounmpo) hasn't played great yet. I mean, he's done some amazing things, but he's averaging five and a half turnovers. I don't think that will continue.
"They got smart in the second half of Game 2, I thought, and started using their shooters as screeners. Grant Williams, Rob Williams, (Al) Horford, they've all done a really great job on Giannis one on one. They started to realize, Game 1, they were trying to double team. That's suicide.
"Now, you're playing him straight up. Now, if Grayson Allen, for example, is setting that screen, you can't afford to do that. You've got to account for him, especially at home in Milwaukee."
Game 3 is Saturday, and all eyes will be on Milwaukee's superstar and Boston's almost-superstar.
Like Sportscasting on Facebook. Follow us on Twitter @sportscasting19 and subscribe to our YouTube channel.