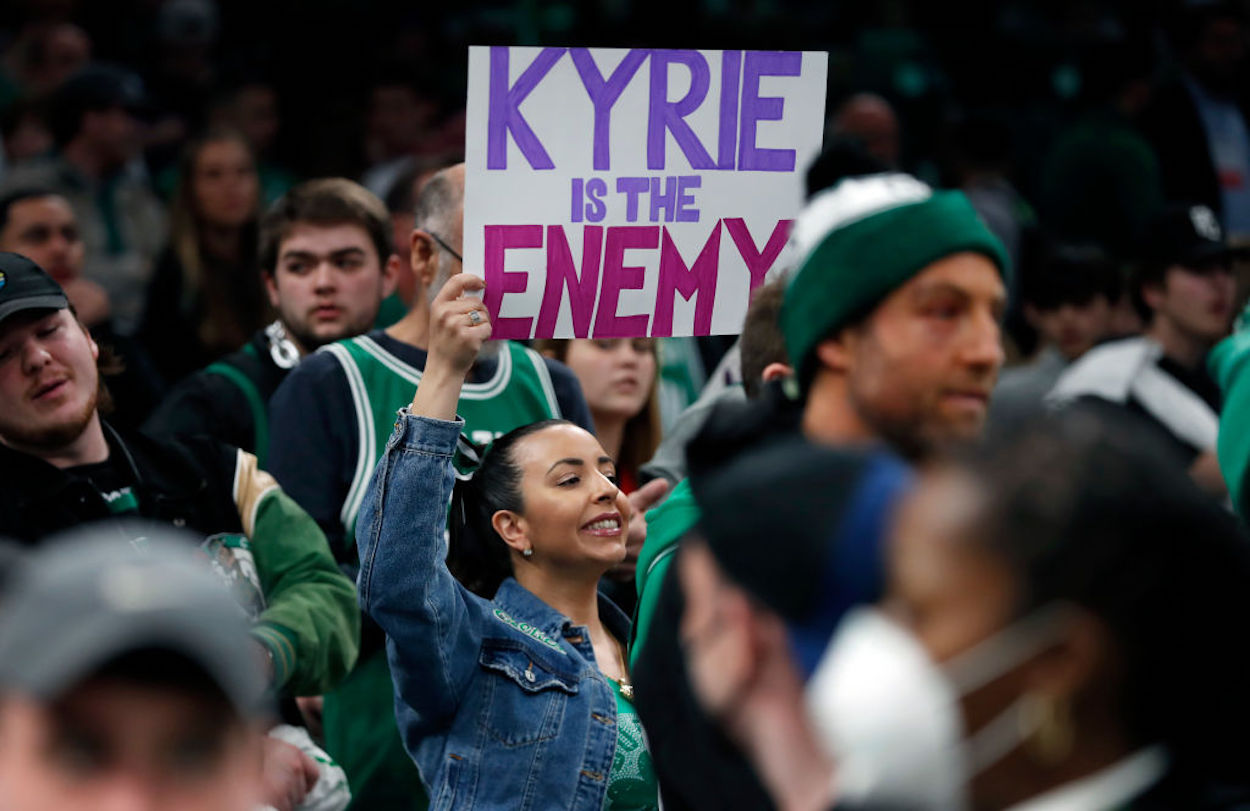 Kevin Durant Is Onto Something With His Surprising Kyrie Irving Claim, Even if Boston Fans Won't Like It
While Boston Celtics fans may be booing Kyrie Irving, Kevin Durant is right that there are some complicated emotions baked into the equation.
As you've surely heard by now, Kyrie Irving is wearing the metaphorical black hat in the Celtics-Nets series. Based on his time in Beantown, the guard has been showered with boos during his return to TD Garden; in fairness, he's also fired back with a few middle fingers of his own. Kevin Durant, however, has a different take on what's going on.
While it seems pretty apparent that Celtics fans don't care for Kyrie's past behavior, KD thinks they're booing him for a different reason. In his mind, it all stems from love.
That may sound rather jarring, but Durant has a point. Even if those in Boston don't want to admit it, the Slim Reaper is onto something about fandom and our relationship to sports.
Kevin Durant believes that Boston fans are booing Kyrie Irving from a place of love
Depending on who you ask, everyone in Boston probably has a slightly different reason for booing Kyrie Irving. Some will take issue with how he left town in free agency, even after saying he wanted to remain a Celtic; others will cite his choice to step on the center-court logo. It's safe to assume, however, that no one in TD Garden is thinking about how much they love the guard.
If you listen to Kevin Durant, though, that's where the hate originates.
"I mean, it's rooted in love," Durant explained, according to Brian Robb of Mass Live. "They once loved you and cheered for you and bought your merchandise. Life-altering experiences coming to the game watching you play. When that gets ripped from them from something like a trade or demanding a trade or wanting to leave, it feels like a piece of them is gone, too. It's an emotional attachment they have to pro sports, and that's a gift and curse of having a team in your city to grow up. It shows that people care and have emotions, and people accept and admire who we are as individuals. Sometimes it gets dark and deep, but that's how the human brain works."
It might sound a bit jarring, but KD does have a point about sports fandom
Upon first blush, Durant's take sounds pretty nonsensical. At the risk of generalizing, no one in Boston is trying to show Kyrie Irving how much they love him. If anything, most probably take issue with how he left rather than the fact that he's wearing a different uniform. When you really consider the quirks of fandom, though, the Nets' star does have a larger point.
When a player suits up for our favorite team, we come to 'know' them. We watch them 82 times per year (depending on the sport), listen to their quotes, and learn their stories. Sometimes, we even wear their names on our own backs. They become a part of our lives.
And, when things end, it hurts. Whether it's through free agency, a trade, or even retirement, no one likes to see someone they 'knew' move on. I experienced it recently with Tyrann Mathieu, Coach K, and Tyreek Hill.
Even if no one in Massachusetts loves Irving now, there's probably still an element of scorned affection there. While you could argue that him leaving town was a net positive, the way he departed probably still stung on some level. If nothing else, it potentially touched a collective nerve by taking an implicit shot at the larger concept of the Boston Celtics.
When something hurts, everyone responds to it differently. Some withdraw within themselves. Others might not be able to enjoy sports in the same way for a while. Others get angry and, in turn, boo.
While that's the sort of situation that Durant described, there's another type of emotional investment that manifests in booing Irving: the love of one's team.
At the risk of trotting out two separate cliches, the Celtics fans packing TD Garden are passionate and want to help their team however they can. In this situation, that means going after Irving because of his history and the fact that he can make a difference in the series. As the (other) cliche says, "They don't boo nobodies."
To be clear, though, that doesn't give fans a blank check to do anything under the guise of throwing the opposition off their game. As Kyrie somewhat said, professional athletes are human beings, and they shouldn't be abused for simply wearing the wrong color uniform. With that being said, though, it's easy to see how your average fan can get caught up in a tidal wave of boos.
In the context of a hard-fought playoff series, Durant's comments about love almost seem designed to raise some eyebrows; you can see Boston fans holding up mocking signs adorned with hearts already. When you approach his words with a cooler head, however, they do make sense.
Sports fandom, like any parasocial relationship, is a bit weird when you really reflect on the finer details. It's a complex maze of emotions, capable of making us laugh, cry, and hate for no real reason. Does someone changing teams or stepping on a logo really matter in the big picture? At the end of the day, though, I'd wager that's part of the fun. Fandom lets us be a part of something larger than ourselves and experience these big emotions in a (relatively) safe way. We can go into battle, experience fear, love, loss, and just about any other emotion you can imagine, and still be OK once the final horn sounds. Even if it takes some time to celebrate a win or mourn a loss, things in the 'real world' maintain equilibrium.
So, even if it feels impossible to love Kyrie Irving, consider your fandom in light of Kevin Durant's words. If you really think about it, you'll probably realize that he's onto something.