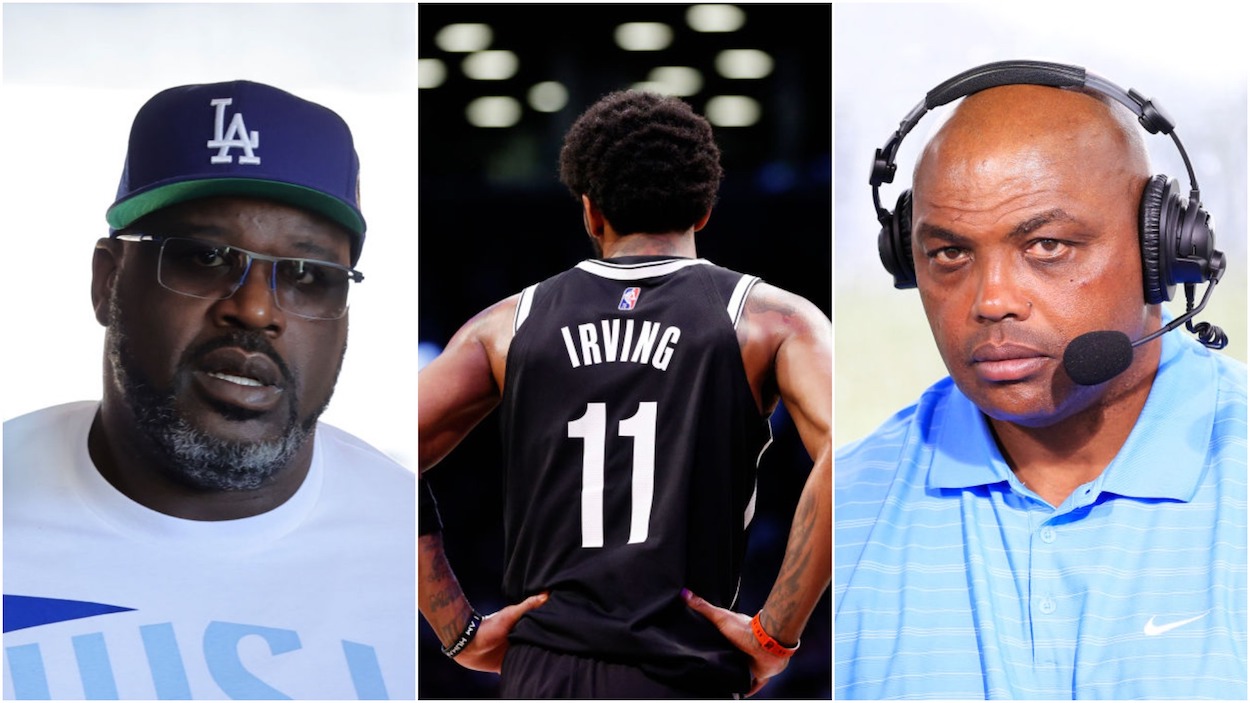 Shaquille O'Neal and Charles Barkley Sound Like Hypocrites Telling Kyrie Irving to Turn the Other Cheek
Charles Barkley and Shaq are popular analysts, but they sounded rather hypocritical when discussing Kyrie Irving's middle finger.
While Sunday, April 17, provided a full slate of NBA action, the Brooklyn Nets and the Boston Celtics stole the show. The game had it all, from rivalry to offensive heroics, and ended with a dramatic buzzer-beater. Ever since the final horn sounded, though, a good chunk of the spotlight has focused on Kyrie Irving and his behavior.
The guard has a contentious relationship with Boston and, on at least two occasions, flipped the middle finger toward the crowd. After the game, he provided a vulgar explanation of his behavior, essentially saying that he was simply giving the fans a taste of their own medicine.
On TNT, Charles Barkley and Shaquille O'Neal didn't have any time for the guard's explanation, essentially telling him to suck it up and focus on basketball. While that's a valid perspective, the two NBA legends sounded rather hypocritical, given their own track records.
Shaquille O'Neal and Charles Barkley weren't interested in Kyrie Irving's explanations for his middle finger
As the cliche says, "All's fair in love and war." If you ask Kyrie Irving, he'd probably add "playoff basketball" to the phrase.
As mentioned above, the Brooklyn Nets guard appeared to give fans the middle finger on at least two occasions during Sunday's matinee. When he was asked about his behavior after the game, Kyrie offered a rather straightforward explanation of his behavior.
"It's not every fan, I don't want to attack every fan, every Boston fan," Irving said, according to ESPN's Nick Friedell. "When people start yelling 'p****' or 'b****' and 'f*** you' and all this stuff, there's only but so much you take as a competitor. We're the ones expected to be docile and be humble, take a humble approach, f*** that, it's the playoffs. This is what it is."
While there's room to debate the validity of Irving's response — we'll touch on that later — the guys in the TNT studio weren't buying it.
"Well, if the great Bill Russell went through it, I wanted to go through it also," Shaq said. "I don't really want to hear all that. And, you know, certain cities, they don't care what you say in the press conference. You know what's gonna happen in Game 2? They're gonna be talking more smack up there in Boston. … Listen, it happens to the best of us. You don't think people said stuff to Charles Barkley? Said stuff to Hakeem Olajuwon?"
At that point, Chuck stepped in to offer his perspective.
"Most of the fans are amazing," he added. "Some of them [are] gonna say some rude stuff. Please stop it, you athletes today, whining like little …"
Those comments sound rather hypocritical given what Shaq and Sir Charles did as players
Again, TNT's collective take is fairly normal. While it's probably not 100% fair to always expect pro athletes to turn the other cheek, there are extra burdens that come along with celebrity status. With that being said, though, the words ring a bit hollow coming from Shaq and Sir Charles.
Barkley, of course, had no problem fighting fans during his playing days. On one infamous occasion, he even spit into the crowd, hitting a young girl. While he has since said that incident helped change the course of his life, he doesn't seem to exactly regret the entirety of his resume.
During a 2015 appearance on The Colin Cowherd Show, for example, Chuck said that the eight fans he punched "deserved it." He also explained that 90% of fans are great while noting that he'd "like to take [the remaining 10%] out back and just shoot 'em." (h/t Josh Criswell of FanSided).
While Shaq's resume is a bit cleaner, he's spoken about how he'd deal with fans who crossed the line.
During a December 2021 episode of The Big Podcast With Shaq, O'Neal used LeBron James' interaction with a heckler to discuss life in the spotlight. Although he referenced Bill Russell and explained how he learned to do most of his talking on the court, the center did admit to occasionally throwing his weight around.
"This is what I woulda done if I was 'Bron," he explained. "I don't know what was said, something about the baby. This is what I woulda did. I woulda been like, 'Hey, Spice. We're up by five. Throw the ball over there. Just throw it a little in front of me, and, when I dive out of bounds, I'mma elbow that dude and his wife in they mouth.'" Period. And guess what? I've done it before. Statute of limitations, I've done it before. If it gets out of hand like that, and you want to go personal, OK."
Shaq also went on to explain that he'd given fans his home address and invited them to talk smack in private.
Compared to those actions, Kyrie's middle fingers seem pretty harmless, right?
The Kyrie Irving situation, however, does highlight the complexities of judging athlete and fan behavior
While Shaq and Sir Charles telling Kyrie Irving to suck it up does sound a bit hypocritical, I don't really want to rip the NBA legends. Instead, their comments serve to underscore a tricky reality: It's tough to discuss athlete behavior without twisting yourself into a knot trying to balance morality with practicality.
In a vacuum, we could probably agree that the best scenario would involve everyone playing by the rules. No one would cross the line to taunt Irving, and the guard wouldn't need to fire back at the crowd. In practice, though, that's never going to happen. Beyond the logistical challenges of defining that line — what level of vulgarity is unacceptable? — it's almost impossible to keep thousands of fans on the straight and narrow. Someone, no matter how many rule-based videos play on the big screen, is going to act inappropriately. At the risk of sounding defeatist, you can't rely on ushers to flag every single transgression and escort the offender off the premises.
With that being said, though, taking things to the opposite end of the spectrum isn't a valid solution. As Irving indirectly said, athletes are real people. The simple fact that they make millions of dollars shouldn't open them up to hate and abuse. It's also less than ideal to create a situation where NBA stars feel like they need to fire back at fans. At the risk of trotting out another cliche, "An eye for an eye makes the whole world blind."
As usually happens, the best solution is somewhere in the middle. Things are (probably) at their best when there's a bit of give and take. Think about Trae Young and Knicks fans during the 2021 NBA Playoffs. Things at MSG were generally in good fun, and the rivalry elevated the series.
Striking that balance, of course, is easier said than done. You don't want to give either side carte blanche, but you also don't want to stand on guard, ready to shut down the tiniest bit of trash talk. To take things back to Kyrie's comments, there's a thin line between playoff intensity and breaking out gendered insults or racial slurs. That latter group is obviously not OK, regardless of the situation.
When it comes to the interactions between Kyrie Irving and Boston Celtics fans, there are plenty of valid positions you can hold. Whichever one you choose, though, it shouldn't be hypocritical.