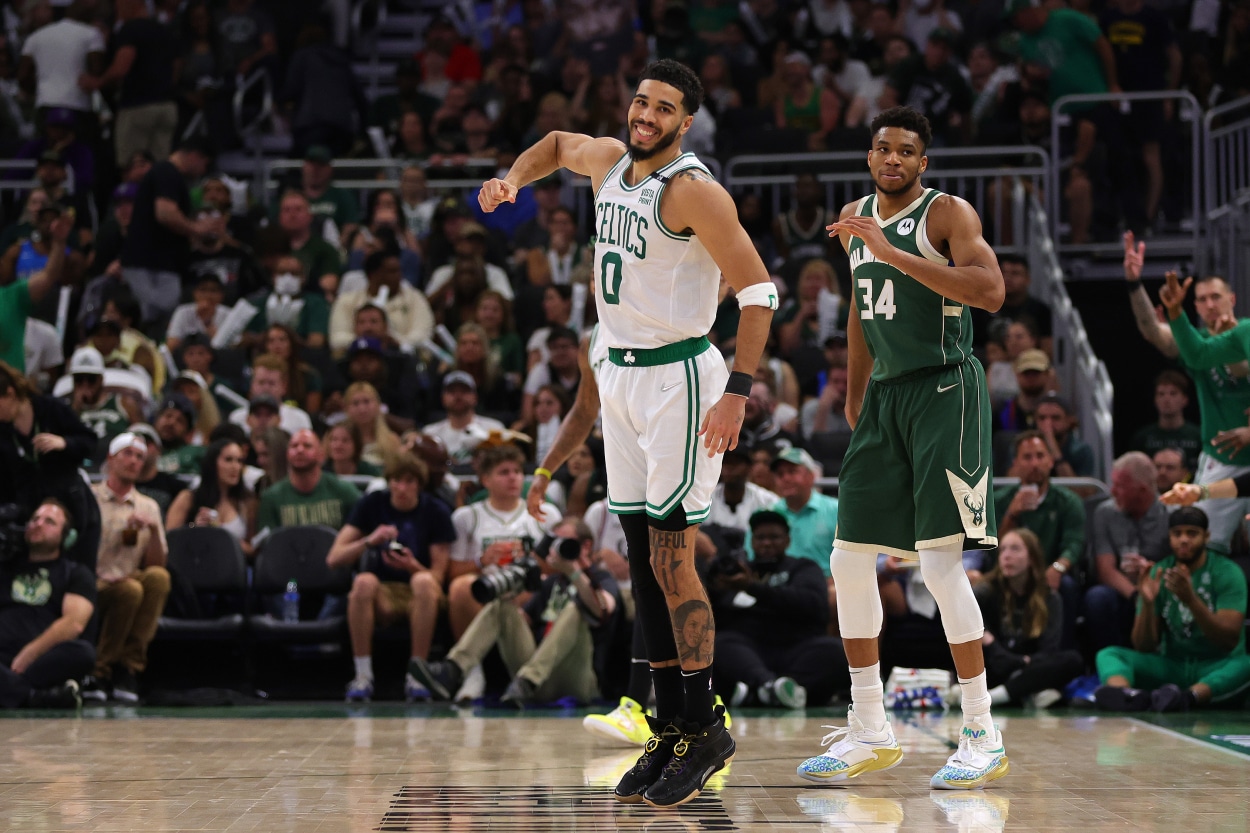 Jayson (Tatum) Plays Killer on Friday the 13th, but the Boston Celtics Celebration Is Short-Lived
Jayson Tatum came up big when it counted most for the Boston Celtics.
Jayson Tatum has gotten his points, but he hasn't been great. There were some games when he wasn't even good. The Boston Celtics star was great from start to finish on the road in Game 6 on Friday as the Celtics avoided elimination, sending the Eastern Conference Semifinals back to Boston for a deciding Game 7.
Tatum scored 46 points to lead the desperate Celtics to the 108-95 victory in a killer performance on Friday the 13th. Tatum and the Celtics made sure there was no shocking Milwaukee comeback this time, but there wasn't much time to celebrate.
Jayson Tatum dominated from start to finish for the Boston Celtics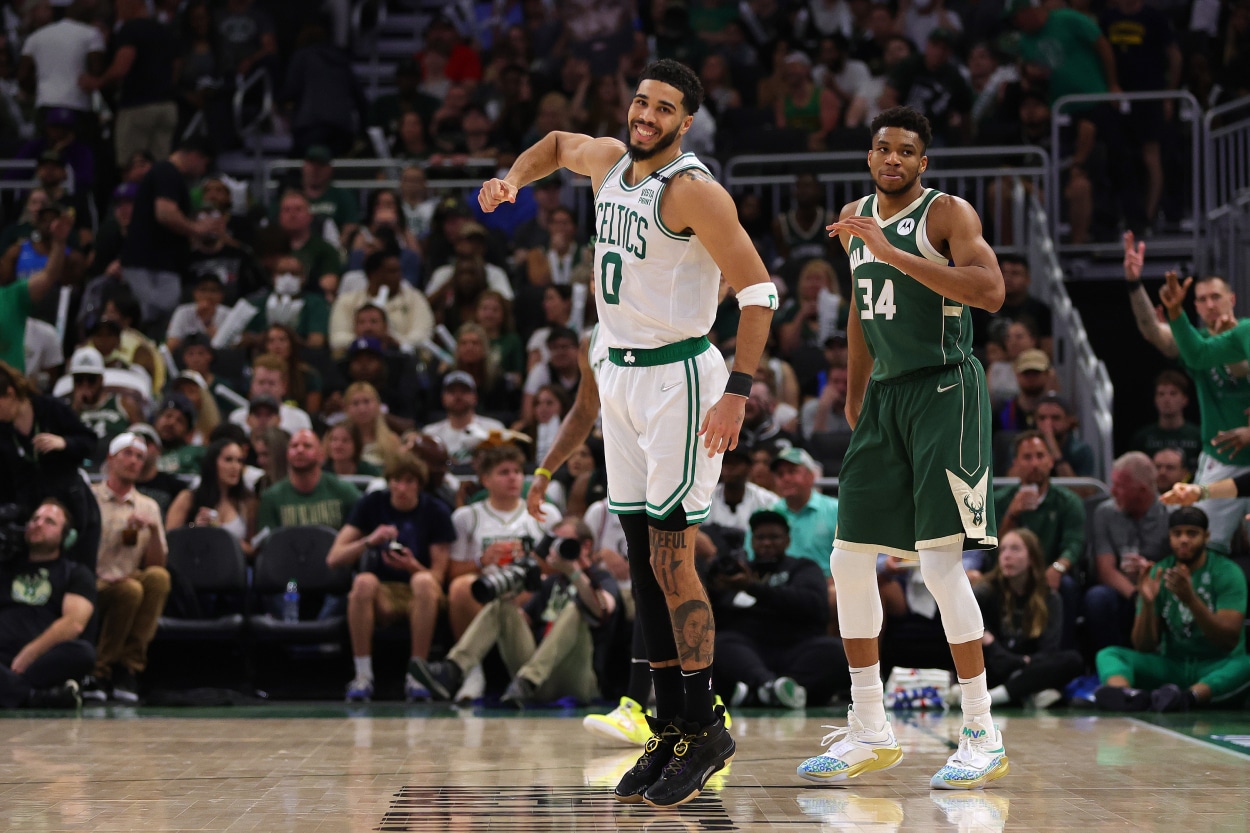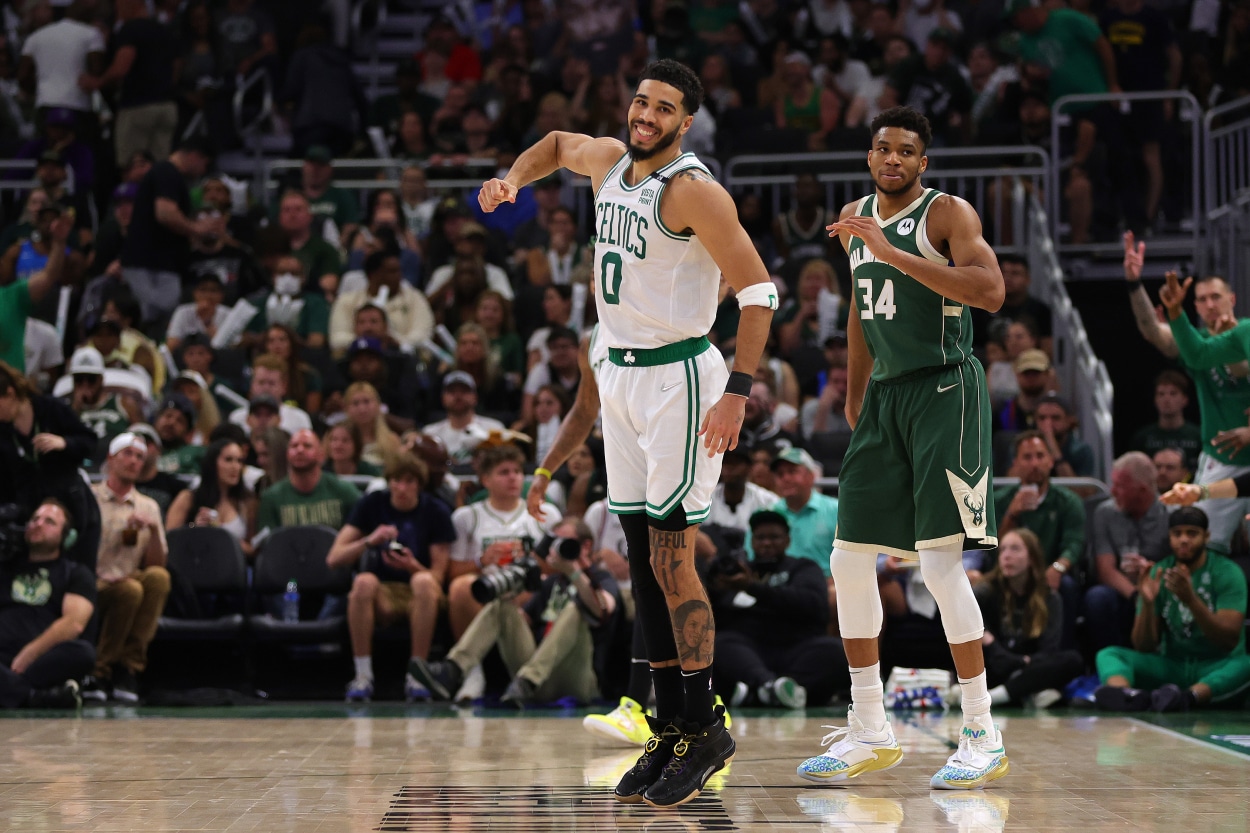 Despite eclipsing the 30-point mark in the last three games, Tatum has struggled in this series. Prior to Friday's win, Tatum had an ugly shooting stretch from long range. In his previous three games, he went 5-for-27 from three-point land, and the Celtics dropped two of three contests.
On Friday, things were much different.
Tatum went 7-for-15 from beyond the arc and 17-for 32 in the game. He came up big when his team needed him most. This was a stellar wire-to-wire performance as Boston's star connected from deep and attacked the basket. He needed to rid himself of that sour taste in his mouth after the ugly shooting night and watching his team collapse in the final 10 minutes of Game 5.
"I think just kind of how much it stung losing that game like that," Tatum said, per ESPN. "Everybody had a bad taste in their mouth. Watching film, learning from it. The eagerness. We were upbeat. We weren't defeated.
"Knowing that we still had an opportunity to save our season to come in here and get a win. We believed that, we truly did. We believe in each other, and I think it showed tonight."
It was only a matter of time before Boston Celtics star Jayson Tatum had a complete game
Jaylen Brown, the other half of Boston's "Jays," called Tatum's performance a "signature game." Veteran guard Marcus Smart knew it was coming. If Tatum wants to be the leader of a championship-caliber team, he needs to do what he did Friday.
"That's why he gets paid the big bucks," Smart said. "That's it right there. For moments like that. I was telling him the whole game, just be you man. He was.
"That's what he gets paid to do. That's what we lean on him to do."
"It was a big-time performance," Brown said. "Our backs are against the wall, too. You love to see JT come out aggressive and carry us offensively like he did forcing Game 7. Definitely a signature game for the Celtics and for Jayson."
Smart said Tatum wanted the ball in crunch time.
"We saw it in his eyes," he said of Tatum. 'He was aggressive, he was coming to us: 'Give me the ball.' And we'd give him the ball. He asked for it, and that's what we're going to do. Like I said, that's why he gets paid the big bucks."
Tatum and the Celtics don't have time to celebrate
While the win saved Boston's season, there's plenty of work to be done. Although they're headed back home as a five-point favorite, they've lost two of their last three playoff games this series at TD Garden to the Bucks.
Friday's victory allows them to play Sunday. Now it's time to stop celebrating and figure out how they can win at home against the defending champions. If they have the same mindset they had in Game 5, they should be just fine.
"I was excited to play today, Game 6," Tatum said, per Boston.com. "This was a big moment, for all of us. For myself, and the team just how we would respond. Losing Game 5 was going to make us or break us. I think we showed a lot of toughness and growth coming out here and getting a win on the road and just giving ourselves a chance."
The Celtics are expecting a big boost from the home crowd.
"I expect it to be loud. I expect it to be fun. And I expect to be a part of a great game. I'm looking forward to it," Brown said. "The best two words in basketball are Game 7."
Like Sportscasting on Facebook. Follow us on Twitter @sportscasting19 and subscribe to our YouTube channel.