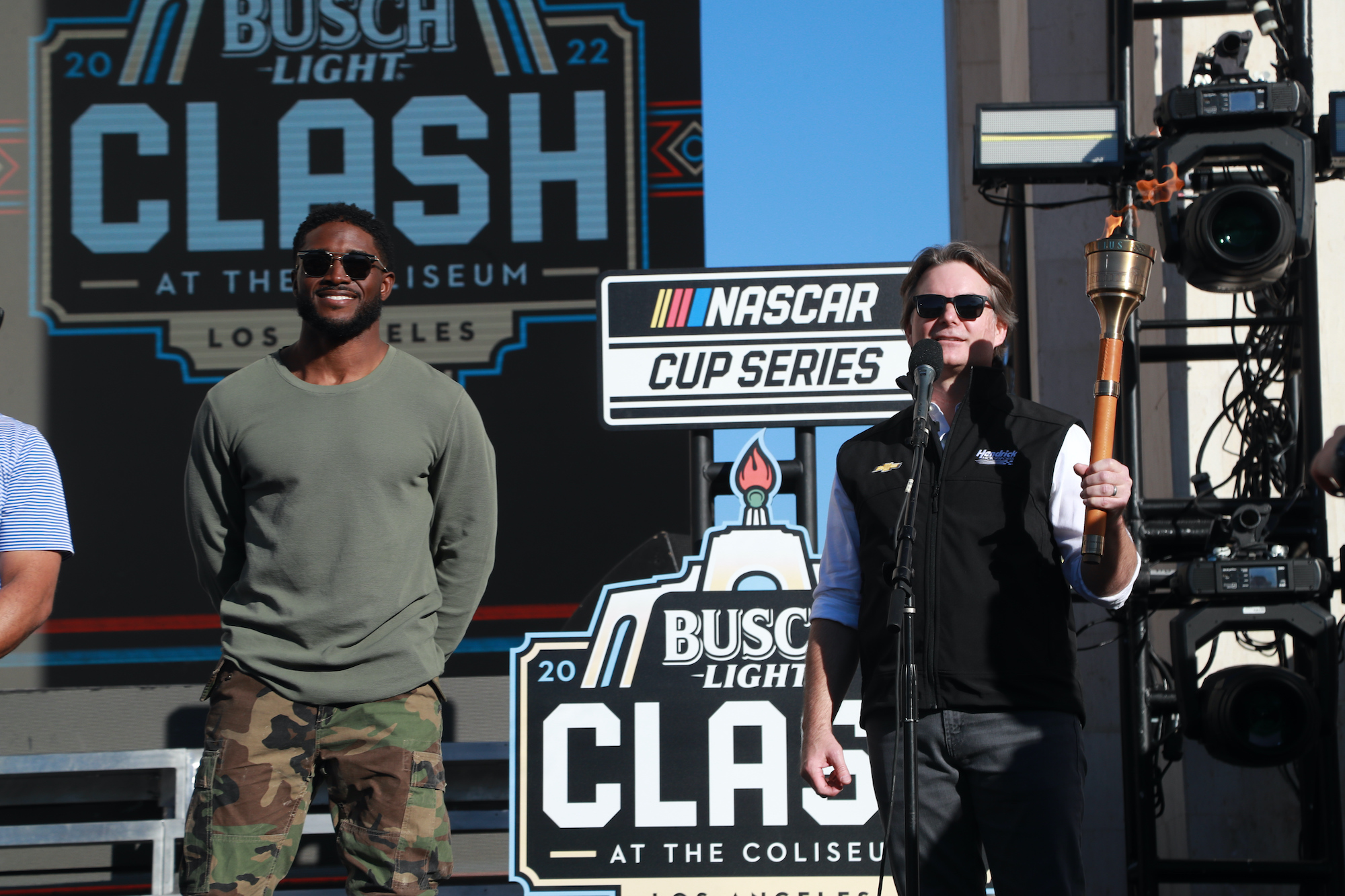 Jeff Gordon Calls out HMS Drivers Like Kyle Larson and Chase Elliott to Get Uncomfortable and Do Things They've Never Done Before
Jeff Gordon knows about marketing NASCAR from firsthand experience and is now pushing the HMS drivers to take that next uncomfortable step to grow the brand and the business.
As a four-time NASCAR Cup Series champion and NASCAR Hall of Famer, Jeff Gordon knows what it takes to achieve success on the track. Not surprisingly, he's willingly shared that wealth of knowledge with all the drivers in the Hendrick Motorsports organization. 
Now, as Vice Chairman and team owner Rick Hendrick's eventual successor to the HMS empire, the 50-year-old former driver is thinking long-term for the company and the sport. That became clear this week when the three-time Daytona 500 winner revealed why he's making his drivers uncomfortable to the Sports Business Journal.
Jeff Gordon learns marketing from Dale Earnhardt Sr. 
Many NASCAR fans viewed Jeff Gordon as adversarial to Dale Earnhardt Sr. That might have been the case on the track, where the two would go to great lengths to beat each other, but it was a completely different story off the track. 
That's where the two capitalized on their rivalry and became partners, joining together on multiple business and real estate ventures. Back in 2018, Gordon shared some of the details of working with Dale Sr. on the Dale Jr. Download.
"He would know who was selling (how much) every weekend," Gordon said. "Where his sales are, where the other drivers are, he knew it all. I think my stuff started getting up there. I'm sure there was a little rivalry and competition, but he embraced it and said, 'Man, I think we got something here we can grow.'"
Jeff Gordon helping HMS drivers with off-track presence
During that same episode, Gordon said back then his priority was always driving, and he didn't want to think about doing anything more than that. 
"I just wanted to drive and race, kind of like some of these guys today," he admitted. "I recognized later in my career, but at the time, I just wanted to go out and drive and win and perform on the track." 
After years of providing on-track support, this week Gordon told the Sports Business Journal's Adam Stern that he's now in the process of working with HMS drivers on their off-track presence. And that sometimes means things are going to get awkward.
"I want our drivers to be organic and don't want them to be anyone they're not, but whatever you're comfortable with, I want to see you go just outside that comfort zone," Gordon said. "If you're willing to put yourself in places people don't expect you and you want to be there — the traditional sporting events and country music concerts are great, but let's take that a step further — that's what I'm trying to encourage our guys to do. I didn't want to host Saturday Night Live (at first). I was scared to death." 
Pushing NASCAR forward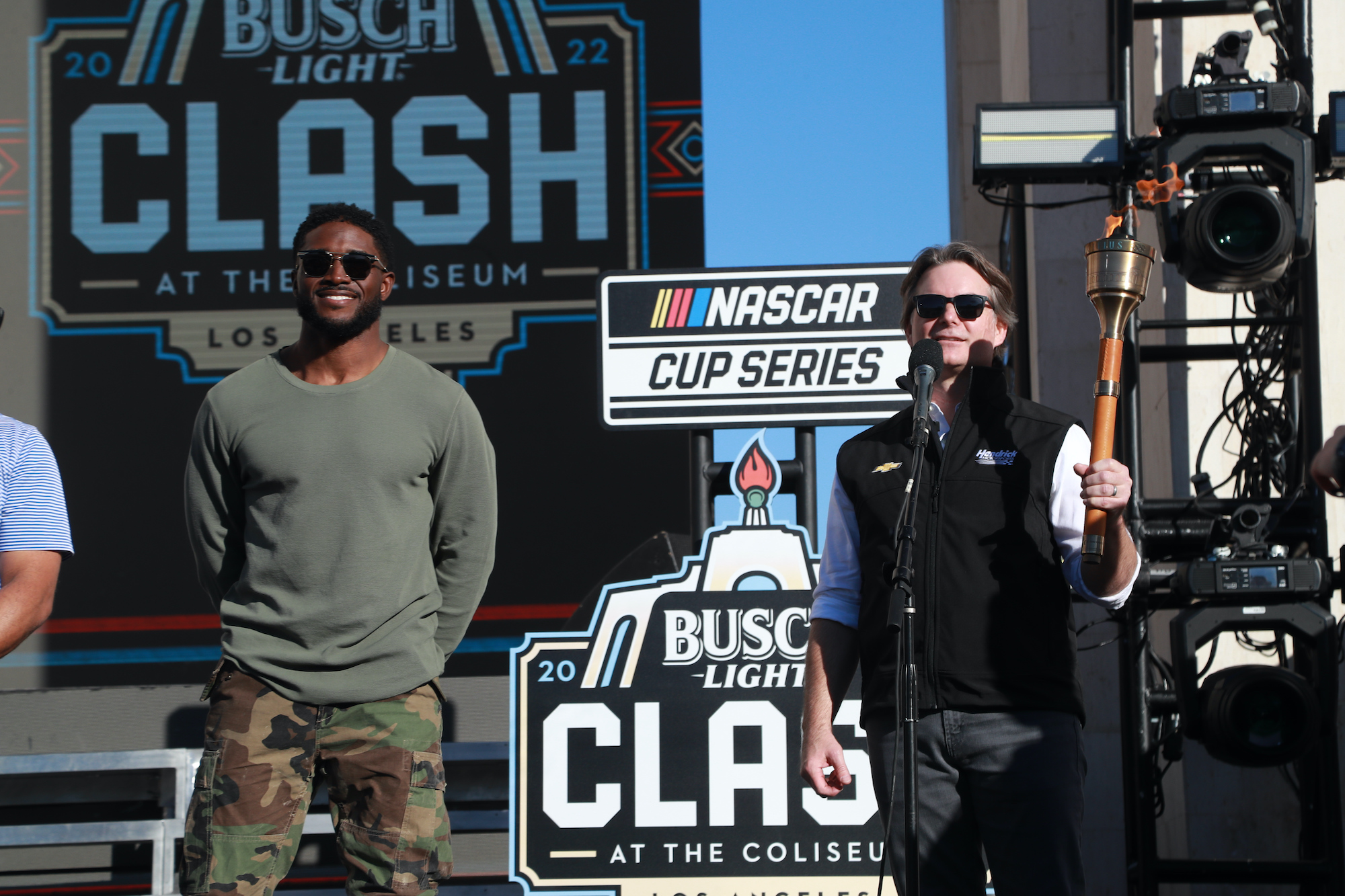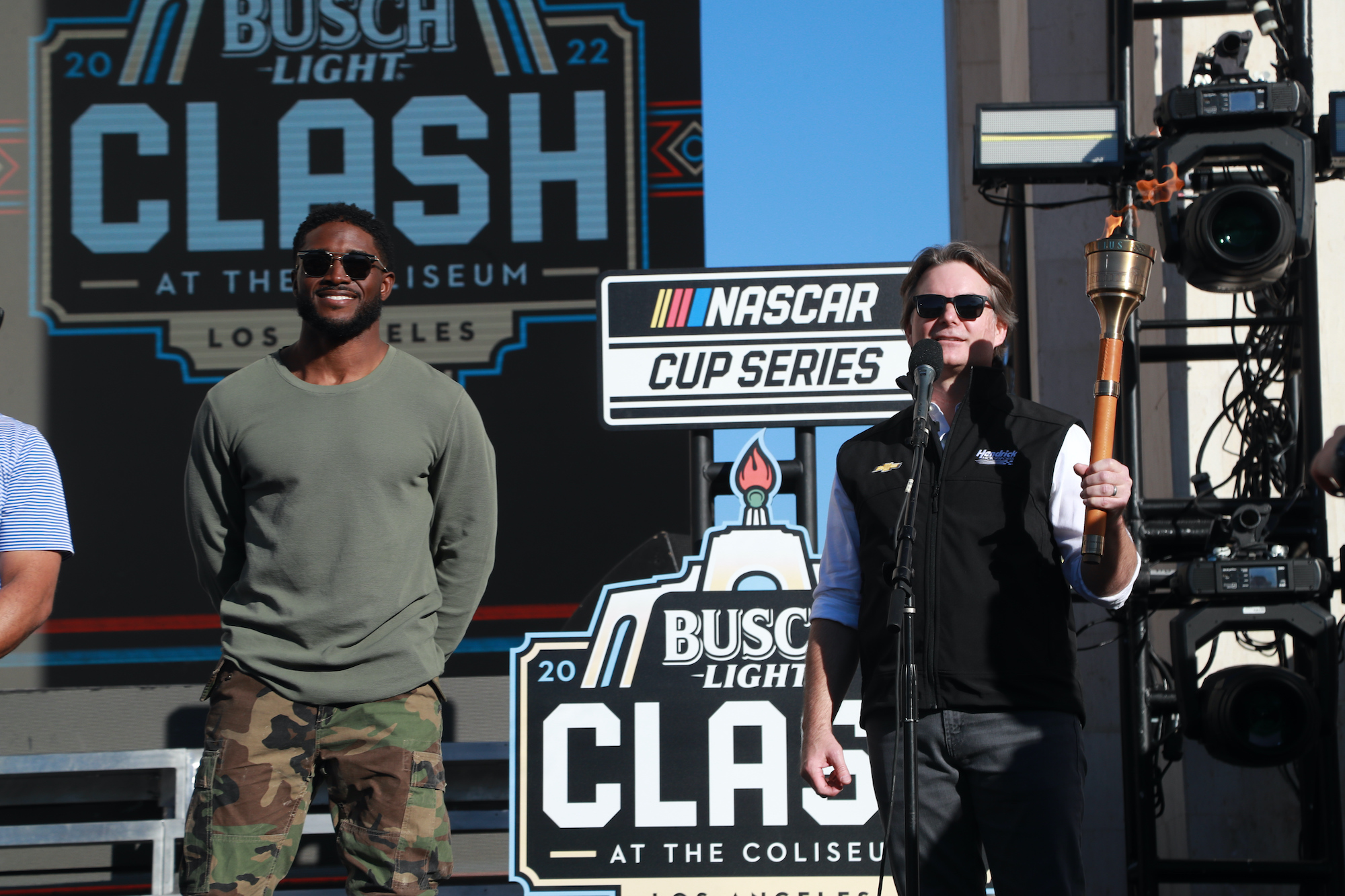 Gordon's push with the team's drivers to extend their footprint beyond the traditional areas matches up with what other teams are doing. Michael Jordan and Pitbull as team owners have broadened the appeal of the sport to an entirely new set of fans, who are younger and more diverse. 
NASCAR has welcomed this expanded fan base and joined in to grow the brand by introducing a new car and adding multiple new tracks, like the exhibition Clash at the LA Coliseum, where Gordon served as one of several grand marshals for an event that was a home run by all accounts.
Gordon, like Jordan, Pitbull, and the younger executives in NASCAR's front office, see the sport evolving. They want to do their part in helping it grow. The question fans should start asking is — which HMS driver will follow in Gordon's footsteps and guest host Saturday Night Live?
Like Sportscasting on Facebook. Follow us on Twitter @sportscasting19.