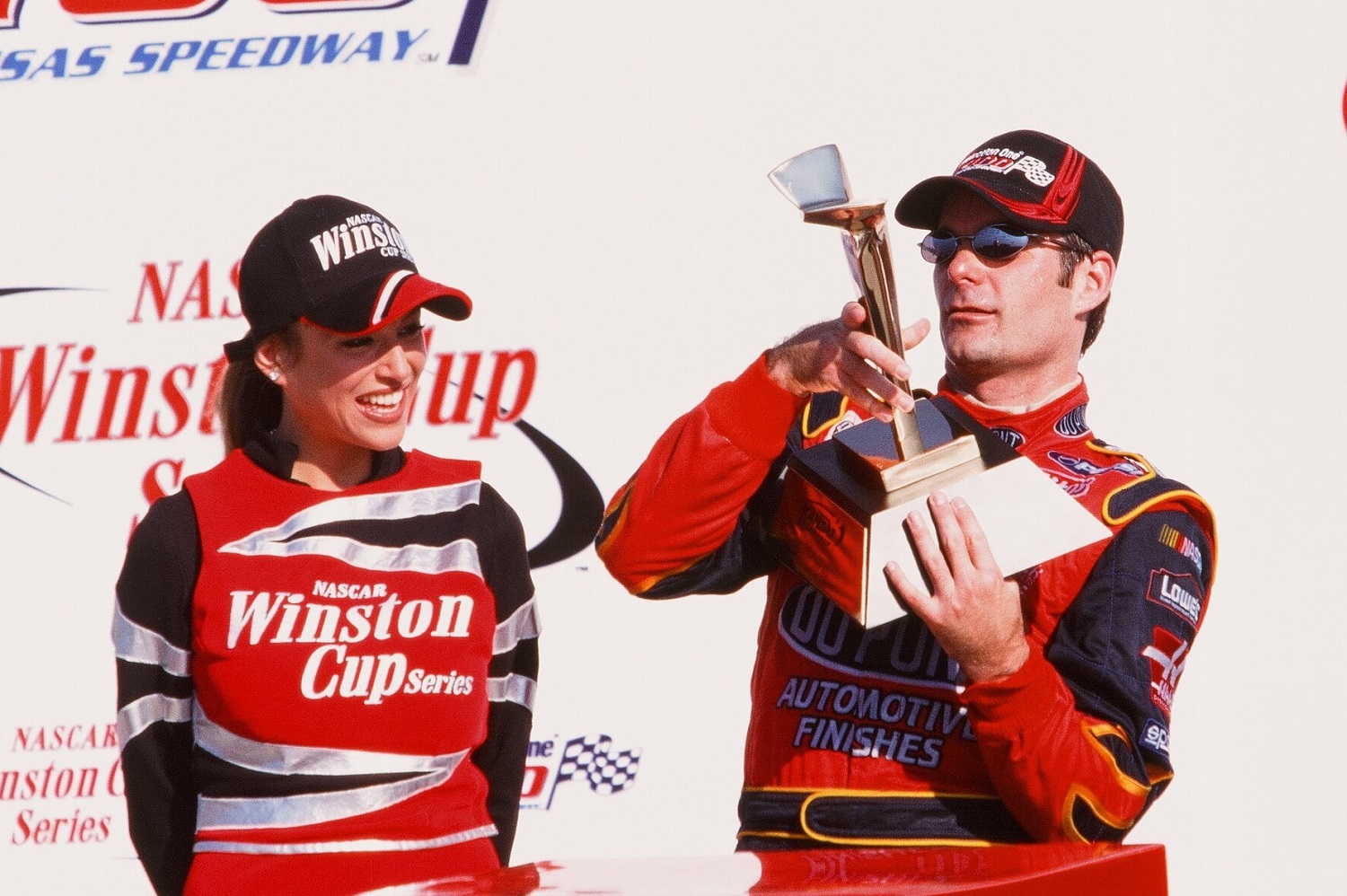 Jeff Gordon Ranks 1 Track's Trophies Above the Rest of His NASCAR Race Hardware, and It's Not Daytona
Jeff Gordon won the inaugural NASCAR Cup Series race at Kansas Speedway and still treasures the trophy.
It makes sense for the last victory of his last NASCAR Cup Series championship season to remain special for Jeff Gordon so many years later, but there are circumstances beyond the obvious that make it so.
For starters, the victory came at a new track, the same one the Cup Series visits this week in the eighth race of the playoffs. For another, the date was Sept. 30, 2011, in the second race back after the 9/11 terrorist attacks.
Jeff Gordon won three races at Kansas Speedway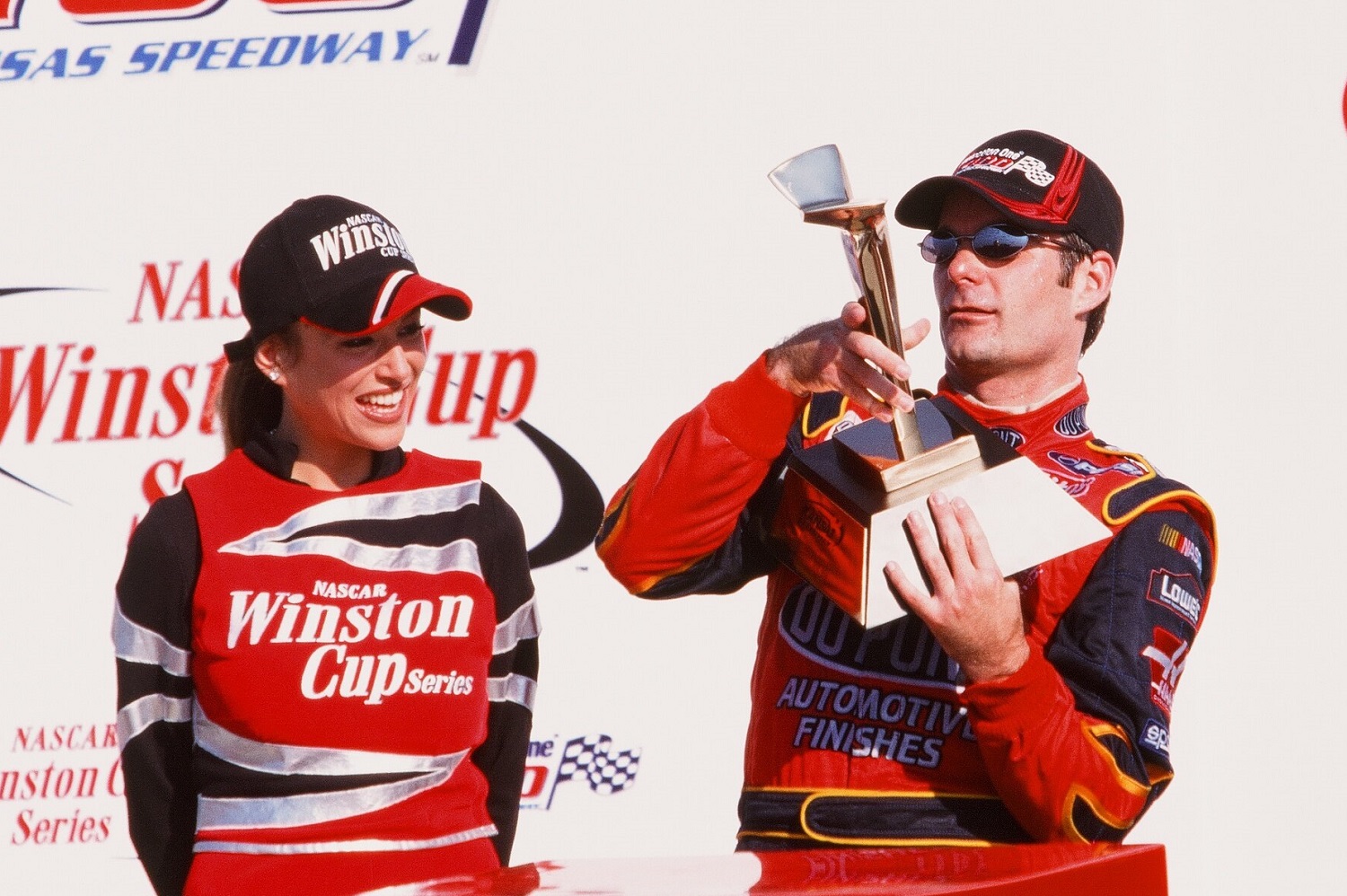 Kansas Speedway joined the NASCAR Cup Series as a regular-season stop in 2001 and acquired a second annual date a decade later. Built on 1,300 acres at a cost of $261.5 million, the track differentiated itself with banking on the apron that is less dramatic than at other 1.5-mile tracks.
"Kansas was one of those first tracks where you could really get down on that apron and utilize it because the banking was fairly flat there," Gordon told the Kansas City Star. "Up until that track, you stayed away from doing moves like that at 1.5-mile tracks. But as a racer, you're going use every bit of surface you can possibly get away with until there's ether a wall or grass, if it's going to help you win a race."
Gordon recorded three of his 93 Cup Series victories at Kansas Speedway. The first was the race 19 days after the 9/11 attacks. He repeated the feat the following season but didn't win there again until 2014, his next-to-last full season.
"Right from the beginning, from the first laps on the track, I realized I loved the track, I loved the flow of it," he said. "The transitions from straightaway to corners were great and had a little bit of uniqueness from one end to another, which made it challenging."
Kansas' trophies have a special place in Jeff Gordon's home
Every trip to victory lane comes with the day's biggest check and a trophy to match. Winning as often as Jeff Gordon did meant more than $150 million in career earnings from 1992-2016, plus all the hardware.
Aside from the trophies from individual race victories, Gordon earned four NASCAR Cup Series season championships from 1995-2001 and an assortment of other awards. Whereas less successful drivers could easily display all of their trophies on shelves or in glass cases in the home, Gordon amassed too much hardware. From 1995-99 alone, he won 47 times.
Gordon packed away many of his trophies. Others sit at Hendrick Motorsports or in racing museums. The Kansas Speedway trophies, sculptured art pieces, stand out over the typical gold or silver engraved bowls.
"My wife and I, the way we decorate our house, we pride ourselves on a home that is beautiful and 'homey,' and we don't put a lot of racing things in it," Gordon said. "But I can tell you, that Kansas trophy has been in our house from the very beginning, not just because it's a symbol of the win, but it's very artistic."
The first Kansas victory was a strange feeling
The first race back for NASCAR following the 9/11 terrorist attacks was 12 days later, when Dale Earnhardt Jr. took control with 39 laps remaining and went on to win, with Gordon placing fourth.
"There was a combination of focus on trying to win a championship on the new racetrack, but what happened around the country on 9/11 was still fresh on everybody's mind," Gordon said. "We had run one race at Dover the week before, but everybody was still in shock and trying to understand what happened.
"At the same time that weekend, NASCAR and race teams were wanting to pay tribute to so many who had lost their lives, so many that risked their lives to try to save others. We wanted to honor those people every chance we got that year and now every year when 9/11 comes around."
All stats courtesy of Racing Reference.