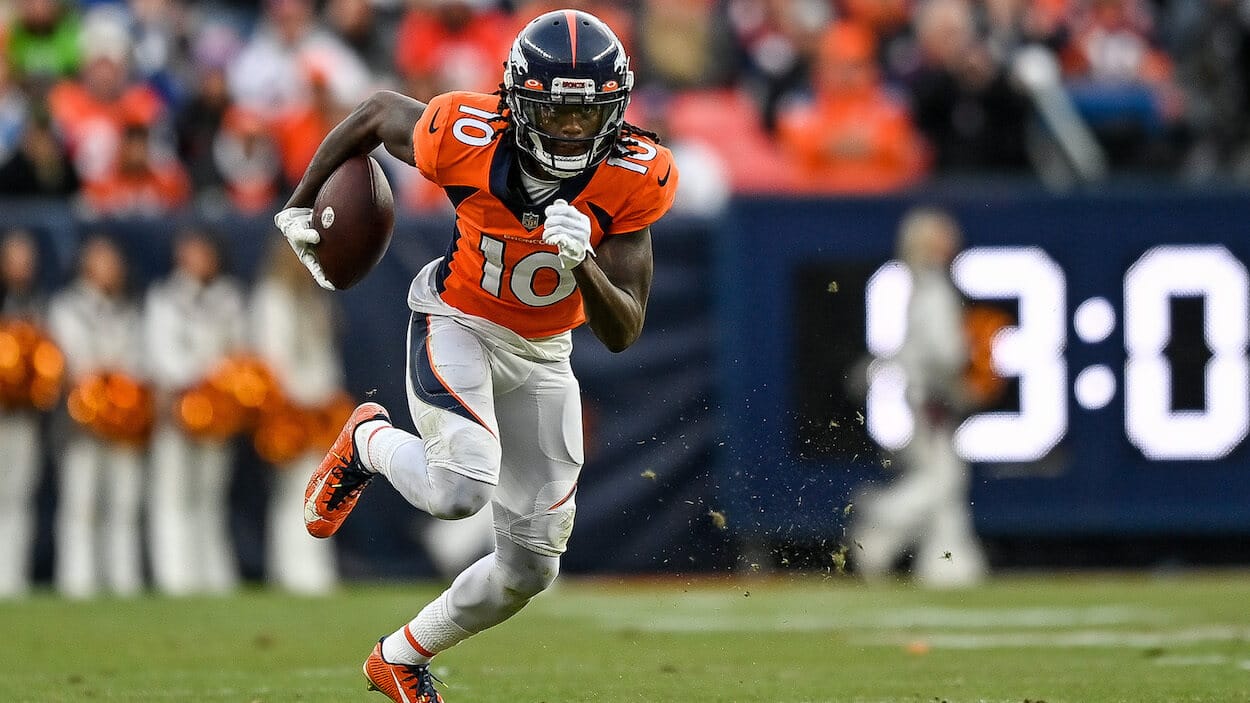 Jerry Jeudy Contract: Money, Not Production, Makes Broncos WR Valuable in a Trade
As the Broncos look to trade the former first-round WR, it's the Jerry Jeudy contract and his potential that makes him valuable to NFL teams.
Denver Broncos wide receiver Jerry Jeudy is reportedly on the trade block in the 2023 NFL offseason. The former Alabama wideout has fallen out of favor under new head coach Sean Payton, and the team is looking to deal. While Jeudy hasn't lived up to his lofty first-round draft status, the Jerry Jeudy contract is a valuable asset, so teams should consider trading for him.
The Jerry Jeudy contract
The Broncos currently have 10 WRs on the roster. With most NFL teams carrying six or, at most, seven during the season, it stands to reason that a few have to go.
Courtland Sutton, Tim Patrick, and K.J. Hamler are all good receivers but don't offer much in the way of trade value. Plus, new head coach Sean Payton has brought in two of his former New Orleans Saints pass-catchers this offseason, Marquez Callaway and Lil'Jordan Humphrey.
Jerry Jeudy will bring back the most in a trade thanks to his pedigree and the Jerry Jeudy contract, even if his Broncos production isn't at WR1 level.
Jeudy has three seasons in the NFL and had a career year in 2022, catching 67 balls for 972 yards with six touchdowns. Those are fine numbers for a WR2, but not to the level of expectations of a player drafted No. 15 overall.
What a team trading for Jeudy will say is that he is a top talent, and he's never played with a high-end QB. In the last three years, he's had Drew Lock, Jeff Driskel, Brett Rypien, Teddy Bridgewater, and a washed-looking Russell Wilson throwing to him.  
Plus, it is now the last year of the rookie Jerry Jeudy contract, with a potential fifth-year option remaining. As the No. 15 pick, the WR initially signed a four-year, $15,192,974 deal with an $8,609,436 signing bonus, $15,192,974 guaranteed, and an average annual value (AAV) of $3,798,244 per season.
In 2023, Jeudy has a $2,681,769 base salary with a $4,834,128 cap hit and $4,834,128 in dead cap. That's a great number if Jeudy can deliver even last season's numbers again.  
The most interesting part of the Jerry Jeudy contract is that a team can also pick up his fifth-year option, which is the lowest possible number for his draft slot at $12,987,000. Jeudy hasn't reached the playing time or Pro Bowl thresholds needed to make that number bigger.
The only issue for a team that trades for him is that they don't get him on a one-year "prove it" deal and then get to decide whether or not to pick up his option. They have to make that decision by May 1, 2023.
Jerry Jeudy is right in the middle of first-round WRs from the 2020 draft class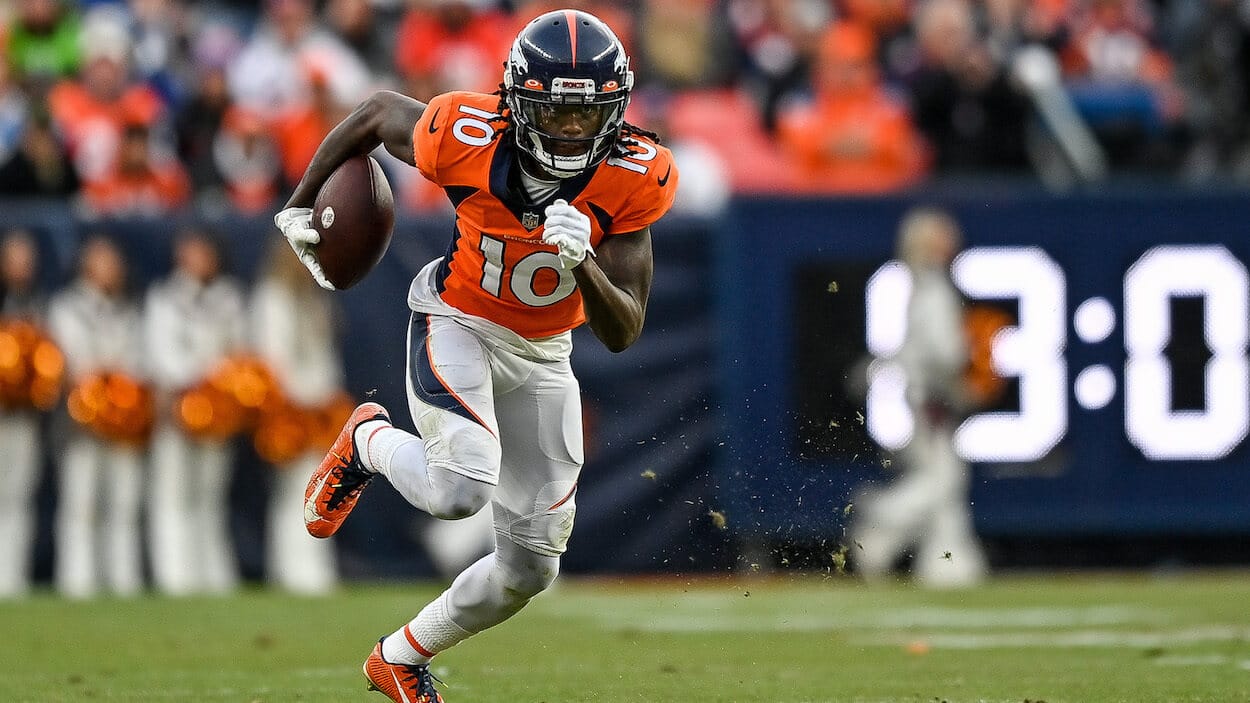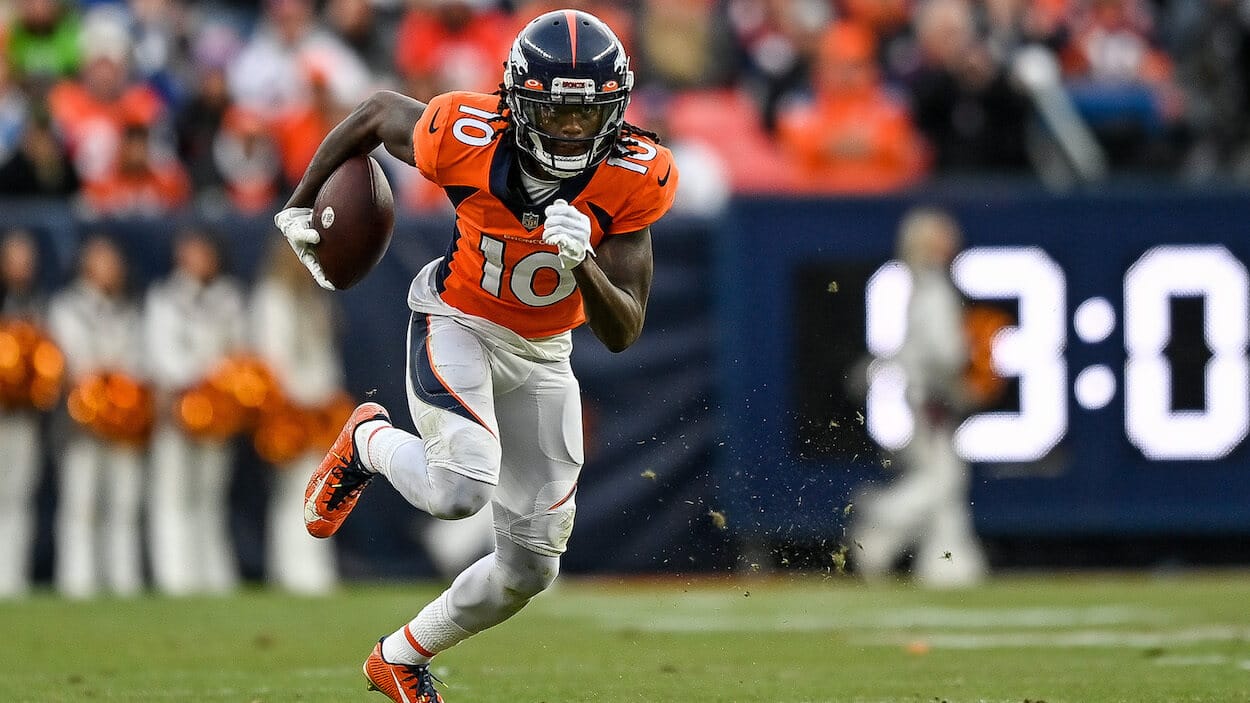 The 2020 NFL draft class is a fascinating one. The draft took place from Commissioner Roger Goodell's basement, and family homes as the world was in the midst of a pandemic in late April of 2020. That meant NFL teams didn't get to do the standard due diligence of draft prospects that year.
The end result was a wildly inconsistent first round that year, especially when it came to the wide receiver position.
NFL teams took six wideouts in the first round that year: Henry Ruggs III (No. 12), Jerry Jeudy (No. 15), CeeDee Lamb (No. 17), Jalen Reagor (No. 21), Justin Jefferson (No. 22), Brandon Aiyuk (No. 25).
Ruggs is out of the league after a tragic car wreck that killed a woman. He is currently awaiting trial on charges of DUI, reckless driving, and possession of a firearm while under the influence, per the Las Vegas Review-Journal.
Reagor is currently on his second team with just 72 catches and 799 yards in his career so far.
On the other end of the spectrum, Justin Jefferson is an All-Pro and three-time Pro Bowler who may be the best WR in the NFL right now. CeeDee Lamb is not far behind, with two Pro Bowls under his belt.
That leaves Jeudy and Aiyuk in the middle. And Aiyuk just had a breakout season with 78 catches for 1,015 yards and eight TDs in 2022. He also hasn't missed a game in the last two years (after missing four as a rookie), while Jeudy played all 16 in 2020 but has missed nine n the past two seasons.
Jeudy is still just 23 years old, so there is still plenty of time to develop into a player like Jefferson or Lamb instead of Reagor. And with his team-friendly Jerry Jeudy contract, a team should absolutely take a flyer on him in a Broncos trade this offseason.