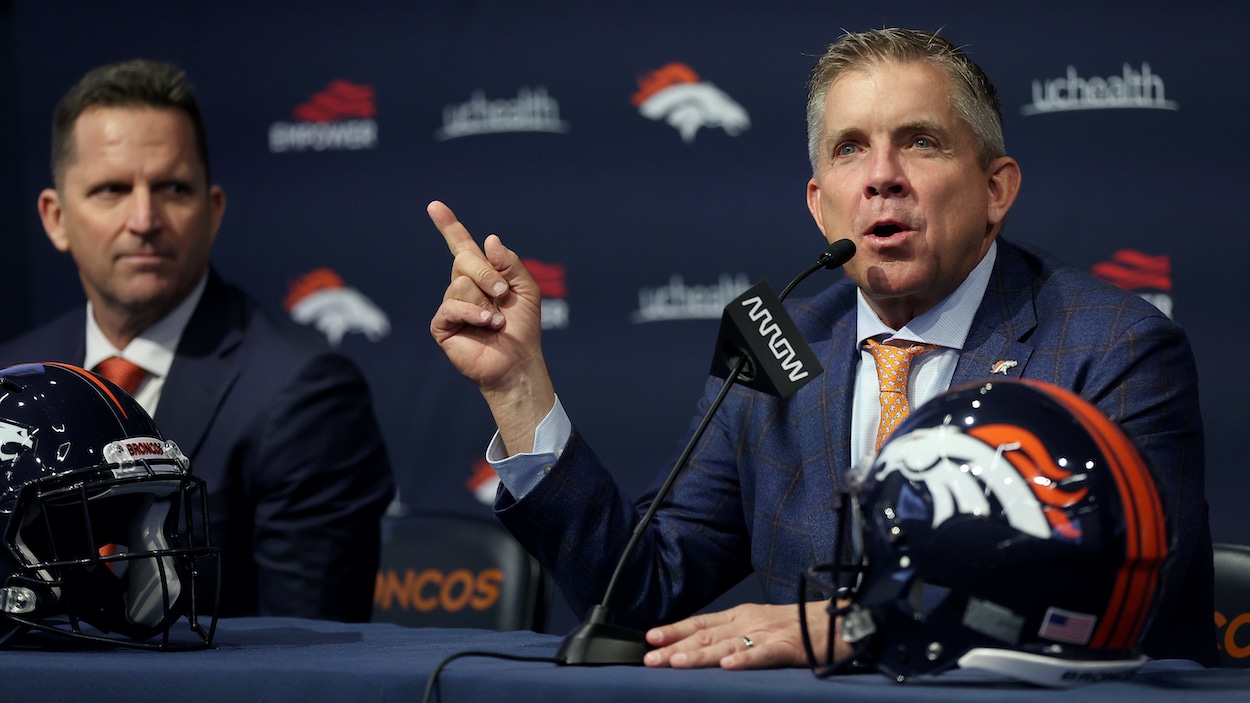 Sean Payton Lays Down the Law With Russell Wilson: 'That's Foreign to Me'
New Broncos head coach Sean Payton put the kibosh on Russel Wilson having his own personal coaching staff in the building next season.
Everything went wrong for Russell Wilson and the Denver Broncos last season, and there was plenty of blame to go around. The coaches and the players were all at fault, and it couldn't have helped that one player (Wilson) had his own personal coaching staff in the building. Now Sean Payton is in the Mile High City to turn things around, and it sounds like his first order of business is taking away Wilson's personal coaches' key to the building.
Sean Payton isn't messing around with Russell Wilson's personal coaches
Russell Wilson has earned a bit of a reputation as a "me first" guy in his 11-year NFL career. It started in Seattle, where the Seahawks defenders didn't see the same level of accountability on both sides of the ball.  
It continued with the Broncos as Wilson brought in his personal quarterback coach, Jake Heaps, to work with him during the season.
Heaps is just one member of "Team Wilson" or "Team 3" that the quarterback employs to help him do his job. Other members of the team include personal trainers, a physical therapist, a stretch master, a massage therapist, and a chef, according to 9News in Denver.
In a media scrum ahead of his introductory press conference with the Broncos, a reporter asked Sean Payton if Wilson's personal team would again be an unofficial part of the Broncos staff in 2023. Payton admitted he's "not too familiar with that."
However, when pressed, Payton said, "That's foreign to me. That's not going to take place here. I'm not familiar with it, but our staff will be here, our players will be here, and that'll be it."
And with that, Payton fired the first shot in his most important battle as Broncos head coach, reining in Russ.
The 2023 season will be a referendum on Wilson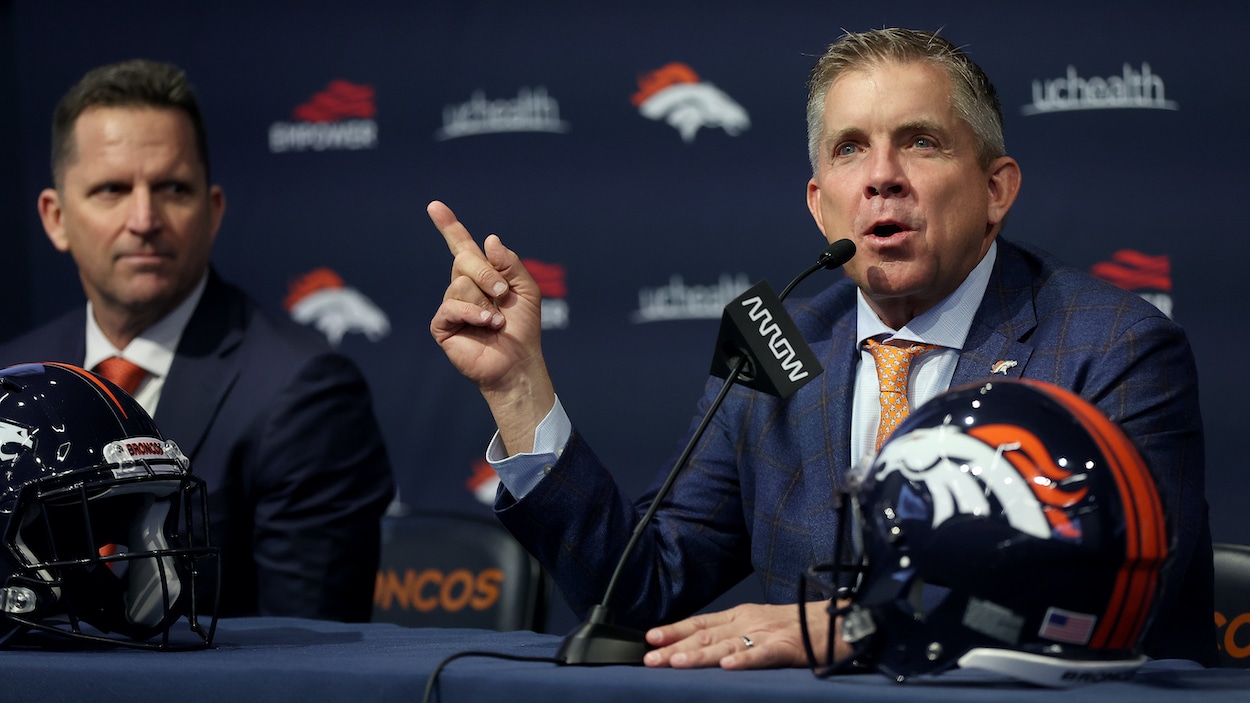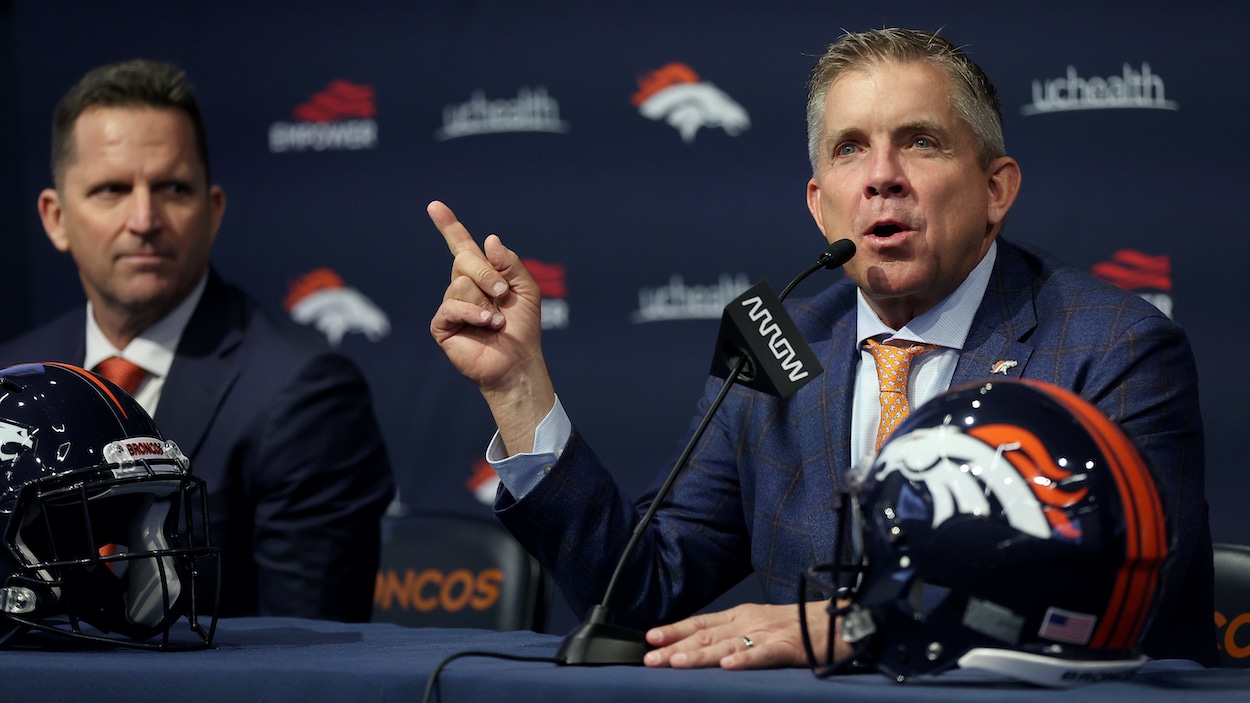 By hiring Sean Payton, the new Denver owners sent a clear message to Russell Wilson. They said this isn't your show anymore.
Last season, with first-time head coach Nathaniel Hackett, Wilson did whatever he wanted, including bringing in his own personal coaching staff. The Broncos' 5-12 record in 2022 shows that approach doesn't work.
Enter Sean Payton.
He is a "my way or the highway" coach who came up under the most "my way or the highway" coach of all time, Bill Parcells. The Broncos franchise is no longer about Wilson. It's all about Payton.
Drew Brees shared as much with Ed Werder. The ESPN reporter tweeted a quote from Brees about his long-time head coach where he said, "He won't be afraid to say what needs to be said or do what needs to be done…He can just walk onto the practice field and players can see from the way he's walking or the way his chest is puffed out that he's out for blood."
And that's why this season is a referendum on Wilson. If he can fall in line and do what Payton tells him to do, the coach could add four or five years onto the end of his career. If he can't, Payton has enough clout to get rid of him next offseason. 
It could be a rocky road in Denver next season, but it sure will be fascinating to watch.