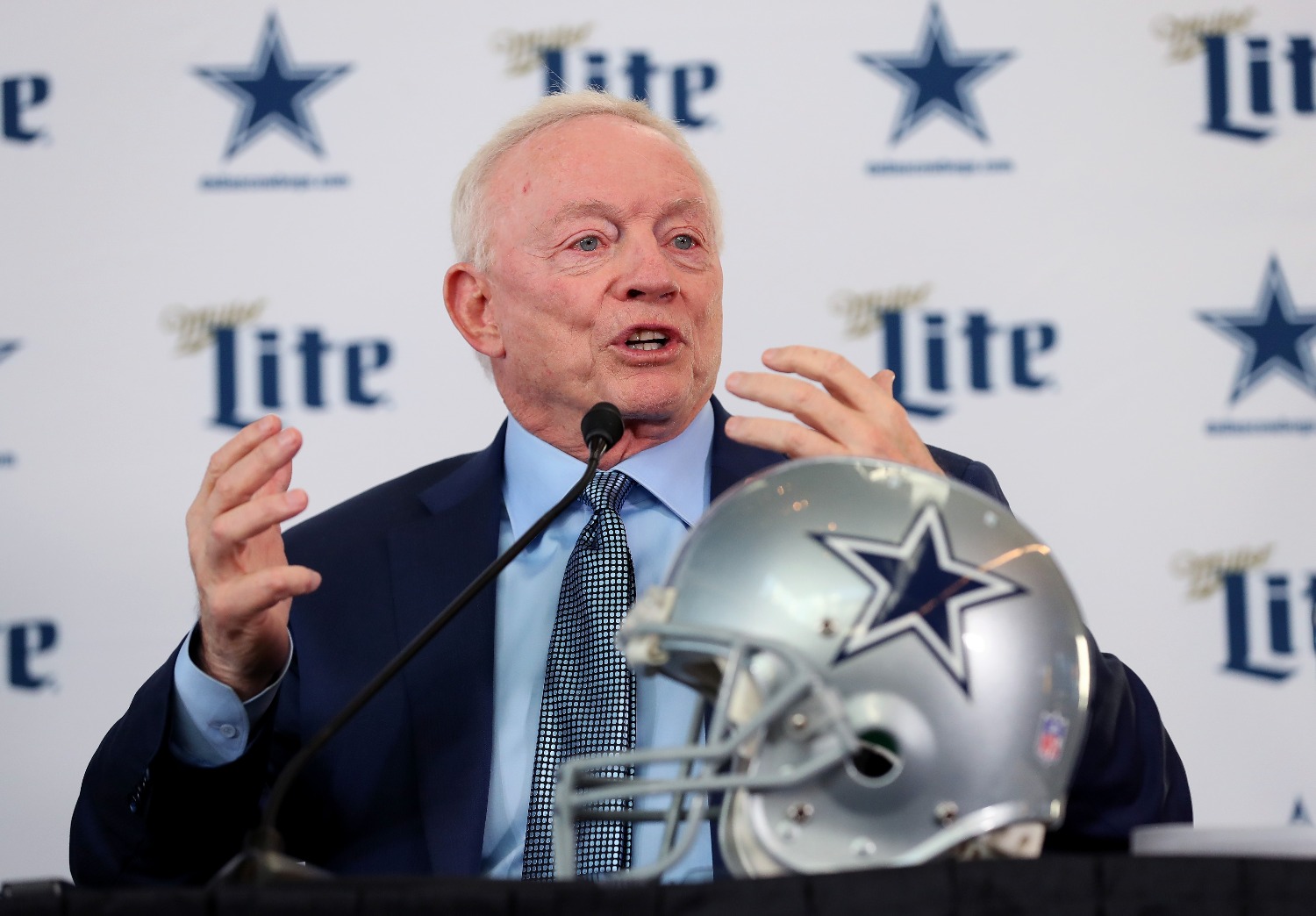 Jerry Jones Reveals How Earl Thomas Could Join the Cowboys
Jerry Jones set the record straight on the Cowboys pursuing Earl Thomas. But should Dallas take a chance on the All-Pro safety?
Jerry Jones rarely turns down the opportunity to add a talented player to his team. After all, he signed Aldon Smith earlier this offseason and has taken chances on similarly skilled but potentially problematic players before. With Earl Thomas in search of a new home, that has naturally led to speculation that the Dallas Cowboys could sign the star safety.
So on Tuesday, Jones revealed how the former Legion of Boom member could join his team.
Earl Thomas is in search of a new NFL home
Earl Thomas has had quite the offseason. In May, he made headlines for an incident with his wife that included her pointing a loaded gun at her husband. While the Baltimore Ravens explored whether Thomas violated terms of his contract, they ultimately held on to their All-Pro safety.
Yet, with training camp underway, Thomas once again found himself in hot water. He punched teammate Chuck Clark during practice on August 21. The Ravens sent Thomas home before releasing him two days later.
Baltimore certainly sent a strong message by cutting a member of the NFL 2010s All-Decade Team. Thomas just earned his seventh Pro Bowl selection last season, so it speaks volumes that the Ravens moved on from him in such swift fashion. The 31-year-old now seeks a new beginning after spending just one year in Baltimore.
Jerry Jones reveals how Thomas could join the Cowboys
With Earl Thomas on the open market, the Cowboys have naturally come up as a possible landing spot. The veteran safety played his college ball at the University of Texas. When it became clear his time in Seattle had reached an end, Thomas told Jason Garrett to "come get me" after the Seahawks defeated the Cowboys in December 2017.
Though the Cowboys did get linked in trade rumors, Jerry Jones ultimately did not pull the trigger. However, with a second chance at securing the star safety, the billionaire silenced all rumors with a dose of reality about the Cowboys' stance on Thomas during an appearance on 105.3 The Fan.
"One of the biggest things that you weigh, and it's the obvious, but it's right, is you evaluate where we are at safety, where we are at the secondary, where we are at our numbers," Jones explained. "These decisions, like the one you're talking about with Earl, they're never served up like a softball. They always come in awkward; they always come in with a little hair on it. That's where I step in."
Jones said he has not personally visited with Thomas, but did say that that would be the next step. He did not rule out the possibility of signing the longtime Seahawks star, with whom Dallas has plenty of familiarity over the years.
"We have a lot of things to put in the hopper and then I'll make a decision," Jones said.
Should Dallas sign the All-Pro safety?
A few years ago, Jerry Jones would have pounced at the opportunity to sign Earl Thomas. In light of his bizarre fallout in Baltimore, that may give NFL teams pause about adding a player with a Hall of Fame resume.
So should Dallas pursue Thomas?
The Cowboys boast a terrific defensive line, but they do not have an intimidating secondary. Top defensive back Byron Jones departed Dallas for the warm weather of Miami. While Jones did bring in Ha Ha Clinton-Dix, he only signed a one-year deal. Fellow projected starting safety Xavier Woods will also be a free agent after this season.
At 31 years old, Thomas does not have a ton of football ahead of him. However, he still played at a Pro Bowl level last year and brings a wealth of knowledge and experience to a secondary that could certainly use both. A one-year, incentive-laden deal would allow him to return home while giving a big boost to the Cowboys' Super Bowl chances.
Jerry Jones hasn't hoisted the Lombardi Trophy since 1996. Adding a player of Thomas' caliber would give him a much better chance of changing that. Let's see if the Cowboys owner pulls the trigger on a player who has been connected to his team on multiple occasions over the years.
Like Sportscasting on Facebook. Follow us on Twitter @sportscasting19.