Jets Have Delusional Take on Derek Carr Coming to New York
The New York Jets desperately need a quarterback. The team has an excellent defense, a solid offensive line, and promising young skill players. Now the team is courting free-agent QB Derek Carr to become their next signal-caller. While the idea is a solid one, the Jets are delusional to think that Carr coming to Gang Green will make him a "first-ballot Hall of Famer," as they reportedly told the QB.
Derek Carr to the Jets won't make him a 'first-ballot Hall of Famer'
The New York Jets want a proven veteran quarterback to lead the team in 2023. And they've zeroed in on former Las Vegas Raiders signal-caller Derek Carr as that player.
The team met with the QB recently, taking him out to dinner and giving the nine-year pro the full-blown sales pitch to sign with the J-E-T-S, Jets, Jets, Jets.
ESPN's Dianna Russini reports that the Jets organization piled on the praise when the two sides met just days after the Raiders released Carr on Feb. 14.
"[The Jets] told him he's a great quarterback. They believe he's got a legit surrounding cast of players. They went through the top D, the strong young skill guys, the explosive run game," Russini reported. "They ran through, top to bottom, why Derek Carr can step in here and take this team not just to the playoffs, but to the Super Bowl. They made it super personal too. They said, 'We believe if you come to New York and win, you could be a first-ballot Hall of Famer.'"
While the Jets may be right that with the team's defense and the developing offense, New York could become a contender with competent quarterback play, the final piece of the pitch is delusional.
Derek Carr is a legit NFL starter, but he is in no way a Hall of Fame player.
Carr will not end up in the Hall of Fame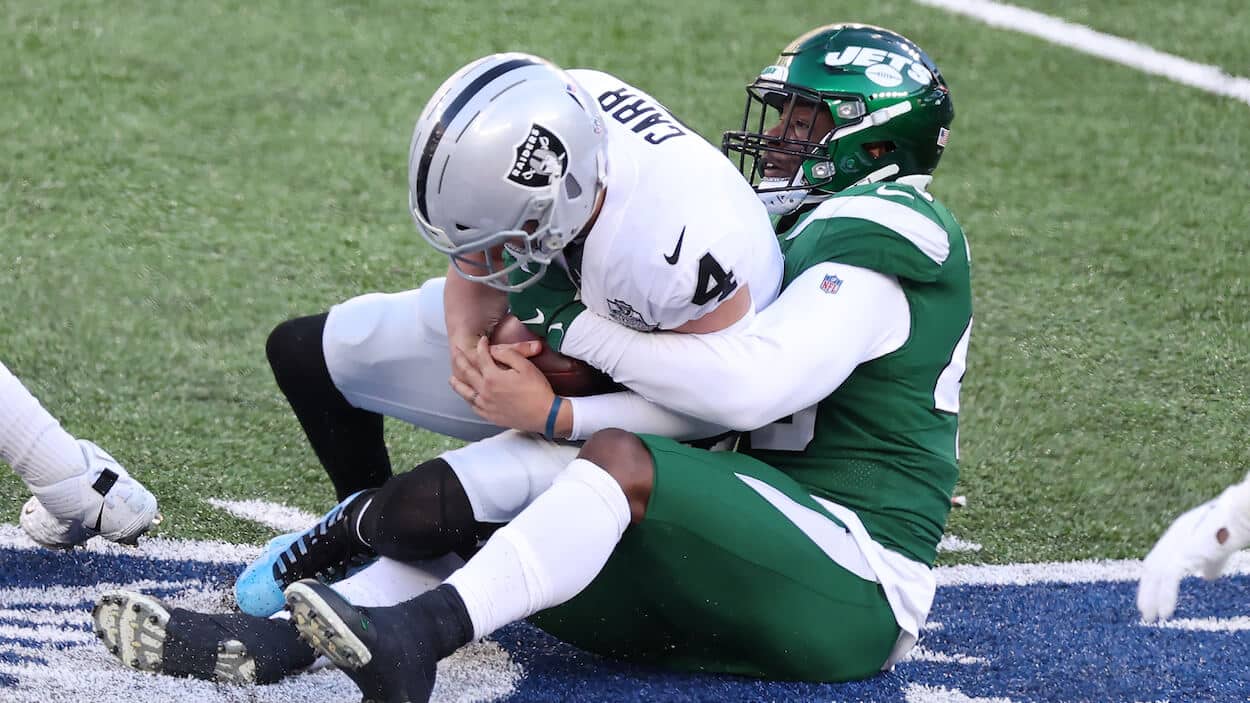 Nine NFL seasons is a pretty solid sample size for an NFL quarterback. Most Hall of Fame QBs start for longer than that, but a few — Steve Young, Kurt Warner, and the Jets' own Joe Namath — are in the Hall with nine or fewer seasons of double-digit starts.
So far, Derek Carr has 35,222 passing yards, 217 touchdowns, and 99 interceptions. The yards and touchdowns put him seventh and eighth among active signal-callers, respectively, and 32nd and 38th all-time.
Numbers don't tell the whole story, especially in the pass-happy modern NFL. Team success also plays a role. And Carr has just one playoff appearance (2021) in his career, or two if you want to count 2016, where he broke his leg in Week 16 ahead of a Raiders' playoff berth.
The fact is, Carr is a fine QB, and the four-time Pro Bowler is one of the best three or four QBs of his smaller generation (a few years on either side of the 2014 NFL Draft) behind players like Russell Wilson, Andrew Luck, and Cam Newton.
When you expand the generation to include 2017 and 2018 picks like Patrick Mahomes, Josh Allen, and Lamar Jackson, Carr falls down to seventh or eighth at best.
And the seventh- or eighth-best quarterbacks of a generation don't make the Hall of Fame, even with better numbers and more accolades than Carr. Just ask players like Carson Palmer, Donovan McNabb, Boomer Esiason, and Tony Romo about that fact.
The Jets are right to put on the full-court press for Derek Carr. But saying he'll be a first-ballot Hall of Famer someday simply isn't true with the body of work he's already put in.