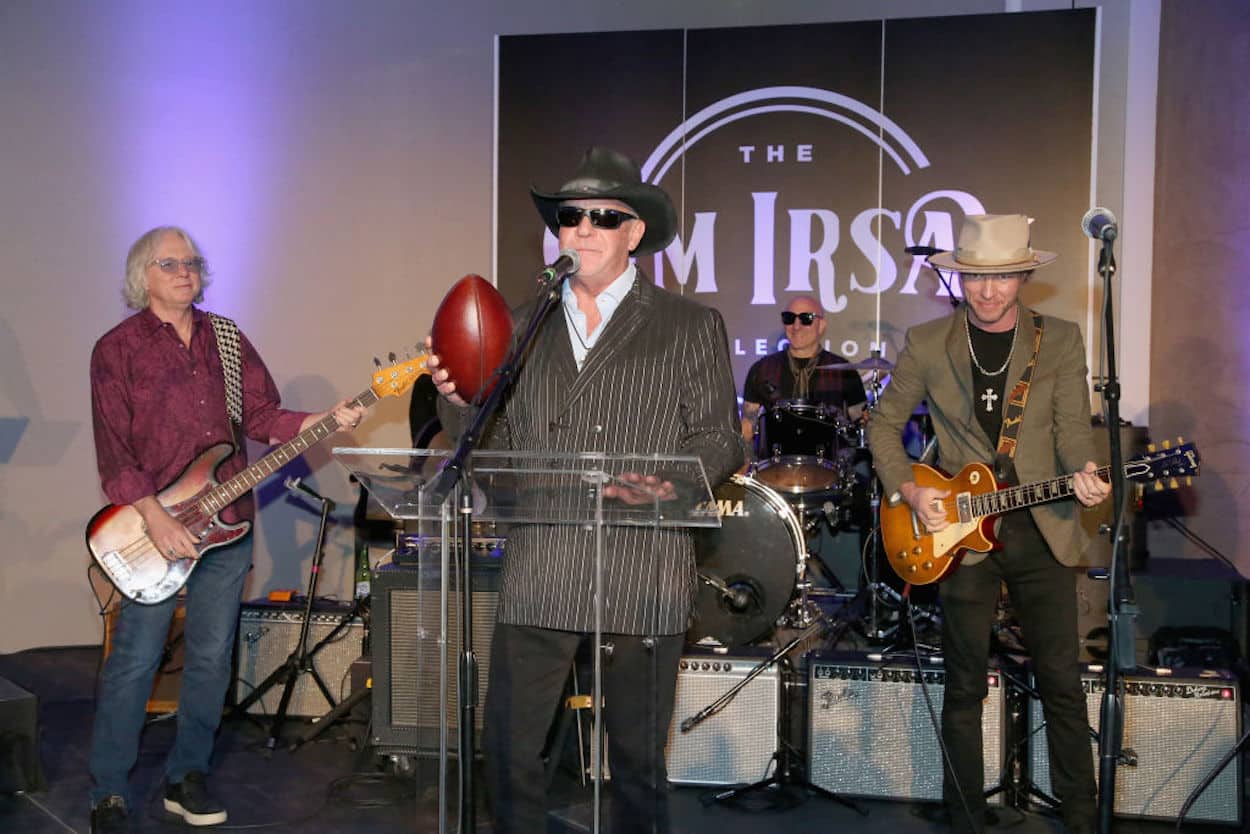 Jim Irsay May Own the Indianapolis Colts, but His Big-Money Collection Isn't About Ownership or Ego
While football fans know Jim Irsay as the owner of the Indianapolis Colts, he isn't concerned with possessing the objects in his collection.
When you think of pro sports owners, things usually break out into two camps. Some avoid the spotlight at all costs, like Stan Kroenke; others make themselves the center of attention, like the late George Steinbrenner. While Indianapolis Colts owner Jim Irsay might not be at the same level as 'The Boss,' he certainly has no problem throwing his weight around and doing things in his own way.
Take, for example, the Jim Irsay Collection. While acquiring countless pieces of history, ranging from Muhammad Ali's robe to John Lennon's glasses, might seem like a classic 'rich guy' activity, the Colts owner isn't following the standard script. Rather than hoarding the artifacts in a miserly attempt to possess them, he's sharing them with the world.
In NFL circles, Jim Irsay is defined by his ownership of the Indianapolis Colts
While owners aren't quite held to the same standard as quarterbacks or head coaches, there's still some pressure to succeed. Things haven't always been sunny in Indianapolis, but, on the whole, the Colts have done pretty well under Irsay's watch.
As laid out by Forbes, the current owner "grew up with the Colts, living with the team during summer camp and traveling on the team bus" and "worked in everything from ticket sales to public relations before being named GM in 1984." When his father died in 1997, Irsay inherited the team.
Times were a bit lean during Irsay's reign as general manager, but things turned around in the 1990s. Thanks to the likes of Edgerrin James and Peyton Manning, the Colts emerged as the class of the AFC. They earned two AFC Championships and, in February 2007, lifted the Lombardi Trophy.
There have been some more recent bumps in the road — as The Score wrote in a 2020 ranking of NFL owners, the franchise has struggled without Manning or Luck under center — but Irsay's overall record still sits above water. Dating back to 1984, the Colts have piled up a 295-265 record.
Regardless of how you assess that record, though, the owner probably isn't too concerned; he's going to do things his own way. Listening to any of his quotes or checking out his Twitter feed will confirm that.
When it comes to his collection, though, Irsay isn't concerned with personal ownership
Based on Forbes' current estimates, Irsay's net worth is pegged at roughly $3.5 billion. While that would allow him to buy plenty of toys, the Colts owner has done things a bit differently.
To be clear, Irsay has purchased plenty of items spanning many facets of recent history. He's got Muhammad Ali's robe and shoes. There are objects connected to George Washington, John F. Kennedy, and other world leaders. One of the more recent additions to the collection is Kurt Cobain's "Smells Like Teen Spirit" guitar, which cost $4.5 million, according to Forbes.
As I mentioned earlier in this piece, it would be easy to imagine a billionaire buying those objects and keeping them at home. You can almost picture an NFL owner retreating into his office, where he's surrounded by football helmets, famous guitars, and the like. That's not Irsay's aim, though.
"To me, it's about, you know, the spiritual journey and learning from our history and also just bringing joy," he explained at a June 2 press conference in New York City. "I believe we change the world by being authentic and going out in the world and showing unconditional love."
So how does Irsay accomplish that? He's turned his collection into a traveling exhibition, bringing it around the United States for all to see. It visited Nashville, Washington, D.C., and Austin in 2021. Los Angeles was the first stop of 2022, with New York, Indianapolis, and Chicago on the docket.
"You know, really, it's always been about showing it to the world. I mean, I don't know how to explain it deep in my soul and my spirit, but I promise you I do not own these things. You never see a hearse pulling a U-Haul, as I say. I borrow them," Irsay explained. "And so, it's always been my joy to share. You know, if I own something, it doesn't make me feel. It's like, if I say, 'Hey, I own this theater,' it's like, 'Yeah, and we're all in it.' But, like, how can you feel from ownership? I've always done things that make me feel, you know? That's just the way I've always been. And what makes me feel is when people, you know, have tears running down their face because they, you know, see the manuscript of The [Alcoholics Anonymous] Big Book from 1939 or, you know, they see Kerouac's scroll or whatever. That, to me, is really what it's about. This is really service work."
Again, the juxtaposition seems a bit jarring. Irsay, at least in sports circles, is defined by the word "owner." In the context of his collection, though, he insists that it isn't about possessing any one historical piece. In a roundabout way, though, everything makes sense.
From afar, a historical collection and a pro sports team may seem completely unrelated. Through the lens of emotion, though, things seem a bit more interconnected. When the Colts won the Super Bowl for the first time in more than 30 years, I'd wager that plenty of fans had tears running down their faces.
As Irsay suggested, that emotion is what's so universal and understandable.
The Jim Irsay Collection will be on display in the Hammerstein Ballroom at the Manhattan Center on Friday, June 3.