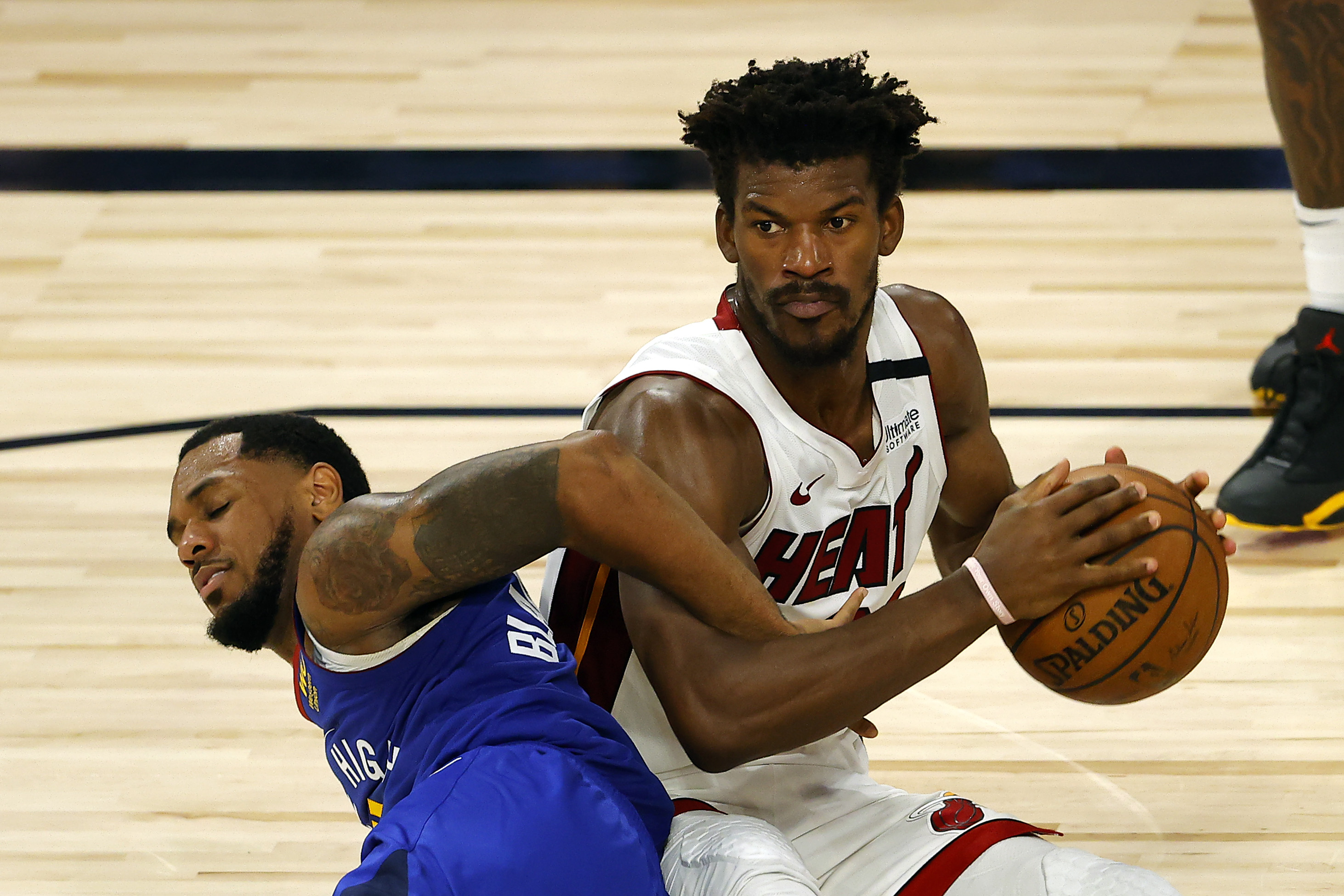 Jimmy Butler Finds a New Way of Making Money Inside the NBA Bubble
Miami Heat star Jimmy Butler has found a new way to make some money while inside the NBA bubble in Disney World.
Miami Heat star Jimmy Butler is making more than $32 million this season playing basketball. He's not stopping there. Butler has found a new way to make some money playing inside the NBA's bubble at Disney World and it's not chump change.
When did Jimmy Butler become a star?
Jimmy Butler played his college ball at Marquette and was a late first-round pick in the 2011 NBA draft. The 6-foot-7 shooting guard/forward was taken at No. 30 by the Chicago Bulls. In his first season in the NBA, Butler played in just 8.5 minutes per game and averaged 2.6 points per contest in 42 games.
In his second season, his playing time increased to 26 minutes per game and he played in all 82 games, mainly coming off the bench. He averaged 8.6 points per game. It was during the 2014-15 season, his fourth in the league, that Butler emerged as a star. He led the league in minutes played at 38.7 per game and also averaged 20 points and 5.8 rebounds per game.
Butler's big 2014-15 season began a string of four straight NBA All-Star appearances. During the 2015-16 season, Butler averaged a career-high 23.9 points and also pulled down 6.2 rebounds per game. In June of 2017, Butler was traded to the Minnesota Timberwolves. In Minnesota, he played one full season before being dealt to the Philadelphia 76ers in the middle of the 2018-19 season. Before the 2019-20 season, Butler was part of a four-team trade that sent him to the Miami Heat.
Jimmy Butler makes his own coffee shop within the bubble
NBA players are forced to remain inside the NBA bubble inside of Disney as the continuation of the season moves along. Early on, there were complaints from players ranging from the food not being good to not having enough blankets available. Players were unhappy about being restricted to the bubble, prompting Oklahoma City Thunder center Steven Adams to speak up.
"Let's be clear: This is not Syria. It's not that hard," Adams said, according to ESPN's Royce Young. "We're living at a bloody resort. Everyone is going to complain, everyone has their own preferences, nothing too serious. Just a bit of dry food here and there."
Jimmy Butler of the Miami Heat wanted to make sure nobody complained about the coffee. Apparently, finding a good cup of coffee at the resort is a tough chore. Butler took charge and opened his own coffee shop out of his hotel room.
Butler charging a pretty penny for his coffee
While confined to the NBA's bubble, Miami Heat star Jimmy Butler said he's working on his coffee-making skills. According to The Sporting News, Butler told ESPN's Rachel Nichols that when his basketball career is over, he will be opening his own coffee shop. In the meantime, he's got his own business right inside his hotel room. He's charging a whopping $20 per cup.
Butler told Nichols good coffee is hard to get where they are now so $20 might even be a bargain. ""You can't get coffee nowhere here," Butler said. "So I might bump it up to 30 bucks a cup. Just depends. People here can afford it. So ain't nobody complaining."