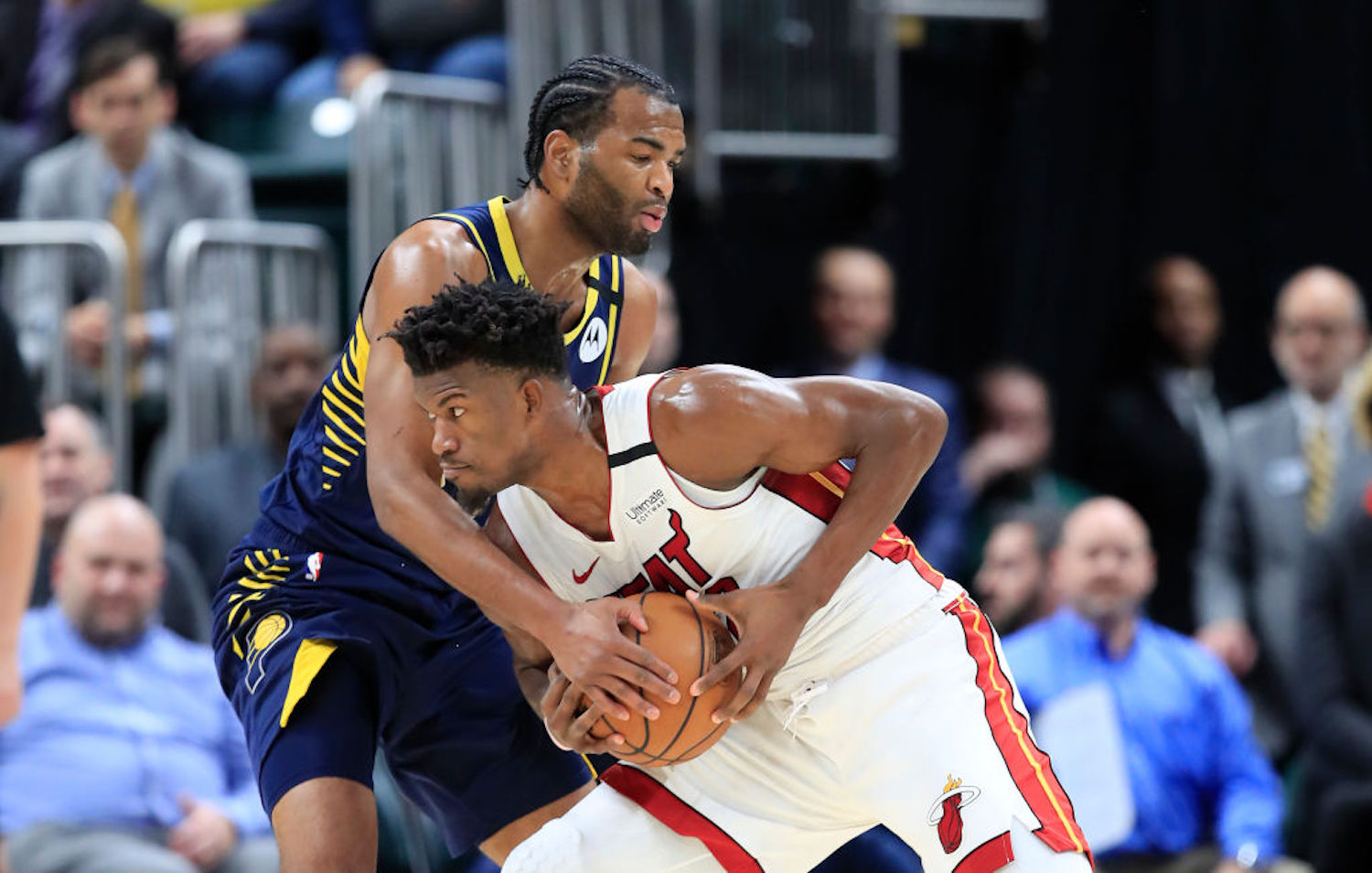 T.J. Warren and Jimmy Butler Have the Nastiest NBA Beef You Don't Know About
The last time T.J. Warren and Jimmy Butler saw each other, they started the NBA beef of the century and almost fought in the locker room.
NBA beefs have been around since the creation of the league in 1949. Larry Bird and Magic Johnson. Scottie Pippen and Patrick Ewing. Bill Laimbeer and everyone who wasn't on the Detroit Pistons. LeBron James and his hairline.
Today, NBA beefs are amplified because of social media, so it seems as if there's more than ever. Jimmy Butler and NBA bubble phenom T.J. Warren even have a nasty beef that dates back to earlier this season. Butler and Warren genuinely hate each other, and they've both been circling Monday's matchup on their calendars for months.
T.J. Warren and Jimmy Butler almost fought during a game earlier this season
T.J. Warren and Jimmy Butler's beef stems from a matchup earlier this season. On January 8, the Miami Heat visited the Indiana Pacers for a regular-season game between Eastern Conference contenders.
In the middle of the third quarter, Warren and Butler got tangled up on a Butler drive to the hoop. Warren grabbed Butler's arm in the lane, and Butler wasn't happy with the cheap shot.
The two got in each other's faces and exchanged some harsh words. There were plenty of F-bombs thrown out between the two, and both teams were forced to separate them.
Butler called Warren "F***ing trash," and Warren signaled for Butler to meet him in the back hallway to fight. Warren was eventually thrown out of the game, and Butler blew him a kiss as he walked off the court.
The beef didn't start and stop on the court, though. The hatred spilled over to the locker room, as Butler unleashed fury against Warren in his post-game press conference.
Jimmy Butler said T.J. Warren is "soft" and "not in my f***ing league"
Jimmy Butler is never one to hide his true feelings. He's an emotional dude who keeps it real when talking about players and coaches he isn't fond of. In this case, though, Butler took it to another level.
When asked about the Warren fight after the game, Butler laid into the Pacers' guard.
I mean, to me, I think it's tough for him because I can guard him, and he can't guard me. Because at the end of the day, that's what it comes down to. I think you just gotta watch your mouth in certain situations. Some s*** you just don't say as a man. He gotta see me the next time because I feel like what he said was truly disrespectful, and it's all good because we see him again.

Jimmy Butler
Butler didn't stop there.
He's soft. He's not even in my f***ing league. Nowhere near me. If I was their coach, I would never put him on me. Ever again. He's trash.

Jimmy Butler
Butler later posted on his Instagram that he was circling the Heat's next game against Warren's Pacers. After six long months, it's finally here.
Warren and Butler face off Monday for the first time since their beef started
Both Warren and Butler have had their next matchup circled for months. The rematch was supposed to take place in March, but the COVID-19 pandemic pushed the season back four months.
After six long months, Warren and Butler will finally renew their beef Monday as the Heat face the Pacers at 8 p.m. ET.
Their rivalry is even more fascinating now after Warren has dominated the NBA bubble. He's averaging a league-best 34.8 points per game on 60.5% shooting in Orlando, and you can bet he'll be going for 50 against Butler on Monday.
Both players can talk the talk all they want, but they'll get to settle their beef on the court Monday. Get your popcorn ready.