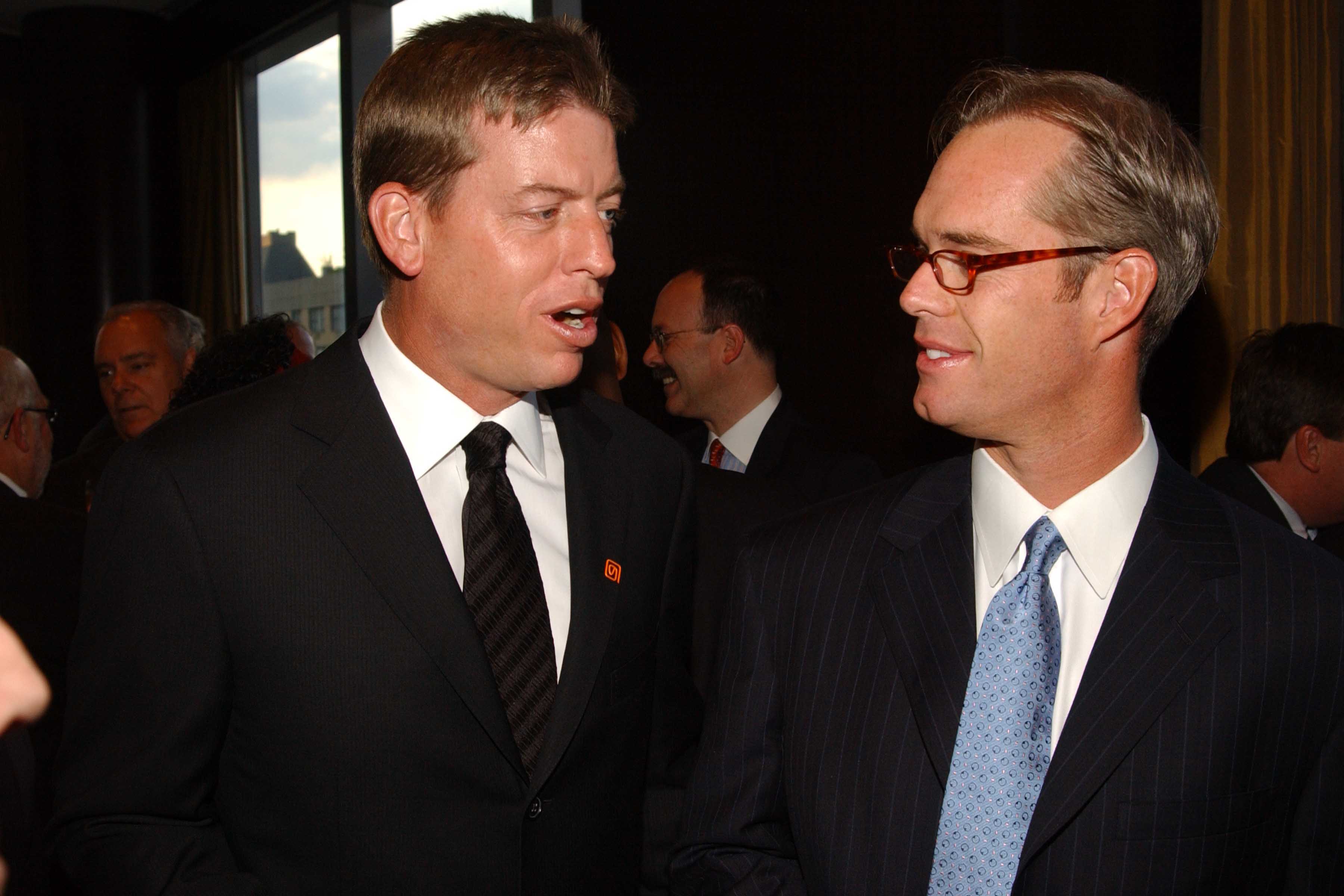 Joe Buck and Troy Aikman Worked NFL Games While Drinking Tequila: 'It Was Good for a Stretch'
In a recent interview with Colin Cowherd, Fox announcer Joe Buck admitted that he and Troy Aikman drank tequila while calling NFL games.
Throughout their years together at Fox, Joe Buck and Troy Aikman have received mixed receptions from fans.
Both have been highly successful in their roles, which is why the 2021 season will be their 20th as Fox's No. 1 NFL broadcast team. Buck's perceived lack of enthusiasm and controversial calls, coupled with Aikman's alleged bias towards the Cowboys, have turned them into easy targets during their time together.
Don't let their commentary fool you into thinking Aikman and Buck are straight-laced and boring. Buck recently told Colin Cowherd just how adventurous the duo would get in the broadcast booth.
Joe Buck and Troy Aikman drank tequila in the booth
Joe Buck is apparently no different than the rest of us football fans on a Sunday.
Finally, the football fans who enjoy a cold beer while watching NFL games can relate to Buck. In a February 15 appearance on The Colin Cowherd Podcast, Buck recalled drinking alcohol with Troy Aikman during the games they worked. 
Buck said the duo enjoyed tequila, Grand Marnier liqueur, and grapefruit juice while in the booth.
"We haven't done it in a long time now, but it was good for a stretch and I feel like it's a good mental trigger to just chill and remind yourself that you're not refueling a F-16 in mid-flight. You're doing a sporting event and if you treat it like anything other than that you're doing yourself a disservice."
Buck did not provide a timeline of when he and Aikman had their ritual. The duo first began working together in the fall of 2002, when Buck replaced Pat Summerall on the network's No. 1 team.
In a Twitter thread on February 17, Buck said the media had turned his story into "complete clickbait."
"As I said with @ColinCowherd it wasn't there to be consumed, it was there as more of a visual reminder that the world wouldn't end if I made a mistake," Buck wrote in one tweet. "It was symbolic and one of MANY things I would use, like texting with my wife and kids or calling my mom at half – just to chill."
Buck said that Fox had not contacted him about the story. The veteran broadcaster also tweeted that he regretted mentioning Aikman when speaking to Cowherd.
Buck also drank before baseball playoff games
Before he became Fox's lead voice for the NFL, Joe Buck held that role for the network's baseball coverage.
Fox named Buck its top play-by-play voice in 1996 when the network obtained the broadcast rights. As Fox has held the World Series rights every year since 2000, Buck has called the Fall Classic each season.
Buck told Colin Cowherd that his tradition of drinking during games began when he worked the MLB postseason.
"I went through a couple years where in the first inning of every postseason baseball game I had the runner go get the biggest beer the stadium sold. And I had it sitting there and I would sip it from time-to-time to remind myself to relax and have fun. I'm just doing a game."
Buck was 27 years old when he called the 1996 MLB postseason. Derek Jeter and the New York Yankees defeated John Smoltz and the Atlanta Braves in that year's World Series.
Smoltz, an eight-time All-Star, is now Buck's partner in the Fox broadcast booth.
Joe Buck is no stranger to odd events in the booth
Listeners can accuse Joe Buck of being boring, but they can't say the same about his broadcasting experiences.
Buck told Stephen Colbert in 2017 that he once had to use the bathroom during a Packers game. The production crew put a trash can in front of Buck, who urinated in it while calling a touchdown.
Then, there was everything from the last 12 months. Instead of calling games in packed stadiums, Buck often worked in empty arenas — especially in baseball, which didn't allow fans until the postseason — because of the coronavirus pandemic.
Joe Buck's Sundays truly are more interesting than ours. Who would have thought?
Like Sportscasting on Facebook. Follow us on Twitter @sportscasting19.