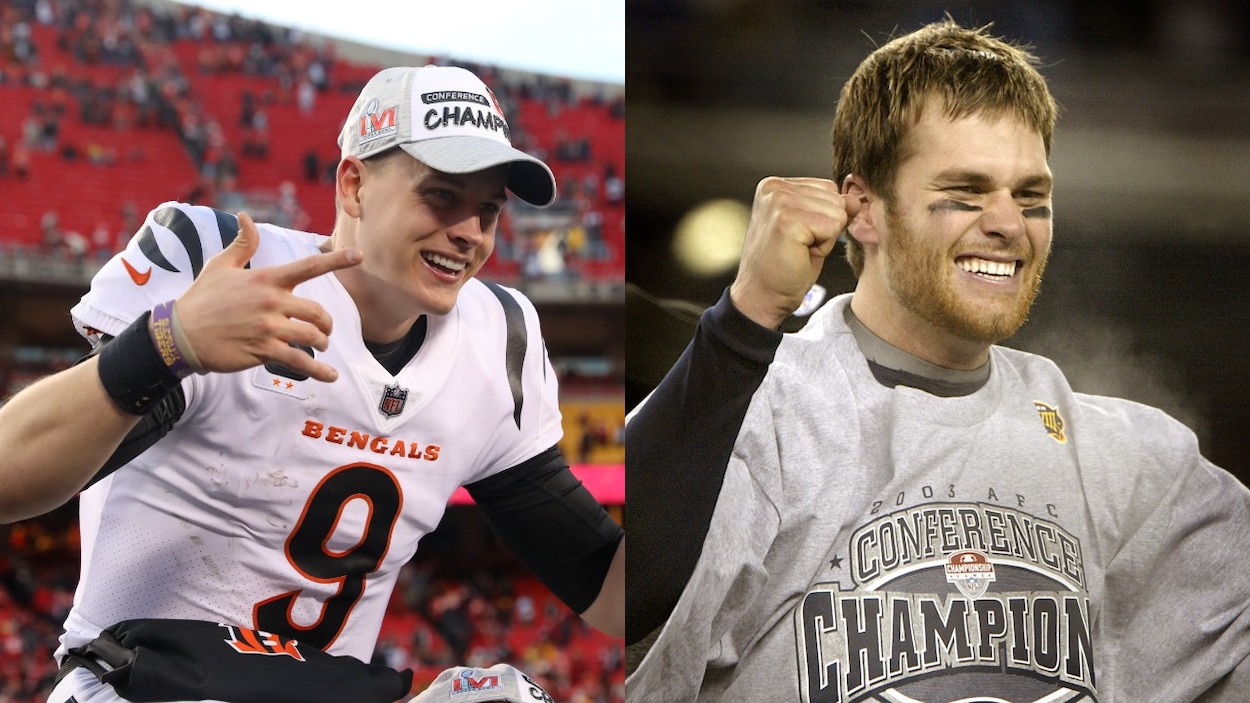 Joe Burrow Is 'the Closest Thing to Tom Brady to Come Into the League,' According to NFL Insider Albert Breer
As Joe Burrow heads into the first Super Bowl, there are similarities worth examining between the Cincinnati Bengals QB and the GOAT, Tom Brady.
Cincinnati Bengals quarterback Joe Burrow shocked the world by leading his team to a Super Bowl in just his second season. It's an awe-inspiring feat and one that, for some, like MMQB's Albert Breer, remind them of a young Tom Brady.
The comparison between Burrow and Brady works on several levels. However, we won't know if the comp truly fits until we see how Burrow plays on the biggest stage on Super Bowl Sunday.
Joe Burrow has accomplished a great deal in just two NFL seasons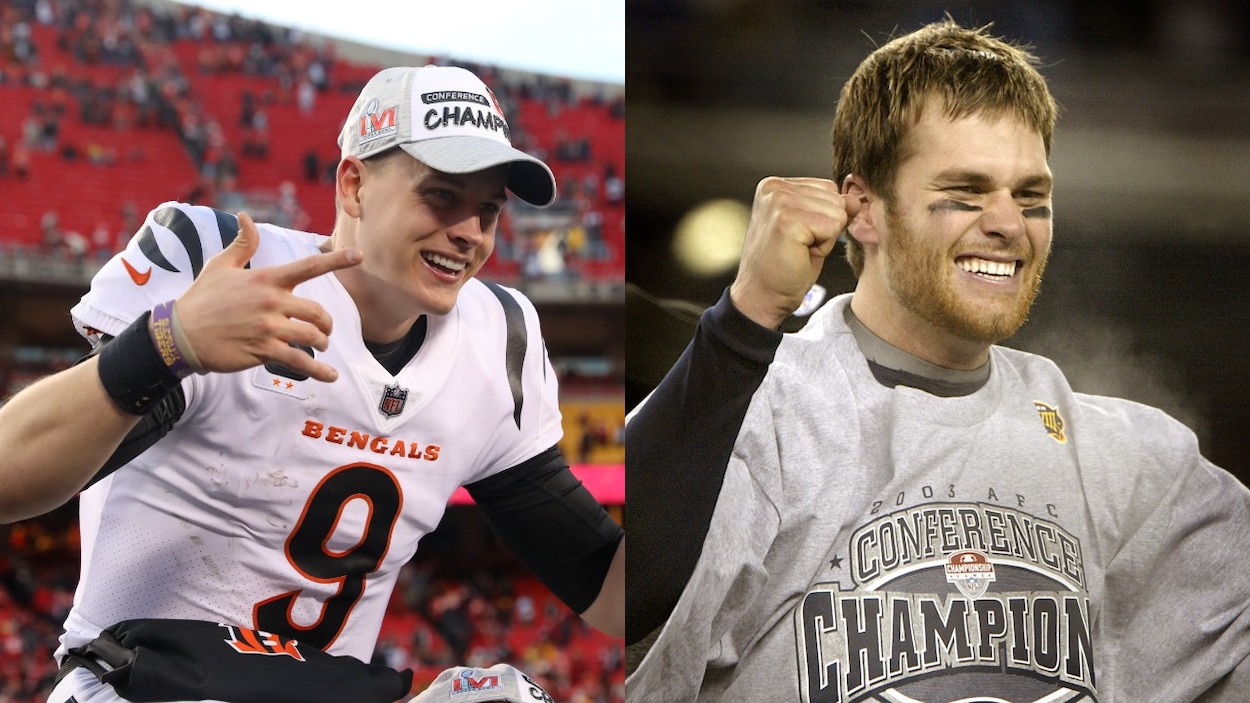 Joe Burrow showed flashes of greatness during his rookie season. He had 300-plus-yards passing in four of his first six games. He also put up an incredible 406-yard, three TD performance in a loss to the Cleveland Browns.
Despite the young QB's promise, the 2020 Cincinnati Bengals only managed a 2-6-1 record heading into Week 10. That's when the unthinkable happened, and Burrow went out for the year with a major knee injury.
However, the young QB crushed his rehab and recovery. He returned just nine months after his injury for the opening of training camp. Now, Burrow's injury is almost forgotten history as the former LSU signal-caller put together an incredible 2021 season.
Burrow completed 520 passes this season for 4,611 yards with 34 TDs and 14 INTs. He led the league in completion percentage (70.4%), yards gained per pass attempt (8.9), and sacks. All the while, he led his team to a 10-7 regular-season record. In the postseason, he propelled the Bengals to their first Super Bowl in over 30 years.
The man with many nicknames has done all this with an incredibly cool and calm demeanor as well, which makes some, including MMQB's Albert Breer, make the comparison between Burrow and the GOAT, Tom Brady.
Albert Breer sees similarities between Burrow and Tom Brady
There is no bigger compliment you can give a young NFL QB than saying he reminds you of Tom Brady.
Albert Breer appeared on the Dan Patrick Show during the week leading up to the Super Bowl and discussed what exactly he thinks Joe Burrow and Brady have in common. He told the host:
Burrow, stylistically — and I covered Brady when he was young — stylistically, he's the closest thing to Tom Brady to come into the league since Brady was young. More athletic, but the accuracy, the pocket movement, and, as much as anything else, I think it's like the ability to galvanize and change a place. And this isn't the first time we've seen this either.

Albert Breer on Joe Burrow and Tom Brady
Breer continued by explaining how LSU was all about defense, running, and toughness before Burrow got there. He transformed the Tigers into a high-powered passing offense that won a national title.  
The reporter thinks this is very similar to what Brady did for the New England Patriots two decades ago.
The other area Breer sees the similarities between Brady and Burrow is "in the biggest moments, flatline." Meaning when the game is on the line — even the biggest games — both Burrow and Brady stay calm and lead their teammates.
Breer summed up by telling Patrick that if Burrow and the Bengals can get the Super Bowl into the final five minutes, he likes their chances.
The Rams may be in trouble again
One more interesting similarity between Tom Brady and Joe Burrow is that they both drew the Rams in their first Super Bowl appearance. And not just any Rams teams either. Both Brady and Burrow went/will go up against star-studded, heavily favored Rams teams.
The 2001 St. Louis Rams were "The Greatest Show on Turf."
Led by Kurt Warner, the team won the Big Game just two years earlier and was looking for a second. Warner, along with Marshall Faulk, Isaac Bruce, and Torry Holt, were two-touchdown favorites over Brady — who came in Week 2 to replace an injured Drew Bledsoe — and the Patriots. Plus, the Pats were only in the Super Bowl thanks to some "Tuck Rule" luck against the Oakland Raiders in their first playoff game.  
However, New England kept the game close, leading from 8:39 in the first quarter until 1:30 left in the fourth. Then, Brady stayed cool and led a 53-yard drive, setting up an Adam Vinatieri field goal to win the game.
Now, Burrow and the Bengals find themselves in an eerily similar situation against Matthew Stafford, Cooper Kupp, Odell Beckham Jr., Aaron Donald, Von Miller, Jalen Ramsey, and the 2021 Los Angeles Rams.
The Bengals have a second-year QB, a no-name defense, and face an All-Star team that is more than a FG favorite. Also, Cincy might not even be in this game if not for some luck with an erroneous whistle in their first playoff game against… wait for it… the Las Vegas Raiders.
Now, all that's left is to see if Burrow can do the No. 1 thing that ultimately made Brady the greatest: Win Super Bowls.
All stats courtesy of Pro Football Reference