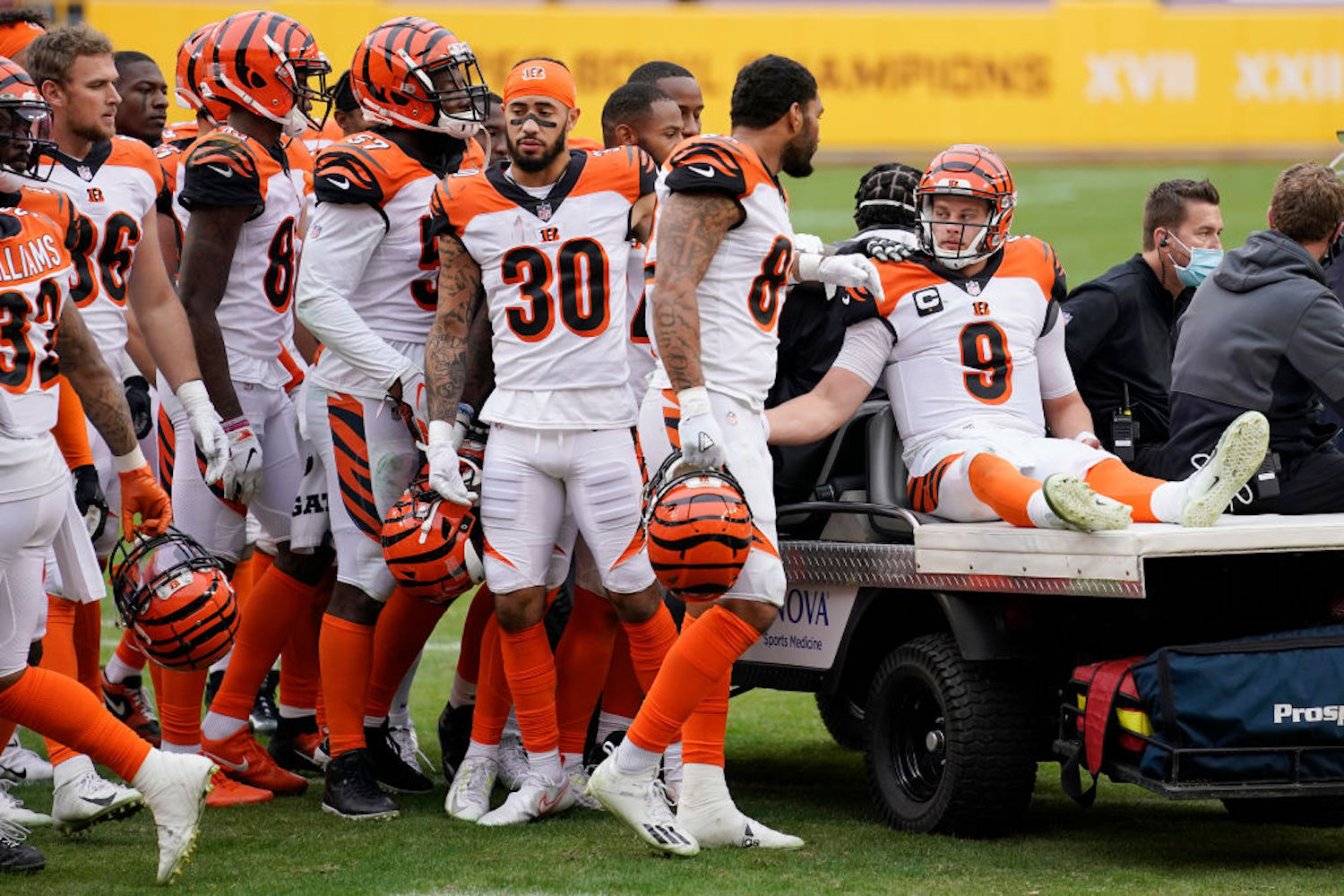 Joe Burrow Just Received a Devastating Update About His Knee Injury
Joe Burrow went down with a gruesome knee injury Sunday, and the MRI revealed even more damage than originally expected.
Cincinnati Bengals starting quarterback Joe Burrow left the game Sunday after suffering a gruesome knee injury. Players from both sidelines gathered around the former No. 1 pick to offer their condolences before he was carted off the field.
The Bengals immediately knew Burrow would be out for the remainder of the 2020 season, but the MRI revealed even more damage than they expected.
Joe Burrow left Sunday's game after a scary knee injury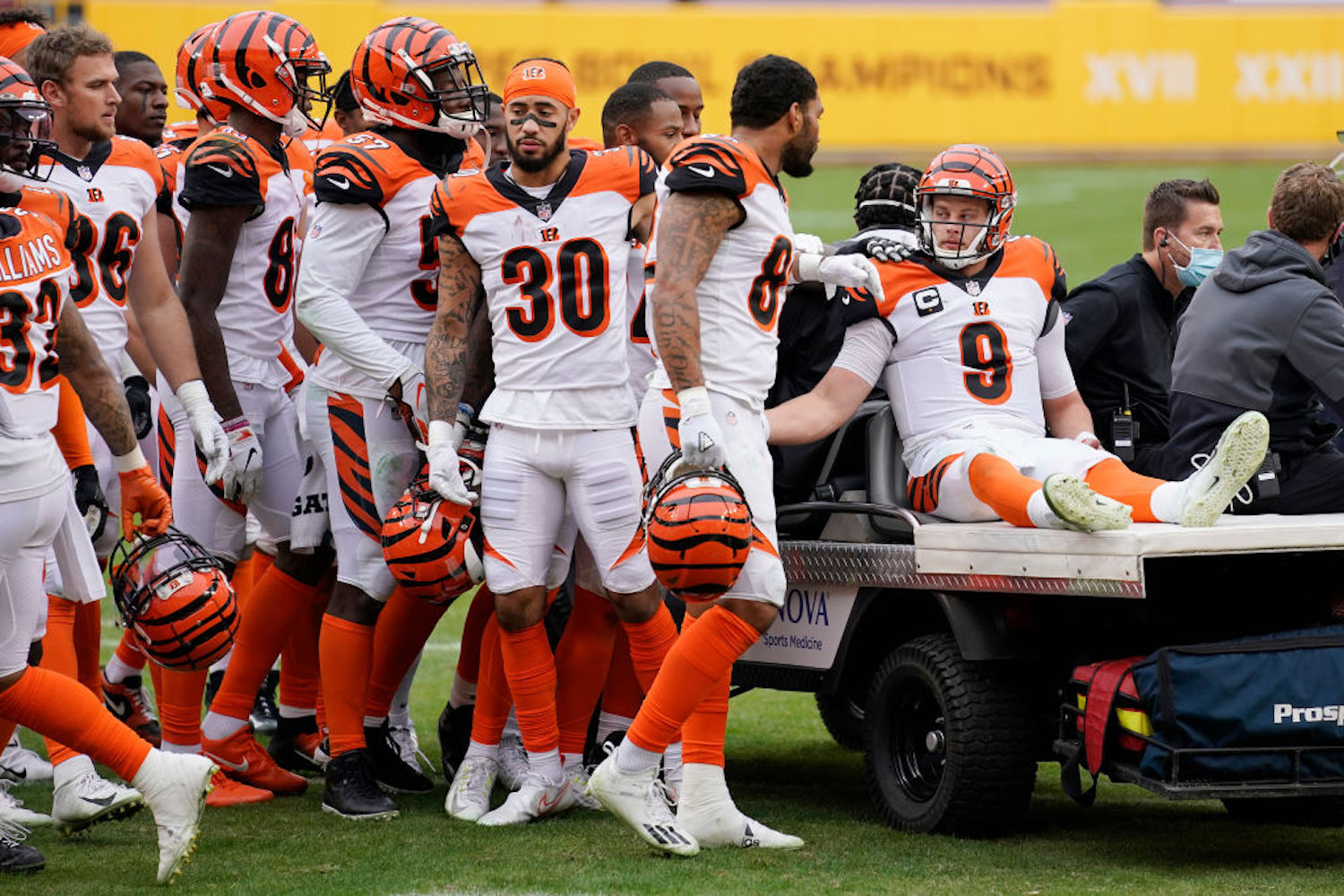 Joe Burrow was on his way to a fine rookie season. Despite bringing a 2-6-1 record into the Bengals' Week 11 matchup against the Washington Football Team, Burrow was playing well with the pitiful roster surrounding him.
Burrow led Cincinnati to a 9-7 lead early in the third quarter on Sunday, but the game and Burrow's future alike flipped on their heads in just one play. The QB dropped back on third down and threw a floater down the sideline to Tyler Boyd. After Burrow released the ball, a Washington defensive lineman fell into his left leg and bent it sideways.
Burrow immediately grabbed his left knee as he writhed in pain on the field. The medical team rushed in to check on Burrow, and it was evident right away the injury was severe.
Burrow was carted to the locker room as Bengals fans around the country mourned for their new franchise QB. All they could hope for was a positive update from the coming MRI.
Burrow's injury is worse than expected
It was clear from the initial video that Burrow's injury would cause him to miss the rest of the season. His knee bent the wrong way after getting hit, which is usually a telltale sign of a torn ACL.
But the MRI on Monday revealed even more damage than most expected. Adam Schefter and Ben Baby of ESPN reported Burrow tore his ACL, MCL, and suffered even more structural damage in his left knee.
An ACL tear is one thing, but knee injuries get much more complicated when there are multiple structural tears involved. Just ask Robert Griffin III, who suffered an ACL and LCL tear on the same field back in 2013.
Griffin was never the same player after suffering that devastating injury, and Bengals fans can only hope Burrow's recovery goes much more smoothly.
Burrow might not be ready for the 2021 season
After Burrow was carted to the locker room Sunday, he shared an encouraging message to his fans on the Internet. "Thanks for all the love. Can't get rid of me that easy. See ya next year," Burrow said via his official Twitter account. But it might not be that simple.
Schefter followed up his MRI report with some thoughts on Burrow's future. "These types of knee injuries, like the one Joe Burrow suffered, usually sideline players anywhere from 9-12 months, though each person heals and rehabs differently. But no matter how quickly Burrow does or doesn't recover, next year's status is now in question.," Schefter tweeted Monday.
The 2021 NFL season is less than 10 months away. It would be a rush to get Burrow ready for Week 1, and the Bengals need to be extremely cautious with their franchise QB. Cincinnati can't risk sending Burrow down the same career path as RGIII.