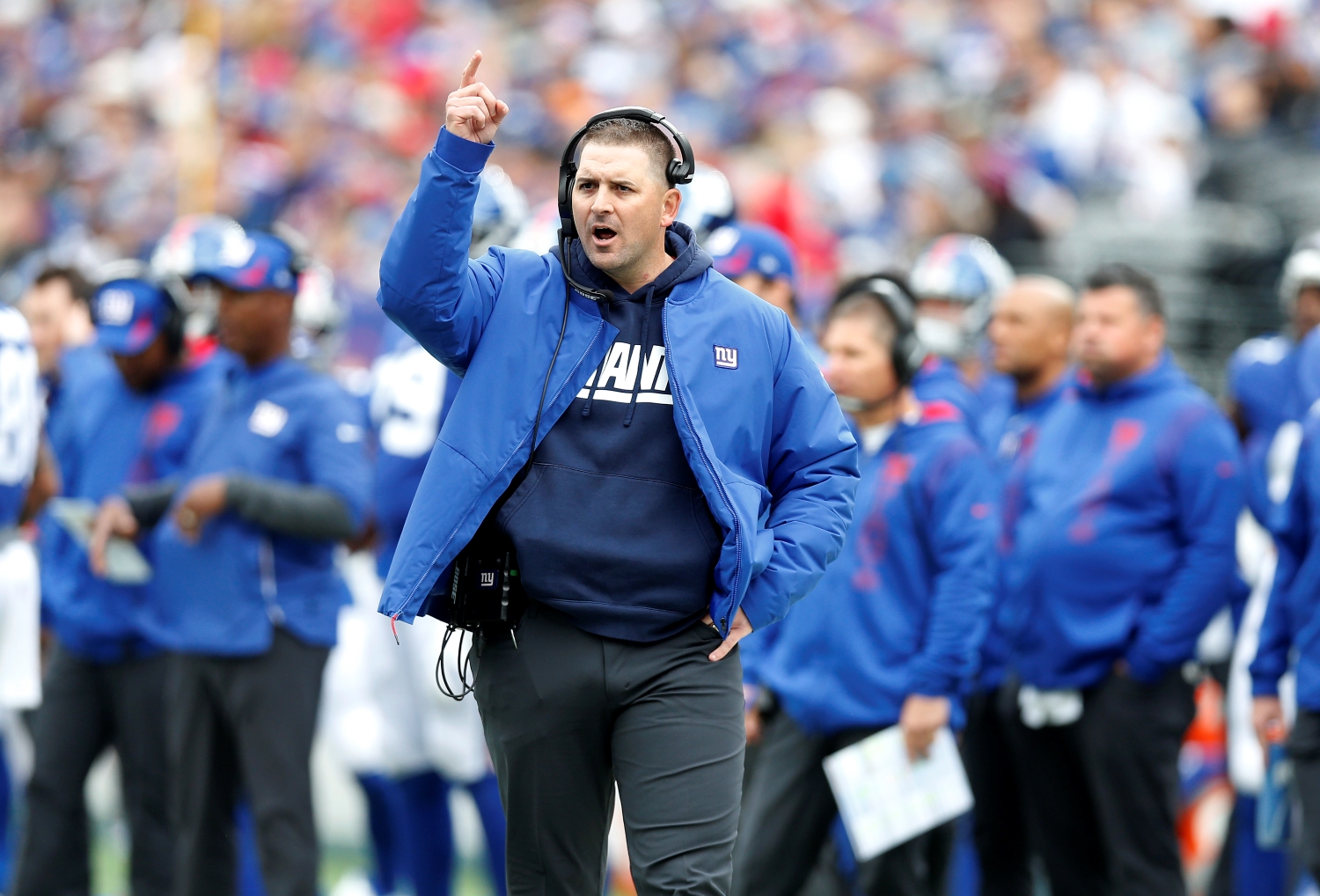 Joe Judge's Latest Comments After the Giants' Latest Embarrassing Loss Prove Exactly Why He's the Wrong Man for the Job
Joe Judge's comments after losing to the Buccaneers should seal his fate in New York. Will the Giants move on from their disappointing head coach after the season?
Despite having his full arsenal of weapons available, Daniel Jones delivered a dud of a performance on the latest edition of Monday Night Football. In fact, the New York Giants as a whole flopped badly in a big matchup against the Tampa Bay Buccaneers.
Once again, Joe Judge's squad struggled on both sides of the ball, resulting in yet another loss for the historic NFC East franchise. And while the second-year head coach seems poised to retain his job title for the remainder of the season, his post-game comments should convince ownership to hit the reset button in the coming months.
The Giants suffered a lopsided loss to the reigning Super Bowl champions on Monday Night Football
Coming off their bye, the Giants had a chance to win consecutive games for the first time since they defeated the Cincinnati Bengals and Seattle Seahawks in Weeks 12 and 13 of the 2020 season. Yet even though they had ample time to prepare for a Buccaneers team that entered Monday on a two-game losing streak, they didn't come close to taking down the reigning Super Bowl champions.
With Rob Gronkowski making his return, Tom Brady had little trouble carving up Patrick Graham's defense. The legendary quarterback finished the night with 307 passing yards, two touchdowns, and one interception in a lopsided 30-10 victory over his sworn enemy. Plus, the Buccaneers ran the ball 27 times for 94 yards and another score, which helped them control the time of possession battle.
As for the Giants' much-maligned offense?
Unfortunately for Joe Judge, he watched Daniel Jones and Co. put up a paltry 215 yards of total offense. The oft-criticized quarterback threw two interceptions, including an embarrassingly bad one that got easily picked off by Buccaneers defensive tackle Steve McLendon.
To make matters worse, Saquon Barkley didn't make much of an impact in his return from a nagging ankle injury. The fourth-year running back totaled 25 yards on six carries, and he only gained 31 yards on six receptions.
Needless to say, Giants fans expected more from the No. 2 overall pick of the 2018 NFL Draft.
Overall, the trip to Florida could not have gone much worse for Judge's team. By getting completely outclassed on both sides of the ball, the Giants suffered their seventh loss, which essentially puts them out of the mix to earn a playoff spot.
Joe Judge's post-game comments prove he's the wrong man for the job
Ironically, the Giants placed their franchise in the hands of a coach who spent years learning from the best in the business. Clearly, though, they didn't hire the next Bill Belichick.
Judge may talk and carry himself like his former boss, but that's where the similarities end. Unlike the longtime leader of the New England Patriots, he hasn't found a way to win football games on a consistent basis.
Rather, Judge has done a whole lot of losing since he took over a year ago. And he didn't do himself any favors with how he addressed that topic in the aftermath of his team's latest defeat.
"We have to do a better job of putting our players in position to make plays," Judge told reporters. "We have too many good players. We have to put them in better position to capitalize on it. That's it."
Sounds reasonable, right?
Later on, though, the 39-year-old Philadelphia native proved he's not the right person for the job by making some comments that simply didn't add up.
"I'm telling you we're going to put something on the field that you're going to be proud of. That is on my name. You understand that?" Judge said. "That is on my name. I am the leader of this team. I'm in charge of this team. That is on me. I don't point fingers. I don't make excuses. We're going to get this right."
Not pointing fingers?
Judge clearly put blame on the coaching staff with his "we have too many good players" line. Yet even though he took that approach earlier in his press conference, he sounded like a hypocrite by claiming he doesn't point fingers or make excuses.
Talk about mixed messages.
At this point, why should anyone feel confident about Judge's ability to turn things around? He owns a 9-17 record, and his team doesn't seem any closer to competing for a championship than it did before he arrived. All the "tough guy" talk and promises about making positive strides seems like just that — talk.
New York needs to execute a full-scale rebuild during the offseason
If the Giants want to become a respectable franchise again, they need to move on from a coach who clearly can't cut it in New York. Judge hasn't helped Daniel Jones become a better quarterback. In fact, the offense remains an absolute mess.
Meanwhile, a defense that finished ninth in points allowed a year ago currently ranks 24th. When the supposed strength of your team ranks in the bottom third of the league, that's a serious problem.
Does Judge deserve all the blame?
Of course not.
General manager Dave Gettleman must be held accountable for his continued misfires in the draft and free agency. After all, he's the one who chose Jones with the sixth overall pick in the 2019 draft. And he's the one who took Saquon Barkley No. 2 overall the year prior. Both of those selections have failed to pay off for the Giants, and it's entirely fair to wonder where the franchise would be if Gettleman had gone in different directions.
Ultimately, New York needs to undergo a complete overhaul this offseason. That begins with getting a new GM who can re-stock the roster via the draft. Plus, it's time to find someone with a stronger resume than Judge, who basically went from being a special teams coordinator to an NFL head coach.
Oh, and you can bet whoever takes over will look to upgrade at the most important position in sports, too.
All statistics courtesy of Pro Football Reference.