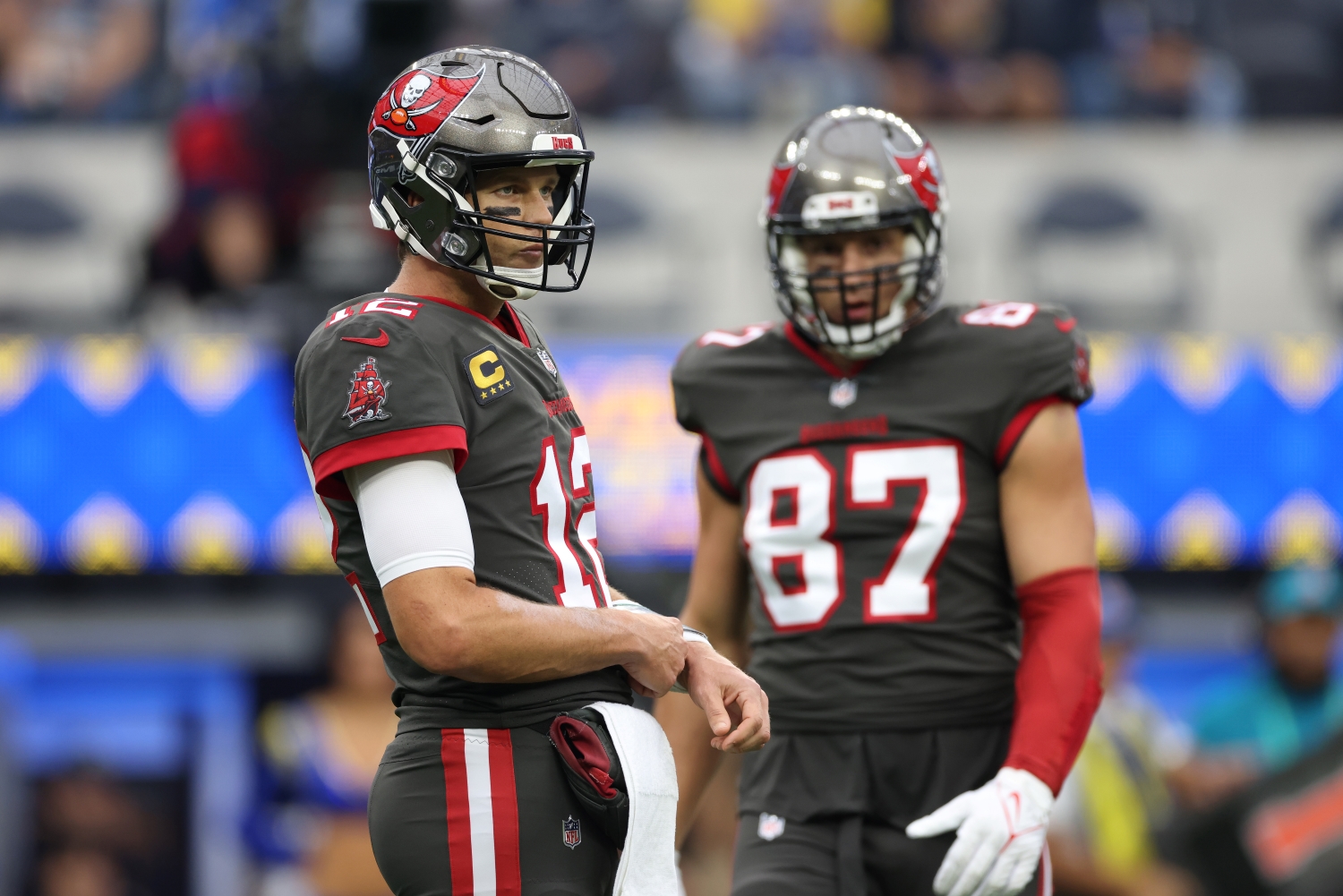 An Old Friend is Returning Just in Time to Help Tom Brady Defeat His Sworn Enemy
With an old friend returning to the lineup, Tom Brady has a much better chance of taking down his sworn enemy on Monday Night Football.
Tom Brady appeared on track to win his fourth NFL MVP trophy following a four-game winning streak that included 15 touchdowns and a single interception. Yet the seemingly ageless signal-caller has fallen behind a bit in the race for the league's most prestigious individual award by getting picked off twice in back-to-back losses.
With the Tampa Bay Buccaneers searching for their first win in nearly a month, Brady's next opponent just so happens to be his sworn enemy. Luckily for the GOAT, though, an old friend is returning just in time to help him avoid a third straight defeat.
Tom Brady's sworn enemy presents a sneaky challenge for a Buccaneers team coming off consecutive losses
Although he no longer plays for the New England Patriots, there's no doubt Tom Brady still remembers the sickening feeling of watching the New York Giants hoist the Lombardi Trophy. While the 44-year-old can sleep soundly with seven Super Bowl rings sitting at home, it's fair to wonder what his legacy would look like if Eli Manning hadn't pulled off some late-game heroics in two pivotal matchups against the duo of Belichick and Brady.
Ultimately, though, Brady can't afford to reflect on the past. After all, the Buccaneers badly need to get back on track after dropping their last two games.
Obviously, the Giants feature a much different lineup than they did in Super Bowl 46. Yet despite the fact Joe Judge's squad owns a disappointing 3-6 record, Bruce Arians' team should prepare for a physical battle against a defense that's played significantly better in recent weeks.
The Giants earned well-deserved wins over the Carolina Panthers and the Las Vegas Raiders by limiting them to a combined total of 19 points. Plus, the NFC East bottom dwellers forced two turnovers in a closer-than-expected three-point loss to the Kansas City Chiefs that raised some eyebrows around the league.
Coming off a 19-point outing of their own against the Washington Football Team, the Buccaneers must prove they can still score at a high clip. And with one of his top targets set to suit up for Monday Night Football, Brady has a much stronger chance to carve up his sworn enemy's surging defense.
An old friend is returning just in time to help TB12 take down the Giants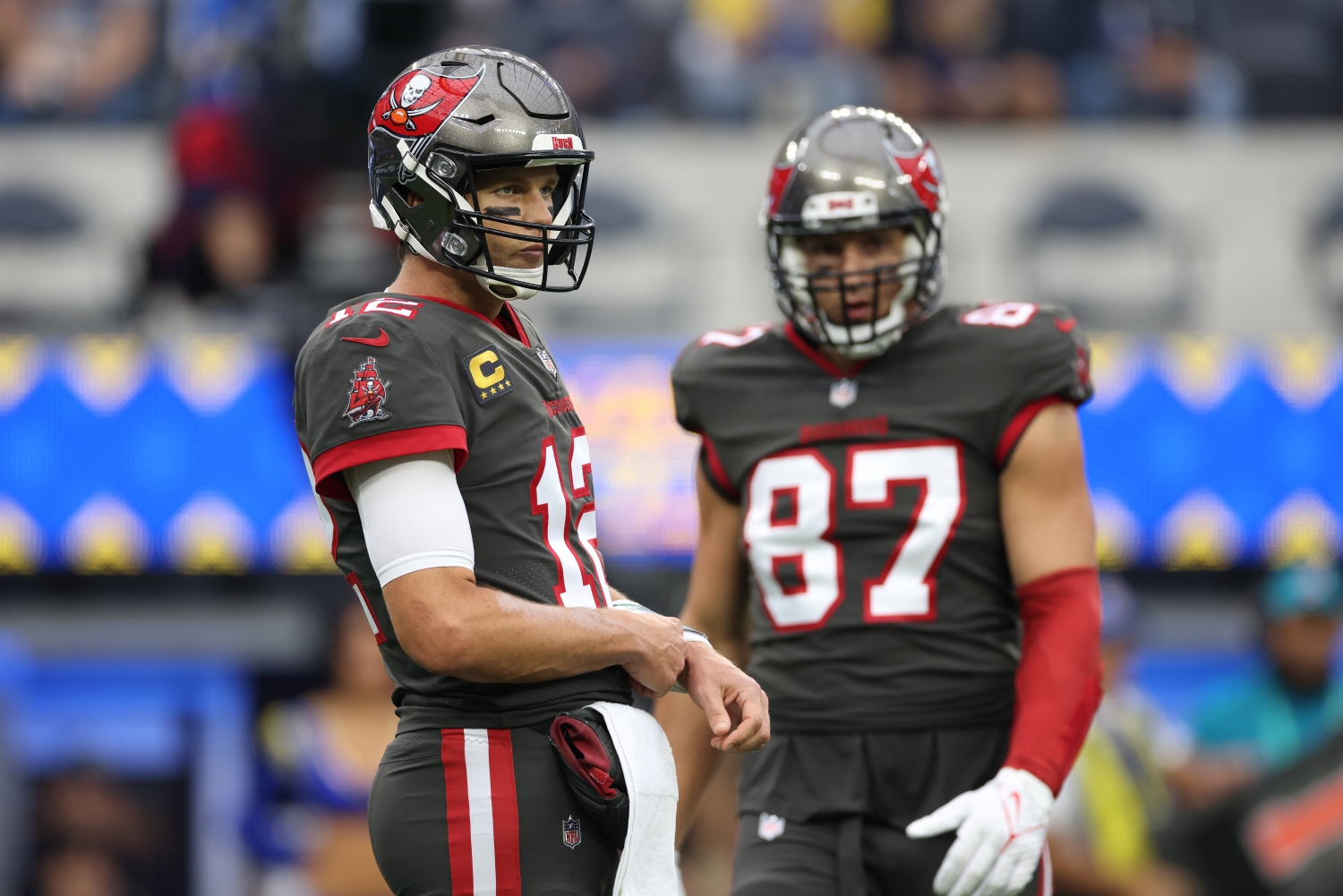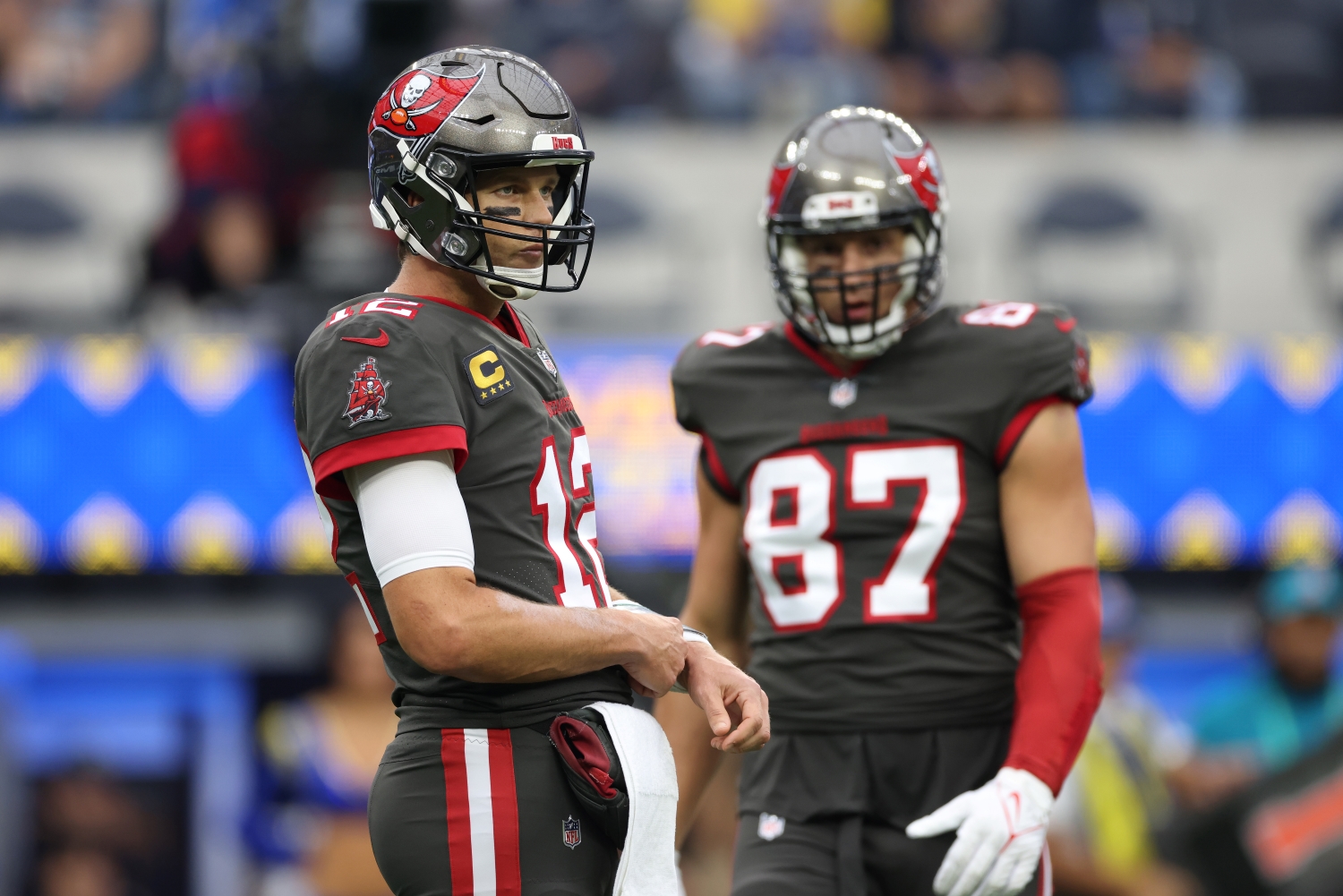 Unfortunately for the Giants, TB12's partner in crime finally turned a corner last week. And barring any surprises, Rob Gronkowski should take the field against the 21st-ranked scoring defense.
According to Adam Schefter of ESPN, the five-time Pro Bowler, who's officially listed as questionable with a back injury, will play Monday as long as he avoids any pregame setbacks. Gronkowski has missed five games because of back spasms, cracked ribs, and a punctured lung.
The future Pro Football Hall of Famer started the season on a tear, racking up 16 receptions for 184 yards and four touchdowns in three games. However, he hasn't recorded a catch since Week 3, and the Buccaneers have sorely missed him in red-zone and third-down situations.
Fortunately for Brady, though, his best friend picked a good time to return to work. The Giants did well to hold Chiefs tight end Travis Kelce to only 27 yards on four catches, but they had trouble containing the Raiders' Darren Waller (seven catches for 92 yards), the Dallas Cowboys' Dalton Schultz (six receptions for 79 yards), and the Denver Broncos' duo of Noah Fant and Albert Okwuegbunam (nine receptions for 78 yards and a touchdown).
Getting Gronkowski back will give Brady a much-needed weapon he can turn to in critical moments — something even more important given Antonio Brown's absence due to an ankle injury. Of course, whether the 32-year-old tight end shows any rust from his lengthy layoff remains to be seen. At the very least, though, TB12 can look forward to seeing a familiar face in the huddle when he faces the Giants.
Rob Gronkowski must stay healthy if Tampa plans to host another Super Bowl boat parade
Make no mistake about it: the Buccaneers need a healthy Rob Gronkowski to win a Super Bowl title. Sure, he doesn't bring the same level of awe-inspiring run-after-the-catch ability that made him an electrifying star during his prime. And he certainly doesn't present quite the same matchup problems now that he's lost a few steps.
But that doesn't matter.
Gronkowski carries tremendous value as a blocker, as he can use his 6-foot-6, 265-pound frame to wipe out linebackers and safeties in the running game. Plus, despite no longer possessing top-end explosion, he provides Brady with a big-bodied target who can haul in off-target passes thanks to his length and wide catch radius.
The Buccaneers have decent depth at the position, but O.J. Howard and Cameron Brate don't measure up to even a past-his-prime version of Gronk. If they want to make another run at the Lombardi Trophy, they need Tom Brady's favorite weapon to remain on the field and out of the trainer's room.
Then again, given Rob Gronkowski's injury history, counting on him to stay healthy seems like a shaky bet.
All statistics courtesy of Pro Football Reference.