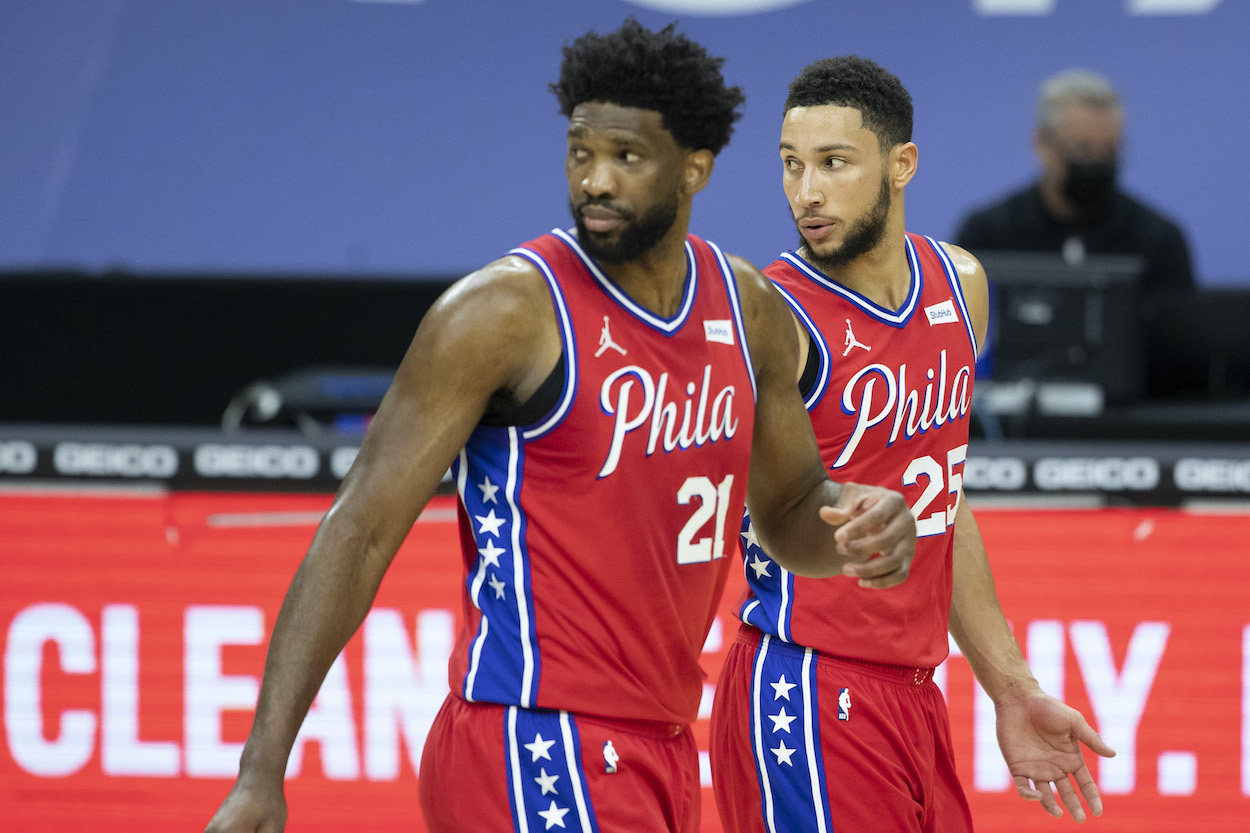 Joel Embiid Fires a Ruthless Parting Shot at Ben Simmons on His Way Out the Door
Ben Simmons is finally out as a Philadelphia 76ers, and Joel Embiid couldn't be happier about it.
No one was rooting harder for a Ben Simmons deal to get done by the NBA trade deadline than Joel Embiid. The Philadelphia 76ers big man quickly became frustrated with Simmons' antics throughout the summer and into the season, and he just wanted the nightmare to finally end.
A few hours before the deadline clock struck zero, Embiid got his wish. And in his first public comments since the Simmons-James Harden blockbuster, the superstar center took one final shot at his old friend.
Joel Embiid's nightmare is finally over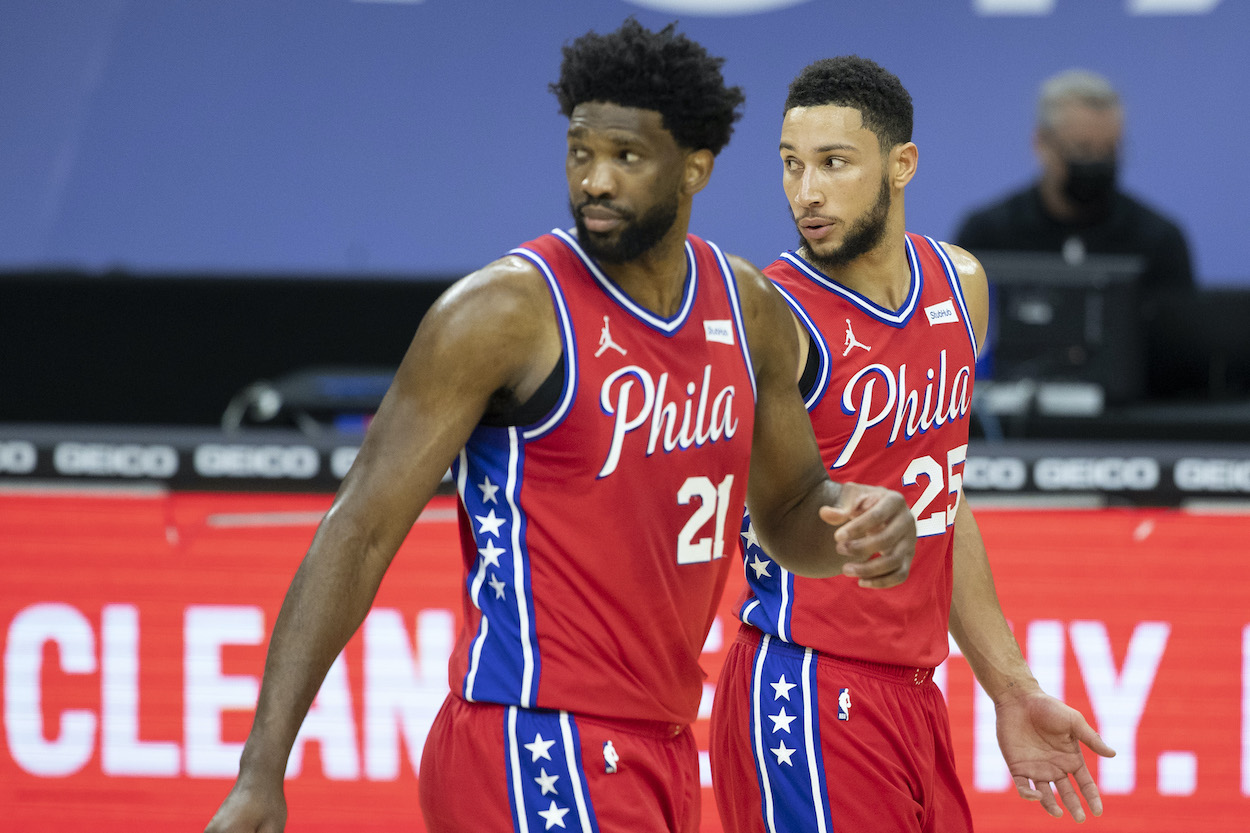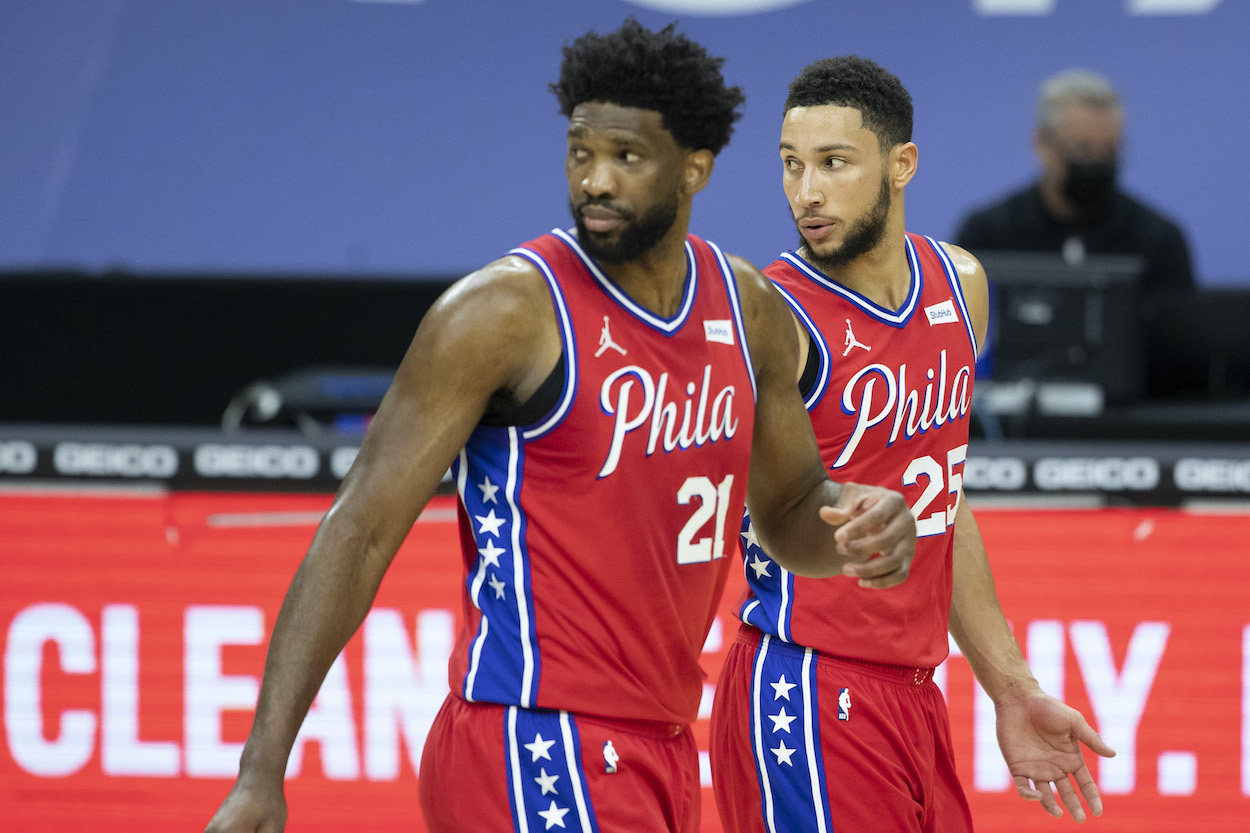 Embiid is not a complicated man. He's going to work his butt off every day with the ultimate goal of winning a championship, and he expects the same from the teammates and coaches around him.
Not too much to ask for, right?
But for Simmons, it was. The point guard flat-out quit on the 76ers after the first sign of adversity, and it was hard for Embiid to contain his frustration. When Simmons showed up to training camp and loafed through practice drills in a clear attempt to stop the fines from rolling in, Embiid didn't mince words with his criticism, and he's quietly been bashing him ever since.
Embiid knew Simmons had to go if the Sixers had any hope of competing for a title this year, and his wish was granted at the NBA trade deadline.
On Thursday afternoon, the 76ers traded Simmons, Seth Curry, Andre Drummond, and two first-round picks to the Brooklyn Nets in exchange for Harden and Paul Millsap.
After Philadelphia's win against the Oklahoma City Thunder a night later, Embiid was asked about finally getting rid of the dramatic cloud hanging over the organization.
"I'm happy that I'm not going to be answering any more questions about that subject," Embiid told reporters Friday night, per ESPN. "It's good that, not just for me, but my teammates, the whole organization. The whole year, it was pretty annoying with the whole situation, but I'm glad that everybody has moved on.
"I wish everybody the best in whatever they want to accomplish, but I'm focused on winning games here and trying to win a championship."
But he didn't stop there.
Embiid fires a ruthless parting shot at Ben Simmons
Embiid always thought he could win a title with Simmons as his No. 2. The Sixers were an elite regular-season team with both players in the lineup, but they just couldn't make it click in the playoffs.
Now that Simmons is gone, though, Embiid couldn't be happier to move on.
"I honestly don't care, honestly," Embiid said. "Like I've always said, it's unfortunate how everything happened, because you look at the history and we didn't get it done as far as winning in the playoffs, but you look at the history being on the court, what we did in the regular season, we were dominant.
"So it's unfortunate that winning was not the biggest factor. It's unfortunate that for him, having his own team and being the star was more of his priorities. But I always thought that everything was great, the fit was great. But unfortunately Ben thought that it wasn't. But we all move on."
Go ahead and circle March 10 on your calendar right now. Embiid isn't going to take it easy on his old teammate in their first matchup as rivals.
Excited for a new era in Philadelphia
Embiid should be thrilled that Simmons is no longer a member of the 76ers, but he should be even more thankful that Harden has taken his place. The Sixers immediately become legitimate contenders to win the title in 2022, and Embiid knows it.
"It was just a lot of excitement," Embiid said of the trade. "Just excited. You talk about guys that I've played with, [Harden's] probably gonna be the best yet, based on what he's accomplished in his career so far.
"So it's just about getting everybody on the same page and finding the right way to play. We already have a system in place so we've just got to bring him along and incorporate a bunch of new stuff with a bunch of stuff that he's good at and put it all together."
The new-look 76ers have only two months to gel before the postseason gets underway, but Las Vegas thinks they'll be able to find a groove in time. Following the trade, Philadelphia's championship odds shot from +1300 to +700 almost immediately.
The Embiid-Harden combination is now one of the most feared duos in the league, and the Sixers have officially entered championship-or-bust territory.
Like Sportscasting on Facebook. Follow us on Twitter @sportscasting19.