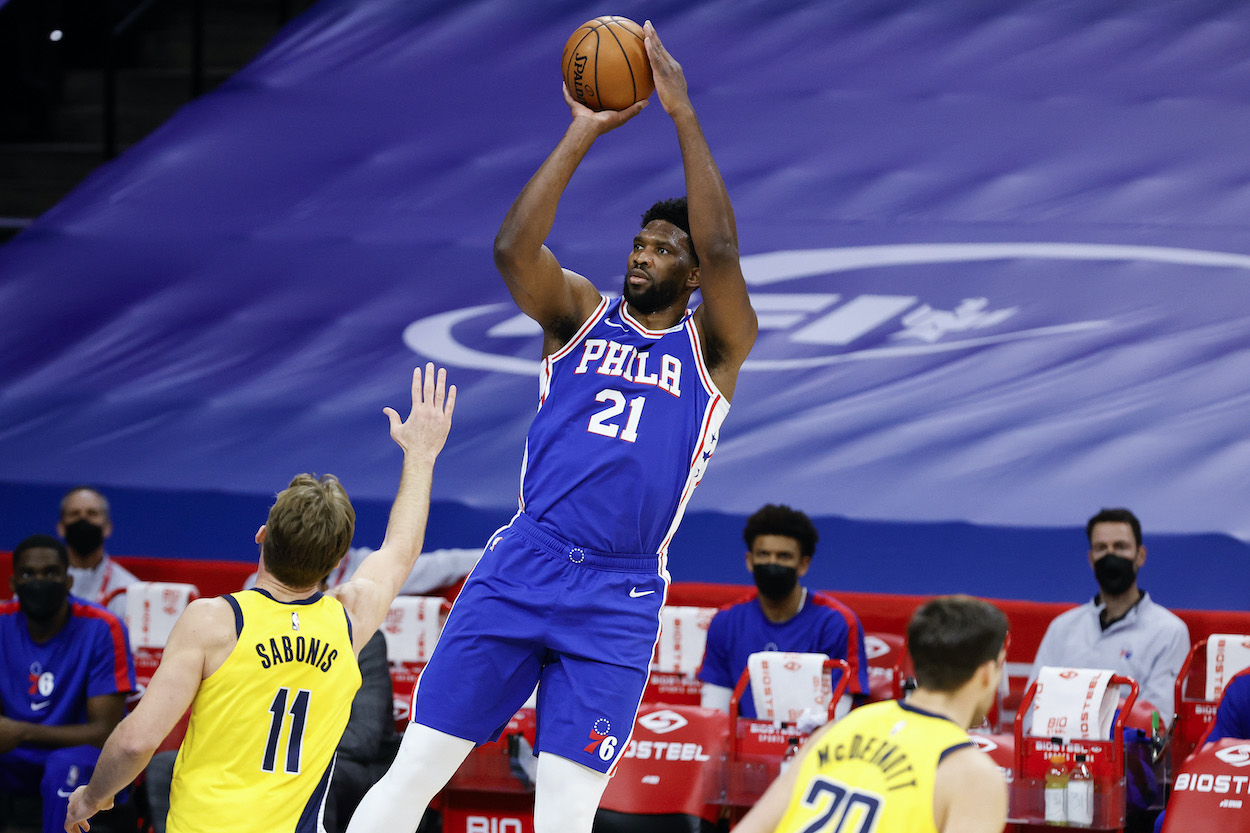 Joel Embiid First Learned How to Shoot a Basketball by Searching 'White People Shooting 3-Pointers' on YouTube
Joel Embiid has one of the purest jumpers of any big man in the NBA, but he never would've made it to that point without YouTube.
Joel Embiid is a near-impossible player to guard in today's NBA. He can use his 7-foot-0, 280-pound frame to back defenders under the basket and dunk them into middle earth. He can sense a double team coming from either side and spin the opposite way to sink a Hakeem Olajuwon-esque hook shot. And when opposing players sag off too far, he can step out and drain threes with his silky smooth jumper.
It's almost unfair for a man of Embiid's size and strength to possess a jump shot that pretty. He must've learned it while working with a famous trainer growing up, or picked up tips from his sharpshooter teammates in high school and college.
But that couldn't be further from the truth.
Embiid actually learned how to shoot simply by searching "white people shooting 3-pointers" on YouTube and studying their forms.
Yeah, seriously.
Joel Embiid is an elite shooting center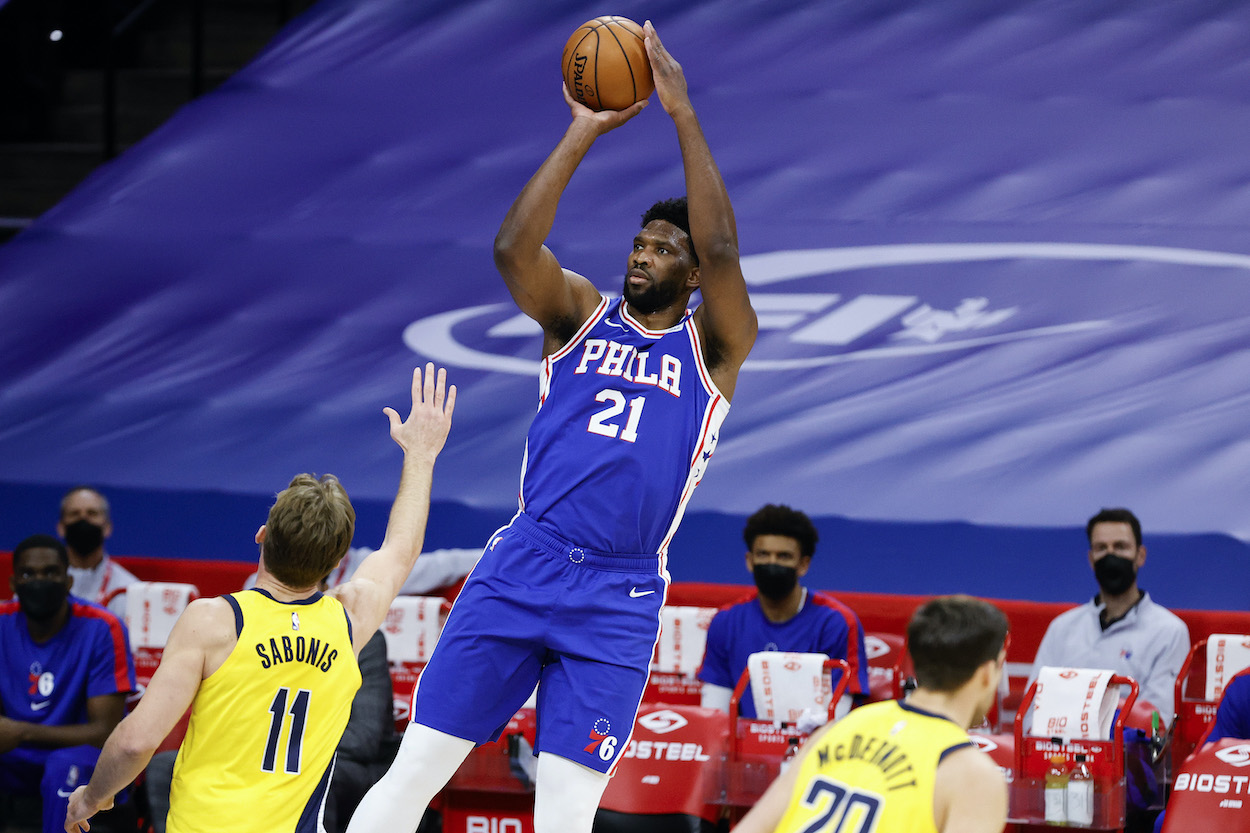 NBA centers nowadays typically have one area of expertise. They're either skilled rebounders, shot blockers, and finishers around the rim, or they like to stretch the floor and shoot threes. Embiid can do all of that and more.
Even though he's usually bigger and stronger than anyone on the floor at any given time, Embiid is more than capable of stepping out and hitting outside shots. And his midrange game? A true thing of beauty.
Over the course of his NBA career, Embiid is shooting 48.7% from the field and 32.9% from three, and he's only getting better. Embiid is shooting 51.3% overall and 37.7% from deep this season, which are both career highs for the big man.
His elite touch that stretches from the paint to the 3-point line is what makes him one of the most unguardable forces in the league.
Embiid was bullied by his high school teammates because he couldn't shoot
Embiid might be arguably the best center in the NBA today, but the game of basketball didn't always come this easy for him. When he moved from Cameroon to America to pursue an NBA career, his high school teammates at Montverde Academy constantly made fun of him because he couldn't shoot.
Embiid explained the struggle of dealing with bullies in his 2018 Players' Tribune piece, 'It's Story Time.' He said at one point he contemplated giving up on basketball and going back home, but he decided to keep at it.
"I got better and better, especially around the rim, but I still couldn't shoot," Embiid writes. "So I started working out with one of my teammates, Michael Frazier II. Remember him? This dude was a shooter. Like, killing it. He hit 11 threes in a game once for Florida. So after practice, I'd do these three-point drills with him, and of course, he's smashing me. I have no form, no fundamentals. I'm jacking sh*t up. But I just can't take losing to this dude every day. I'm so competitive that I'm like, I gotta beat this guy. I gotta find a way."
So what did he turn to? YouTube, of course.
Embiid learned how to shoot by searching "white people shooting 3-pointers" on YouTube
When Embiid set a goal to improve his shooting in high school, all he could think to do was pull up a YouTube browser and get to studying. He told the hilarious story in 'It's Story Time.'
"So I'm chilling one night, and I go on YouTube, and I'm thinking I'm about to figure this shooting thing out.

I go to the search box like….

HOW TO SHOOT 3 POINTERS.

Nah.

HOW TO SHOOT GOOD FORM

Nah.

Then the light bulb went off, man. I typed in the magic words.

WHITE PEOPLE SHOOTING 3 POINTERS.

Listen, I know it's a stereotype, but have you ever seen a normal, 30-year-old white guy shoot a three-pointer? That elbow is tucked, man. The knees are bent. The follow-through is perfect. Always. You know how in America, there's always an older guy wearing like EVERLAST sweat-shorts at the court? That guy is always a problem. His J is always wet.

Those are the guys I learned from on YouTube. Just random people shooting threes with perfect form. Me and Michael would play after practice for hours, and I'd just try to imitate how they shot the ball, and I started being able to compete. It was crazy, because getting some range changed my whole game. Teams couldn't play off me anymore, and I started doing a lot better.

Joel Embiid
Fast forward to today and Embiid has one of the smoothest jumpers of any 7-footer in the world.