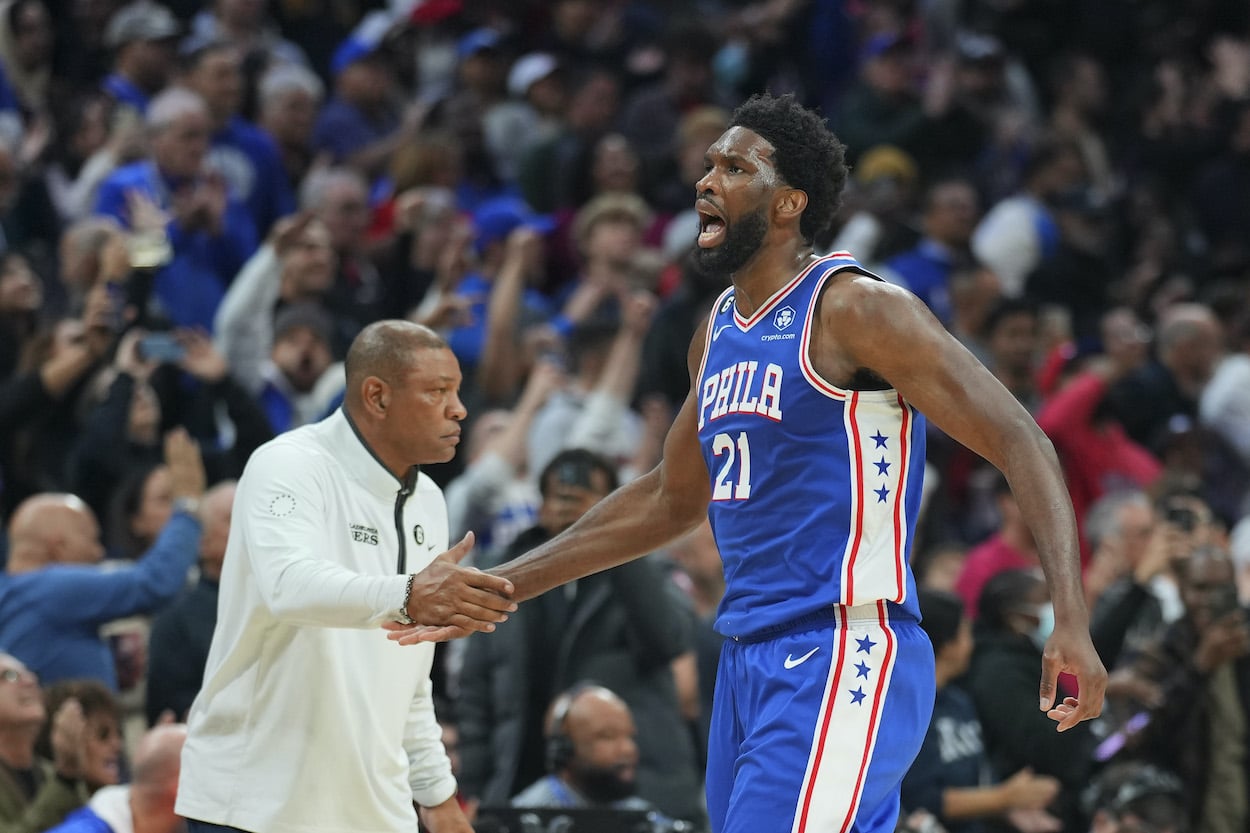 Joel Embiid MVP: Philadelphia 76ers Superstar Quietly Putting up the Best MVP Fight of His Career, but It Probably Won't Matter
Joel Embiid is playing the best basketball of his career.
Joel Embiid narrowly missed out on winning the NBA MVP award each of the last two seasons, finishing second in voting to Nikola Jokic both times. The Philadelphia 76ers center entered the 2022-23 season as one of the favorites to win the award, but he's starting to lose steam after missing eight of the team's first 22 games.
With the Sixers sitting at a modest 12-10 a quarter of the way through the season, Embiid's tireless quest to win an MVP award looks to be on hold until at least 2024. But diving deeper into the debate, Embiid has never been more valuable to the 76ers than he's been this season. If he can stay healthy and continue on this torrid statistical pace, he'd finish the year with the best MVP case of his career.
Joel Embiid MVP odds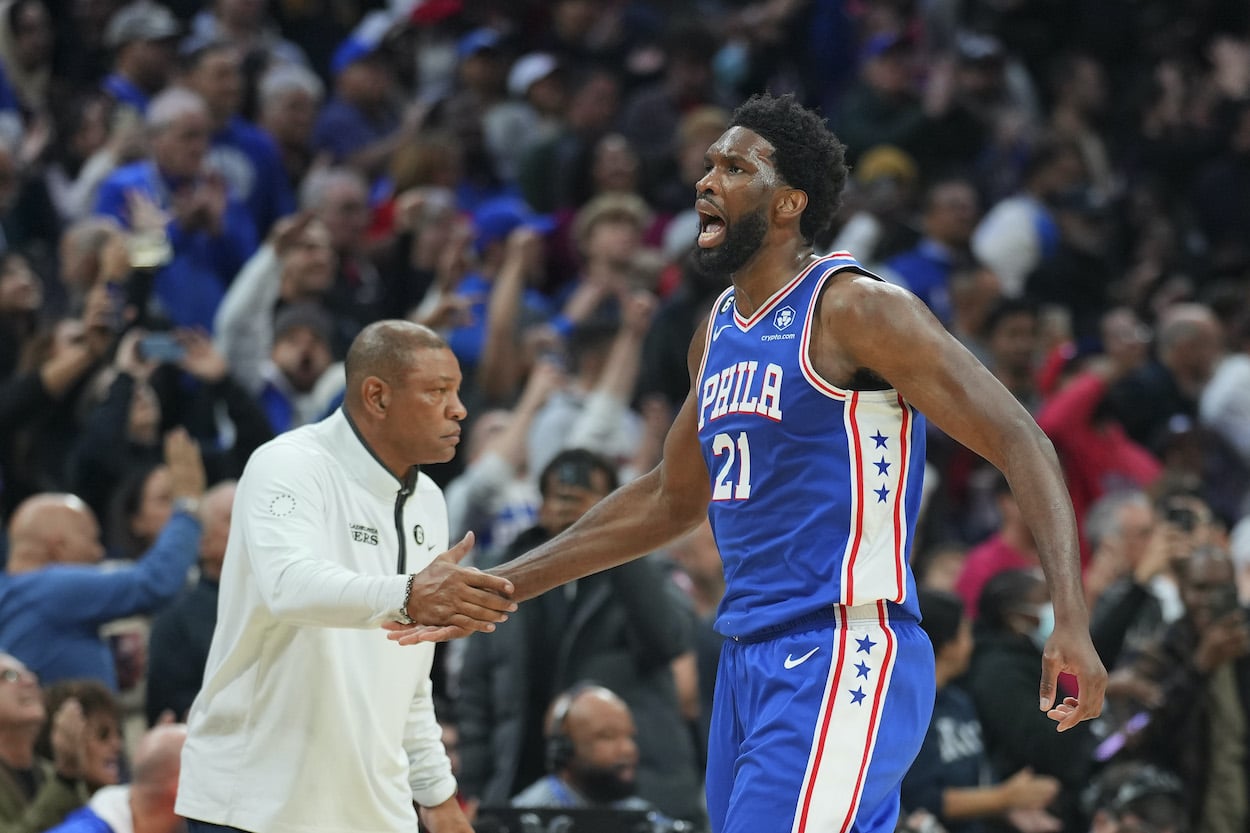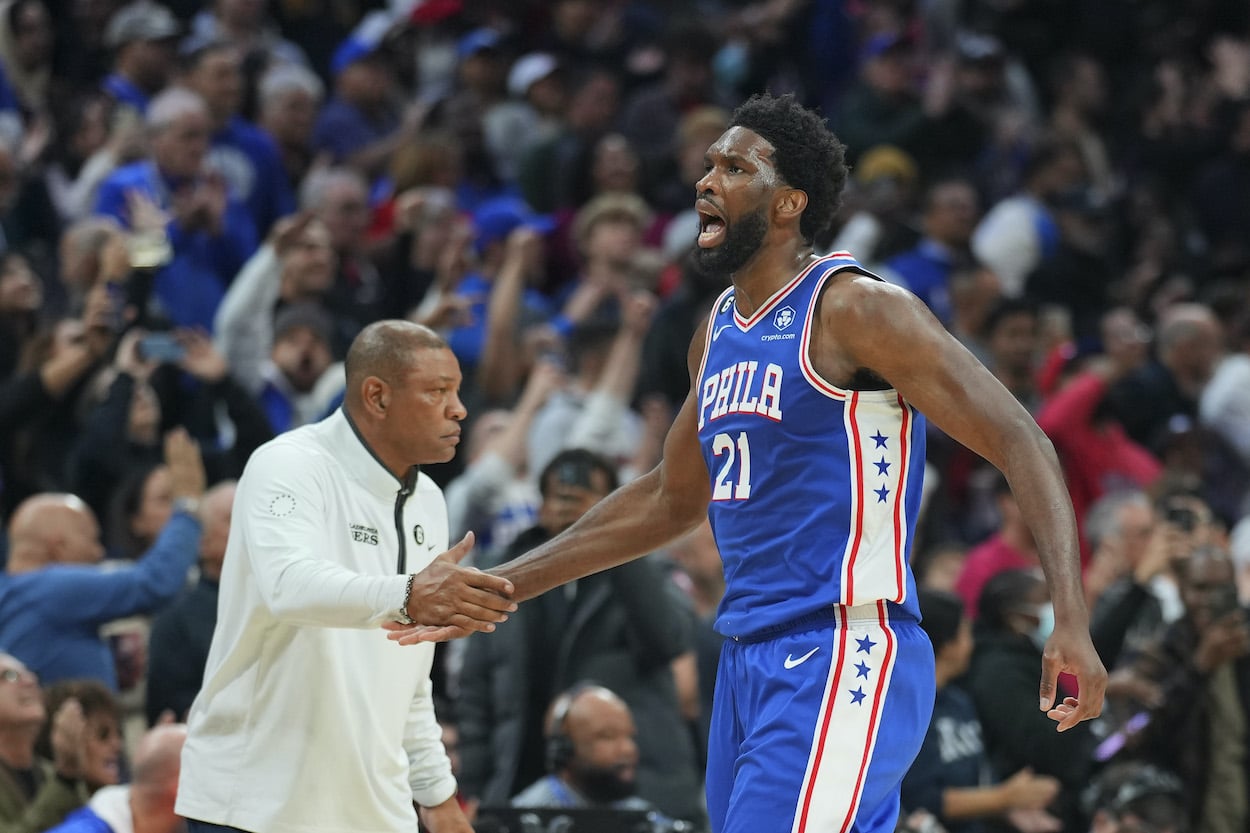 Joel Embiid entered the season coming off two straight second-place finishes in the NBA MVP race. The Kansas product had his best chance to win the award last year when he led the NBA in scoring at 30.6 points per game and steered the Sixers to the No. 1 seed in the Eastern Conference.
Oddsmakers figured Embiid would be right in the thick of the race again this season, so they pegged him as the second-biggest favorite at +550 to win MVP. Luka Doncic (+460) was the only player ahead of Embiid on the odds board entering the year.
Those odds have quickly shifted after the first two months of the season. Doncic is now the co-favorite alongside Giannis Antetokounmpo at +280, and Embiid has slipped to fifth at +1200. Here's the current landscape of the NBA MVP odds, via FanDuel:
Giannis Antetokounmpo +280
Luka Doncic +280
Jayson Tatum +350
Stephen Curry +700
Joel Embiid +1200
Donovan Mitchell +2700
Ja Morant +3000
Devin Booker +3000
Nikola Jokic +3500
Kevin Durant +3500
Shai Gilgeous-Alexander +5500
Damian Lillard +11000
Trae Young +12000
Zion Williamson +18000
Anthony Davis +24000
LeBron James +37000
The case for Joel Embiid to win MVP
On the surface, it doesn't appear likely that Embiid will vie for the MVP award the same way he did in 2020 and 2021. He's already missed 36% of Philadelphia's 22 games thus far, and we know by now voters won't entertain players who can't play a majority of the season. Based on Embiid's lengthy injury history, he's not close to done missing games this year.
But when Embiid has been on the court this season, he's been nothing short of phenomenal.
In 14 games, the superstar center has averaged a career-high 31.1 points, 9.6 rebounds, 4.9 assists, 1.1 steals, and 1.6 blocks. Diving deeper into the numbers, though, Embiid is maybe the only reason the Sixers have been able to stay afloat with James Harden sidelined for the last month.
In eight games played without Harden, Embiid has averaged 34.1 points, 9.8 rebounds, 6.0 assists, 1.5 steals, and 2.0 blocks. In the middle of this exceptional stretch, the five-time All-Star put up one of the most impressive stat lines in NBA history — a 59-point, 11-rebound, eight-assist, seven-block masterpiece against the Utah Jazz in mid-November. It's the best individual performance we've seen from a player this season, and there isn't really a close second.
The scoring prowess and defensive dominance have been crucial for this injury-riddled Sixers team, but where he's been the most impactful is in the playmaking department.
Embiid has led the 76ers in assists with their star point guard out of the lineup. He's dished out at least five dimes in seven of his last eight games and is on pace to record a career-high mark in assists per game. He also leads the Sixers in win shares (2.2), box plus/minus (8.5), VORP (1.2), usage rate (37.5%) — OK, I can sense you getting bored, so let's just say he leads the team in nearly every advanced statistic imaginable.
Philadelphia has gone 8-5 during Harden's injury absence, and that's only been possible because of Embiid.
What does Embiid need to do to get back in the MVP race?
Joel Embiid is playing well enough to be right in the thick of the MVP race, but the level of individual play this season is higher than it's been in quite some time.
Even though Embiid is averaging a career-high 31.1 points, he ranks just sixth in scoring. Five players — Luka Doncic, Jayson Tatum, Stephen Curry, Giannis Antetokounmpo, and Shai Gilgeous-Alexander — are scoring more than 31 points per game.
It's unfair to say Embiid needs to do even more for the Sixers offensively, but that might be the case if he wants to re-enter the MVP conversation. Harden is also set to return to the lineup at some point in the next few days, so Embiid will somehow need to keep up this torrid stretch of scoring when his usage rate inevitably drops.
And, of course, he can't compete for MVP unless the Sixers get themselves back in the hunt for a top-three seed in the Eastern Conference. Tatum is enjoying the most productive season of his career, and he has the Boston Celtics atop the NBA standings at an impressive 18-4. Antetokounmpo has weathered the storm without Khris Middleton all season and has led the Milwaukee Bucks to a 15-5 record.
Despite Embiid's brilliance over the past few weeks, the 76ers are just 12-10 and sitting in fifth place in the East. That's not going to cut it in the most competitive MVP race in recent memory.
Staying healthy is the most important (and most unobtainable) piece of Embiid's MVP case
No one in the NBA is more important to their team's success than Embiid is to the Sixers. If the 28-year-old had been able to play a single full season to this point, he most likely would have an MVP award in his trophy case already.
But that's never been a reality for the injury-plagued star, and it doesn't look to be changing anytime soon. Embiid has already missed eight games this year. He's never played more than 68 games in a season, and he's played more than 60 games just three times to this point of his nine-year career.
It hasn't been one lingering issue, either. We've seen Embiid miss time due to various foot injuries, left knee issues, back soreness, and more. Just last postseason, the center played through a broken orbital bone and injuries to fingers on each hand. He underwent two surgeries in one day over the offseason and has been hobbled by a foot sprain to start the year.
This isn't an issue that goes away overnight. Embiid will miss more time this season; the only question is how much. It'll once again be a struggle to suit up for 60 games, and if he can't, he can kiss the MVP award goodbye once again.