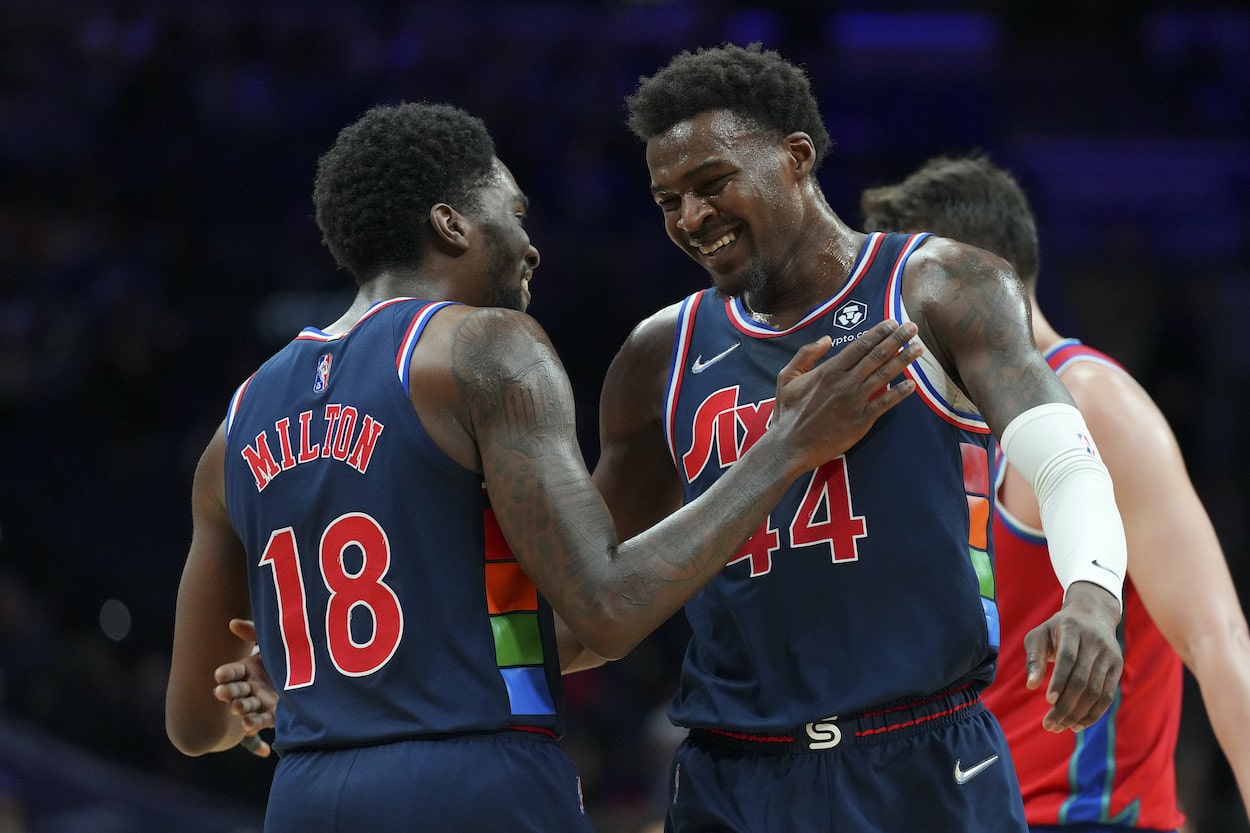 What Have the Philadelphia 76ers Learned During the James Harden Injury Absence?
Breaking down the positives and negatives of James Harden's recent injury absence.
When the latest James Harden injury struck and the guard went down with a foot injury that was expected to sideline him for a month, the Philadelphia 76ers found themselves on the brink of disaster. At 4-5 through nine games, Philly was in danger of putting itself in an Eastern Conference deficit from which it couldn't recover.
But thanks to the brilliance of Joel Embiid and the emergence of multiple overachieving bench players, the Sixers have rattled off seven wins in their last nine games and have gained some valuable insights about the team in the process.
The 76ers have unearthed the blueprint to success moving forward, but can they continue to execute it once Harden returns?
The Sixers are 8-4 without James Harden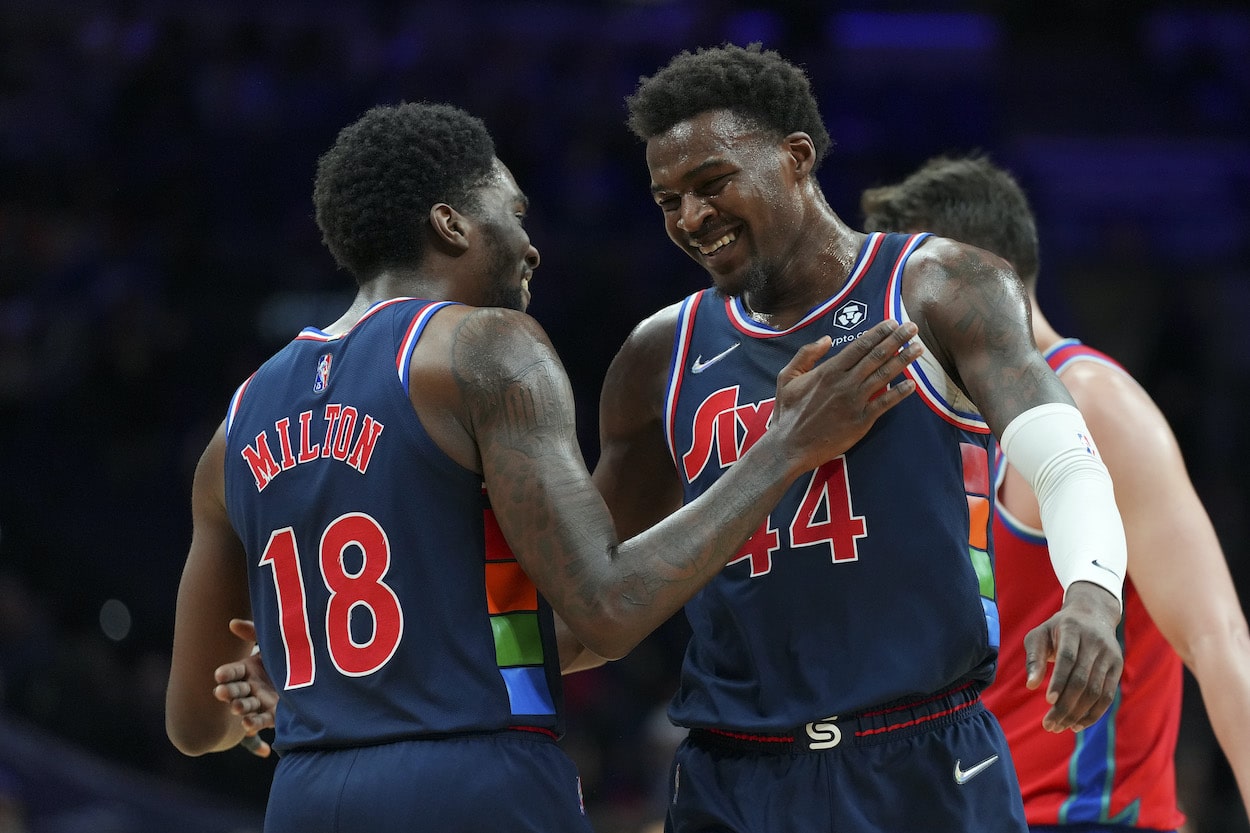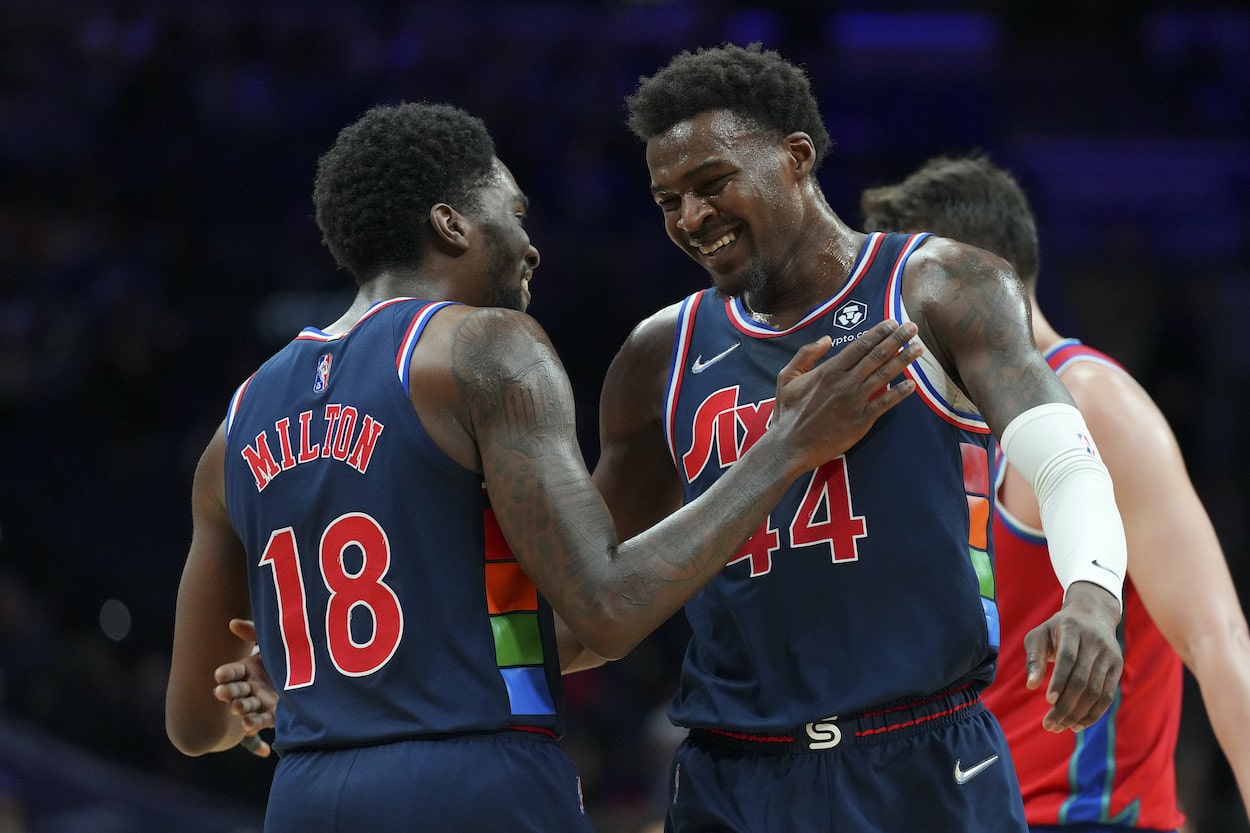 After playing in the first nine games of the 2022-23 season — and playing superbly, at that — Harden has now missed the last 12 due to a foot injury. The point guard suffered a right foot tendon strain against the Washington Wizards in early November and was reported to be out for a month, according to Adrian Wojnarowski of ESPN. He should be able to return to the court at some point in the next week.
At 4-5 through nine games, the Sixers looked to be in danger of plummeting even further down the Eastern Conference standings throughout November, but they've surprisingly moved in the opposite direction. Philadelphia has gone 8-4 with Harden on the sidelines, and it now sits fifth in the East at 12-9.
What's even more impressive is that the 76ers have gone on this streak with Tyrese Maxey missing six of those games and Joel Embiid missing five. But how?
Who has stepped up for the Sixers during the James Harden injury, and who hasn't?
It's been a complete team effort by the Sixers to stay afloat without their star point guard on the court. That started with Joel Embiid, who, after a slow start to the season by his standards, went nuclear after Harden went down with his injury.
In seven games played without Harden on the court, Embiid has averaged 36.3 points, 10.3 rebounds, 6.0 assists, and 2.3 blocks while shooting 50.9% from the field. The pinnacle of this torrid stretch was a 59-point, 11-rebound, eight-assist, seven-block masterpiece in a win against the Utah Jazz two weeks ago.
The Sixers wouldn't be where they are today without Embiid's brilliance over the last month, but it's not the only reason why they've been able to thrive with Harden sidelined.
Peripheral players have stepped up in a big way with injuries plaguing this team, starting with Shake Milton. The 26-year-old barely saw the court when Harden and Maxey were both healthy, but he's been nothing short of extraordinary in an expanded role.
In six starts without Harden and Maxey in the lineup, Milton has averaged 23.2 points, 6.3 rebounds, and 6.6 assists. This is the same player who wasn't trusted to play a single minute in four of the Sixers' first five games of the season.
De'Anthony Melton is another reserve who has exceeded expectations in a new role. Melton joined the Sixers in the offseason as a defensive specialist, but the team has needed his shooting touch and underrated play-making ability to survive the last few weeks. Over the last seven games, all of which were starts for Melton, he's averaged 14.9 points, 4.4 rebounds, 4.3 assists, and 3.0 steals.
Georges Niang and Paul Reed have also stepped up for the 76ers, just in completely different ways. Niang has paced the three-point shooting with more than one make in seven of 12 games with Harden sidelined. He's made 42.9% of his three-point attempts over that span. As for Reed, he's been exceptional as a defensive playmaker and rebounder over the last few weeks.
Not every reserve has impressed with Harden sidelined, though. Matisse Thybulle has played only 20 total minutes over his last four games, and he hasn't scored more than four points in a game since Harden went down. The one-way guard has been given opportunities to prove he's more than just a top-tier defender, but he hasn't improved enough as an offensive threat to warrant much playing time when the Sixers are healthy again.
What have we learned about the 76ers from Harden's injury absence?
It's been encouraging for Sixers fans to watch Milton, Melton, Niang, and others build confidence on the offensive end with expanded minutes, but the improved team defense has been the key to success with Harden on the bench.
With Harden in the lineup, the 76ers have a defensive rating of 111.3. Without him, it's 106.0. For reference, the Boston Celtics have the best defensive rating in the NBA with a mark of 106.5. The Sixers have been the best defensive team in the league this month, though, and that's no coincidence.
Because defensive specialists such as Melton and Reed have seen more minutes for this depleted roster, the Sixers have been able to force more turnovers and turn them into easy buckets on the other end. Philadelphia was getting killed in turnover margin over the first nine games of the season, but the team has flipped that narrative over the last few weeks.
Embiid's goal heading into the season was for the Sixers to be the best defensive team in the NBA, and that's starting to materialize largely because of his individual play. Over his last five games, the big man has averaged 2.8 blocks and 1.6 steals. He's turning opposing teams away from the paint at an elite level, which has forced them to settle for more contested jumpers over strong perimeter defenders.
A strengthened focus on defense and a more balanced pie chart on offense have become the blueprints for success, but is that sustainable once Harden returns?
The Sixers can't fall back to their old ways once Harden returns
The 76ers are playing an inspired and team-oriented style of basketball without Harden in the lineup. Milton and Reed have proven they deserve more opportunities when Philadelphia returns to full health, but that game plan won't be easy to execute.
For one, head coach Doc Rivers seems to do everything in his power not to play his promising, young bench players. The only reason Milton, Reed, and others are getting crucial minutes right now is because of the team's recent rash of injuries. When Embiid, Harden, and Maxey are all healthy again, it wouldn't be surprising if Rivers demotes these flourishing reserves back to 10 minutes per game. That can't happen based on how well they've played of late.
Additionally, Harden is one of the most ball-dominant guards not just in today's NBA, but in the history of the league. He's exceptional at creating open shots for himself and his teammates, but that isolation style of basketball works against the newfound strengths of this team, as does his ineffectiveness (and sometimes, laziness) on the defensive end.
If Harden can buy into a new role with fewer minutes, fewer isolation possessions, and a larger focus on team defense, this Sixers team will be a championship contender in 2023.