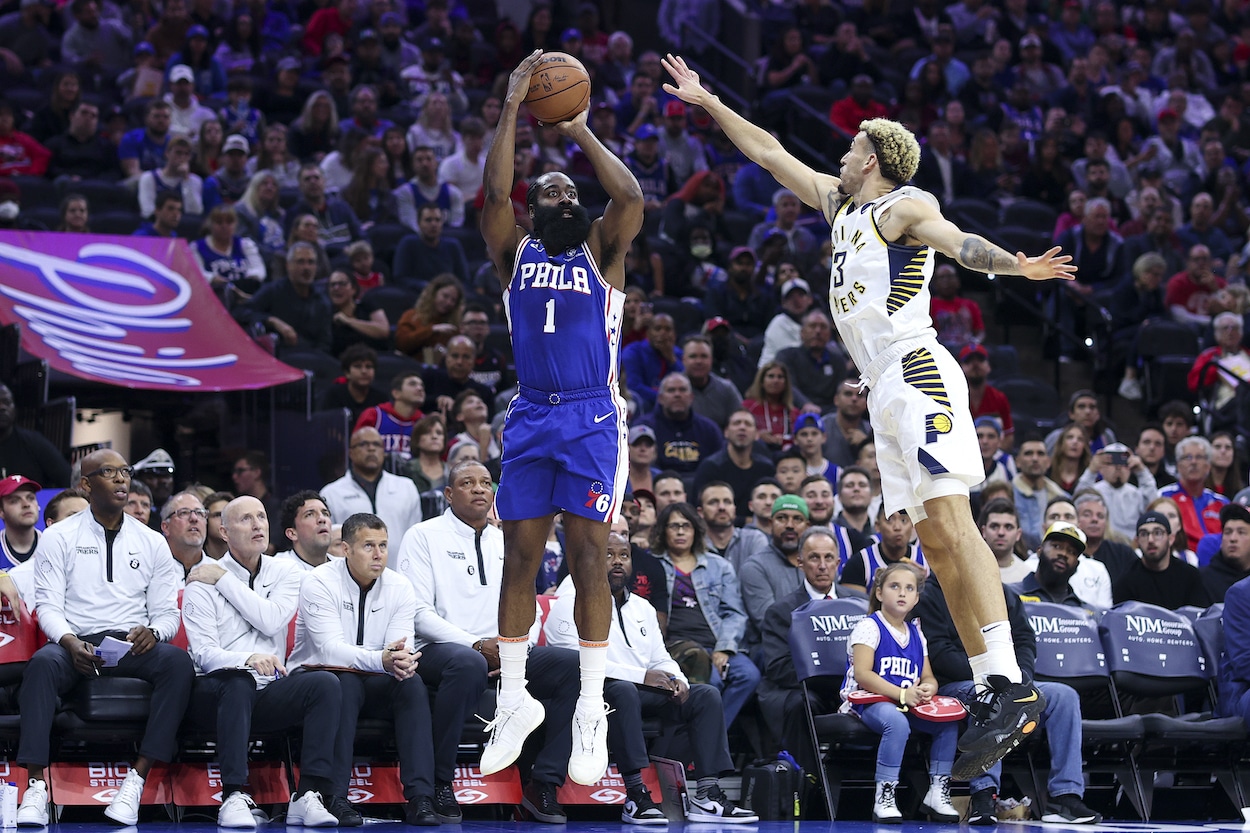 James Harden Is Having His Best Season Since His Rockets Days by Shockingly Embracing an Offensive Style He's Always Shunned
James Harden has surprisingly turned into a prolific mid-range scorer.
Mid-range jumpers have been largely phased out in today's NBA, and that's been especially true for James Harden. When Harden and the Houston Rockets started embracing analytics as a way of life, the guard led the NBA in three-point attempts per game in three straight seasons.
Since leaving Houston's system in 2021, Harden's scoring and shooting percentage have dipped to near-career-low levels. This season with the Philadelphia 76ers, though, he's having his best offensive year since his days with the Rockets, and he's doing it in a way he's never done before — with mid-range jumpers!
James Harden is having his best season since his Rockets days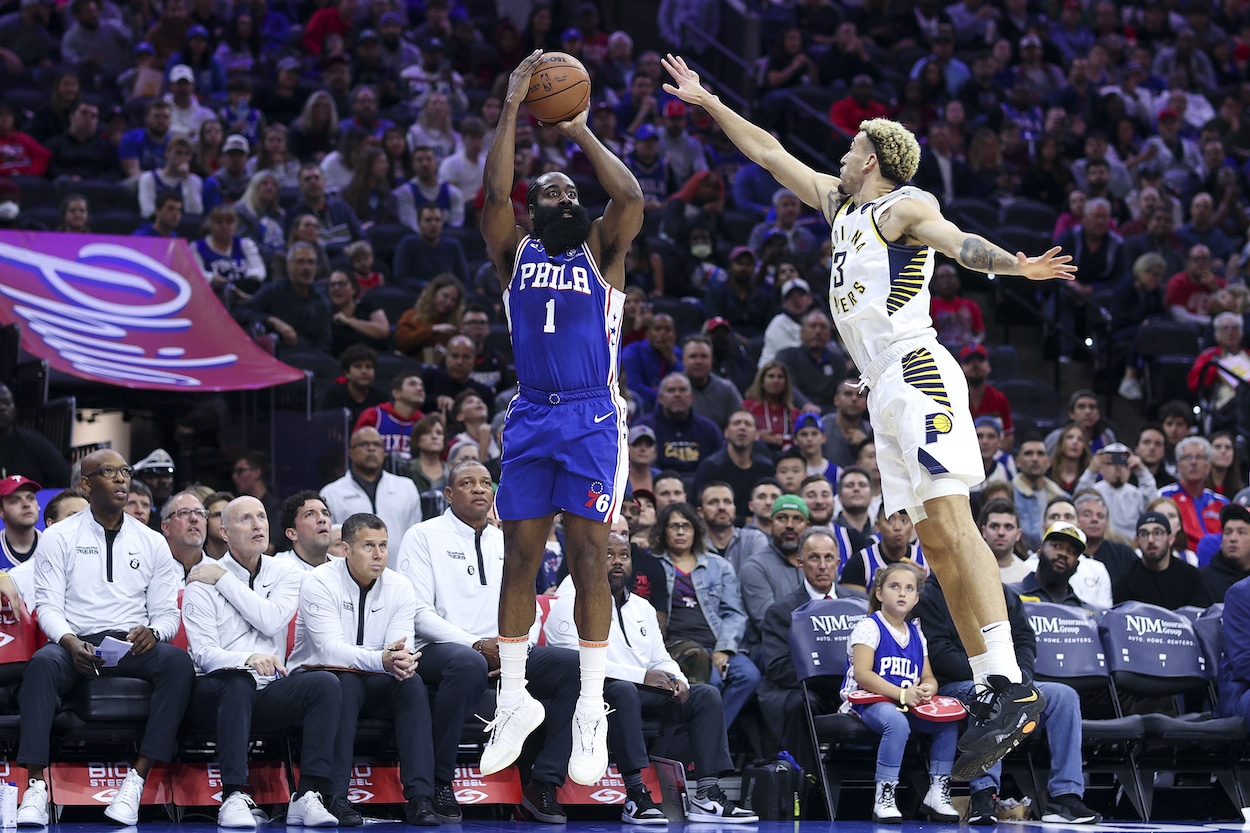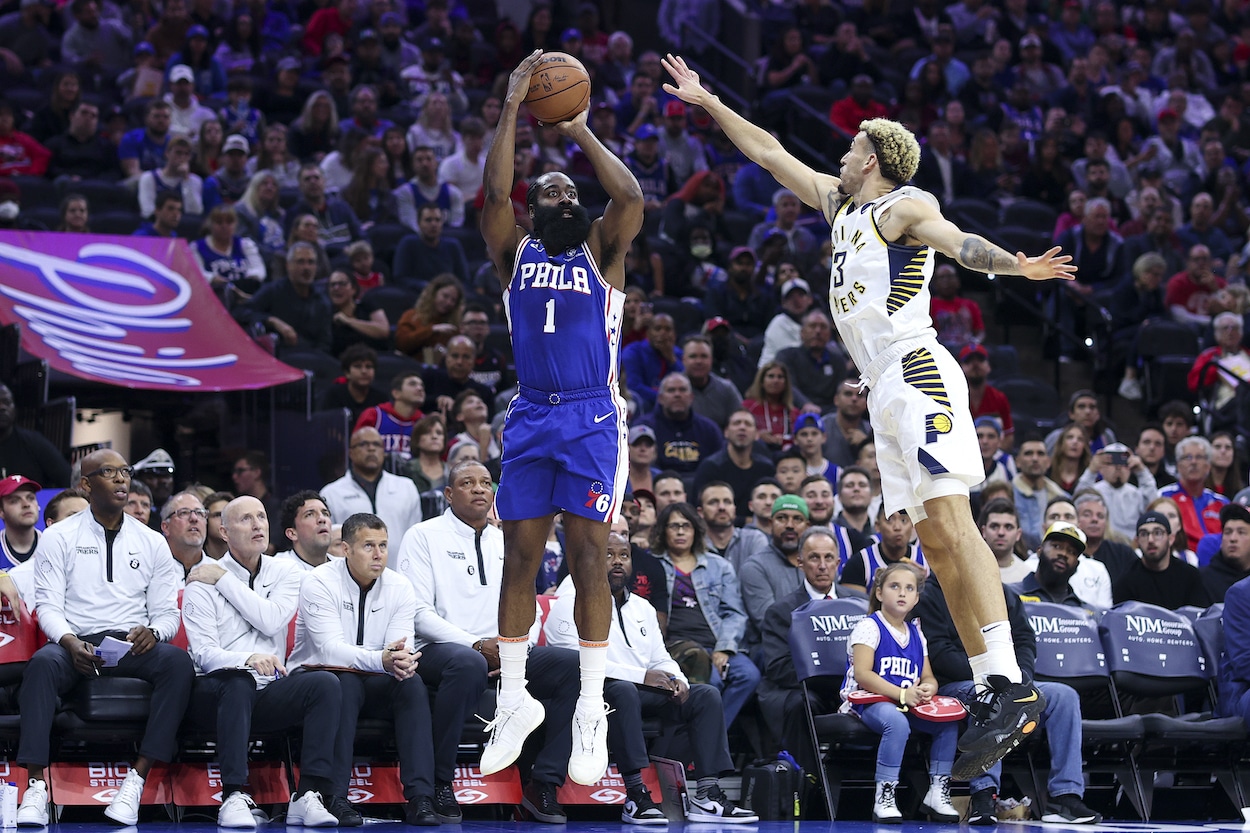 Coming into the 2022-23 NBA season, there were valid questions about whether Harden was over the hump as a scorer. He averaged just 21.0 points per game on a career-low 40.2% shooting with the Sixers last year, and there weren't many signs pointing toward a turnaround.
But after his first fully healthy offseason in years, Harden has exploded out of the gate and looks like the best player on the 76ers roster.
Through four games, Harden is averaging 26.8 points, 9.8 assists, and 8.5 rebounds per game. He's also shooting 48.6% from the field and 37.5% from three, which would be near-career-best shooting percentages if extrapolated over an entire season.
It's incredibly early in the year, yes, but Harden hasn't looked this confident shooting the ball since his time with Houston, and that's because he's completely changed his offensive approach.
Harden is thriving for the Sixers thanks to a shocking embrace of the mid-range game
Harden has always been the type of player who fires a bunch of threes and gets as close to the basket as possible when he does drive the ball. Everything in between those two levels essentially didn't exist for him.
But that's totally flipped this year.
Through four games, 17.6% of Harden's field-goal attempts are coming from 10-16 feet. That number has never been higher than 10.5% in the 14 years he's been in the league. Oh, and he's shooting a career-high 46.2% on those looks.
Harden also ranks third in the NBA in field goals made per game (2.0) from 15-19 feet on 2.5 attempts per game, and he's making those shots at an 80% clip.
For reference, Harden attempted 0.2 shots per game from 15-19 feet the last time he averaged 30-plus points with Houston. He attempted 12.9 threes and 9.9 twos per game that season. This year, he's shooting just 8.0 threes and 10.5 twos per game.
Just last year, Harden attempted a total of 15 mid-range shots in 21 regular-season games with the Sixers. He's already attempted 14 this season in only four games.
Harden has completely changed his offensive game plan overnight, and it may just lead to a career renaissance.
Have thoughts on this topic? Keep the conversation rolling in our comments section below.