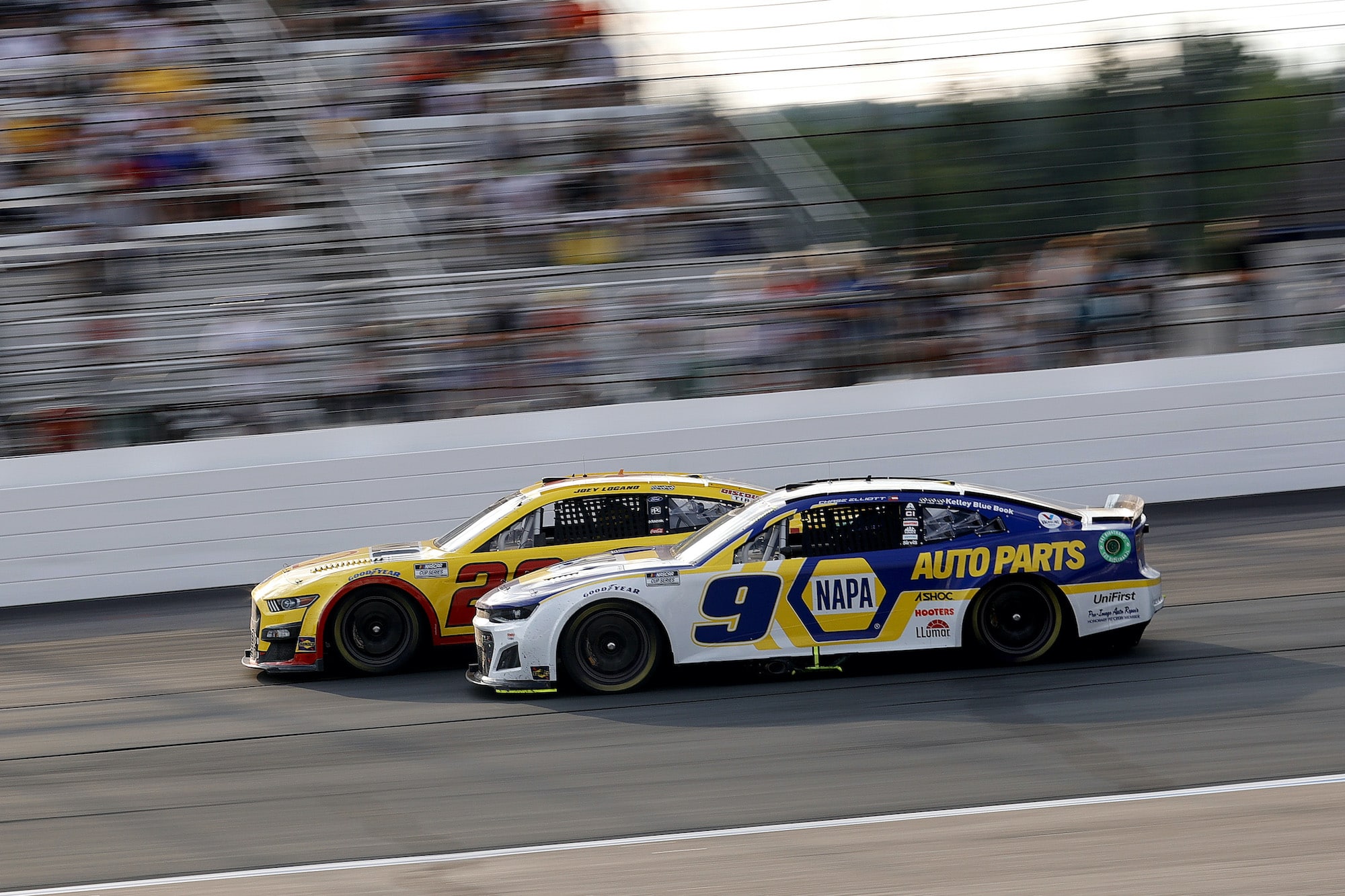 Joey Logano Calls Out Chase Elliott for Aggressive Move at New Hampshire During SRX Series Season Finale Broadcast 
Joey Logano provided entertaining commentary during the SRX season finale, including calling out Chase Elliott for his aggressive move at New Hampshire last weekend.
Joey Logano didn't endear himself to Hendrick Motorsports fans earlier this year at Darlington when, by his own admission, he retaliated against William Byron late in the race, sending the No. 24 into the outside wall before cruising to victory.  
Last week at New Hampshire, it felt like a case of deja vu when Chase Elliott slid into the side of the No. 22 car and got it sideways. Except this time around, Logano never had a chance to respond on the track. After the race, he expressed his displeasure with what had happened and hinted it wasn't over. On Saturday night during the SRX Series season finale race, Logano made sure everyone knew he hadn't forgotten about the previous week's incident when he brought it up during the broadcast.    
Joey Logano gets moved by Chase Elliott at New Hampshire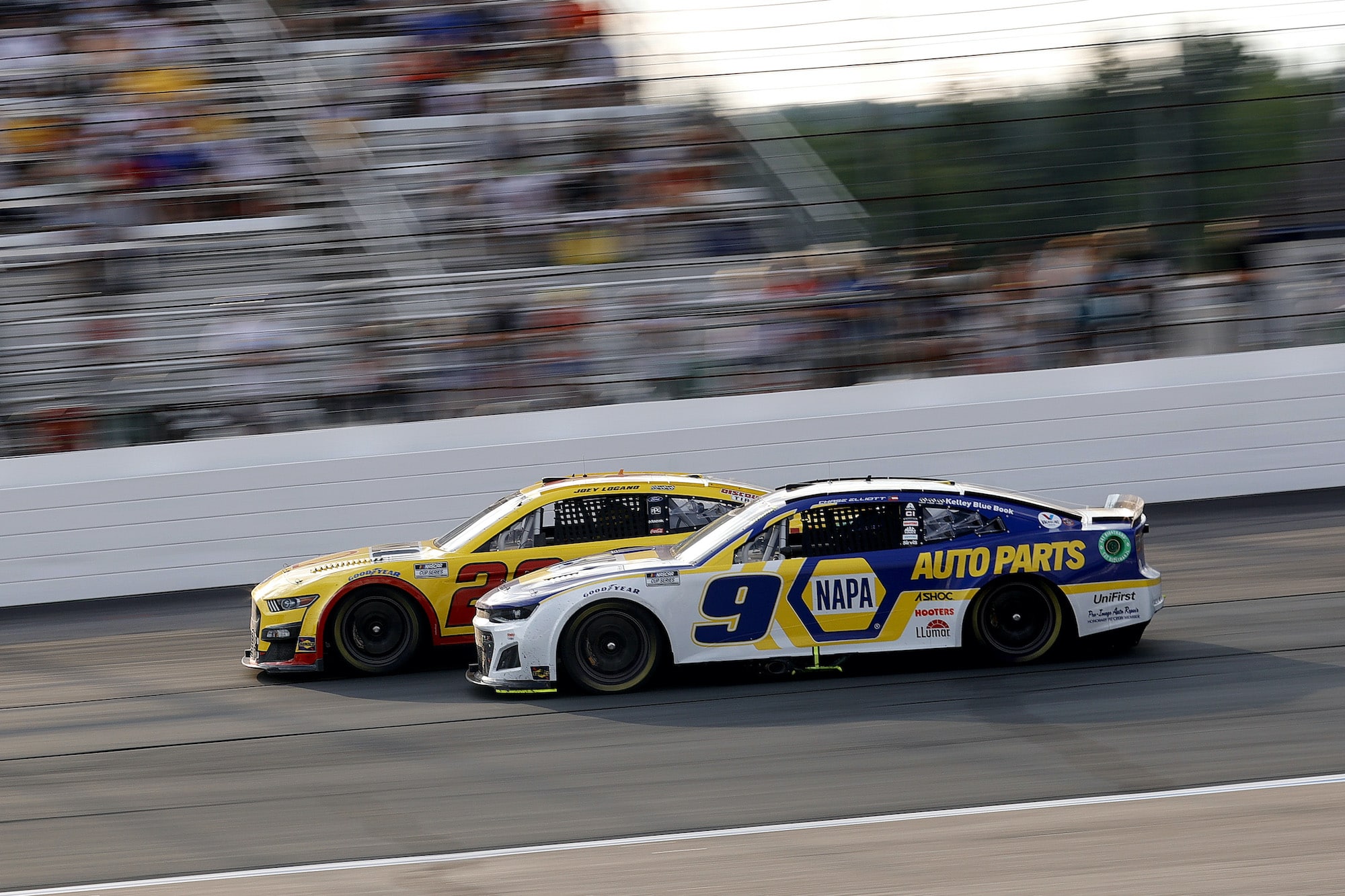 Late last week at New Hampshire, Joey Logano ran up front in pursuit of Kurt Busch for the lead. However, it was all but a foregone conclusion that both cars were sitting ducks with numerous other cars pitting and taking four fresh tires. One of those was Chase Elliott.
The No. 9 car diced its way through the field and got in position behind Logano. He stayed there for 25 laps, unable to pass. Eventually, the HMS driver got close enough to make his move. Instead of a clean pass, he slid up the race track into the left rear of the No. 22, temporarily getting both cars slightly sideways.   
The 2020 champion passed and moved into second place. A couple of laps later, he did the same thing and roughed up Busch before passing.
Logano not pleased after race
When it was all said and done, Elliott surrendered the lead to eventual race winner Christopher Bell and finished second. Logano fell back and finished 24th. 
After the race, the 32-year-old talked about his team's pit strategy and what took place with Elliott.
"Live by the sword, die by the sword," the 2018 champion said. "We did it in the second stage to get track position and it worked. Then we did it again to get track position and the race ran long and it didn't work. 
"I thought we were pretty decent once we got up there and had a shot at taking the lead from Kurt (Busch), but then the 9 (Chase Elliott) missed the mark by a mile and knocked our toe out or camber or something in the left rear suspension. I don't know why he had to do that, but I am pretty sure that was not a good move on his part. So, that is that."
Calls out Elliott during SRX season finale
On Saturday night during the SRX season finale, Logano and Elliott were both participants but in very different capacities. The Team Penske driver served in a role he's grown more accustomed to over the last few years, working in the broadcast booth with Allen Bestwick. Elliott was entered in the race, attempting to repeat last year's performance with another win in the season finale. 
Throughout the race, Logano radioed down from the booth and talked with multiple drivers. During a caution with nine laps remaining, he called down to Elliott and asked him his plan on the upcoming restart. He waited several seconds for a response. Awkward silence. 
"Chase Elliott. Joey Logano. You got me here?" the Penske driver tried to communicate a second time. Again, nothing. 
"He doesn't want to talk to me," the driver-turned-announcer said. "I figured he was going to use the right front fender like he used me up last week. So I figured he was probably going to know that playbook pretty well," he said with a big chuckle. As they say — there's always a bit of truth in every joke.
Logano mentioned what happened with Elliott immediately following last week's New Hampshire race. He brought it up again unprompted during the SRX broadcast. He's got a history of retaliation as Byron found out earlier this year. Based on his comments, this sure doesn't feel like it's over. 
Like Sportscasting on Facebook. Follow us on Twitter @sportscasting19 and subscribe to our YouTube channel.