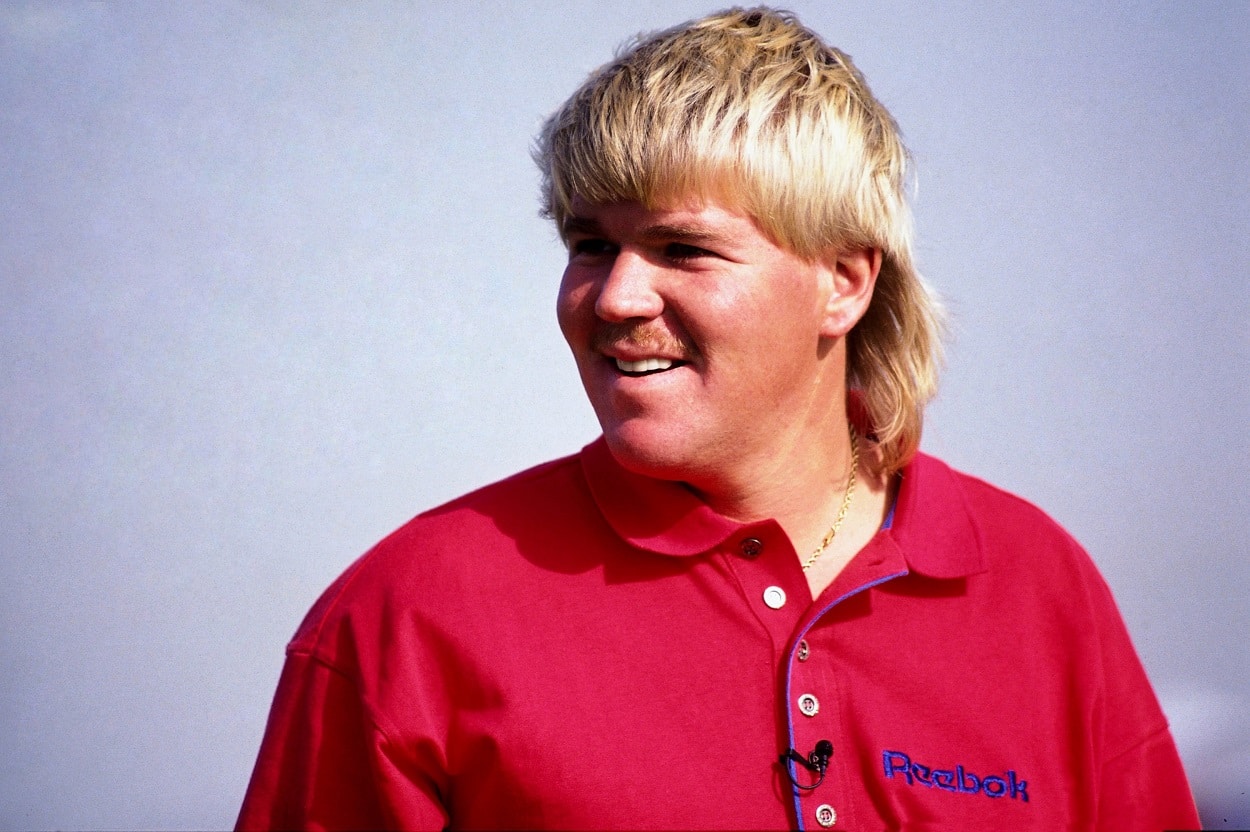 John Daly Drilled a 40-Yard Field Goal During a Colts Preseason Game the Night Before His Shocking 1991 PGA Championship Victory
John Daly made a special trip the night before winning the 1991 PGA Championship.
More than three decades have passed since John Daly shocked the golf world by winning the 1991 PGA Championship. But stories from that week never get old and the best storyteller in golf, Jim Nantz, just dropped another one on us that I'll admit to not previously knowing.
The '91 PGA was played at Crooked Stick Golf Club in Carmel, Indiana, only about a 30-minute drive from Indianapolis. And in between the third and fourth rounds, Daly made a trip to Indy to show off his talents in another sport, also in front of a big crowd.
John Daly was never supposed to be in the 1991 PGA Championship, let alone in contention
John Daly was never supposed to compete at the 1991 PGA Championship. That week, Daly was the ninth alternate at Crooked Stick, but the stars aligned for the then-25-year-old as the other eight dropped out. He drove all night to make his Thursday tee time and played his first round, having never stepped foot on the course. JD incredibly shot a 3-under round of 69 on the par-72 track and was only two shots out of the lead after 18 holes.
With that sweet mullet and those monster drives, Daly started grabbing everyone's attention over the next two days. In the second round, a 5-under round of 67 gave him a one-shot lead after 36 holes. And he upped that lead to three with another 69 on Saturday.
But before he finished off arguably the most surprising win in major championship history, he made the 30-minute trip to Indianapolis.
Daly kicked a field goal during a Colts preseason game the night before the final round of the 1991 PGA Championship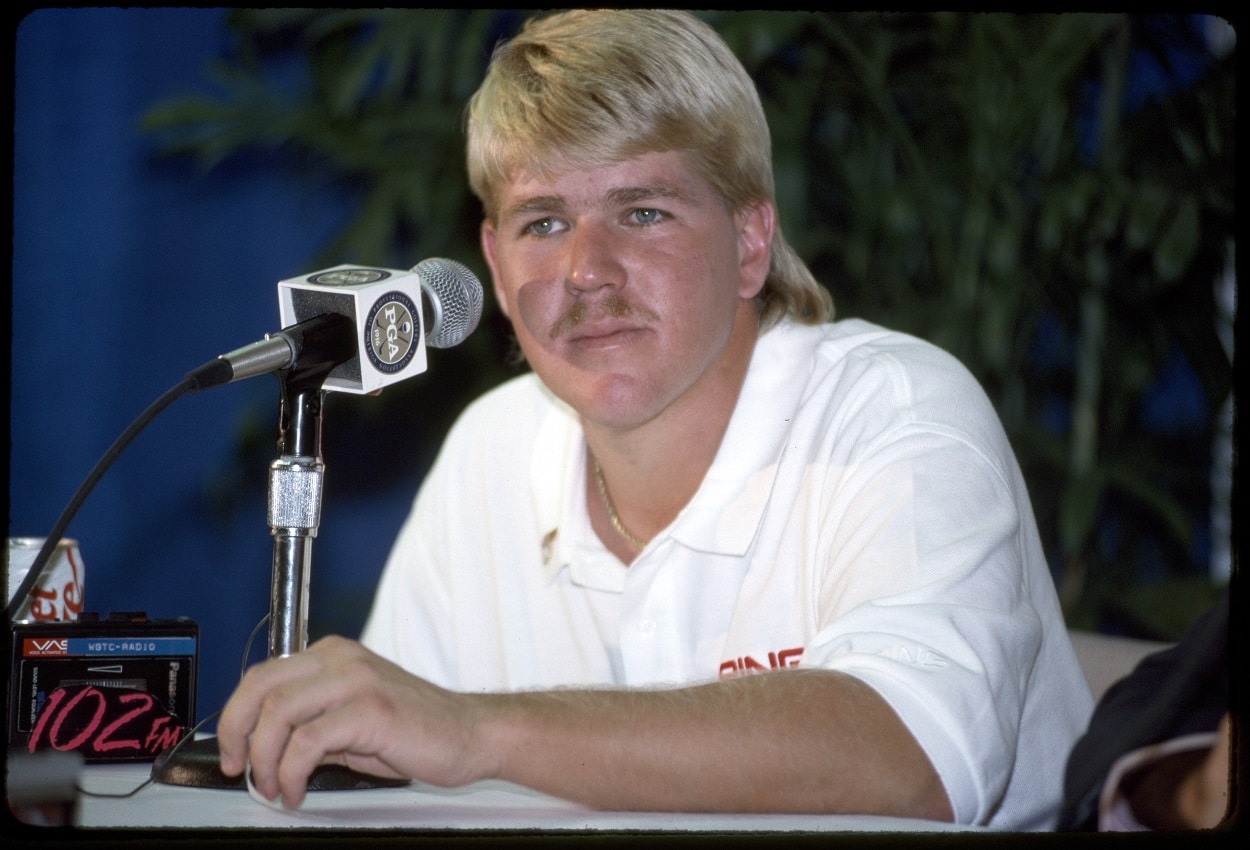 ln a recent appearance on The Press Box podcast, longtime CBS Sports broadcaster Jim Nantz, aka the best in the business (don't pretend he's not), told the incredible story of how Daly was invited to an Indianapolis Colts preseason game and actually got on the field.
"He was relishing all of the media attention … One of the stories that came out was that he was a high-school place-kicker. So, the Colts were playing preseason game number one on that Saturday night at the old Hoosier Dome, and the Colts invited John Daly to come to the game as their guest and kick a field goal off a kicker's tee between the first and second quarters. And he accepted.

"Gonna try to go blow out my hamstring trying to kick a field goal from 40 yards and have to WD the next day. So of course I went over to cover it … I was just there for one purpose, to see this kick, and John Daly came out and kicked the football and got away uninjured. He was a straight-on kicker by the way. Not a side-winder. Knocked it through and we headed to Sunday to cover one of the great Cinderella stories sports has ever known."

Jim Nantz on John Daly
How incredible is that story? But I do have to address one issue with the story there. That game on Saturday, August 10, 1991, which they lost to the Seattle Seahawks, 17-7, was actually the Colts' second preseason game. They lost to the Denver Broncos, 10-3, eight days earlier. Sorry, Jim.
But Daly was indeed a kicker at Helias High School in Jefferson City, Missouri, where he still holds records. He was a punter as well. He also led the golf team to a state title.
JD shocked the world the following day
With several of the sport's biggest names within striking distance in the final round at Crooked Stick, including Bruce Lietzke, Craig Stadler, and Nick Faldo, it would have been understandable had Daly choked.
But on the biggest stage of his young career, JD never got out of control. His only hiccup was on the first hole, where he made bogey. Lietzke birdied and got within two strokes, but nobody got any closer. Daly recovered nicely with a birdie at the par-4 second and cruised from there.
He did double-bogey the par-3 17th, but as he was up by five at the time, it didn't matter. Daly finished with a par to win by three. The 1991 PGA Championship remains one of golf's great upsets/surprises.
While 1991 was undoubtedly an excellent year for Daly, one that changed his life, the same can't be said for the Colts. Indianapolis actually had the same number of victories that JD did that year: one. The Colts' 1-15 mark was the worst in the NFL that season. And their kicker, Dean Biasucci, hit just 57.7% of his field goals that year, going 15-for-26.
Missed opportunity for John Daly?
Have thoughts on this topic? Keep the conversation rolling in our comments section below.