John Kruk Blamed the Worst Season of His Career on FBI Surveillance
John Kruk had a terrible season for the San Diego Padres in 1988. He later blamed FBI survelliance for the medicore numbers he posted.
Before becoming the thick Phillies slugger with a mullet, John Kruk was an impressive young player for the San Diego Padres.
A member of the Padres' core with Tony Gwynn, Kruk entered the 1988 season with high expectations. When he posted career-worst numbers, Kruk didn't blame a hidden injury or himself.
Instead, John Kruk said the government was to blame for his struggles. Here's why the Padres standout made those claims.
John Kruk had a fine MLB career
Despite debuting at an older age and retiring fairly young, John Kruk had an extremely impressive 10-year career.
A third-round pick in 1981, Kruk didn't reach the majors until 1986 when he was 25. Kruk's .309 average netted him seventh place in National League Rookie of the Year voting and he followed that up with a breakout 1987 season.
Kruk hit .313 with 20 home runs, 91 RBIs, and a .406 on-base percentage in 138 games for the Padres in 1987.
John Kruk is best known for his five years with the Philadelphia Phillies. From 1989-94, Kruk was one of the sport's most underrated hitters after he joined the Phillies.
Kruk hit .309 with 62 home runs, 390 RBIs, and 408 walks to 435 strikeouts in five-and-a-half seasons with the Phillies. He earned three All-Star nods and participated in the 1993 World Series.
John Kruk retired after the 1995 season with a .300 average, 100 home runs, 199 doubles, and 592 RBIs in 10 seasons. He earned nearly $11 million in his career, according to Baseball-Reference.
Kruk dealt with the FBI in the spring of 1988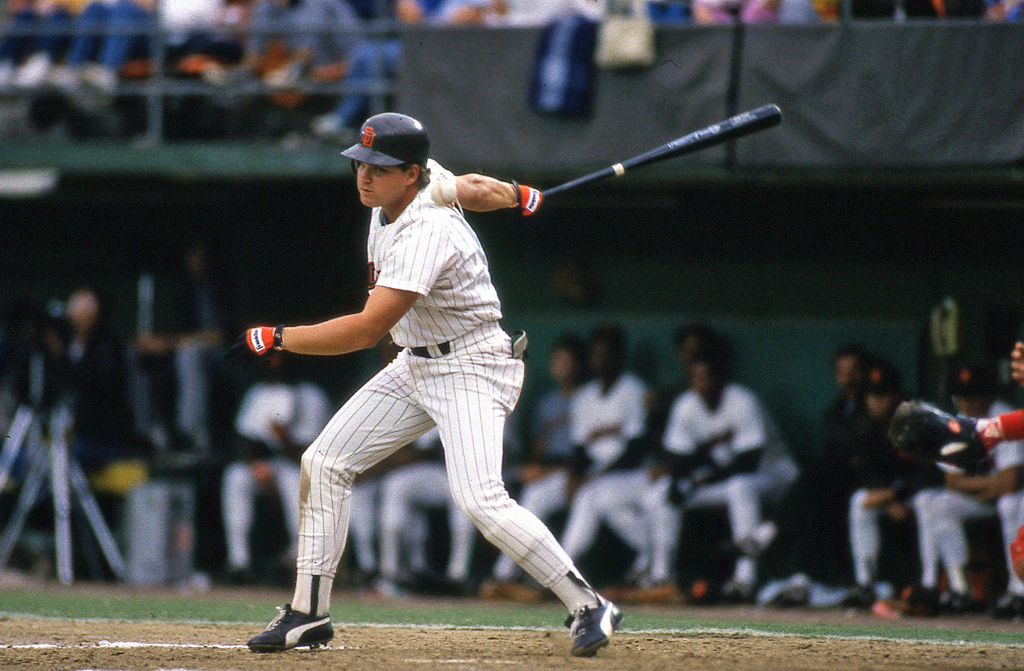 When the FBI comes knocking at your door, it's usually not a good thing. John Kruk learned that first hand in 1988.
Kruk grew up in West Virginia with Roy Lee Plummer, a notorious bank robber. After the 1987 season, Plummer and another friend, Jay Hafer, visited Kruk in San Diego.
In the spring of 1988, an FBI surveillance team approached Kruk with photos of Plummer. Kruk learned not only that the FBI was in pursuit of his friend, but that Plummer believed Kruk turned him in to the government.
Paranoia derailed John Kruk's 1988 season
Actual games during the 1988 season were the last thing on John Kruk's mind. He spent the season in fear that Plummer would find him and kill him.
Kruk didn't leave the hotel after games or go out with teammates. The third-year first baseman hit .241, the only time in his career he ended a season with an average below .290, with nine home runs and 44 RBIs in 120 games.
In a 2008 interview with the Charleston Gazette (W. Va), Kruk recalled how terrified he was during the 1988 season.
"What I'm hearing from the FBI and other people is that he's a drug-possessed, gun-toting psychopath now. Everyone is telling me, 'He's coming after you.' Every knock on the door could be a teammate or it could be him. It scared the s— out of you."
San Diego traded Kruk to Philadelphia midway through the 1989 season.
Plummer continued robbing banks until he died by suicide in January 2008. At the time, he'd been on parole for his robberies in the 1980s.