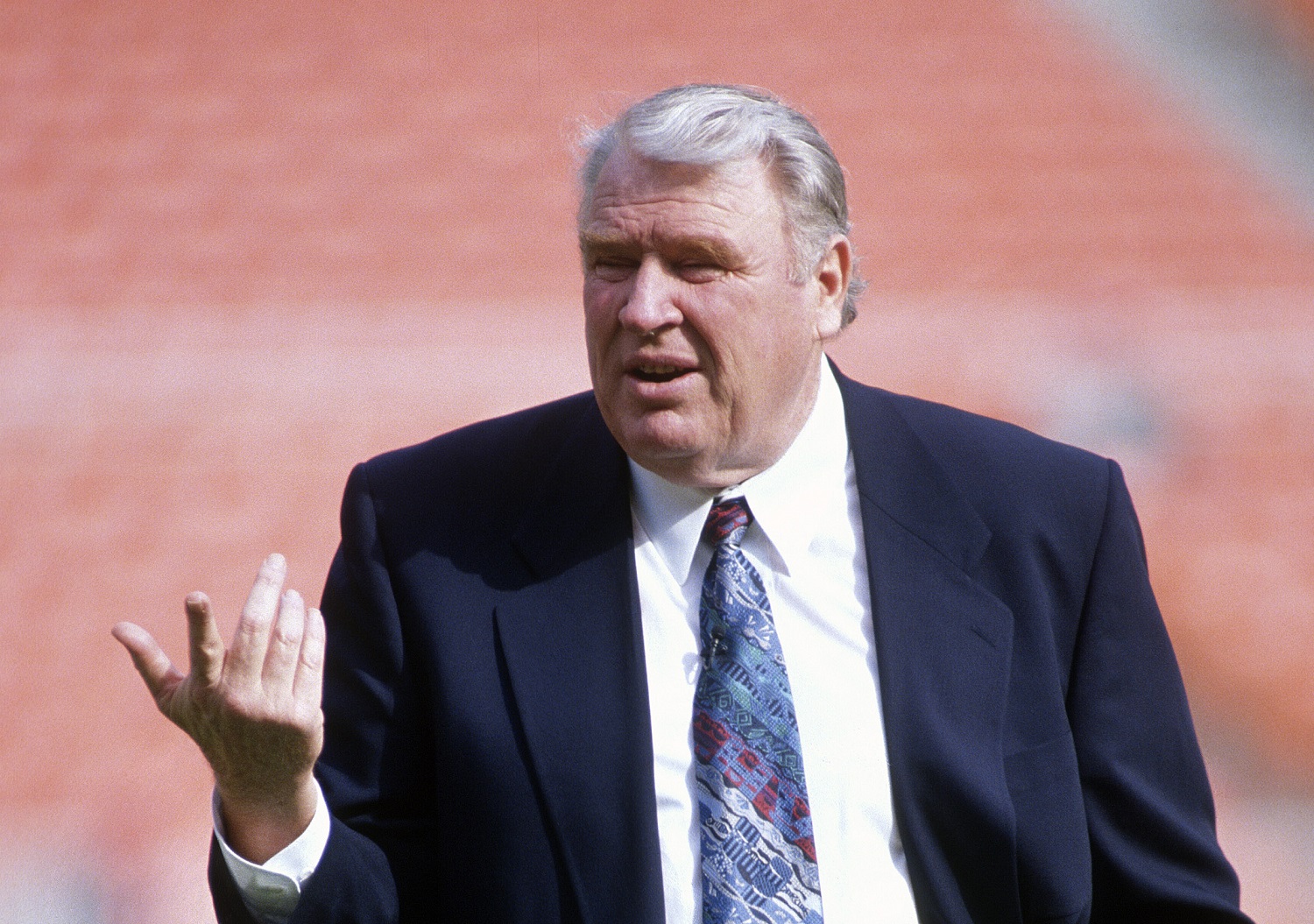 John Madden Nearly Let a Handshake Keep Him From Teaming With Pat Summerall as a Legendary NFL Duo
John Madden initially intended to work on HBO's 'Inside the NFL' after retiring. A last-minute decision changed NFL broadcasting forever.
Cris Collinsworth and Tony Romo are two of the many accomplished NFL players who have gone on to even greater success in talking about the sport for a living. However, neither can claim to have made the impact in the TV booth that John Madden did after a decade as one of the top NFL coaches.
Madden and Pat Summerall formed a one-two punch for CBS and then Fox over two decades. Summerall played it straight in delivering the play-by-play and had a knack for setting up Madden with the questions that elicited great analysis and even better entertainment.
The irony, though, is that it probably should have never happened. As interested as Madden was in going into on-air work after retiring as the coach of the Oakland Raiders, being teamed with Summerall began with a last-minute change of heart.
John Madden was a Super Bowl-winning coach
Having Daryle Lamonica and Ken Stabler as his quarterbacks certainly made it easier to win, but John Madden's coaching was a big part of the Oakland Raiders' success in the Al Davis "Commitment to Excellence" era of the franchise.
Madden replaced John Rausch, who was 33-8-1 in three seasons, and he scarcely missed a beat. Madden went 12-1-1 in his coaching debut in 1969, taking the Raiders to the AFL championship game. A trip to the 1970 AFC championship game followed.
In all, the Raiders went to the playoffs eight times in Madden's 10 years on the sideline. He finished with a record of 103-32-7 in the regular season, a 9-7 mark in the postseason, and a 32-14 triumph against the Minnesota Vikings in Super Bowl 11 at the Rose Bowl in Pasadena, California.
John Madden's next chapter was as an award-winning analyst
Although just 42 years old at the time, John Madden was worn down by the grind of coaching when he announced his retirement after the 1978 NFL season. His second retirement, this time from broadcasting, would come in 2009 – but not until he had racked up 16 Emmy Awards for his mix of expert analysis and stream-of-consciousness observations, which occasionally had little to do with the game.
Madden's TV career began in 1979 with two seasons of doing regional NFC games for CBS alongside several player-by-play announcers. Everything changed dramatically in 1981 when the network moved Tom Brookshier to a play-by-play role, opening a seat for Madden next to Pat Summerall on the top CBS game each Sunday.
It was the start of one of the most recognizable and respected pairings in sports broadcasting. Summerall and Madden left for Fox Sports in 1994 after CBS lost its NFL rights, and they did a total of eight Super Bowls together. Summerall's decision to retire after Super Bowl 36 in early 2002 sent Madden to ABC to work on Monday Night Football.
Madden capped his career with a move to NBC and Sunday Night Football, which gave him the distinction of calling Super Bowls on four networks. He retired in 2009.
A handshake agreement nearly changed everything
New York Daily News columnist Bob Raissman points out that the highly regarded pairing of John Madden and Pat Summerall nearly never happened because the recently retired coach had no intention of signing with CBS in 1979.
According to the report, HBO executive Seth Abraham had learned ahead of time of Madden's impending retirement from the Oakland Raiders. He arranged a meeting between the two to talk about a role on the network's award-winning Inside the NFL show.
Although Abraham and Madden hit it off, Madden was reluctant to commit because he feared it would push his friend Len Dawson out of the show's lineup. Once Abraham and producer Tim Braine offered assurances that Dawson would stay and that Madden could work remotely, Abraham and Madden shook hands on a two-year deal.
It didn't last, and Raissman explained why:
"Abraham returned to New York a happy man until his phone rang. 'It was John's agent, Barry Frank,' Abraham said. 'He said, "You don't think a handshake deal is going to stick. I've got a signed five-year deal for John at CBS."'"
Madden undoubtedly would have excelled in the HBO role, but a weekly pay cable gig, with its smaller audience, would not have had the same effect on a career that has included lending his name to one of the most popular video game titles in history.
Going to CBS changed everything.
Like Sportscasting on Facebook. Follow us on Twitter @sportscasting19.