John Stockton's 'Fairly Impressive' Larry Bird Story Didn't Actually Happen
Larry Bird was famous for both his confidence and his basketball talent, but John Stockton's memory isn't 100% accurate.
During his legendary NBA career, Larry Bird was responsible for his fair share of stories. From biting pieces of trash talk to telling the defender how he was going to score, the forward was never short on confidence. When the game was on the line, Larry Legend would bet on himself and consistently produce.
Through that lens, John Stockton's memory of a meeting with the Celtics sounds fairly standard. Bird told the Jazz bench that he'd drop 43 points that night and, after three quarters of action, had done just that. He spent the rest of the evening on the bench with his feet up, seeing out a comfortable win.
Sounds pretty cool, right? Well, there's a catch: It never happened, at least the way Stockton told it.
Larry Bird supposedly told John Stockton and the Jazz that he'd score exactly 43 points before a 1985 game
While he never won an NBA championship, John Stockton had an impressive basketball career and faced off against plenty of iconic opponents along the way. During his rookie year, for example, the guard got an up-close-and-personal look at Larry Bird.
Although the Celtics' star didn't talk any trash directly to Stockton, the guard did get an authentic Larry Legend experience.
"I remember as a rookie, he came in," the Gonzaga product told Dan Patrick in 2018. "He walked by our bench at the Salt Palace and said, 'I feel like 43 tonight.' And he came out, he scored 43 in the third quarter, and checked himself out with a 20-point victory. I was fairly impressed with that one."
Patrick, who has heard his fair share of Bird stories, asked Stockton if Bird really just picked a random number and scored that many points.
"Yeah, it was fairly impressive," the Jazz legend responded. "Especially when he backed it up."
Sounds like a pretty cool story, right? Well, it's a little too good to be true.
Larry Bird never scored 43 points against the Utah Jazz, let alone during Stockton's rookie year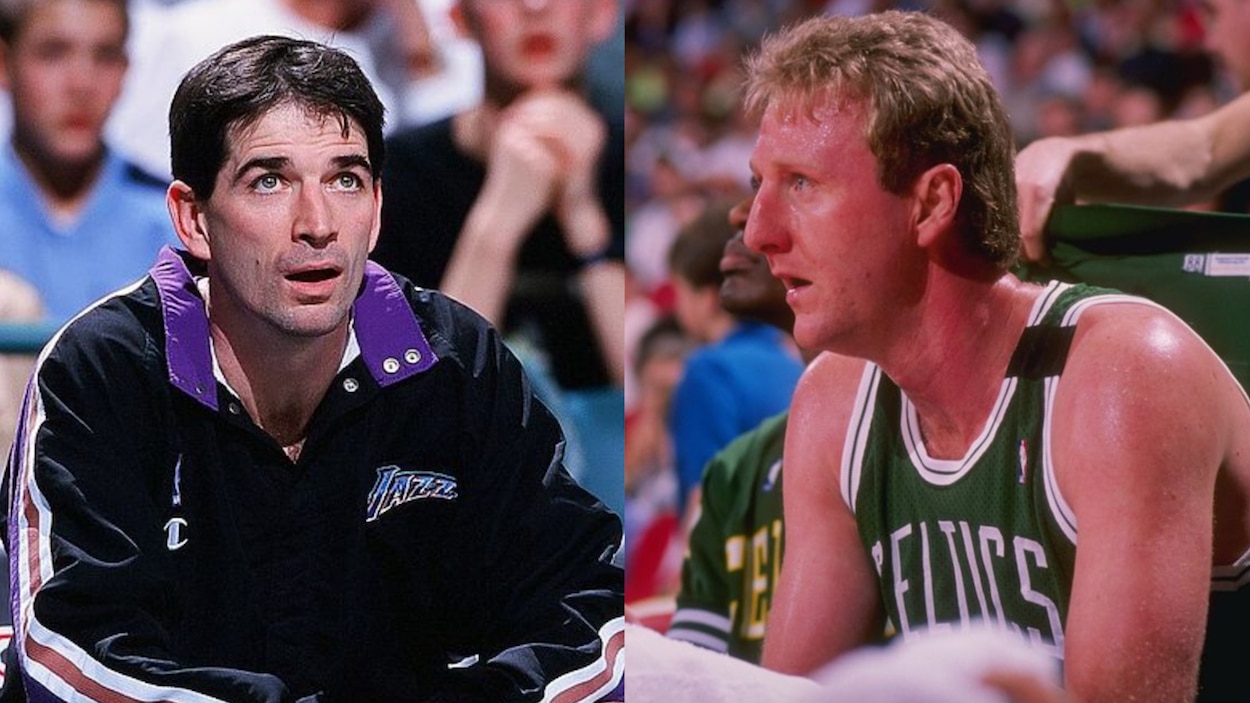 Over the course of his career, there were plenty of times when Larry Bird predicted his own success. Stockton's story, however, doesn't match up with the history.
The guard entered the Association during the 1984-85 season, largely coming off the Jazz bench. During that campaign, the Celtics only visited Utah once. Boston won comfortably, and Bird only played 33 minutes that night, but he finished the contest with 30 points.
During the two team's only other meeting that year — which happened in Beantown — Bird finished the contest with 22 points. Again, it was a capable performance, but not the exact encounter that Stockton recalled.
Perhaps, if you're feeling charitable, you might think that Stockton simply misremembered. Maybe Bird made that prediction and potted 43 against the Jazz at a different point in his career? While that's a reasonable thought, it's also not the case. According to StatMuse's records, Bird only had one 40-plus point outing against the Jazz during his career. That took place in 1989, and the forward finished with exactly 40.
So, independent of what actually happened — Did Stockton misremember? Did Bird predict he'd score 30, and that feat got exaggerated over time? — the moral of the story is clear. When it comes to these sort of vintage NBA tales involving trash-talk, living legends, and incredible feats, don't get caught up in the drama. Double-check the box score before you believe everything you hear.
Stats courtesy of Basketball-Reference.