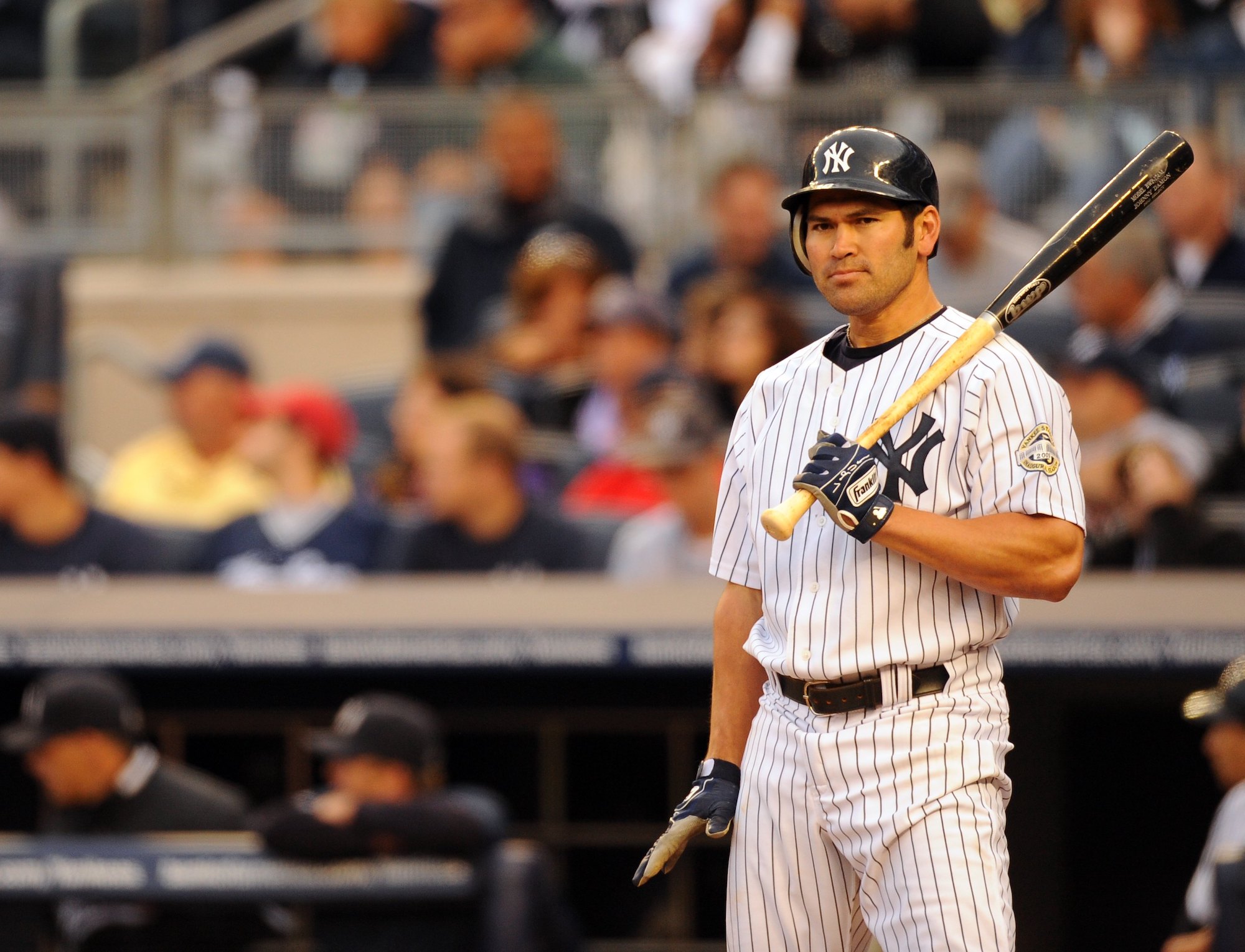 Johnny Damon Just Threw Some Serious Shade at the Boston Red Sox by Comparing Them to the New York Yankees
In 2005, Johnny Damon left the Boston Red Sox to join the New York Yankees. 15 years later, he's still rubbing salt in the wound.
While every sport has rivalries, it's hard to top the New York Yankees and the Boston Red Sox. Ever since the days of Babe Ruth, the two AL East clubs have been battling for supremacy. The Bambino wasn't the only man to suit up for both sides, though. In the 2000s, outfielder Johnny Damon also made the switch.
While plenty of baseball players prefer to keep things close to their vest, Damon has always done things a bit differently. In a recent podcast conversation, the outfielder praised the New York Yankees while throwing some serious shade at the Boston Red Sox.
Johnny Damon rose to prominence with the Boston Red Sox
These days, the Boston Red Sox's Curse of the Bambino is a thing of the past. Johnny Damon was a key contributor to the team that broke it and brought the World Series title back to Beantown.
The outfielder, however, didn't begin his career in New England. The Kanas City Royals selected Damon in the first round of the 1992 MLB draft, and he stayed with the organization until 2000. He then played a season with the Oakland A's before hitting free agency and signing with the Red Sox.
Damon proved to be a perfect fit for the Red Sox. In addition to his on-field abilities—his contact hitting and speed made him an ideal leadoff hitter—his famous 'caveman' appearance became emblematic of the team's "idiot" ethos. Boston's squad was a bit unconventional, but they were pretty darn good.
"As a group, they are borderline nuts, but when they get out in
the field, I think they try to play the game right," Terry Francona explained in an AP report preserved by ESPN. "I just want them to be themselves, because I think we are a good team like that."
The manager, of course, was correct. The 2004 Red Sox claimed the World Series crown, ending the franchise's famous title drought. Damon, on a personal level, wasn't bad either; he spent four seasons in Boston, batting .295 with 730 hits, 299 RBIs, and 98 stolen bases.
Becoming a traitor and joining the New York Yankees
Winning the 2004 World Series title made Johnny Damon a hero in Boston. That goodwill, however, wouldn't last for long.
After the 2005 season, Damon hit free agency. During the season, he told MLB.com's Alan Eskew that he knew the New York Yankees would make a big-money offer, but he wasn't interested in chasing a paycheck. "There's no way I can go play for the Yankees," he explained, according to Bleacher Report.
The outfielder, of course, did just that, shaving his beard, cutting his hair, and becoming the Yankees everyday center fielder. He spent the next four seasons in New York, winning another World Series title in 2009. When his contract expired, though, the Bronx Bombers balked at his financial demands, leaving Damon to find a new job in free agency.
After three one-year deals with the Tigers, Rays, and Indians, Damon found himself without a big-league job in 2013; he would never play another game. He spent a total of 18 years in Major League Baseball, batting .284, piling up 2,769 base hits, and winning two World Series titles.
Johnny Damon just threw some serious shade at the Red Sox while praising the Yankees
Due to the manner in which he left Boston, Johnny Damon was branded a traitor by the Red Sox faithful. His most recent comments, however, will only make things worse.
During a recent episode of the "Break a Bat" podcast, the Damon fielded a question about whether he considers himself a Yankee or a Red Sox. Not only did he choose the former club, but he described Boston in a less than flattering way.
"I tell people Boston is like an ex-girlfriend where you wish them well, and you loved being a part of it, but you know what, you move on, your life gets great, you marry your trophy wife, and you have six more kids," Damon explained, according to Justin Tasch of the New York Post. "That's what New York was for me."
While Damon went on to say that he sympathizes with Red Sox fans who keep losing their best players and that he left town because his "guys" from the 2004 team were gone, the trophy wife/ ex-girlfriend is all the citizens of New England needed to hear.
Stats courtesy of Baseball-Reference