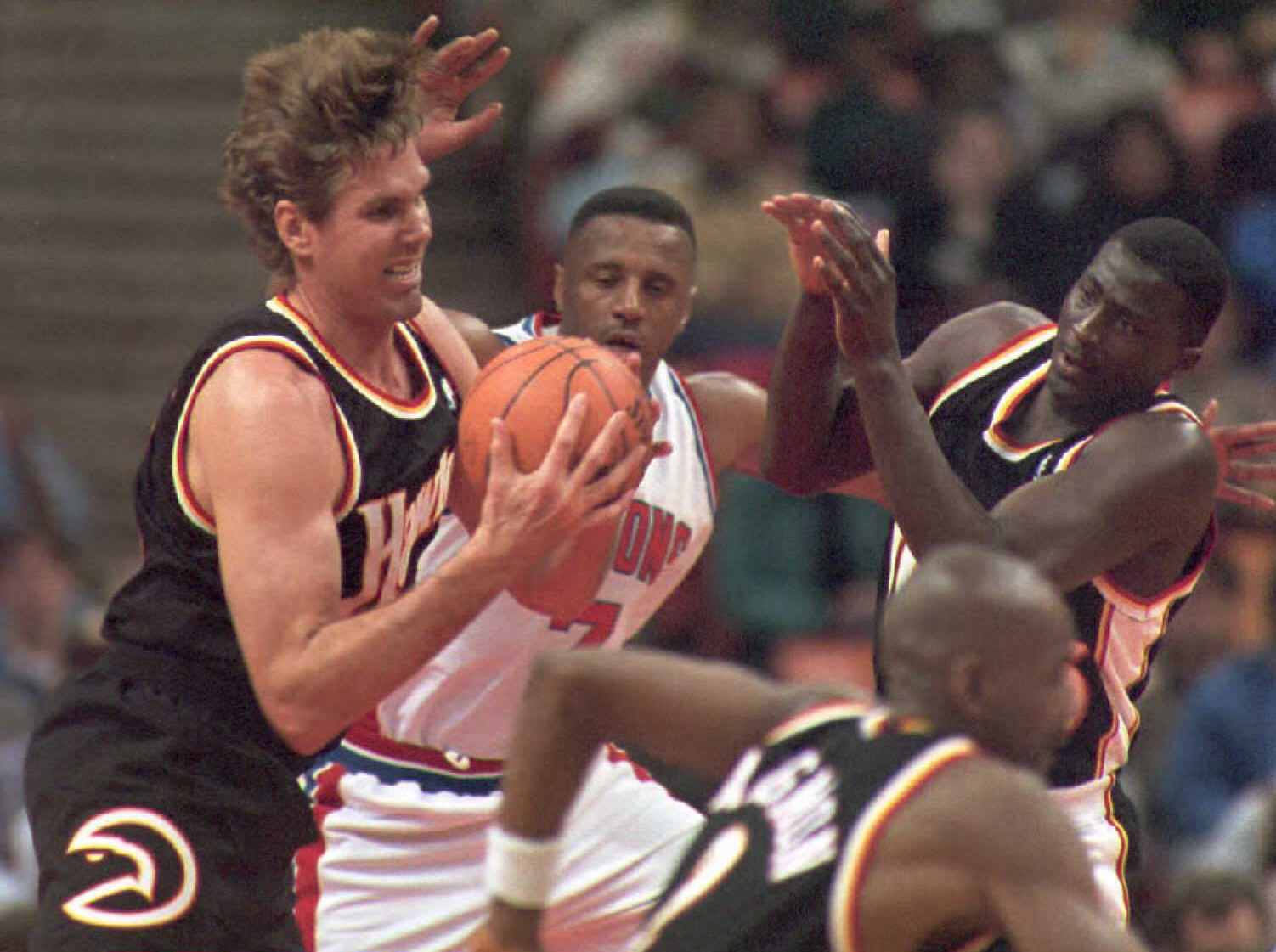 Jon Koncak Once Made More Money Than Michael Jordan and Larry Bird, Earning the Nickname 'Jon Contract'
Former NBA player Jon Koncak once made more money than Michael Jordan, Larry Bird, and Magic Johnson as a backup center.
Jon Koncak wasn't a household name as a 7-foot center in the NBA. Prior to his professional career with the Atlanta Hawks, Koncak was a high school standout and a college star at SMU. He was also a teammate of Michael Jordan on the 1984 U.S. Olympic basketball squad. Although he never outplayed Jordan, he outearned him for a bit in the NBA, earning the nickname 'Jon Contract.'
Jon Koncak was heavily recruited out of high school
When Jon Koncak was in high school, he was a heavily-recruited 7-footer. In high school, he grew about three inches per year and hit the seven-foot mark by the time he graduated. Koncak was a talented basketball player recruited by big-time schools but wound up signing with Southern Methodist University.
At the time, SMU was in rebuilding mode under head coach Dave Bliss. Koncak, showing his sense of humor, explained to the Atlanta Journal-Constitution in 2019 why he chose SMU. "Well, SMU coach Dave Bliss was the only one that could spell my name. All the other coaches spelled it 'John.'
"No, really, the Missouri coach called and just expected me to sign with them because I was from Kansas City. SMU, meanwhile, sent an assistant coach to, I think, every game my senior year. It was neat being part of a program that we brought into the forefront."
Koncak helped turn SMU around
It was a tough go early at SMU as the Mustangs went 6-21 and 1-15 in conference play. Jon Koncak averaged 10 points per game as a freshman, but by the time he was a junior, Koncak and the Mustangs were rolling. As a junior, Koncak averaged 15.5 points and 11.5 rebounds per game. The Mustangs went 25-8.
"I was recruited by 80 or 90 schools and I go to this place that had 4,000 kids and we won just six games my freshman year," Koncak told the AJC. "We beat all the powerhouses and my junior year (1984), we were one point away from beating Georgetown and Patrick Ewing and they would go on to win the national championship.''
In his senior year, SMU went 23-10 and Koncak put up 17.2 points and 10.7 rebounds per game. Koncak went on to become a first-round pick in the 1985 NBA draft. The Atlanta Hawks selected him with the fifth overall pick.
Jon Koncak becomes Jon Contract
Jon Koncak spent 11 years in the NBA primarily as a backup center. In his rookie season, he averaged a career-best 8.6 points per game. He never averaged better than 5.7 points in any of the 10 other seasons. In 1989, however, Koncak signed an unheard-of six-year, $13 million contract for a backup center. According to the Atlanta Journal-Constitution, Koncak at one point was making more money than superstars Michael Jordan, Larry Bird, and Magic Johnson.
Koncak remembers why he got the big deal. "During my fourth year, Kevin Willis had broken his foot and was out and (coach) Mike Fratello didn't want to play Moses (Malone) and I at the same time," he told the AJC. "So he started Cliff Levingston. But one day, Cliff was late to practice and it ticked off Fratello. He came up to me and asked if I could play the No. 4 spot. I did and in the first game, I scored only eight points but had 20 rebounds. He kept me in the lineup and we went 13-3 and in a couple of those games, I scored 20 points. I finally felt things were going my way and the Pistons offered me the offer sheet and then came the huge offer from the Hawks. The first game the next season when I took my first shot in Atlanta, the fans booed. I had been a fan favorite before the contract. I became the scapegoat for what was happening to the Hawks."
Koncak knew it was a big contract, but he wasn't about to turn it down. "Hey, I can't justify what they offered me," he told Sports Illustrated during his playing days. "But what was I supposed to do? Say no? The league is changing. I think maybe this is just the start."