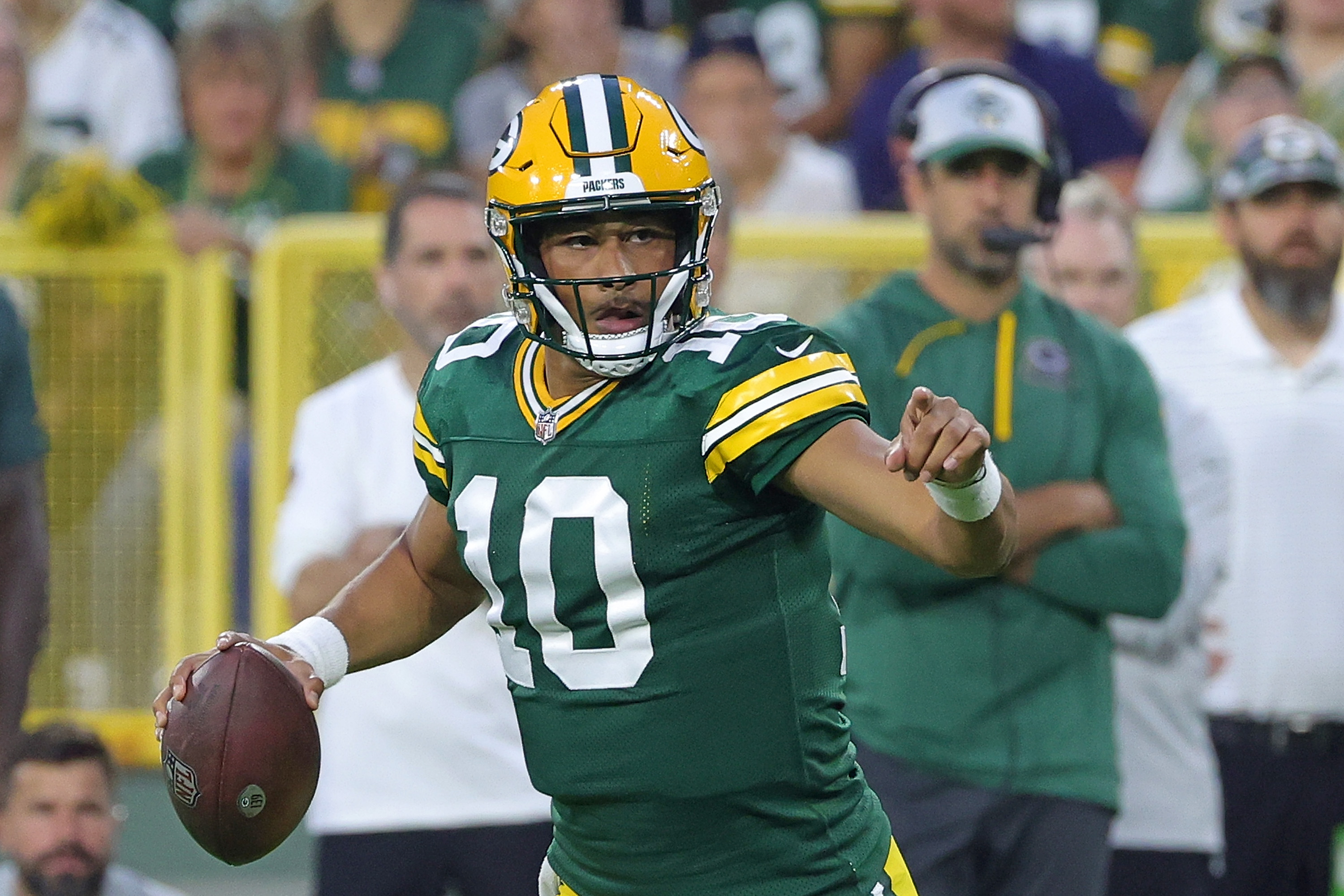 Jordan Love Showing It's Much More Than the Numbers in His Third Year With the Packers
Jordan Love looks like a whole new player in his third year with the Green Bay Packers.
Third-year quarterback Jordan Love is proving that statistics can be overrated. Glancing over the stat sheet from Friday night's preseason game against the New Orleans Saints, the Green Bay Packers QB had an OK night.
Watching the game, however, painted a much different picture. Love looked as comfortable under center as he has since arriving in the NFL. He's certainly making strides as Aaron Rodgers' backup, but the numbers don't tell the whole story.
Packers coach Matt LaFleur impressed with Jordan Love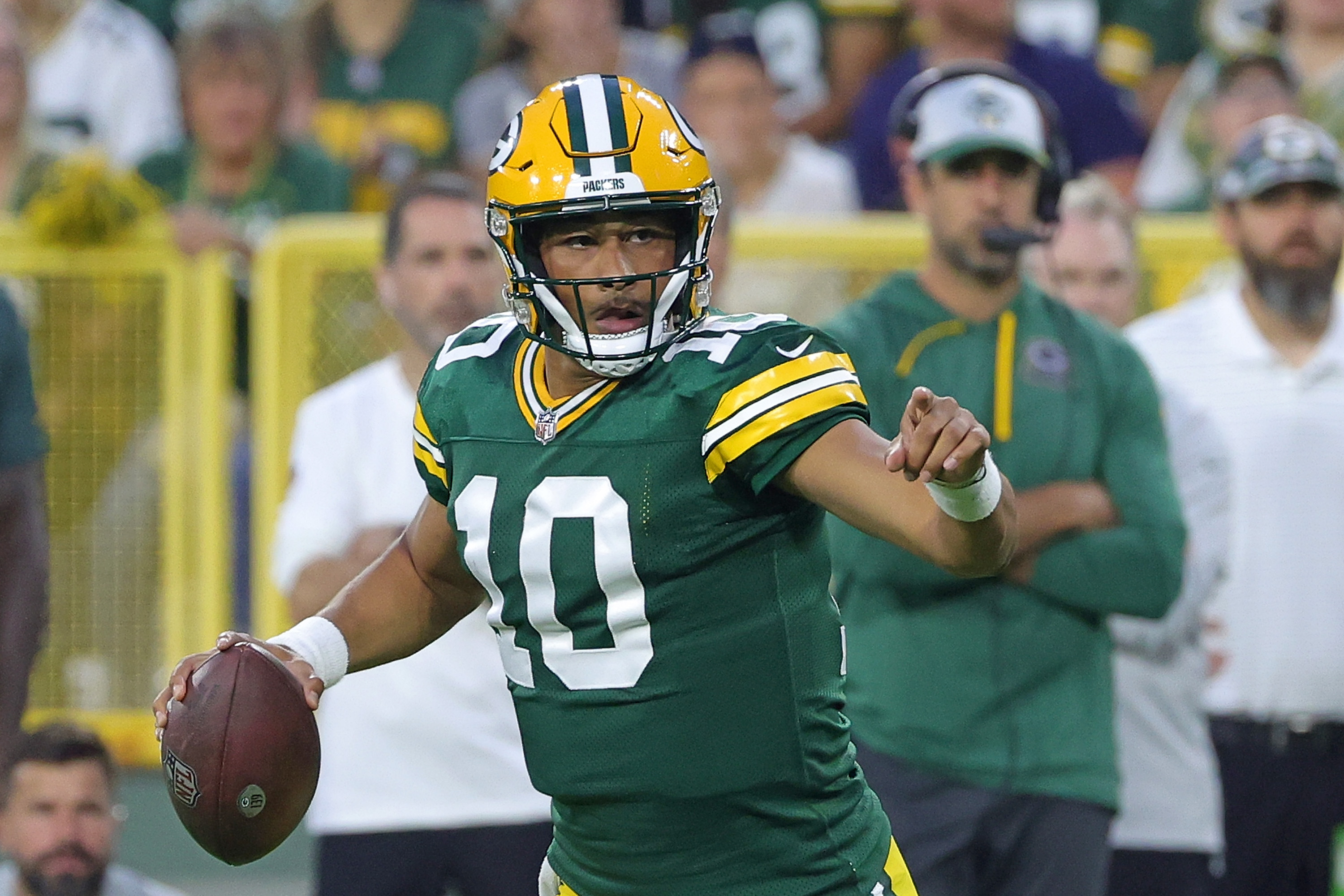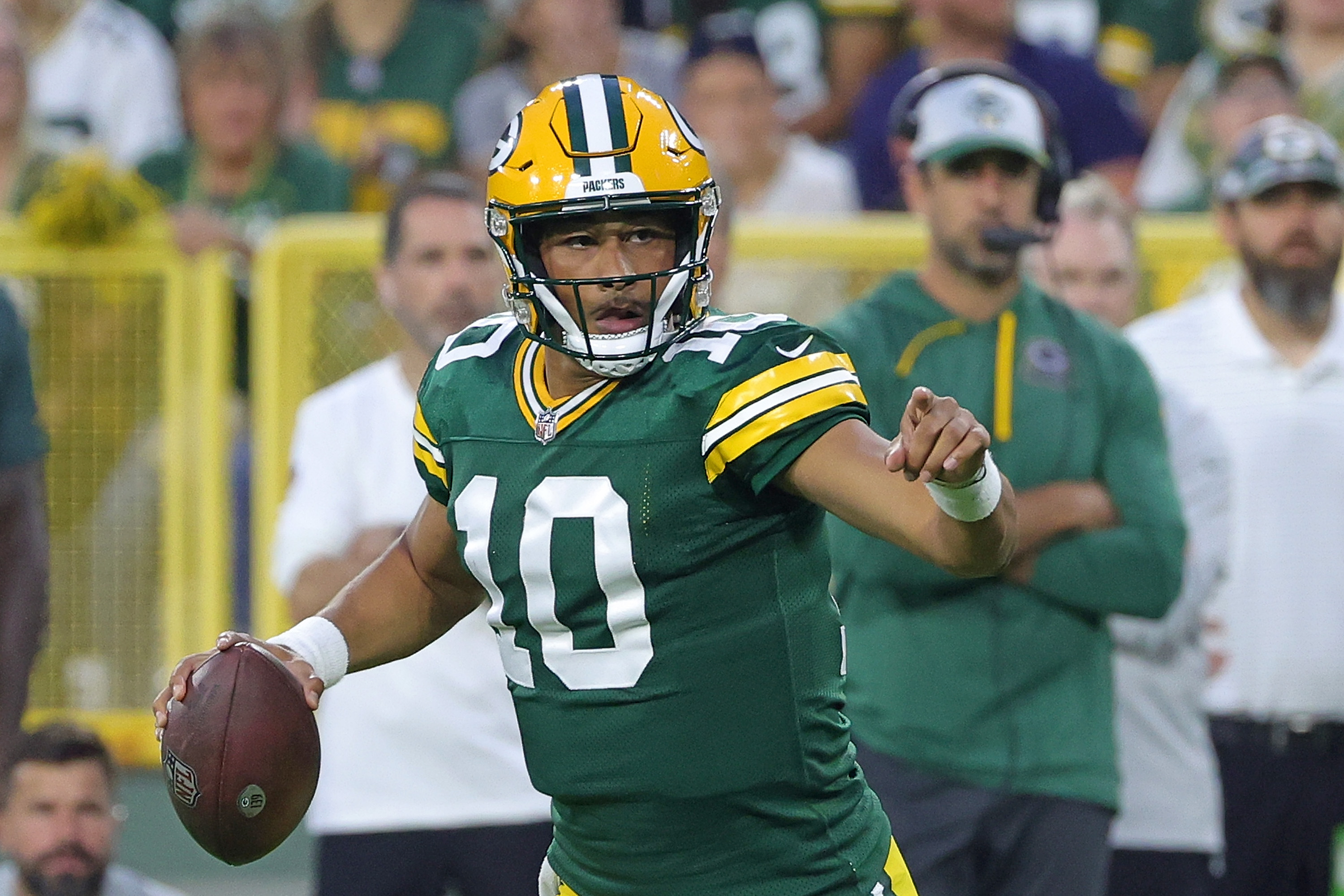 Friday night was Love's time to shine. With Rodgers on the roster, Love isn't likely to see the field during the regular season. He took most of the snaps in Green Bay's 20-10 victory.
Love completed 12 of 24 passes for 113 yards. He connected with Romeo Doubs on a 4-yard touchdown pass in the second quarter to give the Pack a 10-3 lead. The numbers were far from eye-opening, but head coach Matt LaFleur was highly impressed with his young quarterback.
"I know the numbers don't necessarily reflect probably how I feel," LaFleur said after the game. "He stood in the pocket and was throwing on rhythm.
"Unfortunately again we had too many drops. He was decisive. I think that's the big thing from him, and I see a much more decisive player out there. I think that's going to lead to a much more effective player."
Love looks like a veteran under center this preseason, as opposed to last season and his rookie year.
"I feel definitely a lot better than I have the last two years," he said postgame via Packers.com. "I feel more comfortable, more confident back there."
Love seems to be thriving under new quarterbacks coach Tom Clements
Love's success this year can be attributed to a number of things, including his experience. after watching Rodgers for two seasons, he's become more familiar with the offense with each rep he takes in practice.
He recently spoke about putting more focus on his footwork. Recently hired quarterbacks coach Tom Clements has been working with Love on improving that aspect of his game, and it's paying off significantly.
"Watching film from last year, the games I played in, lot of throws, my feet would be kind of off, not be pointed to the target, not have a perfect base," he said, per Kassidy Hill of Packers News. 
"So that's the biggest thing I've been working on. Just continue to keep a base whenever you're throwing, whether you get off platform or not, just try to get back to the base as quickly as you can, and just continue to grow from that base.
"When you get to a base, you have more power, and you're able to get your hips into it. You just have more power throwing, rather than just throwing all along when you're off platform a little bit." 
Right now, the Packers have some problems to fix, especially with the drops by the young receivers. Love would've had another four or five completions if not for the poor play by some of the receivers.
Love has come a long way, but the Packers still have plenty of cleaning up to do.
Like Sportscasting on Facebook. Follow us on Twitter @sportscasting19 and subscribe to our YouTube channel.