Jordan Love Thinks Much More of His Mother Than the Kansas City Chiefs Do
Green Bay Packers quarterback Jordan Love made his long-awaited first NFL start Sunday. Although he didn't have the greatest of outings, he earned the respect of his teammates and coaches after a 13-7 loss to the Kansas City Chiefs. Love, forced into action after Aaron Rodgers tested positive for COVID-19 mid-week, completed 19 of 34 passes for 190 yards and a touchdown. One person who didn't get any respect during the game is Love's mother.
Jordan Love finally made his first NFL start for the Green Bay Packers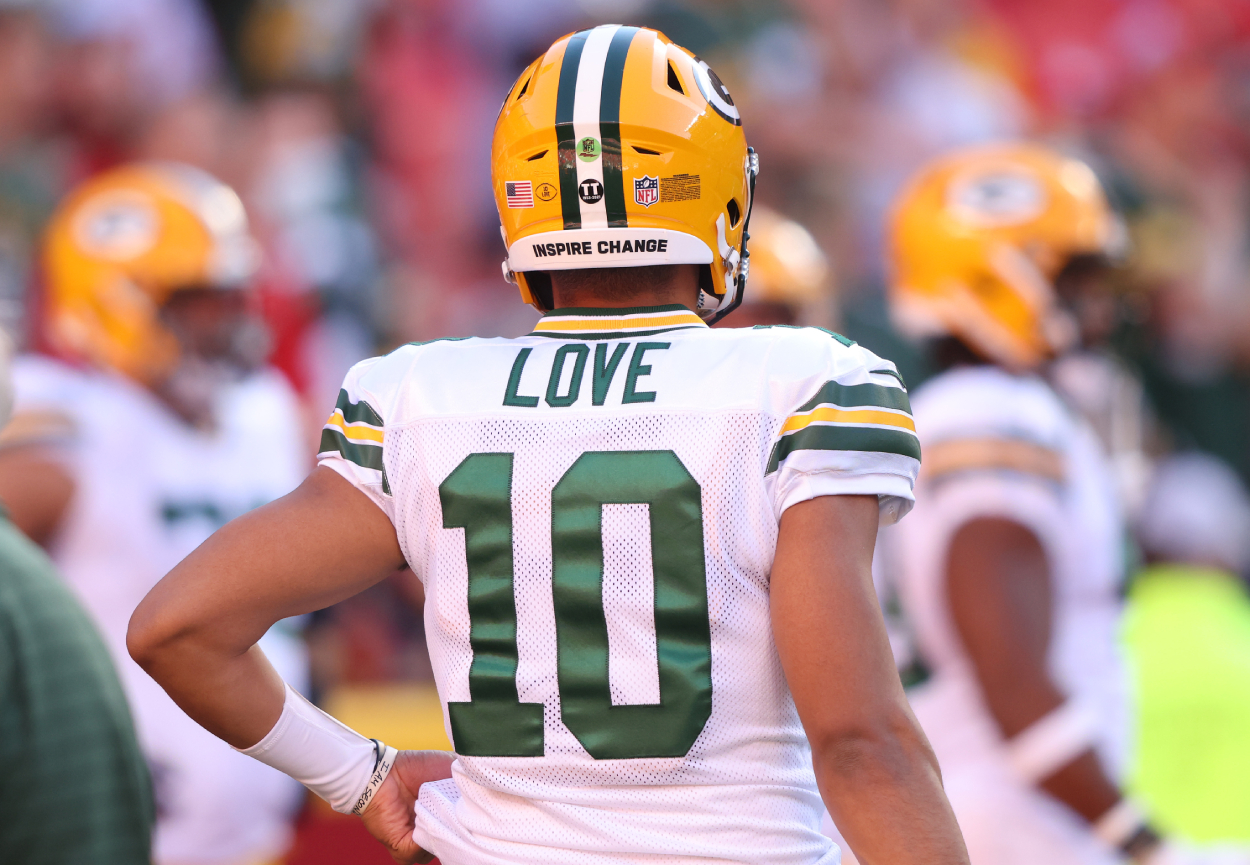 Through no fault of his own, Love found himself as the centerpiece of that offseason feud between Rodgers and the Packers that had the veteran quarterback holding out this summer. The Packers stunned most by trading up in the 2020 NFL Draft to select Love in the first round. The move didn't sit well with Rodgers.
The pick was a head-scratcher since the team was fresh off an appearance in the NFC Championship Game. Maybe Rodgers could've used added help at wide receiver. Perhaps the Packers could have snagged a run-stopper in the first round to get them over the hump and into the Super Bowl. Instead, GM Brian Gutekunst neglected the present and drafted for 2024.
Rodgers then promptly went out and won his third straight MVP, making the Love pick look like a disaster. The Packers made a return trip to the NFL title game ad lost to the Tampa Bay Buccaneers. Love wasn't even the backup quarterback in 2020 and didn't get any significant time in an NFL game until Sunday.
Against a struggling Chiefs defense, the Packers were shut out through three quarters, wasting a terrific performance by the Green Bay defense, which held the high-octane. Patrick Mahomes-led offense to 13 points. Love got his team on the board with 4:54 remaining when he hit Allen Lazard with a 20-yard touchdown pass.
Jordan Love earned the respect of his teammates, while his mother didn't get a whole lot of respect from the Chiefs
Despite the loss and the struggles on offense, Packers running back Aaron Jones was impressed with Love. He praised the quarterback's poise and demeanor in the huddle.
"He took control of the huddle even when we were down 13-0, he's still in the huddle, 'Hey, we need a play — come on, guys, let's lock in,'" Jones said, per ESPN. "All the right things you want to hear from your quarterback, and you can tell in that game he never once got down on himself and just continued to play."
Packers coach Matt LaFleur also gave Love props, even blaming himself for the loss.
"I thought Jordan, I was really proud of the way he played," LaFleur said. "He hung in there, he was taking hits and delivering the ball. I thought he did a really good job. But I think that, ultimately, I've got to be better and this one falls squarely on me."
While NFL fans finally got an up-close look at Love on the big state, his mother, Anna, didn't.
While she attended the game in Kansas City, she and Love's girlfriend, Ronika Stone, didn't have exactly the best seats in the house. It's understandable why teams wouldn't supply fans of opposing teams with 50-yard-line seats, but what the Chiefs did with Anna Love may have been extreme. Love and Stone were seen sitting as far away from the action as possible, sitting in the last row of Arrowhead Stadium.
Anna Love has been known to attend all her son's games
Come on, Kansas City, Anna Love deserved better than this. Imagine traveling to see your son make his NFL debut as a starting quarterback and you are plunked as far as possible from the field? Even those nosebleeds seats wouldn't deter Anna from seeing her son face the Chiefs. She has been known to travel all over to see Jordan, even if he isn't playing that day.
"Trust me, it's crazy. My mom, she's very awesome," Love said Friday, according to Packers Wire. "She's been doing that since college when I was redshirting as a freshman, knowing I'm not even suiting up to see the field, she was there.
"I tell her, 'You know I'm not playing, you don't have to go out of your way to come to these games.' She's like, 'No, I'm going to be there. I want to see you.' So, that's been awesome.
"She's been at every game. It's nice to know she's there. I try to look for her in the stands. It's an awesome feeling. She's great. She's amazing. Just shows how much she loves me and cares about me to be there."
She continued that trend Sunday on her son's big day. It's more than likely, however, that her son wasn't able to spot her from miles away.