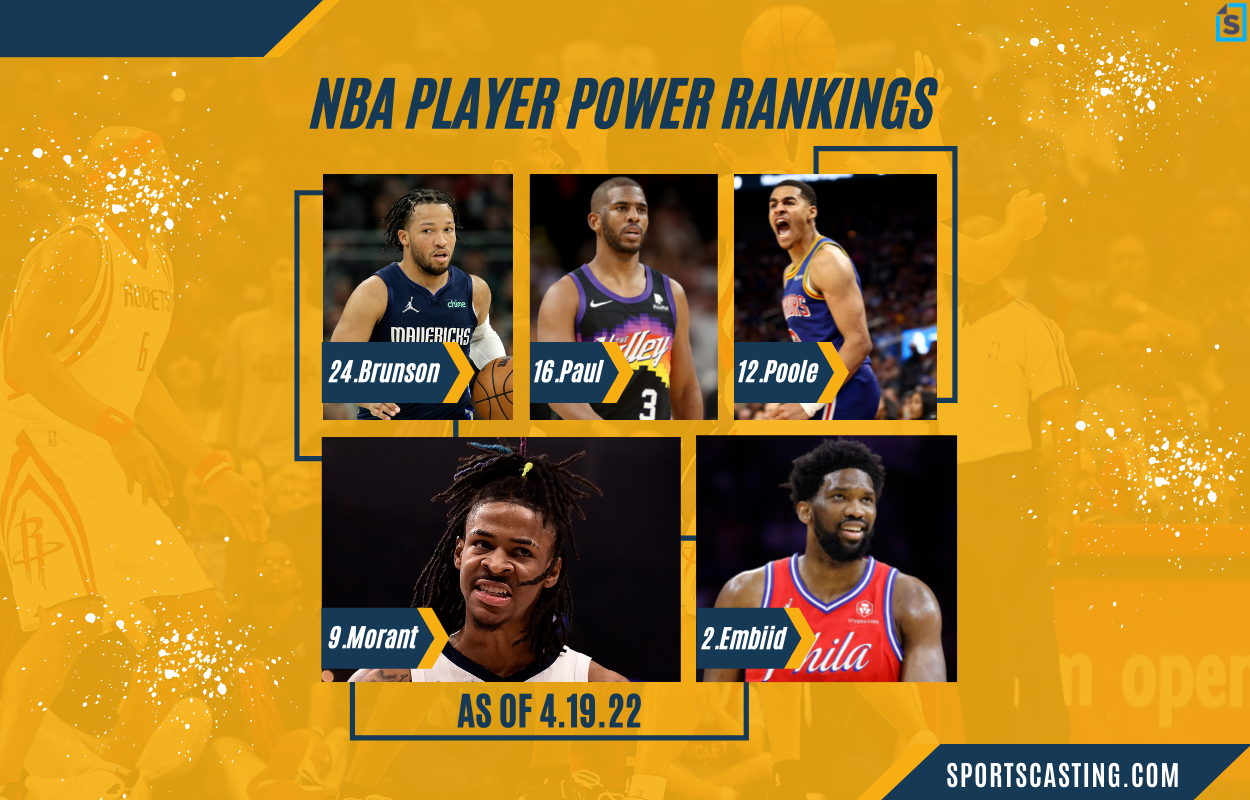 Jordan Poole, Tyrese Maxey Asserting Themselves as Stars in 2022 NBA Playoff Player Power Rankings
The 2022 NBA Playoffs, much like many postseasons before them, are a proving ground for up-and-coming stars. Tyrese Maxey and Jordan Poole are currently the leading examples.
The 2022 NBA Playoffs, much like the many postseasons in previous years, are a proving ground for up-and-coming stars ready to drop the "up-and-coming" descriptor. So far, none of those youngsters on the rise have asserted themselves quite as significantly as Jordan Poole and Tyrese Maxey despite strong efforts from Jalen Brunson, Anthony Edwards, and the other true standouts of the opening round.
Poole might be paired with Stephen Curry, Klay Thompson, and Draymond Green on a devastatingly effective version of the Golden State Warriors, but he's not riding any coattails. Maxey, meanwhile, seems deadset on proving his own celestial status on the Philadelphia 76ers alongside Joel Embiid and James Harden.
But how high can they rise since the last edition of the Player Power Rankings?
Using data provided by NBA Math, we're turning to rolling player ratings, which use game score and schedule adjustments to evaluate how each player has performed over his last 10 appearances. The higher the number, the better the performance, and it's scaled so that the scores are comparable to the scale on which scoring outputs are measured.
Players must have suited up during the playoffs to be eligible for our top-25 countdown, which begins now.
Nos. 25-21: Desmond Bane, Jalen Brunson, Karl-Anthony Towns, Rudy Gobert, Tyrese Maxey
25. Desmond Bane, Memphis Grizzlies: 16.54 (Previous rank: unranked)
24. Jalen Brunson, Dallas Mavericks: 16.79 (Previous rank: unranked)
23. Karl-Anthony Towns, Minnesota Timberwolves: 16.89 (Previous rank: No. 18)
22. Rudy Gobert, Utah Jazz: 16.9 (Previous rank: unranked)
21. Tyrese Maxey, Philadelphia 76ers: 16.96 (Previous rank: unranked)
The Philadelphia 76ers apparently have a Big Three now, and it doesn't include Tobias Harris despite the strong play of the veteran forward.
Tyrese Maxey has taken it upon himself to fill a high-scoring role in the Sixers' first-round series against the Toronto Raptors, giving Joel Embiid the support he needs to buffer against the double- and triple-teams thrown in his direction while James Harden takes on more of a facilitating role. And since he seemingly can't miss, it's working rather well.
While helping Philly jet out to a 2-0 start in rather dominant fashion, Maxey has averaged a whopping 30.5 points, 6.5 rebounds, and 5.0 assists while slashing 68.8/57.1/100.0. Considering he's taking seven triples per game and has turned the ball over just once across the two games, efficiency hasn't exactly been an issue even as he creates plenty of difficult opportunities off the bounce.
As it turns out, Maxey may have taken his exclusion from the Most Improved Player race personally.
Nos. 20-16: James Harden, Brandon Ingram, DeMar DeRozan, Stephen Curry, Chris Paul
20. James Harden, Philadelphia 76ers: 17.51 (Previous rank: No. 17)
19. Brandon Ingram, New Orleans Pelicans: 18.3 (Previous rank: No. 13)
18. DeMar DeRozan, Chicago Bulls: 18.39 (Previous rank: No. 12)
17. Stephen Curry, Golden State Warriors: 18.39 (Previous rank: unranked)
16. Chris Paul, Phoenix Suns: 18.53 (Previous rank: unranked)
Just when the New Orleans Pelicans thought they had a chance to pull off the comeback and earn a monumental upset in Game 1, Chris Paul decided he didn't feel like letting the Phoenix Suns operate with a first-round deficit.
The desert-based Point God exploded for 19 points and two assists while shooting 7-of-8 from the field and 3-of-4 from beyond the arc with just a single turnover during the final period, playing all 12 minutes. And though the moment was more significant, it wasn't so much a new trend as a continuation of what he'd been doing throughout the regular season: dominating in crunch time.
Paul played in 29 games with a margin no greater than five points in the final five minutes, and he helped the Suns earn a 25-4 record while slashing 56.8/40.0/81.3. No player with more than five such appearances had an individual plus/minus superior to his mark of 4.0.
The 36-year-old might not (yet) have a ring to his name, but he's doing everything in his power to change that.
Nos. 15-11: Donovan Mitchell, Anthony Edwards, Jimmy Butler, Jordan Poole, Jaylen Brown
15. Donovan Mitchell, Utah Jazz: 18.65 (Previous rank: No. 16)
14. Anthony Edwards, Minnesota Timberwolves: 18.88 (Previous rank: unranked)
13. Jimmy Butler, Miami Heat: 19.24 (Previous rank: No. 20)
12. Jordan Poole, Golden State Warriors: 19.3 (Previous rank: No. 21)
11. Jaylen Brown, Boston Celtics: 20.09 (No change)
For all the heroics provided by a healthy Stephen Curry, a rejuvenated Draymond Green, and a seemingly pre-injury version of Klay Thompson, the Golden State Warriors can truly detonate when Jordan Poole elevates them. The newfangled Death Lineup, comprised of those four and Andrew Wiggins, has emerged as an unsolvable riddle for the Denver Nuggets, largely because Poole can prove a convincing facsimile of either Curry or Thompson at the blink of an eye.
Need him to thrive as a catch-and-shoot option from well beyond the arc? Sure. Want him to create space for himself with an ankle-breaking step-back jumper in the corner or a side-step so effective it seems like he's just Curry dressing up as Poole for an embarrassingly delayed Halloween celebration? Not a problem.
Dating back to the beginning of March, Poole has scored at least 20 points in all but three games, and he's tallied 59 in the first two playoff appearances of his career while going 19-of-29 from the field and 10-of-17 from downtown.
Even with James Wiseman continuing to keep seats warm on the sidelines, maybe the Golden State developmental program really is lightyears ahead of the competition.
Nos. 10-6: Kyrie Irving, Ja Morant, Pascal Siakam, Trae Young, Jayson Tatum
10. Kyrie Irving, Brooklyn Nets: 21.04 (Previous rank: No. 20)
9. Ja Morant, Memphis Grizzlies: 22.14 (Previous rank: unranked)
8. Pascal Siakam, Toronto Raptors: 22.24 (Previous rank: No. 9)
7. Trae Young, Atlanta Hawks: 22.37 (Previous rank: No. 5)
6. Jayson Tatum, Boston Celtics: 22.77 (Previous rank: No. 8)
Sometimes, one moment is so legendary that it'll almost certainly live on forever.
Jayson Tatum's memorable game-winner in Game 1 of what's shaping up to be a classic series against the Brooklyn Nets could qualify, but only if the Boston Celtics continue their postseason venture far deeper into April and May. A first-round loss or second-round exit may make it but a blip in the historical consciousness, impressive as his spinning layup — the first game-winning buzzer-beater at home in Boston playoff history — may have been.
Of course, Tatum seems to be doing his darnedest to ensure Boston stays alive for a long while. The Duke product's 31 points, four rebounds, and eight assists came with a bit of turnover trouble, but they were also a continuation of his strong close to the regular season. Over his last 10 games prior to the playoffs, he averaged 28.1 points, 6.3 rebounds, and 5.8 assists while shooting 53.7/42.7/84.3.
Tatum has emerged as a tier-one star capable of impacting a game on both ends of the floor and balancing his high-scoring responsibilities with a knack for getting his teammates involved, and that's a big reason Boston looms as a legitimate possibility to represent the Eastern Conference in the NBA Finals despite the brutal first-round matchup.
Nos. 5-1: Devin Booker, Kevin Durant, Giannis Antetokounmpo, Joel Embiid, Nikola Jokic
5. Devin Booker, Phoenix Suns: 23.57 (Previous rank: No. 7)
4. Kevin Durant, Brooklyn Nets: 24.55 (No change)
3. Giannis Antetokounmpo, Milwaukee Bucks: 25.78 (No change)
2. Joel Embiid, Philadelphia 76ers: 27.34 (No change)
1. Nikola Jokic, Denver Nuggets: 30.3 (No change)
Despite the ubiquitous protestations of Toronto Raptors fans and their head coach, Nick Nurse, Joel Embiid has received a pretty fair whistle during the opening two games of the Philadelphia 76ers' first-round series. He's embarked upon an endless parade to the foul stripe, but that should be expected when he plays with this much controlled aggression in the face of double- and triple-teams that only seem to slow him momentarily.
The pervasiveness of the gripes simply doesn't line up with the infrequency of whistles blown incorrectly.
If anything, this is how Embiid should have been officiated throughout the regular season — yes, in spite of the 11.8 free-throw attempts per game that caused similar gripes from a laundry list of foes. Stripe-clad observers had to swallow back calls because the big man entered the Shaquille O'Neal category of centers who simply couldn't be judged properly due to their unfair combination of size, strength, and finesse. The sheer physicality needed to keep him from the basket almost demands a type of contact that isn't technically within the rule of NBA law.
Embiid's 12.5 freebies per game might seem excessive — and they've helped mask the fact he's struggled to connect on shots he normally hits outside the paint — but they're still an accurate representation of the bruising effort he puts in while solidifying himself as an unstoppable interior juggernaut.
All stats, unless otherwise indicated, courtesy of Basketball Reference and NBA Math and accurate heading into games on April 19.