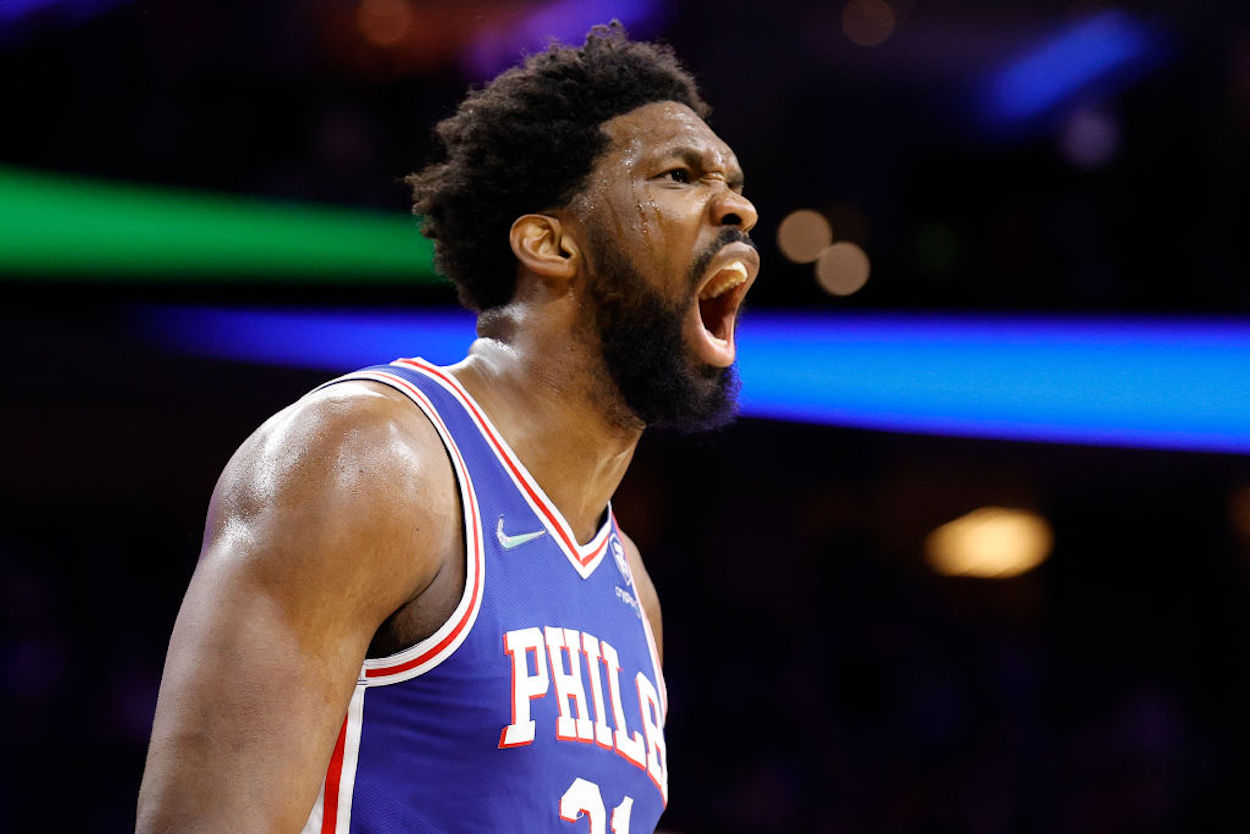 The Philadelphia 76ers Need to Step on the Toronto Raptors' Throat Before It's Too Late
While the Philadelphia 76ers played well in Game 1 against the Raptors, they can't afford to mess around on Tuesday night.
While there are some questions about Doc Rivers' ability to make postseason adjustments and James Harden's clutch gene, the Philadelphia 76ers have to feel pretty good about their first foray into the 2022 NBA Playoffs. The Pennsylvanians played well in Game 1 against the Toronto Raptors, cruising to a 20-point victory. That reality, however, doesn't mean there's any less of a sense of urgency on Monday night.
If anything, the Sixers can't let a golden opportunity slip through their collective fingers. With Scottie Barnes on the sidelines and a trip up to Toronto looming, Philadelphia needs to turn the screw and secure their grip on the series.
Scottie Barnes' injury will give the 76ers a massive boost on Monday night
Even in the most cut-throat series, it's bad form to root for an injury. With that being said, though, Scottie Barnes' absence could be a turning point for both the 76ers and the Raptors.
For those who haven't seen much of the Canadian club, Barnes is in the Rookie of the Year conversation for good reason. From a statistical perspective, the young forward has carried his share of the load, averaging 15.3 points, 7.5 rebounds, and 3.5 assists per outing. Things get even more impressive, however, when you look beyond the box score. If you didn't know Barnes was wrapping up his first professional season, you'd think he's a seasoned veteran.
"He is also, potentially, a franchise-changer," James Herbert of CBS Sports explained. "On a team that plays a frantic, physically demanding brand of basketball, Barnes ranks 13th in the league in total minutes. Standing 6-foot-7 with a 7-3 wingspan, he jumps virtually every opening tip, regularly plays point guard, constantly tells his coaches that he wants to defend stars, and generally appears to be having the time of his life."
Through that lens, it's easy to see how his absence will make life easier for the 76ers. Toronto's offense thrives on creating mismatches and drawing double-teams; with Barnes in street clothes and Gary Trent Jr. most likely joining him, Philadelphia can devote more attention to Pascal Siakam and Fred Van Vleet and dare someone else to beat them. Can OG Anunoby explode for 35 points? It's possible, but Doc Rivers would probably take his chances of that happening.
Losing Barnes also changes Toronto's defensive calculus. In Game 1, he primarily took on the mantle of marking James Harden but bounced around the floor to pitch in elsewhere; he even spent 2:28 guarding Joel Embiid. Without that versatility, the Raptors will be facing an even stiffer test trying to slow Philly down.
Philadelphia also needs to seize the initiative before losing Matisse Thybulle
Under ordinary circumstances, Scottie Barnes' absence could be more of a body-blow, wearing Toronto out over the course of the series, than a one-punch knockout. There is another factor, however, that makes this series a bit outside the ordinary.
As you've surely heard by now, Matisse Thybulle won't be eligible to play in Toronto as he hasn't received two doses of a COVID-19 vaccine. While the guard might not stuff the box score, he has emerged as one of the Association's elite defenders. His absence will stretch the 76ers' defensive depth even thinner, potentially kicking off a domino effect of overcompensation.
It's also worth considering how his absence can potentially combine with the psychological boost of returning home. The Raptors will already be getting a lift from playing in front of their own fans; imagine how confident they'll be if they also feel like there's a defensive weakness to exploit.
That makes it all the more essential that Philadelphia takes care of business on Monday night. If they can hold serve and comfortably take a 2-0 series lead, they'll be in the driver's seat. In a worst-case scenario, the Sixers will come back to Pennsylvania to play a best-of-three series. In a best-case scenario, they'll crush the Raptors' collective confidence and stroll to two more victories.
Should the Raptors steal Game 2, though, it will be a different story. They'll feel like momentum is on their side, especially with Philly fielding a weaker lineup in Toronto. That will shift the entire tone of the series, heaping more pressure onto James Harden, Joel Embiid, and Doc Rivers. A longer series could also give Barnes more time to return, which shouldn't be overlooked.
Under most circumstances, the 76ers would be playing with house money on Monday night. Given Scottie Barnes' injury and the trip up to Toronto, though, Philadelphia needs to erase any shadow of a doubt. If they don't step on Toronto's metaphorical neck and seize control of the series, things will only get tricker.
Defensive data courtesy of NBA.com
According to the Centers for Disease Control and Prevention (CDC), "More than 520 million doses of COVID-19 vaccine had been given in the United States from December 14, 2020, through January 10, 2022. … COVID-19 vaccines are safe and effective."