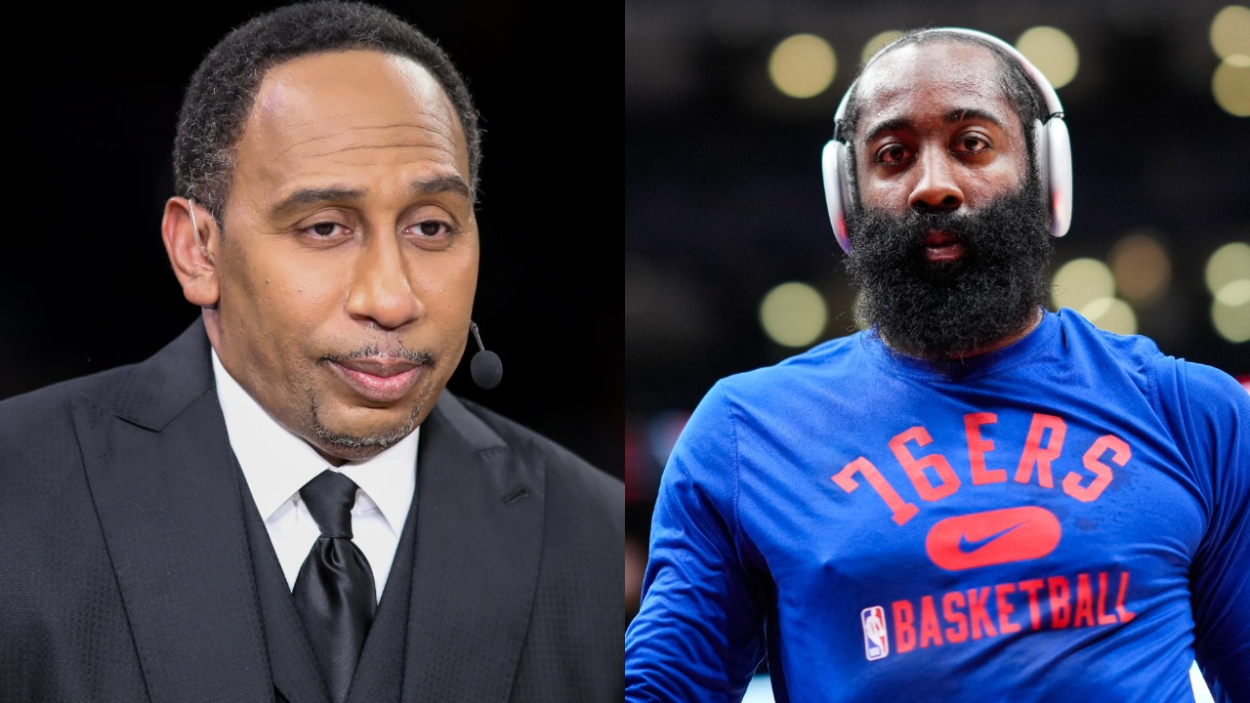 Baffled Stephen A. Smith Trolls James Harden Ahead of 76ers' Blowout Win
James Harden had a great performance in the Philadelphia 76ers' Game 1 playoff win. However, Stephen A. Smith had to troll The Beard about his questionable pregame decision.
The Philadelphia 76ers created huge headlines with their Game 1 blowout win over the Toronto Raptors in the first-round of the NBA playoffs. Philly shot lights-out from the field and took care of the basketball.
However, James Harden raised some eyebrows beforehand.
Harden had a magnificent game and was a huge reason the Sixers earned the W. But before the contest, he sported an interesting pregame outfit, which caught some flak from ESPN's Stephen A. Smith.
James Harden had an odd pregame outfit
Fashion has been a massive part of the NBA for years. Dwyane Wade and Russell Westbrook have their own clothing lines, and everyone remembers the baggy all-white suit LeBron James wore during the 2003 NBA Draft.
If you want to make a statement with your fashion, though, you sometimes have to take risks, and James Harden did just that before Game 1.
To be fair, most of the outfit was pretty reserved. Harden wore black pants and some sneakers (maybe Jordans?), a white t-shirt, and a chain. However, his jacket stole the show.
The 2017-18 MVP rocked a blue and white Louis Vuitton letterman jacket, which may sound pretty slick at first. But it had two stuffed animals (a checkered rabbit and a pink flamingo) stitched to it.
Stephen A. Smith immediately had questions.
"Oh my Lord," Smith said on the April 17 episode of NBA Countdown. "What the hell is he wearing? What is that? Now, that's an outfit from The Flintstones."
The Flintstones probably didn't have Louis Vuitton, but Smith made his point clear. The jacket was absurd.
I don't work in the fashion industry, but I won "best dressed" in high school, so I'll do my best to grade Harden's jacket.
Without the stuffed animals, it would have been an A+. It's a letterman jacket in the Sixers' colors. The fact that it's Louis Vuitton is also a major win. And the rabbit is on theme, given that it's Easter. However, the stuffed animals look like something I would win at a carnival, not wear on a jacket before a massive playoff game.
With all that in mind, I'm giving it a C-. The stuffed animals were just too distracting.
At least Harden made up for his L off the court with the way he played on it.
James Harden had a terrific Game 1 performance for the 76ers
OK, I'm not paid to discuss fashion, so here's a little analysis about James Harden's Game 1 performance.
There were a lot of questions surrounding his play going into the contest. It's clear he has lost a step, so some are wondering whether the 10-time All-Star can adapt his game. Harden struggled down the stretch in the regular season, averaging 17.9 points and 3.5 turnovers in his final eight games. However, he had 22 points and 14 assists against the Raptors. He still didn't shoot great (35.3%), but he only turned the ball over once.
His play should certainly be encouraging for Sixers fans, but Game 1s have never been the issue. How will he perform in Game 6s and 7s? He has a track record for fading when things matter most, so Harden must put that narrative to bed.
All in all, James Harden and the 76ers were incredible in Game 1, but there are still some major concerns about him, and not just in regards to his outfit.
Stats courtesy of Basketball Reference